Spotlights
Similar Titles
A/C Tech, HVAC Installer, HVAC Mechanic, HVAC Service Tech, HVAC Specialist, HVAC Technician, Refrigeration Mechanic, Refrigeration Operator, Refrigeration Technician, Service Technician, HVAC Installation and Maintenance Specialist
Job Description
If you've ever been in a climate-controlled building, you've enjoyed the handiwork of an HVAC Technician! These hard workers install and repair heating, ventilation, air conditioning (HVAC) as well as refrigeration systems in residential and commercial buildings. As you might have guessed, HVAC systems regulate internal room temperature, and in some cases humidity and air quality. That's critical not only to keep occupants comfortable but to also ensure safe storage for things like medicine, food products, and perishable goods.
 
HVAC Technicians are also responsible for performing continuous maintenance, such as inspections, cleaning, changing out parts, and refilling substances. Some technicians gain additional training to handle specialized HVAC systems and processes like commercial refrigeration, testing and balancing, solar panels, and radiant heating systems. These jobs involve a high degree of compliance with government regulations to keep everything safe and as environmentally-friendly as possible! 
Rewarding Aspects of Career
Ensuring comfortable home and business environments for people to live and work in
Constant variety of work settings
Continuous learning opportunities
Working in an evolving, technology-driven field
"When I was in the field, it was regarding when I was able to help people stay comfortable by fixing their AC equipment. Especially if others couldn't. Then it evolved into training other techs to do what I could do by mentoring them. Then finally getting the opportunity to take on a leadership role and was able to teach and mentor a lot of technicians to develop them. In essence, giving back to the industry that I love." - Eric Torres, HVAC Service Manager at Thermal Concepts, Inc.
"I feel most rewarded by being able to provide for my family with job security. I also enjoy troubleshooting and working with newly engineered systems to start and maintain equipment  My position allows me to see some of the cutting-edge equipment entering the market through manufacturer partnerships." - Logan Keebaugh, Chiller Mechanic at Air Treatment Corporation
2019 Employment
376,800
2029 Projected Employment
391,900
The Inside Scoop
Job Responsibilities
Meet with clients and bosses (building managers, landlords, homeowners) to review work to be performed
Review building layouts and work specifications; draft detailed designs and work plans
Install HVACR systems in buildings, following manufacturer guidelines
Safely install electrical components, including wiring
Run diagnostics tests to ensure proper operation
Discuss potential problems and solutions
Troubleshoot malfunctions and offer cost estimates to customers
Maintain, fix, and replace old parts
Plan out a maintenance schedule 
Keep logs of all work done
Ensure all needed parts are on-hand or available 
Comply with applicable state or local codes and other building standards
Additional Responsibilities
Travel to and from job sites; ensure vehicle is fueled, stocked, and ready
Perform minor equipment adjustments as needed to ensure peak system performance
Use hand or powered tools as needed to install parts or equipment
Follow all recommended safety protocols and wear recommended protective personal equipment
Train and supervise new hires
Skills Needed on the Job
Soft Skills
Ability to work independently
Attention to detail 
Commitment to safety
Customer-service skills
Decision-making, sometimes under pressure
Good hand-eye coordination
Patience
Physical stamina
Resilience  
Resourcefulness
Skills for organizing activities
Sound judgment
Time management
Visualization
Technical Skills
Ability to perform routine maintenance 
Knowledge of safe equipment operation
Knowledge of electrical systems and safety protocols
Ability to select proper tools for the job
Familiarity with a wide range of hand and power tools, such as drills, voltage meters, torches, bolt cutters, calipers, circuit testers, chisels, drills, flowmeters, gas detectors, glue guns, hygrometers, pliers, magnetic tools, wrenches, pipe cutters, lifts, refrigerant compressors, scanners, and safety harnesses, among many more
Some knowledge of algebra, geometry, applied physics, engineering, and general technology
General design skills
CPR/first aid training
Industrial control software such as Alerton Ascent Compass
Different Types of Organizations
Educational institutions 
Governmental agencies
HVAC contractors    
Large companies such as retailers
Medical industry
Self-employed 
#1 would be a union. I say this because once you are a union worker, you have to work for the rest of your life. Whether it be for a union contractor (like I'm a part of here at TCI) or work for hospitals, universities, grocery stores, retail stores, property management companies, government facilities, aerospace, etc. Or even just working for yourself as an independent contractor." - Eric Torres, HVAC Service Manager at Thermal Concepts, Inc.
#HVAC is a vast network! [You might work in] equipment sales, equipment service, equipment repair, water treatment, facility maintenance, or as a pump specialist." - Logan Keebaugh, Chiller Mechanic at Air Treatment Corporation
Expectations and Sacrifices
Working with HVAC equipment is inherently risky. Technicians are exposed to many hazards and there's a daily risk of being injured from burns, electrical shocks, or muscle tears, as well as from handling flammable and/or toxic materials such as refrigerants. These chemicals can also cause frostbite or skin damage, which is why it is so critical that workers always follow good workplace safety practices and wear all protective gear. 
 
Other sacrifices relate to work schedules, since HVAC Techs might have to work weekends or night shifts. Many job sites are remote, so there can be significant driving involved. Meanwhile, equipment located outdoors will require workers to endure possibly harsh weather conditions including heat, sun exposure, or rain, wind, or snow. 
Current Trends
Buildings will always need climate-controlled conditions to keep residents, workers, or other occupants happy. Thus, the HVAC industry outlook is strong and stable, with trained techs projected to be in demand in the coming decade. Those qualified to work with "smart" HVAC technologies or those with other specialized areas are more likely to win contracts as the world increasingly shifts to more eco-friendly systems thanks to global green initiatives. 
 
That said, the Bureau of Labor Statistics notes that workers who focus more on just new installs might occasionally struggle with lulls in activity as construction declines during economic downturns. Meanwhile, ductless units have become a bit of a trend for businesses wanting inexpensive upgrades. The bottom line is, don't put all your eggs in one basket! Try to learn about as many areas as you can.
"Currently. I'd have to say the trend of VRF/VRV systems. These systems are really taking over the industry in a big way, because of their multi-use and adaptability--not to mention their high efficiency. This section of our industry is evolving on its own niche, so to speak. Following in the same footsteps as control did". Eric Torres, HVAC Service Manager at Thermal Concepts, Inc.

"Natural gas is being phased out of the commercial property in parts of Southern California. Many sites have been engineering boilers out of the design and using heat pumps. Several government and aerospace companies are doing large renovations to be compliant. Refrigerants of several types are being phased out to be replaced with cleaner alternatives. New machines and new training will be required due to vastly different operating pressures." - Logan Keebaugh, Chiller Mechanic at Air Treatment Corporation
What kind of things did people in this career enjoy doing when they were younger…
When they were younger, HVAC Technicians were likely curious about how things worked, especially when it came to mechanical components. Picture them tinkering with mechanical toys, discovering their internal mysteries and secrets or figuring out how to fix those objects if broken. Essentially, many grew up with a sort of builder's mindset, becoming handy with tools as they patiently toiled away repairing objects at home.
 
Workers in this field clearly don't mind physical work, nor do they shy away from a bit of discomfort or exposure to the elements. Some probably grew up with a natural aptitude for mechanics; others might have been trained to assist with things like automotive or home appliance repair, and simply found their way into the HVAC sector because it seems like familiar territory to them.  
"Tearing apart compressors and equipment and putting it all back together." - Eric Torres, HVAC Service Manager at Thermal Concepts, Inc.

"Most were interested in technology in some way. Anyone interested in computer science or mechanics can thrive." - Logan Keebaugh, Chiller Mechanic at Air Treatment Corporation
Day in the Life
"As a service manager, my days are always different. I can go out in the field and meet existing customers, strengthening our relationship and keeping their trust and faith in us, or get new customers and expand our business.
"I can spend time with the techs for one-on-one training and mentoring. I can be involved in projects that need my input and experience. I can spend the whole day reviewing jobs for invoicing. Then there are days when I seek out training for myself, as far as developing as a leader for my role within my company." - Eric Torres, HVAC Service Manager at Thermal Concepts, Inc.
"Day-to-day can vary due to different types of jobs to complete and the unexpected nature of warranty work. For example—usually, for a normal start-up of a chiller, I arrive and meet with the installing contractor. The installer will introduce me to a controls technician and a building operator. From there I work with the installing contractor to verify that the installation is correct, and that there are no warranty items that need replacement. This includes testing each piece of equipment to verify operation. 
I would work with a controls technician to integrate the chiller's communication with the building so that operational readings and alarms are reported to the building operator. The building operator will verify no critical loads are running and be able to switch pumps or chillers as necessary per the site." - Logan Keebaugh, Chiller Mechanic at Air Treatment Corporation
Education and Training Needed
HVAC Technicians need at least a high school diploma (or GED) but don't need a university degree
Many finish some post-secondary education, which can be beneficial for landing a job
Vocational schools and community colleges offer HVAC certificates that take a few months to complete; some students opt to earn their associate's degree which usually takes two years if attending full-time
Courses applicable to this career field include HVAC system design and installation, residential and commercial systems, refrigeration and electrical systems, math, physics courses, and even plumbing 
3-to-5-year apprenticeships are a popular way for workers to learn On-The-Job
Many apprenticeships are sponsored by unions or associations, to help workers gain practical experience learning while getting paid
An apprentice will work under the supervision of a professional technician, gaining confidence with tool usage while assisting with basic labor tasks such as cutting pipes, insulating refrigerant lines, or cleaning dirty furnaces
The Environmental Protection Agency (EPA) requires Section 608 certification for workers handling hazardous refrigerants (such as CFCs or HCFCs)
Optional and advanced certifications include: 

ESCO Group's Heat Pump Installer Certification or Master Specialist Hands-On Residential Air Conditioning    
National Registry of Environmental Professionals' Certified Refrigeration Compliance Manager
North American Technician Excellence, Inc.'s Light Commercial Refrigeration Service 

Some states require HVAC Techs to obtain a license; HVAC School lists a state-by-state breakdown of requirements 
"As a union member, I would say the union classes—which are free, as long as you maintain a certain GPA.  There is also Junior College to get your associate degree and AC & Refrigeration certificates as I did.  Then there is specific manufacturer factory and equipment training.  Finally, depending on how high you want to go in your career, there is leadership development training. How to be a good leader. How to develop others. How to inspire others." - Eric Torres, HVAC Service Manager at Thermal Concepts, Inc.
"There are two basic paths—trade school or union apprenticeship. 
Trade School: 
Earn a trade school certificate and complete any required specific training for equipment you may come across. Usually, shadow a technician for some time before completing repairs solo.
Union:
Apprenticeships can be difficult but result in some of the highest-trained technicians I have met. Unions have different programs, but most last five years with fixed pay along the way."  - Logan Keebaugh, Chiller Mechanic at Air Treatment Corporation
Things to look for in a program
HVAC Technicians don't require a university degree, but they can prepare by completing training programs at a trade school or community college
You can also complete certifications via ESCO Group, which offers "portable and stackable credentials at all levels and stages in the careers of those in the HVACR industry"
Check to see if courses you take are accredited by the HVAC Excellence and Partnership for Air-Conditioning, Heating, Refrigeration Accreditation (PAHRA)
Things to do in High School and College
Take high school shop classes to get hands-on experience with common tools
Sign up for community college or vocational training classes to learn about HVAC equipment installation, maintenance, and repair, plus metalwork, blueprint reading, welding, safety, and CPR/first aid 
Volunteer or work part-time to build up your practical work experience; it'll look good on a resume or job application!
Keep a log of the tools and equipment you learn how to use
Find local apprenticeships and programs from HVAC associations
Watch YouTube videos or shows that capture what the day-to-day is like for this career
"I wholeheartedly believe that experience is the best teacher. What I mean by that is, go out on ride-along with individuals or take internships with companies if they allow it. Go on YouTube. Buy an AC & Refrigeration book and start reading it. (That's exactly what I did in my junior and senior years in high school. But then again, I didn't have the Internet!" - Eric Torres, HVAC Service Manager at Thermal Concepts, Inc.
"Watch Youtube videos on engineering or HVAC applications. There are many apps and programs that are designed to train new technicians entering the field. Also, take classes on electrical topics or plumbing." - Logan Keebaugh, Chiller Mechanic at Air Treatment Corporation
Typical Roadmap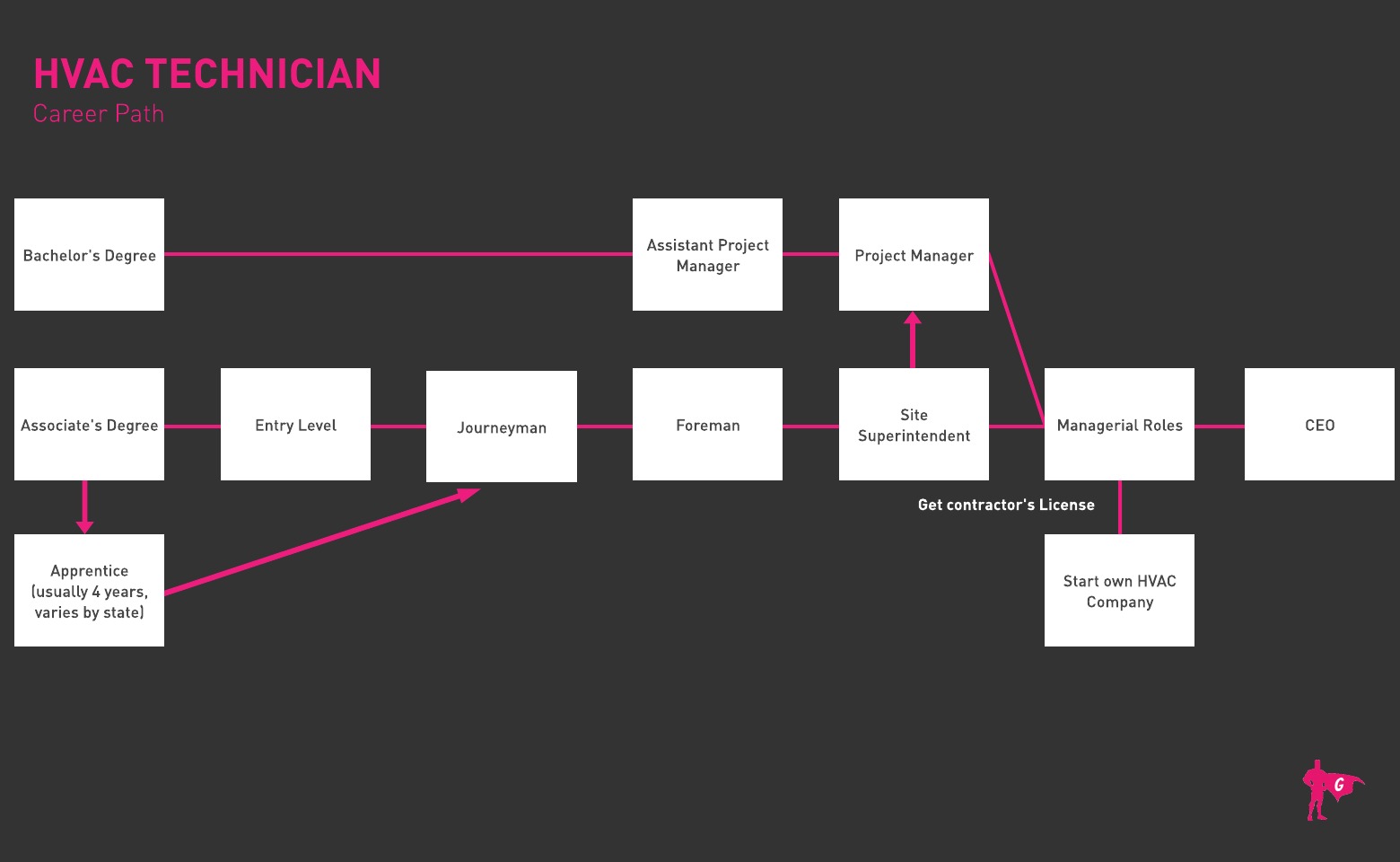 How to land your 1st job
The best way to get any job is to either be qualified or trainable. If you don't have the necessary academic credentials or work experience, demonstrate on an apprenticeship application that you're worth investing in!
Read job postings to see what skills and experiences are needed, then finish as many of those as you can before applying
Be honest about your background, use correct industry terminology, and list any completed extracurricular activities that demonstrate potential
If you can work part-time to learn the ropes beforehand, do so! Shadow your mentor or boss, ask questions, and gain skills
Tell everyone in your network that you're looking for jobs; they might point you the right direction
Ask an editor or your college's career center if they can review your application for mistakes or ways to enhance it
Look on job portals such as ZipRecruiter, SimplyHired, Indeed, and Glassdoor for open positions or apprenticeships
Don't forget about Craigslist; many smaller companies use it for advertising jobs
Search Apprenticeship.gov and HVAC Insider's job board 
Be a consummate professional during interviews and review a few sample interview questions in advance to prepare
"I wish I'd a mentor to guide me into the union earlier. [If I had joined earlier], by next year I'd have 30 years with the union and be set for a nice pension retirement and still have my youth. However, I'm grateful for my path and happy that I'm at where I'm at because of it.  In terms of landing your first job, if you apply for the union (UA Local 250), the union works hard to place you with the top AC & Refrigeration companies in the industry. Then, once a member (UA Brother), you "play" (i.e., work) for the union, but wear the "jersey" of certain teams (i.e. employers).  If your decision is to go non-union, then it's about selling yourself at your interview. Of course, be yourself and be honest. If it's your first interview in this career, employers are going to want to know how you are going to bring value to them or their department if they hire you.  The line I always liked to use was: "What I lack in experience, I make up for in hard work!" - Eric Torres, HVAC Service Manager at Thermal Concepts, Inc.
"I worked for my in-laws. After that, I worked at a facility with a coworker whom I met at Mt. Sac while completing my HVAC certification." - Logan Keebaugh, Chiller Mechanic at Air Treatment Corporation
How to Climb the Ladder
Be on time for work, always be ready, add value, and show a desire to learn and excel
Master every skill and perform the highest quality of work possible
Take very good care of your tools and inventory
Explore the wider world of HVAC outside the scope of your daily duties
Knock out additional courses, volunteer to attend training, and get certified on core, advanced, and specialized duties. See the below sites for certification options:

North American Technician Excellence (NATE)
Refrigerating Engineers & Technicians Association (RETA)
HVAC Excellence in partnership with Esco Group

Obtain your license if needed for your job (or the job you want)
Take your apprenticeship very seriously, because there are plenty of others waiting for such opportunities
Talk to your boss! Odds are, they're a wealth of knowledge but sometimes they don't offer up information unless directly asked
Take the initiative—study those technical manuals!
Learn directly from manufacturers' representatives when you interact with them
Read up on trends and developments
Train new workers once you're expert enough to impart knowledge. Act like a leader, whether you're paid to be one or not
Know and comply with safety standards and always wear your protective gear. Nothing angers an employer more than a workplace mishap that could have been prevented if the employee had taken proper precautions the way they were trained 
Recommended Resources
Websites
Air Conditioning, Heating, & Refrigeration Institute
Air Conditioning Contractors of America
American Society Of Heating, Refrigerating And Air-conditioning Engineers (ASHRAE)
Associated Builders and Contractors
HVAC Excellence
North American Technician Excellence
Plumbing, Heating, Cooling Contractors Association
Refrigerating Engineers and Technicians Association
Refrigeration Service Engineers Society (RSES)
United Association Union of Plumbers, Fitters, Welders, and Service Techs
Books
"YouTube and Instagram are excellent resources. I follow a lot of individuals and see what they are working on or see their struggles and how they overcome them. Remember I said experience is the best teacher? Well, learning through a second party is great as well. When they mess up, you learn without the blood, sweat, and tears! BUT—with blood sweat and tears comes confidence, growth, and development." - Eric Torres, HVAC Service Manager at Thermal Concepts, Inc.

"There are online HVAC textbooks that offer a huge foundation of knowledge in a digestible format." - Logan Keebaugh, Chiller Mechanic at Air Treatment Corporation
Plan B
The job outlook for HVAC technicians is projected to grow four percent in the next decade, but it can still be competitive. If you are interested in exploring options in other related areas, check out the Bureau of Labor Statistics' Occupational Handbook and O*Net Online for additional career information on jobs such as:
Boilermakers
Electricians    
General Maintenance and Repair Workers
Plumbers, Pipefitters, and Steamfitters
Sheet Metal Workers
Solar Photovoltaic Installers
Stationary Engineers and Boiler Operators
Wind Turbine Technicians
Aircraft Mechanics and Service Technicians Bright Outlook
Automotive Service Technicians and Mechanics
Mobile Heavy Equipment Mechanics, Except Engines
Motorboat Mechanics and Service Technicians
Words of Advice
"Whatever path you decide to take in this industry, put in your absolute best effort. Never [take shortcuts]! This way you develop a great work ethic and a habit that will serve you well. Remember, hard work will always beat talent when talent doesn't work hard. Then, when you get talented and your hard work is a habit, you become a leader that will inspire others to do what you do!" - Eric Torres, HVAC Service Manager at Thermal Concepts, Inc.
"Trades need many people due to all of the projects slated. There are many advantages once you have an understanding of the industry." - Logan Keebaugh, Chiller Mechanic at Air Treatment Corporation
Newsfeed Featured Jobs Online Courses and Tools