Spotlights
Similar Titles
Design Engineer, Product Designer, Mechanical Designer, Product Development Engineer, Commercial Designer, Product Developer
Job Description
Nearly every product we use today was created by an Industrial Designer. They may not have held that exact title, but an Industrial Designer is responsible for the development of new products. For new items to enter the market today, there is a team of people behind the scenes ensuring that it is usable and safe, and leading that effort is an Industrial Designer. 
Although not all of them perform all aspects of the job, Industrial Designers are creative individuals that spearhead the development of new products. Starting from the ground up, a concept is created with the artistic vision of an Industrial Designer via sketches, mockups, or rudimentary models or molds. These concepts then go through a team of other design professionals like engineers, manufacturers, software developers, and marketing professionals to get the product from idea to consumer readiness. 
The Industrial Designer is involved through the creation process, implementing advice and specifications from engineers and manufacturers to help the product evolve into one that can be released to consumers.
Rewarding Aspects of Career
Industrial Designers often find the work itself rewarding, especially if they are a natural creator and innovator. They can create products that genuinely help people or the environment, and get to see their ideas turn into real-life products. Aside from the ability to help others through designing or refining creations, some products can go on to genuinely change the world we live in, just from the idea of one person.
The Inside Scoop
Job Responsibilities
An Industrial Designer is responsible for helping a product go from idea to consumer-ready. They are often required to brainstorm a concept that a company has asked for directly and then provide follow-up by presenting that concept in a visual format, such as a sketch or CAD rendering. After engineering teams provide input, it is 'back to the drawing board to implement the necessary usability requirements. As the product goes through the entire design and testing process, the Industrial Designer revisits the original product many times to make adjustments. They aid in managing the rest of a design team to fully integrate the different aspects of physical production, safety concerns, marketability, software and User Interface, etc. 
Typical Duties
Arrange production of samples 

Communicate with company leaders and customers 

Create physical models of concepts in many mediums from woodworking to 3D printing

Include aesthetic design principles with usability requirements

Investigate alternative uses of products that are already on the market

Oversee assistant's work and help manage a design team

Prepare illustrations, blueprints, and digital renderings of design concepts

Present ideas, design modifications, and consumer use guides to research and development teams

Research market needs and marketing procedures

Research production costs

Understand and develop industry standards for design and production
Additional Responsibilities
Aid corporate entities with their image goals

Attend and present information at professional conferences and events

Incorporate decorative designs

Prepare material to 'pitch' ideas to companies
Skills Needed on the Job
Soft Skills
Active listening

Administrative

Attention to Detail

Creativity 

Mathematics

Sales and Marketing

Technology

Verbal and Written Communication
Technical Skills
Desktop Publishing

Digital Cameras

Email

Internet Research/Browsing

Video Creation and Editing

Various types of design software such as:
Different Types of Organizations
Industrial Designers usually work inside an office setting, although some of their work can be done from home. They may also travel to different facilities through the design process, including testing and design shops or client homes and facilities.
Expectations and Sacrifices
One of the biggest sacrifices that Industrial Designers make is sacrificing time to the job. Projects may take a lot of time that is not scheduled for because of the evolving nature of the projects and the quality control needs. They are expected to work within the timeline of other parts of the design team, which can include unexpected setbacks. 
An Industrial Designer is also expected to create useful and safe products, which can be a daunting idea. They're expected to think forward to how the designs can be used or misused, and plan ahead for those possibilities. 
Current Trends
Industrial Design is expected to experience an average growth rate in the next few years, although the move from manufacturing inside of the U.S. could cause that to decrease slightly. 
With new products going into the market every day, and innovation continues at a rapid pace in the technology sector, the need for designers is still stable and growing.
What kinds of things did people in this career enjoy doing when they were younger…
One of the main traits that Industrial Designers share is a very strong sense of imagination. As children, the designers were often involved heavily in make-believe play, and in building and constructing toys like Legos. They also likely had artistic talent, either in drawing and sculpting or in digital design. Even video games like Minecraft provide a solid foundation for the creation and construction of projects, products, and models.
Education and Training Needed
A Bachelor's Degree is the minimum education needed for most Industrial Designers

​​​​​​​

Common fields of degree include fine arts, engineering, or architecture. Most industrial design programs include courses in drawing, computer-aided design and drafting (CADD), and three-dimensional modeling, as well as courses in business, industrial materials and processes, and manufacturing methods.

Additional coursework in design may be needed prior to acceptance to a Bachelor's Degree Program at some colleges

Internships/Apprenticeships within the design are available although not necessary for many jobs
THINGS TO LOOK FOR IN A UNIVERSITY
Some common Bachelor's Degree fields of study include Fine Arts, Engineering, and Architecture. Areas of focus to look for in a university are programs that offer courses in CAD design, manufacturing process, and business management. The National Association of Schools of Art and Design (NASAD)  offers accreditation to approximately 350 schools and is a great standard to start your school search with.
Things to do in High School and College
Decide if you want to specialize in any area and note what additional education you may need for that specialty

Explore

Preparatory Classes

Get a head start on CAD design with some

beginner friendly software

Look into whether your state offers the chance to work towards your degree while

still in high school.

Maintain a high GPA

Prepare a design portfolio prior to college enrollment

Pursue continuing education in additional design courses to expand your portfolio
Typical Roadmap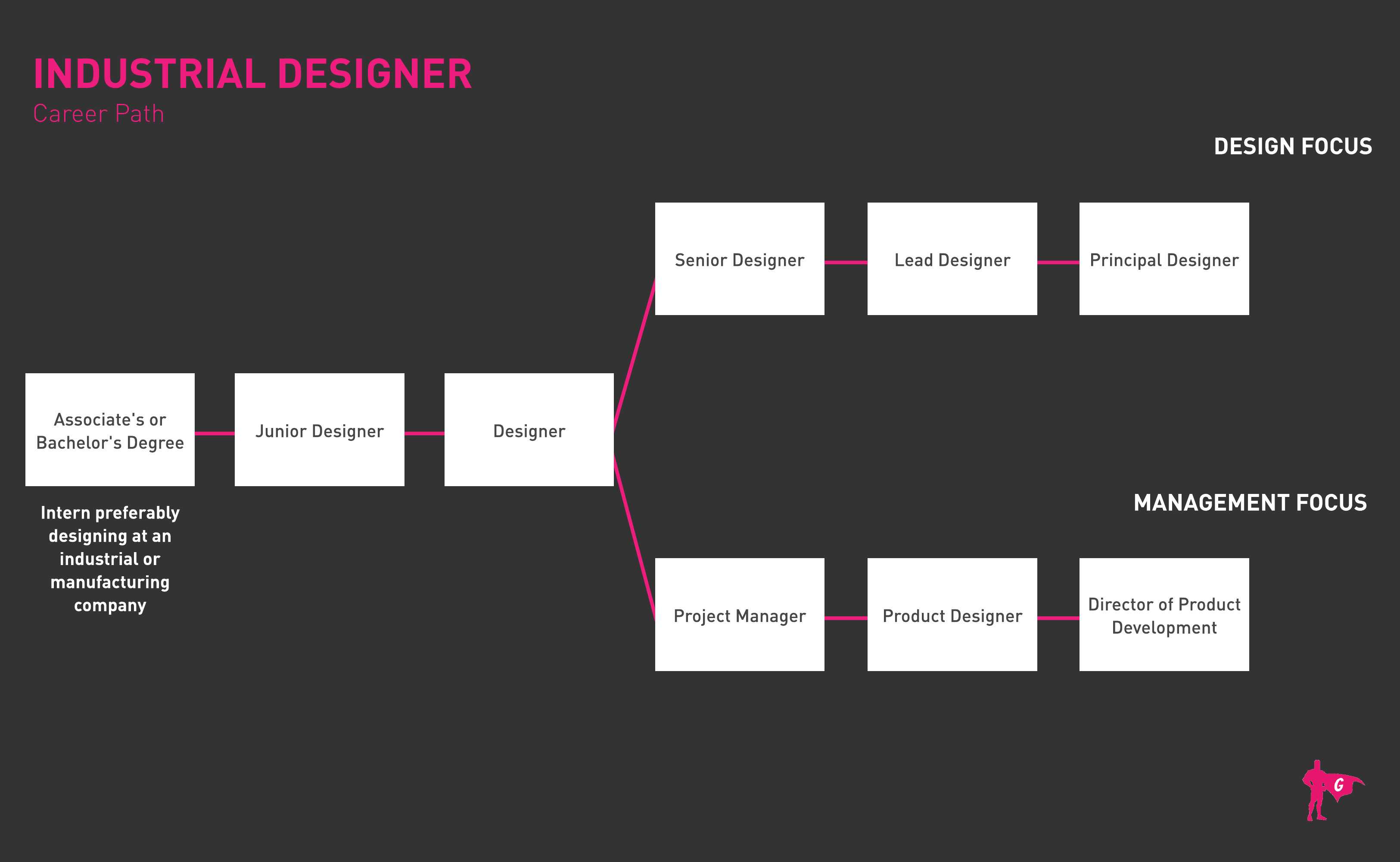 How to Land your 1st job
Check with your school's resource center to see if you qualify for any job placement assistance

Find employment resources within professional organizations such as the

Industrial Designers Society of America

(IDSA)

Find the geographic location you would prefer to work in and look for all possible Industrial Design openings

Have a polished, professional portfolio available

Polish your resume

and check that you have included relevant data. It is a good idea to learn how to highlight your achievements in school if you are entering the workforce right out of college

Prepare for your interview by checking out industry specific tips on

acing your interview

Provide references from schools or previous employers
How to Climb the Ladder
Industrial Designers that work within firms can achieve higher positions such as Chief Designer or Department Head. Continuing education to stay up to date on the latest in technology and design is one great way to move ahead in the industry. Working well within a team is also very important and shows that you can receive feedback and integrate it into your work. 
For the more entrepreneurial-minded, building a great portfolio can aid you in opening your own design firm or providing design services with your own business. Having a portfolio of projects, even unsuccessful ones, can highlight your unique processes.
Recommended Tools/Resources
Plan B
Because of the multifaceted nature of being an Industrial Designer, there are many other jobs that also utilize imagination, creativity, artistic talent, and the ability to use design software. They include careers like:
3D Modeler

Artists

Fashion Designer

Industrial Engineer

Mechanical Drafter

Safety Engineer

Software Developer
Newsfeed Featured Jobs Online Courses and Tools