Spotlights
Similar Titles
Management Analysts, Logisticians, Continuous Improvement Engineer, Engineer, Facilities Engineer, Industrial Engineer, Operations Engineer, Plant Engineer, Process Engineer, Project Engineer, Quality Engineer, Research and Development Engineer (R and D Engineer)
Job Description
Industrial engineers research, design, and implement systems to maximize the efficiency of production processes. Their work involves minimizing wastefulness through precise coordination of time, workers, machinery, materials, workers' safety, environmental concerns, and cost.
Rewarding Aspects of Career
Job satisfaction: watching your design being used to successfully improve the efficiency of your company
Pay: a good solid salary
Intellectually challenging: making use of the technical and life skills acquired in university
Job security: the function of industrial engineers is quite in-demand
The Inside Scoop
Day in the Life
There IS no typical day for an engineer. There is always going to be something breaking, going wrong, ordered wrong, or refusing to fit. In all other careers, problems are obstacles to the job - but in engineering, problems ARE the job!
Mornings may start off with personal time to respond to emails and conduct some project management. Organization and communication is critical in this field because much of the work is done in teams.
The rest of the day may be spent collaborating on various assigned projects.
Most of this work is done on a computer (using Excel for data analysis, Autocad for drawings, Access for database updating, etc),
A third of the work day is spent out on the factory floor. Wearing jeans, steel-toed boots, and safety goggles, industrial engineers blend in with the machines as they study them and try to find solutions to either fix or improve them.
Being flexible to colleagues' work dynamics is important, as industrial engineers may be working with hundreds of other employees, both domestically and internationally
An Industrial Engineer consultant has similar job responsibilities, except their duties require extra precaution in terms of organization and communication since they get the opportunity to work with different companies
Skills Needed
Soft Skills
Creativity
Communication
Problem-solving
Technical Skills
Math: calculus, trigonometry, etc.
Analytical or scientific software: Dataxiom StatMost; Windward Technologies GRG2; Wolfram Research Mathematica; Workcell simulation software
Computer aided design CAD software: Autodesk AutoCAD, Dassault Systemes CATIA, International TechneGroup IGESworks, PTC Creo Parametric
Industrial control software: Allen Bradley PanelView, Computer numerical control CNC software, Human machine interface HMI software, Nupro CastView
Different Types of Organizations
Consulting firm
Manufacturing industry
Expectations/Sacrifices Necessary
Challenging workload in university: industrial engineering programs require 4 years of intense effort, organization, and discipline
May have to start as an intern or in a lower paying entry-level position: even still, starting pay is usually quite competitive and there is good potential for salary increase in this field
Current Industry Trends
The good news is virtually all production industries have use of an industrial engineer
The current "buzz-field" is software and computers. Knowledge of computers and programmes, especially Excel, is very desirable
What kind of things did people in this career enjoy doing when they were younger…
Tinkering, building, playing with things
Breaking apart small gadgets (even as small as a pen!) and seeing if you can fix/redesign it
An interest in studying statistics and/or maths
2016 Employment
257,900
2026 Projected Employment
283,000
Education and Training Needed
Basic Requirements:
Bachelor's degree in Industrial Engineering (also acceptable is mechanical engineering, electrical engineering, manufacturing engineering, industrial engineering technology, or general engineering)
Cooperative education programs allow students to gain practical experience while completing their degree, but may prolong the amount of time required to achieve a BA
A master's isn't needed but can help qualify you for advanced positions and higher wages
Some programs offer dual degree bachelor's and master's programs which can be completed in 5 years
Per O*Net, 59% of workers in this field have a bachelor's and 11% a master's
Requirements for State licensure:
Each state has different licensing requirements. Candidates may need to first take a Fundamentals of Engineering (FE) exam, become an Engineer in Training or Engineer Intern, then later take their Principles and Practice of Engineering (PE) exam
Entry-level workers don't need a license, but many opt to complete a Professional Engineering (PE) licensure program so they can become licensed Professional Engineers able to "oversee the work of other engineers, sign off on projects, and provide services directly to the public"
A degree from an ABET-accredited engineering program
A passing score on the Fundamentals of Engineering (FE) exam
Relevant work experience, typically at least 4 years
A passing score on the Professional Engineering (PE) exam
Additional certifications can bolster your credentials. These include:

American Society for Quality -

Certified Pharmaceutical GMP Professional    
Certified Reliability Engineer    
Certified Quality Inspector    
Certified Master Black Belt    

American Society of Mechanical Engineers International - Geometric Dimensioning & Tolerancing Professional - Technologist    
Association for Facilities Engineering - Certified Plant Engineer    
Association of Energy Engineers -

Certified Practitioner in Energy Management Systems    
ISO 50001 Lead Auditor    
Superior Energy Performance    
Certified Energy Manager    

Association of Technology, Management, and Applied Engineering -

Certified Senior in Engineering Graphics    
Certified Technical Professional    
Certified in Engineering Graphics    
Certified Senior Technical Professional

Board of Certification in Professional Ergonomics - Associate Ergonomics Professional    
Institute for Supply Management - Certified Professional in Supply Management    
Institute of Packaging Professionals - Certified Packaging Professional
International Society of Automation - Certified Automation Professional    
Manufacturing Skill Standards Council - Certified Technician-Supply Chain Automation    
Society for Maintenance & Reliability Professionals -

Certified Maintenance & Reliability Professional    
Six Sigma Master Black Belt Certification    
Lean Gold Certification    

Society of American Value Engineers - Certified Value Specialist    
The Society for Standards Professionals - Standards Professional Certification    
World Safety Organization - Certified Safety Specialist   
Things to look for in an University
Make sure programs in industrial engineering are accredited by ABET
Program should be linked to YOUR genuine interests! E.g. For Industrial Engineering, it helps if you are interested in statistics
Look at the statistics of how successful were the kids coming out of the school… at what rate did they get jobs?
Good, well-rounded curriculum: trains you in not just what's pertinent to your program (Industrial Engineering), but also teaches you other in-demand skills, e.g. Computers, since programming is a really important class to take
Things to do during high school/college
Stock up on courses in physics, calculus, statistics, algebra, geometry, linear optimizations, statistics, science, engineering, finance, production systems planning, manufacturing systems, English, and writing
Gain practical work experience through Industrial Engineer internships
Volunteer for school activities where you can practice teamwork and collaboration skills
Technology and software to become familiar with includes:

Adobe Fireworks
Allen-Bradley PanelView
C++, Python, R, Java
Computer-aided design/computer-aided manufacturing software
Computer numerical control software
Enterprise resource planning software
Expert system software
Extensible markup language
Finite element method software
GitHub  
Human-machine interface software
Integrated development environment software
Inventory management software
Materials requirements planning logistics and supply chain software
MathWorks MATLAB
Microsoft Visio
MS SharePoint, Access, SQL
Program testing software
Project management software
Supervisory control and data acquisition software
Visual Basic for Applications
Workcell simulation software

Read articles and watch tutorials about Industrial Engineering to learn from insiders
Try to schedule an Industrial Engineer informational interview to ask questions
Get specialized with an in-demand certification
Join professional organizations to learn, grow, and network (see our Recommended Resources > Websites for a list of options)
Typical Roadmap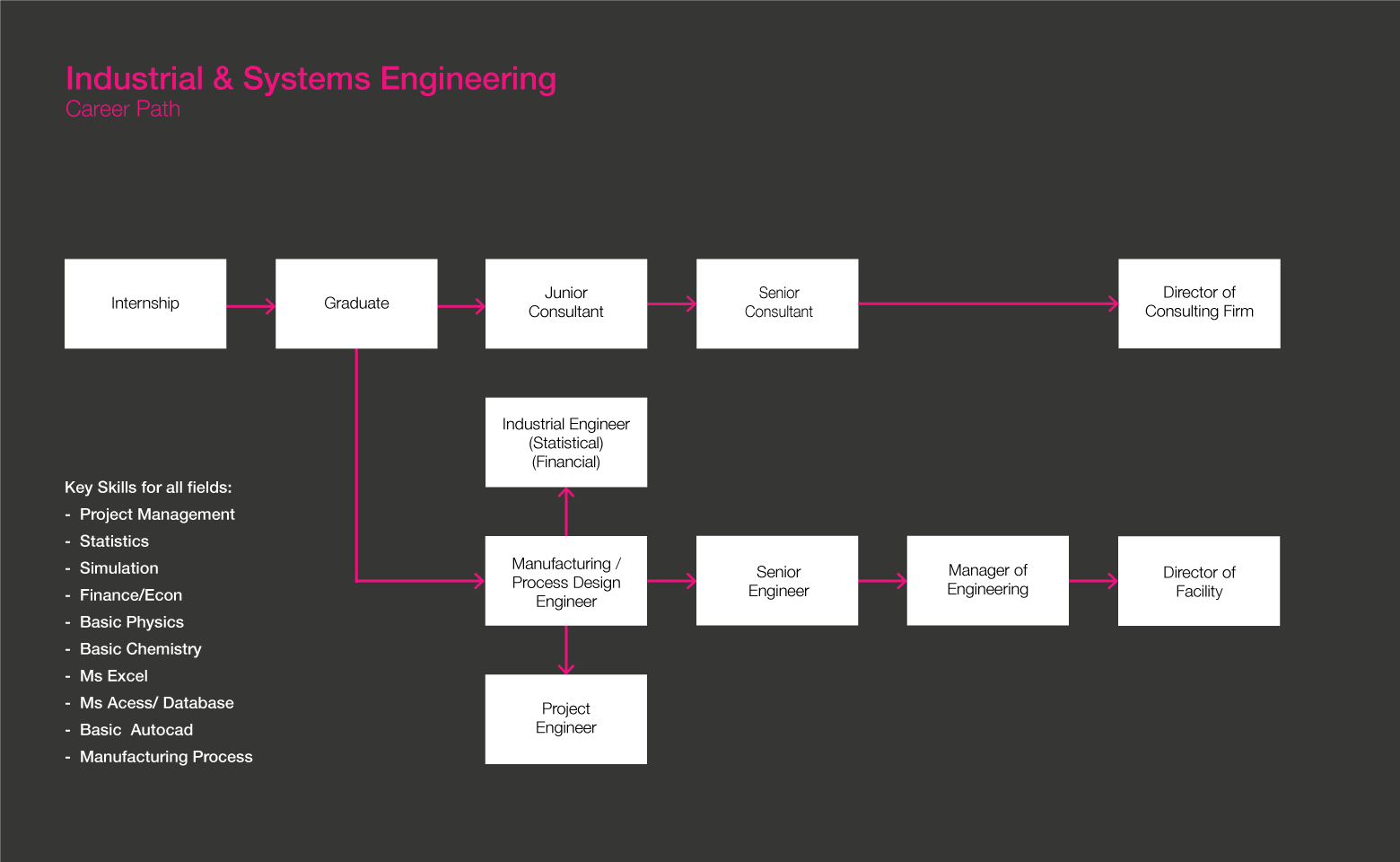 How to land your 1st job
College summer/semester Internship: best chance of creating a network within a company, and also allows you to see if you like this field or should switch academic tracks
Networking through/with your college or university
LinkedIn: Prospective employers view your profile, so make sure it is updated and effectively reflects your skills and accomplishments. Make sure you check your messages regularly too.
Online applications (type up your info, attach a PDF of your resumé, and send it off): problem is a lot of these websites are not updated, and a lot of applicants may be algorithmically discarded since a computer cannot determine if a human has the qualities necessary to fulfill that position… nevertheless this method helps to cast your net wide
Old-school method, but it works: get in your car, drive up to the office with a copy of your resumé. Keep appearing at the office if that is what it takes. This is also the best way to see the work environment and what you'll be doing, to determine if you really want to work at that location
Sign up for alerts on job portals such as Indeed, Simply Hired, Glassdoor, and Zippia
There are also several engineering-specific job boards, such as National Society of Professional Engineers, EngineeringJobs.net, IEEE Job Site, Society of Women Engineers, ASCE Career Connections, Society of Hispanic Professional Engineers, American Council of Engineering Companies, C&ENjobs, ASHRAE Jobs, and Tau Beta Pi The Engineering Honor Society
Talk with your school career center for help with resumes, mock interviews, and job fair dates and locations
What it really takes to make it and succeed
Passion for your job: it is very rare that someone enjoys every aspect of their duties, but enjoying some tasks is imperative. The little things keep you coming back. For an Industrial Engineer, this passion may be building databases and programming.
Join associations: Institute of Industrial and Systems Engineers
Join the local chapter:  helps you network, monthly industry talks, seminars, field trips.
Knowledge is power: Attend seminars, webinars, and workshops to make sure you are up to date with what's going on with the latest technologies and developments in the industry
Be inquisitive: Who is leading the technology currently in the industry? What emerging technologies are there in the industry?
Recommended Resources
Websites
YouTube: working professional Industrial Engineers take videos of their daily activities, which contextualize the Math and Sciences studied in university to demonstrate how they are used in practice
Books
Plan B
Industrial Engineers acquire very transferable skills
They are exposed to programmes which allow them to do electrical design work, biomedical engineering, programming, and software development, among other fields
50% or more Industrial Engineers end up doing consulting work… the two go hand-in-hand because Industrial Engineering like consulting, involves a lot of optimization calculations
Newsfeed Featured Jobs Online Courses and Tools