Spotlights
Similar Titles
Industrial Machinery Mechanic, Industrial Mechanic, Loom Fixer, Loom Technician, Machine Adjuster, Machine Mechanic, Maintenance Technician, Mechanic, Overhauler, Sewing Machine Mechanic, Maintenance Millwright, Farm Equipment Mechanic and Service Technician
Job Description
Industrial Machinery Mechanics and Machinery Maintenance Workers ensure equipment and machines are working the way they're supposed to or fix them if they aren't. From conveyors to production and packaging machines, there's a wide range of equipment that companies rely on for their businesses. If any one of them breaks down, it affects the entire process and work stops. That's why mechanics and maintenance workers are critical players in the modern business world, working hard to find, troubleshoot, and fix machine errors.

Millwrights are in charge of installing the machines, properly assembling them, tearing them down if needed, and moving them from one place to another. They can also do repair work, and may sometimes perform their tasks outside of factories, such as at construction sites. Millwrights rely on several hand tools as well as large equipment such as forklifts or winches to move heavy parts and equipment. 
Rewarding Aspects of Career
Keeping factories and business processes running smoothly
Helping stimulate the economy as a key player in production processes
Ensuring companies can get their products made and out the door on time
Enabling other workers to continue their jobs without delays due to equipment breakdowns
2019 Employment
521,300
2029 Projected Employment
591,400
The Inside Scoop
Job Responsibilities
Working Schedule
Industrial Machinery Mechanics, Machinery Maintenance Workers, and Millwrights work full-time, typically 8 hours a day, with overtime or weekend shifts possible. They might also be on call in case of problems at the workplace. 
Typical Duties
Install new equipment and machines and test for proper operation
Review and follow procedures outlined in manufacturer technical manuals 
Keep equipment and machines clean and well lubricated to ensure proper functioning
Perform other general maintenance on schedule, as applicable to each piece
Troubleshoot problems; run diagnostic tests 
Repair or swap out parts that aren't working correctly or are broken 
Mark equipment that is under repair or awaiting parts
Communicate with teammates and supervisors about equipment status 
Tear down pieces that need to be moved or taken off-site
Transport items to storage locations or to other work areas, as directed
Catalog parts carefully during disassembly
Additional Responsibilities
Keep up with routine maintenance schedules and log details when work is done
Review technical manuals for changes and updates
Conduct tool and equipment inventory
Ensure all testing tools are calibrated correctly prior to using them to test machines
Prepare and use chemical cleaning products 
Practice all safety protocols to mitigate workplace mishaps
Wear appropriate personal protective equipment, as needed
Skills Needed on the Job
Soft Skills
Analytical 
Attention to detail
Coordination
Evaluation and problem-solving skills
Hand and finger dexterity
Observant
Realistic
Sound judgement
Strength and stamina
Strong reading skills
Team player
Time management 
Technical Skills
Equipment maintenance, calibration, and repair
Enterprise resource planning software 
Facilities management programs
Inventory management software
Technical manual databases
Tools and equipment usage, including: abrasive stones, wrenches, blowtorches, calipers, air guns, cutting die, deburring tools, dollies, drill bits, drill press, forklifts, grease guns, grinders, saws, hammers, hoists, jacks, ladders, levels, metal cutters, metal folders, microcontrollers, micrometers, plumb bobs, power buffers, riveters, punches, rulers, scaffolding, screwdrivers, shears, slings, socket sets, taps, shop cranes, and more
Different Types of Organizations
Commercial & industrial repair 
Construction
Manufacturing    
Wholesale trade    
Expectations and Sacrifices
Industrial Machinery Mechanics, Machinery Maintenance Workers, and Millwrights all shoulder a ton of responsibility because when something goes wrong with a piece of equipment, it has a domino effect that impacts the entire flow of production. Work stoppages are very costly for owners, so, to the greatest extent possible, workers must strive to avoid them. Maintenance should be done on-time and problems anticipated so solutions can be ready. When downtime can't be avoided, the pressure is on to get repairs completed quickly. 
 
Work hazards are common, given the number of tools used and the way certain machines function. Great attention to detail must be paid, and personal protective equipment like hardhats, OSHA-approved safety glasses, steel-toed boots, gloves, and hearing protection should be worn to mitigate injury. Safety protocols should be followed at all times to avoid mishaps, and workers have to be careful when moving heavy parts. 
Current Trends
As business continues to automate, demand for highly-skilled Industrial Machinery Mechanics, Machinery Maintenance Workers, and Millwrights will continue. According to the Bureau of Labor Statistics, the job outlook is bright, with an expected 13% rise on average. However, it's Industrial Machinery Mechanics who'll see the most increase, up to 16%. 
 
As machines become increasingly complex and computerized, workers with training in modern, high-tech equipment should be the most competitive when entering the job market. That said, workers with the broadest skill sets will be in-demand, because many companies use a mix of older and newer equipment.
What kinds of things did people in this career enjoy doing when they were young...
Industrial Machinery Mechanics, Machinery Maintenance Workers, and Millwrights enjoy tinkering. They like working with their hands, making or fixing things, and can become engrossed in whatever they're working on. Chances are they always had this fascination with machines or with creating things in school classes or out in the garage. They might've loved LEGOs, too, building intricate contraptions while following the directions step-by-step. 
 
Whatever they worked on, they wanted it to work correctly and took pride in making sure it did. They might be perfectionists, perhaps trained on following procedures or maybe that's just part of their personality which developed on its own. Aside from being hands-on, they might have also been bookworms, happily reading and learning new things they could put into practice later. As kids, they may have seemed content to work alone, but were likely comfortable participating on teams, too. 
Education and Training Needed
A high school diploma or GED is needed; a bachelor's is not
Mechanics and maintenance workers should finish at least a year of vocational training to prepare for their roles, or possibly an associate's degree in industrial maintenance

They can also expect plenty of On-The-Job training for a few months, given by fellow workers or manufacturer reps

Millwrights can expect to learn via a ~3 to 4 year apprenticeship 

An apprentice must be at least 18, a high school grad (or equivalent), and physically capable of doing the job

The Occupational Safety and Health Administration (OSHA) offers optional online certificates for short training such as Hand and Power Tools and longer courses for general industry
Things to look for in a program
Since a four year degree is not needed, students taking preparatory college classes can attend community college or vocational training programs instead of going to a university
Millwrights will receive most (if not all) training via their apprenticeship, so college classes may be limited to only a few or perhaps none (per O*Net, 9% of Millwrights do earn an associate's degree)
Those who attend college should look for activities to put skills into practice 
If applying for federal aid Pell Grants, make sure the money can be used to pay the tuition at your particular school of interest. If not, keep looking! 
Millwright jobs are great for Veterans, so if you are one, look for military-friendly schools that have VA benefit experts to help you navigate the system 
Things to do in High School and College
Each job is a bit different from the others, and naturally has its own education and training requirements. Therefore, the first thing you should do is decide which job you're most interested in — Industrial Machinery Mechanic, Machinery Maintenance Worker, or Millwright?
Once you know what you want to do, take classes that will be the most applicable for that job, whether it's welding, learning to use certain hand tools, studying hydraulics and pneumatics, or getting practice cleaning and lubricating machines
Take classes like shop math, blueprint reading, electronics, and programming, if needed
Do your homework and find out about the tools you'll need to know how to use. If you have a way to get practice with them early, go for it!
Get all the practical experience as you can, if not at school then via part-time jobs that can give you exposure to the things you'll need to know later
Every time you gain a new skill, keep track of it for use on your resume
Look for any apprenticeships available in your area, especially if you're planning to be a Millwright
Talk with people currently doing the job you're curious about, and pick their brains
Typical Roadmap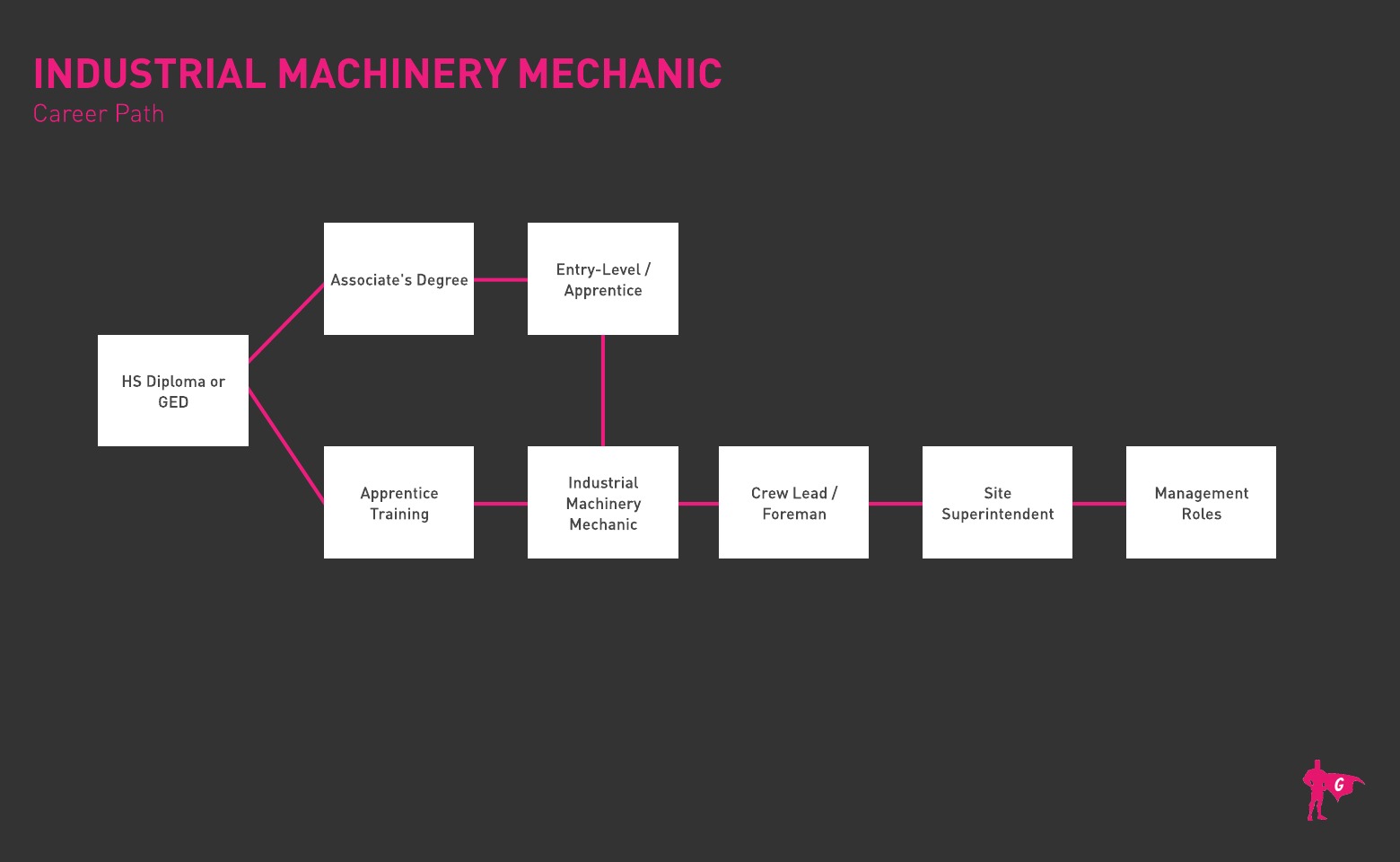 How to land your 1st job
A great way to prepare for your job search is by looking at job ads early on
Find ads for the types of jobs you want and read through the required and preferred skills listed, then tailor your education and training accordingly
For your resume, reuse the same or similar keywords and phrases found in the job ad 
If you need an associate's to get the job you want, make sure it's done before applying, but if you only need training in specific areas, get that done then apply when ready
If you're intending to apply for an apprenticeship, remember to list any related work experience or skills on your application (you may need to submit a resume showing education, work history, and skills)
For those who've never done a resume before, consider hiring a resume writer, editor, or asking your school for assistance. Even if you have done one, extra help can't hurt
Consider doing OSHA certifications for hand tools or general industry
Ask people in your network to let you know if they hear about job openings, and keep an eye on job portals like ZipRecruiter, SimplyHired, Indeed, Monster, and Glassdoor 
Advertise that you're "Open for Work" via LinkedIn. Make sure your profile is complete
Google search potential job interview questions for the career you want to enter
For example, Rockstar Millwrights' 25 Interview Questions To Ask A Millwright
How to Climb the Ladder
Be upfront with employers that you're interested in growth opportunities when the time is right. You want to focus on the job you were hired for but don't be shy to share your willingness to learn and advance 
After you ask about advancement opportunities, demonstrate your potential and show your worthiness! Learn your duties inside-and-out then keep learning more!
Always seek ways to expand your horizons. Become proficient in any weak areas
If applicable, take college courses, advanced training, or certifications that your supervisor suggests for specialization or to qualify for increased responsibilities
Ask equipment and machine manufacturers about trends and new developments you should become familiar with. Chances are they're happy to talk shop with you!
Use downtime to study technical manuals or learn something new
Look up answers for yourself but also ask questions if something is unclear or you need a hands-on demonstration. Seek out mentorship but prove you can do the work on your own, without assistance
Train others properly, because if they make mistakes, it reflects back onto the training you gave them
Stress safety and compliance at all times. Be a workplace leader and set the example!
When offering suggestions for improvements, be sure to think them through first and anticipate pushback. If you're able to persuade managers that you have effective time- or money-saving solutions that don't rely on shortcuts, you'll get their attention
Be a team player but show your capacity for leading and managing. Earn a reputation as someone who gets the job done right
Recommended Resources
Websites
Associated General Contractors of America 
International Association of Machinists and Aerospace Workers 
International Brotherhood of Electrical Workers 
ISA 
National Association of Manufacturers
National Tooling and Machining Association 
Precision Machined Products Association
Society for Maintenance & Reliability Professionals
United Brotherhood of Carpenters and Joiners of America
United Steelworkers 
Books
Plan B
Industrial Machinery Mechanics, Machinery Maintenance Workers, and Millwrights have unique aspects exclusive to their jobs, as well as similarities. If you've reviewed them all and decided to go for something different, we recommend scouting out similar occupations, like the ones listed by the Bureau of Labor Statistics and O*Net Online: 
Automotive Service Technicians and Mechanics
Electrical and Electronics Engineers
Electricians
Industrial Engineering Technologists and Technicians
Machinists
Medical Equipment Repairers
Mobile Heavy Equipment Mechanics
Plumbers, Pipefitters, and Steamfitters
Stationary Engineers and Boiler Operators
Welders, Cutters, Solderers, and Brazers
Wind Turbine Technicians
Newsfeed Featured Jobs Online Courses and Tools