Spotlights
Similar Titles
Decorating Consultant, Designer, Interior Design Consultant, Interior Design Coordinator
Job Description
An Interior Designer creates the overall look and tone for an indoor space, such as an office, building lobby, or home. They work in a variety of sizes of space. The work of an Interior Designer is done in collaboration with their client to create a look both can be happy with. The space must not only look nice, it will also need to be useful and practical for the client's needs.
Rewarding Aspects of Career
Being able to connect with different artisans and artists.
Using creativity to bring happiness to clients.
Being able to realize a mental vision in the real world.
2019 Employment
77,900
2029 Projected Employment
74,100
The Inside Scoop
Job Responsibilities
This position can carry many different experiences during a week. Through it all, an Interior Designer will be working with their client to develop a furnished space from conception to completion. They may be responsible for helping plan before a space is constructed, or they may be re-decorating an existing space.
An Interior Designer can expect to:
Bid on new projects, respond to client inquiries, or get assignments if working for a firm.
Listen carefully to a client's hopes for a space's aesthetic and use.
Create idea sketches, including need for any utilities, and identify necessary materials, furniture, lighting fixtures, or similar needs for the space.
Produce a budget for each project, as well as a completion timeline.
Oversee the ordering and installation of design elements.
Supervise the construction or redecoration of the space directly and on site.
With the client, inspect the finished project to make sure all expectations have been met.
Interior Designers will have a network of contractors, engineers, and construction workers to help them make good decisions, or to help them achieve unique visions. They may work with draftsmen, but will often use a Computer Aided Drafting program to design spaces.
Different Specialties of Interior Designers
Corporate designers create interior designs for professional workplaces in a variety of settings, from small offices to large buildings. They focus on creating spaces that are efficient, functional, and safe for employees. In their designs, they may incorporate elements of a company's brand.
Healthcare designers plan and renovate healthcare centers, clinics, doctors' offices, hospitals, and residential care facilities. They specialize in evidence-based design, which uses data and research in design decision making to achieve positive results for patients, residents, and facilities.
Kitchen and bath designers specialize in kitchens and bathrooms and have expert knowledge of cabinet, fixture, appliance, plumbing, and electrical solutions for these rooms.
Sustainable designers suggest strategies to improve energy and water efficiencies and indoor air quality as well as environmentally sustainable products, such as bamboo and cork for floors. They may obtain certification in Leadership in Energy and Environmental Design (LEED) from the U.S. Green Building Council. Such certification indicates expertise in designing buildings and spaces with sustainable practices in mind.
Universal designers renovate spaces in order to make them more accessible. Often, these designs are used to renovate spaces for elderly people and people with special needs; however, universal designs benefit everyone. For example, an entryway without steps may be necessary for someone in a wheelchair, but it is also helpful for someone pushing a baby stroller.
Lighting designers design lighting for spaces. Lighting design also often intersects with concerns about environmental impact, so lighting interior designers must consider how to achieve their design goals while also minimizing the amount of needless electricity their systems use.
Exhibition designers provide working layouts and decide the décor to be used in exhibition halls. The designers need to be knowledgeable on modular stand design, custom build designs, exhibition and museum design, and floor management.
Furniture designers may be tasked with arranging furniture at houses, showrooms, offices, and other areas to use space optimally, bring out desired themes and so on. They may also work with your client's suppliers such as carpenters, guiding them on what decorations to incorporate in the furniture to bring out your client's tastes.
Skills Needed on the Job
Soft Skills
Strong oral and written communication skills.
Able to actively listen, and turn other people's visualizations into reality.
Attention to Detail and well organized.
Cooperative and diplomatic.
Critical Thinking and Problem Solving
Technical Skills/Knowledge
Able to use Computer Aided Drafting software such as AutoCAD.
Understand budget constraints and project budgeting
Strong understanding of construction techniques and materials.
Customer Service experience with understanding of final decision making.
Different Types of Organizations
Self-Employed
Interior Design Firm
In-house for Retail, Office, Restaurant, Hotel, Educational Institutions
Healthcare Organizations
Kitchen/Bath Designers or Plumbing companies
Expectations and Sacrifices
While it is possible to become an interior designer on your own, the easier path is gaining a four-year degree in Interior Design. To be able to find a job after graduation, it may be necessary to take unpaid internships in the field. This can be a challenge, as you may need to work and intern at the same time.
It can take a long time to build up a network for Interior Design. You not only need to maintain communication and connections with other people in this specific field, you also need to build connections outside of it. The most successful Interior Designers have great relationships with carpenters, plumbers, electricians, and other tradespeople who often have very different life paths from Interior Designers.
Being an Interior Designer can involve long, flexible hours. You can expect to have a differing schedule day to day, so you will need be well organized when creating your weekly calendar.
It can be challenging for some folks in this field to understand how important the trades are to the fields. Many successful Interior Designers have spent time in the construction industry to better understand the field. During college, working for a construction company (or interning) can help build your larger network as well as provide you with the experience you need.
It is also a field where you may need to take low-paying, or even no-paying, jobs in order to build a portfolio of experience. Local non-profits are one example of an organization you can use.
Depending on your state, you may be required to pass a certification exam as well. This can require certain class hours, or even work hours, to qualify for.
Current Trends
As with most construction fields, there is a great movement within Interior Design to promote environmentally friendly building materials and designs. There is also movement to share more on social media and create a personal brand within the field.
What kinds of things did people in this career enjoy doing when they were young...
Art projects, including drawing, painting and sculpture.
Sewing and using textiles.
Woodworking or similar "shop" classes.
Decorating (and re-decorating) their bedrooms often.
Following interior designers on Instagram
Loved watching TV shows like Chip and Joanna Gaines' "Fixer Upper"
Education and Training Needed
Associate's Degree
Bachelor's Degree – Best Choice

Coursework includes classes in interior design, drawing and computer-aided design (CAD).

Be sure to create a portfolio of your work. 
Be sure to participate in at least one internship.
Find an accredited college program: 

National Association of Schools of Art and Design
Council for Interior Design Accreditation
National Kitchen and Bath Association 
Check out employment rates of the program and if they have career support. Highly recommend finding a college program that helps you get an internship while you are in school. 

Get licensed by passing your state-approved exam

National Council for Interior Design Qualification (NCIDQ)
To become eligible to take the exam, Interior Design applicants must have a degree or sufficient work experience. The more education you have, the less work hours you'll need to have logged

For example, someone with an associate's will need 5,280 work hours; someone with a bachelor's needs 3,520 work hours

California requires a different exam, administered by the California Council for Interior Design Certification (CCIDC)

Depending on your area of focus, you may need additional training to work as one of the following types of designers: corporate, healthcare, kitchen and bath, lighting, sustainable, and universal
Things to do in High School and College
Start a portfolio as soon as possible, especially if interning.
Art classes, specifically drawing.
Drafting and Computer Aided Drafting
Business courses are not necessary, but will help develop skills needed if you hope to one day own your own Design firm.
Trades and Shop classes, especially woodworking or carpentry.
Typical Roadmap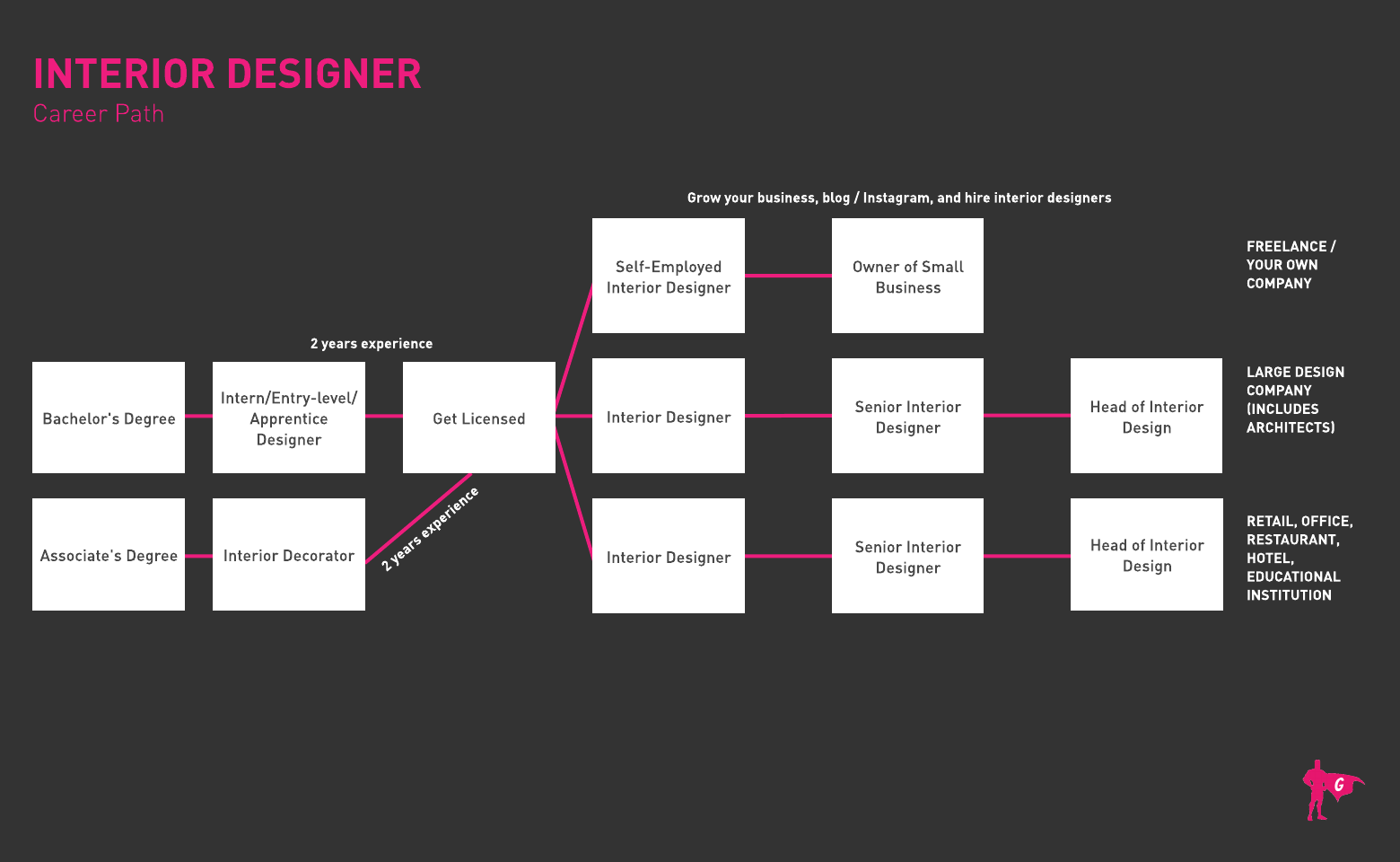 How to land your 1st job
Study hard in school, learning all of the creative and practical skills needed to be competitive
Make sure your Interior Design portfolio is online, polished, and ready to be discovered by customers and recruiters
Review Bureau of Labor Statistics data on which states employ the most Interior Designers (and which states pay the most)
Check out Indeed.com's Interior Designer internship job ads
Study job postings and review position requirements; make sure you have all the necessary skills, experiences, and qualifications before applying
Some positions may require or prefer a specialized certification in addition to a degree
Highlight keywords in job postings and work them into your resume
Speak with prior supervisors and teachers to ask if they'll serve as references when the time comes. It's better to ask ahead of time before giving out their email or phone numbers
Let your network know you are job-hunting! Interior Design is not a huge field, so if you have a solid reputation and let enough people know, you'll boost your odds of getting interviews
Create accounts on job portals such as Indeed and Glassdoor but also check out the online careers sections of companies you're interested in. Not everyone advertises openings on job portals
Connect with professional organizations and communities like the American Society of Interior Designers, the Council for Interior Design Accreditation, the International Interior Design Association, and the National Kitchen & Bath Association through conferences and other events
During college, get an internship and make connections. 
Attend industry conferences and networking events. 
Do pro bono work to put on your resume. 
Join the International Interior Design Association (IIDA) and find a mentor. 
Decorate your own apartment/house and photograph it. 
Start a design blog/Instagram to showcase design inspirations and your work. 
Spend the time getting to know the company you're applying to work at. Tailor your portfolio for that company. 
Click here to read How 21 People Got Their Jobs in Interior Design 
Recommended Resources
Websites
The Professional Association for Interior Designers
International Interior Design Association
Council for Interior Design Accreditation
National Association of Schools of Art and Design
National Council for Interior Design Qualification
Publications
Plan B
Set/Exhibit Design
Construction trades
Landscape Architects
Purchasing Agents
Graphic Design
Artistic Fields such as jewelry or fine art.
Architects
Art Directors
Words of Advice
Becoming an Interior Designer is often thought of as drawing a design and working with furniture. A professional Interior Designer will have experience in everything from pulling nails to hanging light fixtures. Be willing to get your hands dirty and build the designs yourself when necessary. It can take a long time to find the position you truly want in design.
As soon as possible, start your design portfolio. You should have your best materials available in both print and online. This will give you the flexibility you need to have your portfolio ready in most situations.
Be kind and take the time to build relationships with everyone you meet in the field, especially during school and internships. Once you find an entry level position, take the time to stay in touch with people who have been helpful. You will often not only have a network to help you succeed, but you will be able to provide opportunities for others. It is a wonderful feeling to have a set team of professionals you can put to work on a dream project.
It can be a long, challenging road to become an interior designer. But with good people skills, a solid portfolio, and a good sense of design, you can be successful.
Newsfeed Featured Jobs Online Courses and Tools