Spotlights
Similar Titles
Market Research Analyst, Global Market Analyst, International Market Analyst, Business Intelligence Analyst, International Business Researcher, International Marketing Analyst, Market Research Consultant
Job Description
Today's global markets are more interconnected than ever, turning the planet into one giant mass of stores—and customers those stores want to sell to. That's why many businesses that export goods and services use International Market Researchers to gauge marketing trends in other countries.
"Global marketing sees the world as one unique, individual market," writes England's University of York. From interviews to digital analytics, International Market Researchers review data and assess consumer behaviors while considering cultural, political, and economic influences. Their findings expose unique market opportunities as well as challenges that must be addressed. 
For those with the right mix of analytical skills, business acumen, and global curiosity, this career field features exciting opportunities to dive into the international business landscape! 
Rewarding Aspects of Career
Exploring the cultures of other countries 
Helping businesses launch successful marketing campaigns
Contributing to global commerce
Chances to build relationships with international clients/partners
2022 Employment
50,000
2032 Projected Employment
50,000
The Inside Scoop
Job Responsibilities
Working Schedule
International Market Researchers work full-time with travel sometimes required, causing them to be away from home some nights, weekends, or holidays. 
Typical Duties
Perform in-depth market analysis of various countries to understand their business environments, cultural nuances, and consumer behaviors  
Conduct surveys and focus group interviews to learn about consumer needs and pain points  
Address inquiries from internal teams about market specifics, potential barriers, competitor activities, and growth opportunities  
Conduct competitor analysis. Use findings to help with planning and decision-making 
Attend trade fairs/conventions to gather insights and identify market trends  
Analyze data from various sources. Create comprehensive market reports and forecasts  
Identify potential market segments within target countries that align with the company's product or service offerings  
Present findings to stakeholders, highlighting potential opportunities and risks  
Forecast potential market growth. Recommend entry/exit strategies for specific regions  
Provide insights on pricing strategies based on market dynamics, competitor pricing, and consumer purchasing power in different countries  
Collaborate with product development teams. Help tailor products/services for specific international markets  
Advise marketing teams on appropriate advertising and promotions
Analyze feedback post-product launch to refine future market strategies  
Additional Responsibilities
Join international research and industry-specific organizations
Stay up-to-date on regulatory and compliance changes. Ensure business strategies align with local laws  
Use statistical software to find and analyze data, and forecast consumer trends and behaviors
Participate in continuous learning to keep up with new research methods and tools
Skills Needed on the Job
Soft Skills
Accuracy
Active listening
Analytical 
Attention to detail
Business acumen
Communication skills
Curiosity 
Detail-oriented
Empathy
Flexibility 
Independent 
Integrity
Motivation
Objectivity
Patience
Problem-solving skills
Technical Skills
Knowledge of software programs for:
Business intelligence
Data Analytics 
Database management
Datamining
Enterprise resource planning
Financial analysis
Project management
Sales and marketing
Spreadsheets
Ability to analyze international market trends
Copywriting and editing skills
Digital marketing and social media marketing skills
Experience in web design
Familiarity with international trade agreements, regulations, tariff codes, and customs procedures
Fluency in target country languages
Knowledge of export documentation and shipping logistics
SEO/SEM skills
Technical expertise in the products and services being sold
Understanding of currency exchange and international banking practices
Understanding of product compliance with foreign standards
Knowledge of HTML 
Different Types of Organizations
Agriculture and food producers
Apparel and fashion brands
Commodity traders
Exporting houses
Manufacturing companies
Multinational corporations 
Pharmaceutical companies
Technology firms
Trading companies
Wholesale distributors
Expectations and Sacrifices
International Market Researchers may travel extensively, leading to time away from family. Because of the cultural immersion aspects of their work, they have to watch out for potential misunderstandings. Their dedication to staying updated on global trends also requires long hours, making burnout a possibility. They must be adaptive and culturally aware, as businesses rely on them to navigate global markets. 
As Trade.gov notes, international market research is "a key piece of successful export planning," and it's "important to critically review and assess demand for your product, as well as factors related to a given export destination." Thus, researchers must master both quantitative and qualitative research, understand socio-cultural influences on consumer behavior, and communicate complex data effectively. Beyond gathering data, International Market Researchers provide strategic insights that can help businesses flourish—or hurt them if the insights are wrong. 
Current Trends
With the rise of e-commerce, all types of market researchers must focus more on online consumer behaviors, cross-border commerce dynamics, and the effectiveness of digital marketing.
Meanwhile, with growing global concern for sustainability, businesses are being evaluated for their environmental and societal impacts. Market research hones in on these preferences for sustainable products, ethical sourcing, and compliance with green regulations.
Many companies are adopting localization strategies, recognizing that global markets require tailored approaches. Thus, researchers have to analyze local cultures and preferences to guide their employers' businesses in adapting products, services, and strategies for specific regions.
What kinds of things did people in this career enjoy doing when they were younger…
International Market Researchers may have always been interested in advertising and sales, as well as the cultures of other countries. They're often creative, curious, and persuasive people who enjoy learning new things and using their insights to help others. 
Education and Training Needed
International Market Researchers need at least a high school diploma or equivalent
Most companies require a bachelor's in business, business management, advertising, marketing, public relations, or a related field
Common undergraduate courses include:
Cross-Cultural Communication  
Digital Marketing in the Global Landscape
Emerging Markets and Market Behavior  
Global Market Entry Strategies  
International Market Research Methods  
Qualitative Research in International Markets  
Quantitative Analysis for Global Markets  
Market Researchers usually need a few years of related job experience, such as in customer service, sales, or other marketing positions
Completing an optional certification can help boost your career. Options include:
Things to look for in an university
Look for accredited colleges offering majors in business, international business, marketing, or accounting 
If dealing with technical products or services, you may need a degree in an applicable field, such as engineering
Engineering college programs should be accredited by ABET
Seek programs with internships or opportunities to get practical experience 
Compare tuition and fees costs, noting in-state vs. out-of-state costs
Review scholarship and financial aid options
Check out graduation and job placement statistics for alumni 
Things to do in High School and College
In high school, you'll need to master a lot of subjects, including business, international business, marketing, economics, statistics, data science, and social sciences
To hone your sales skills, take English, writing, speech, debate, and foreign languages
If planning to sell technical products, sign up for plenty of math, science, engineering, and technology courses in high school
Try to pin down what regions or products/services you're interested in!
Apply for part-time research or advertising-related jobs, especially if they are with a multinational company 
Volunteer for extracurricular activities, with a focus on roles that offer leadership and management experiences
Read trade publications and online articles and watch videos related to international business and trade. Familiarize yourself with current global business news and reports, international trade laws, regulations, and ethical considerations
Check out resources like Market Research Society, Journal of Marketing Research, American Marketing Association, MarketResearch.com, 
If possible, try to participate in a study abroad program or internship—even if it isn't about market research, just traveling outside of the United States can help you gain a new perspective on markets
Participate in relevant online forums and discussion groups like Reddit Market Research
Look for new ways to conduct market research, such as using LinkedIn
Keep track of all your work and academic accomplishments for your resume and/or college applications 
Join professional organizations to network, learn, and have fun!
Typical Roadmap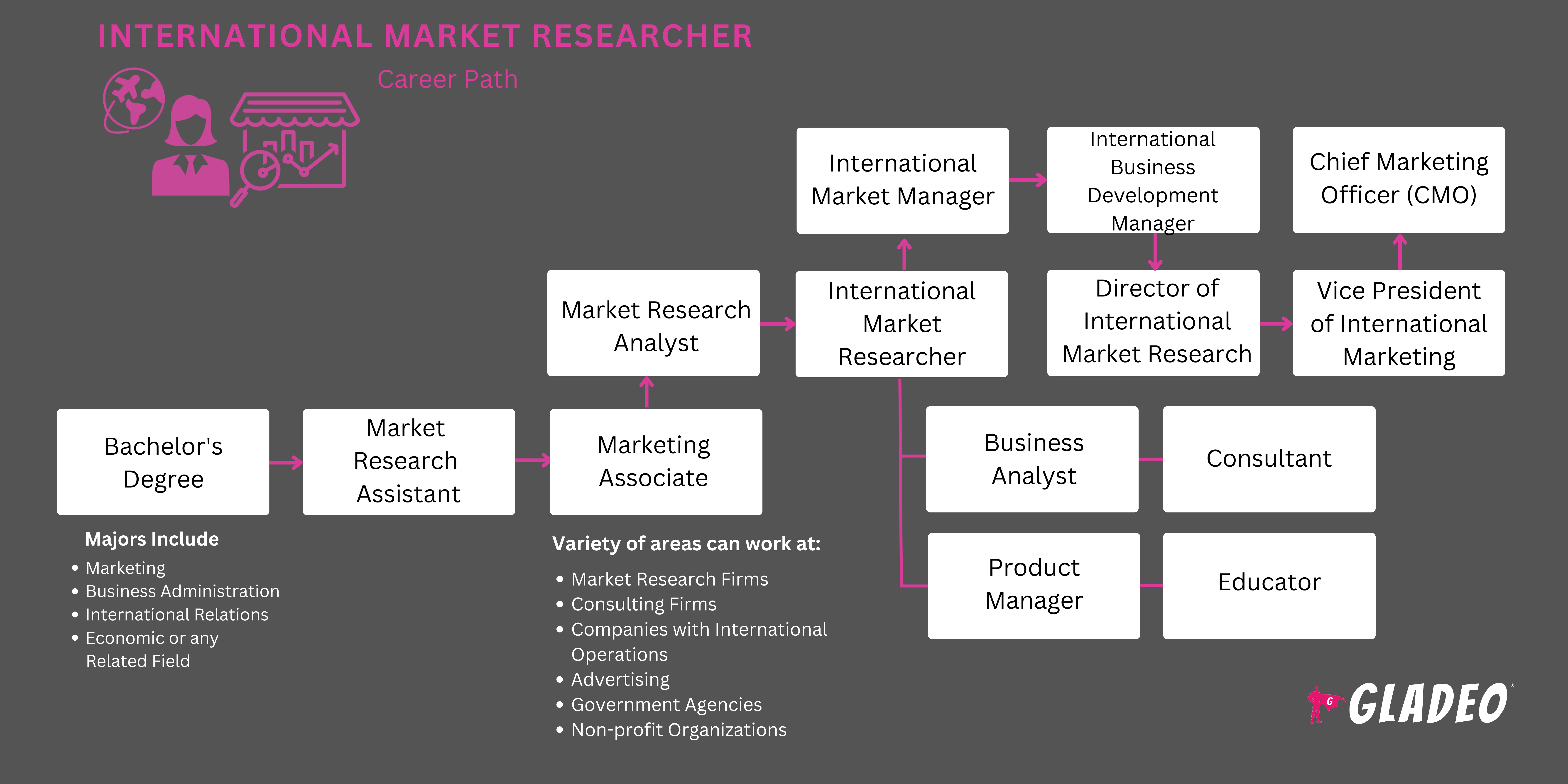 How to land your 1st job
Make a profile on LinkedIn and other networking platforms
Scan job portals like Indeed.com, Glassdoor, ZipRecruiter, USAJOBS, and other sites
Review job ads and look for keywords to list on your resume
If you have foreign language skills or cultural experience, highlight that on your application
If you don't have much market research experience, consider applying for an internship or entry-level role in a marketing department 
Attend job fairs, stay connected to your professional network, and ask for leads on upcoming job openings
Keep up-to-date on the latest developments related to the product or service type you want to sell
Ask previous professors and supervisors to write recommendation letters or request their consent (in advance) to list them as references
Do your research on potential employers. Learn what kind of products and services they manufacture or sell and who their target international buyers are
During interviews, demonstrate a keen awareness of trends in the industry
Review International Market Researcher resume templates and sample interview questions  
Conduct mock interviews with friends or your school's career center 
How to Climb the Ladder
The best way for an International Market Researcher to move up is to make money for their employer!
Consistently find emerging markets and potential customer bases. Deliver actionable reports on consumer needs, competitor activities, and growth opportunities  
Let your supervisor know you are interested in advancement. Offer to take the lead on tough projects or trips that maybe others don't want to go on
Knock out additional education and training to improve your ability to conduct outstanding research and analysis, such as the International Institute of Market Research and Analytics' Certified Market Research Analyst cert
If you focus on a particular country, learn about the language and culture
Know all the details about the product or service your employer sells
Be on time and well-prepared for presentations, offer solutions, and stay focused on stated goals and deadlines
Keep growing your professional network and stay active in professional organizations (see our list of Recommended Resources for more information) 
Stay current on regulatory changes to ensure your organization is always compliant
Recommended Tools/Resources
Websites
Books
Conducting Marketing Research for International Business, by Tamer Cavusgil
Global Marketing: Contemporary Theory, Practice, and Cases, by Ilan Alon, Eugene Jaffe, Christiane Prange, and Donata Vianelli
Market Research in Practice: An Introduction to Gaining Greater Market Insight, by Paul Hague
Plan B
The job of an International Market Researcher can be rewarding but complicated. Sometimes the travel schedule isn't suitable for everyone's lifestyle. If you're interested in exploring some related occupations, check out the suggestions below! 
Advertising Sales Agent
Customer Service Representative
Insurance Sales Agent
Public Relations Specialist
Purchasing Manager, Buyer, and Purchasing Agent
Real Estate Broker and Sales Agent
Retail Sales Worker
Sales Engineer
Sales Manager
Securities, Commodities, and Financial Services Sales Agent
Wholesale and Manufacturing Sales Representative
Newsfeed Featured Jobs Online Courses and Tools