Spotlights
Similar Titles
Artist, Bench Jeweler, Caster, Earrings Fabricator, Gemologist, Goldsmith, Jeweler, Platinum Smith, Restoration Silversmith, Silversmith
Job Description
A jewelry designer is an artist that uses jewelry design as their medium. They may work with non-precious materials to produce 'fashion' jewelry, or with expensive 'fine' jewelry materials like platinum and diamonds. Some jewelry designers simply create the idea for jewelry, while others work with the materials and produce the jewelry.
The design portion focuses heavily on the artistic style and concept and can be aided with computer graphics and models, or in hand-drawn figures or molds. Some designers also consider themselves jewelers, gemologists, or 'smiths'.
Rewarding Aspects of Career
Able to express yourself artistically

Could work in a less formal or structured environment when compared to other professions

On-the-job learning and the ability to expand knowledge and skills is not limited

Create beautiful art

Work with fine materials and in fashion

High possibility of self-employment/entrepreneurship
The Inside Scoop
Job Responsibilities
A jewelry designer does exactly as the name states – they design jewelry. This could be on a small scale as an independent designer, or on a large scale working with leading fashion and jewelry companies. Although the artistic side of a jewelry designer is obviously one of its draws, technical aspects also come into play.
Designers may need to make sure that the items they design can be worn without breaking easily, or that materials work well together. Computer design, wax and resin molds, and metallurgy are a few technical aspects that a designer may employ when an idea goes from concept to creation.
Typical Duties
Use imagination, creativity, and artistic ability to begin conceptualizing pieces of jewelry

Perform renderings by hand, or with the use of computer modeling software

Create molds, precasts, or models using clay, wax, resin, and other materials

Assess the value of precious stones, metals, and other materials

Perform metalworking or metallurgical tasks such as soldering

Ensure usability of jewelry pieces

Design custom orders

Clean jewelry

Repair jewelry

Work with materials like leather and fabric

Cut and polish

gemstones
Additional Responsibilities
Check for any trademark infringement on pieces

Manage a business (if self-employed). This may include setting up websites, bookkeeping,

inventory

control, shipping, etc.

Monitor current fashion and jewelry trends
Skills Needed
Soft Skills
Attention to detail – jewelry design is often performed in miniature and requires keen attention to detail.

Creativity – this forms the whole basis of any artistic or design pursuits.

Communication – particularly in custom designs, the ability to fully understand the needs of a client.

Customer service.

Time management – ensuring that production timelines are met.

Research – to stay up on current design trends and technical advancements.

Science – jewelry design incorporates a lot of scientific knowledge, particularly in metallurgy and knowledge of gems and other materials.

Fine manual dexterity.
Technical Skills
3D Printing Programs such as:

CAD/CAM programs such as: 
Jewelry cleaning equipment
Different Types of Organizations
Some jewelry designers may be employed by jewelers, in either a small business setting or within large, well known

jewelry and fashion design brands

. Others are self-employed entrepreneurs who work from home, attend trade shows and craft fairs, and utilize online marketplaces.
Expectations and Sacrifices
Although this is a primarily creative job, and one that a person pursues because they find it as an artistic calling, there are still some downsides to it. The market is always open for innovative designs, but unless you are working with a large jeweler, it may be hard to get your designs produced. If you are designing and creating yourself, you may be required to purchase expensive equipment and software. There may also be a lack of steady employment and wages. 
Employment may be full or part-time, and you may be in an environment where chemical fumes, metal presses, lasers, etc., may be used.
Current Trends
Although the forecast of careers as a jewelry designer does not show much in the way of change, accessibility of affordable software and equipment does cast a positive slant on it. Combined with the reach of the internet and many niche platforms, a designer has a lot of opportunity for self-management.
What kinds of things did people in this career enjoy doing when they were younger…
When they were younger, jewelry designers were often artistically inclined. This could mean drawing, painting, or sculpting. Putting on fashion shows, wearing their parent's jewelry, or focusing heavily on media that involves fashion are also very common interests. With the availability of so many apps and software, young designers may have already tinkered around in CAD or design programs as well.
Education and Training Needed
No formal education is needed to become a jewelry designer, although obtaining a high school diploma or equivalent is always a good idea. Many designers begin as hobbyists and eventually move on to selling designs or products. 
If your goal is to work within the fashion or jewelry industry, pursuing higher education is still probably a good idea. Art, fashion, design, and gemology are common educational pursuits. Technical courses and certifications in using CAD/CAM software, 3D Printers, etc., can also be necessary.  
Internships and on-the-job training are another wonderful way to get into jewelry design. This can be done through trade school programs, company-led training, apprenticeships, and self-teaching.
THINGS TO LOOK FOR IN A UNIVERSITY
A strong focus on art and design is probably the biggest thing to look for if pursuing this career. Subspecialties can include focused studies on gems or metals. Leveraging real-world work experience post-graduation or upon completion of courses with apprenticeship or intern positions supplied is also helpful. 
 Some institutions with relevant educational pathways include:
Things to do in High School and College
Maintain a high GPA

Take art classes

Learn CAD software at home, or in continuing education courses

Become familiar with fashion trends

Find apprenticeships or internships

Create a portfolio of your work to show potential schools or employers

Look for scholarships for people looking to get into Fine Arts

Find and take college prep courses
Typical Roadmap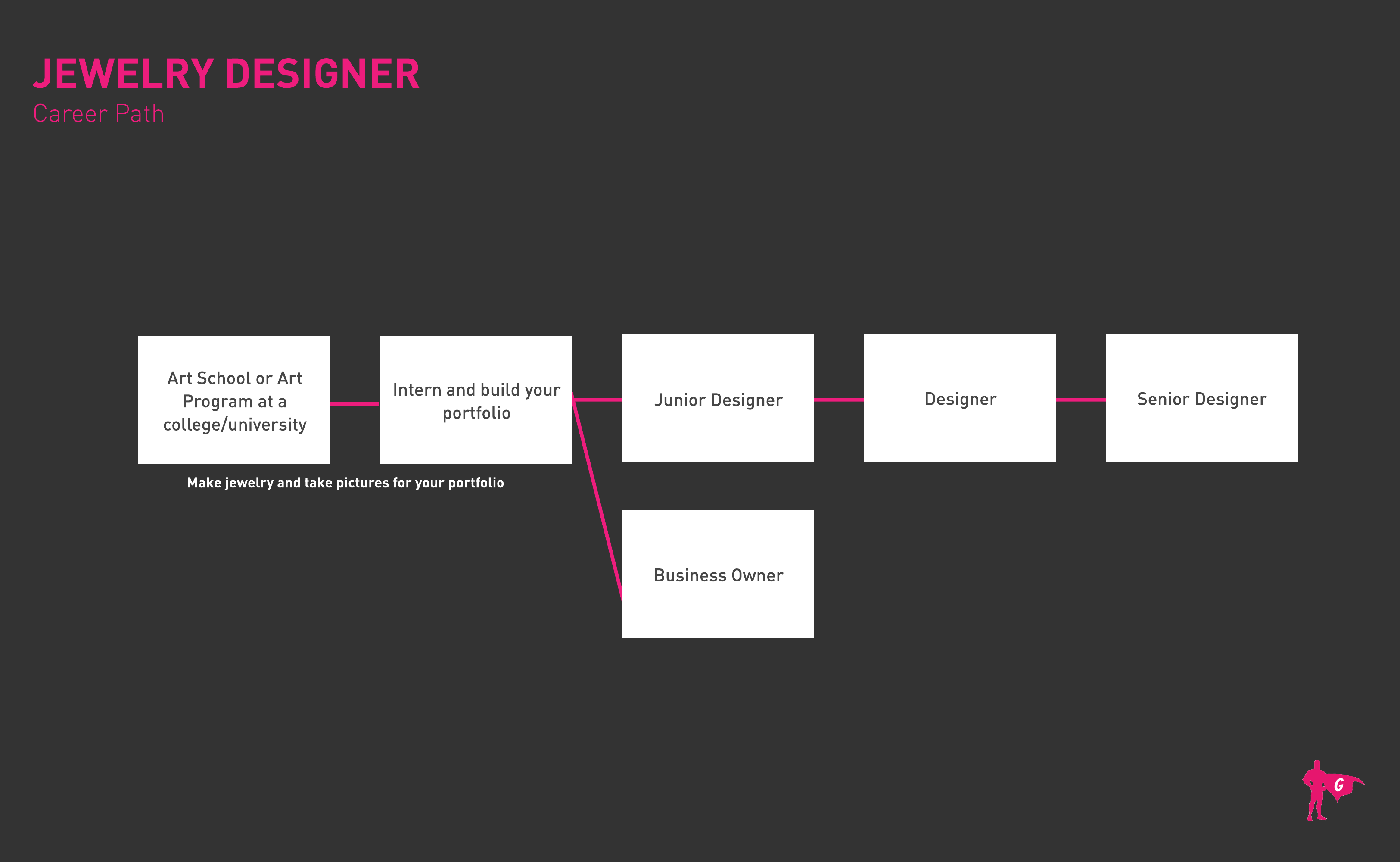 How to Land your 1st job
If you have opted to go forward as an independent designer, congratulations! You just hired you! Obtaining clients will require marketing and displaying your talent to a wide variety of people and businesses.

Present your portfolio or body of work

Understand the niche of design that you are applying to and ensure that your creative vision matches what they are looking for.

Come prepared with industry knowledge as well as your personal design ideas

Dress appropriately

for your interview

Create a resume that

compliments the career

you are looking for.
How to Climb the Ladder
Maintain the highest level of quality in your work

Continuing education in a relevant field, such as getting an Associate in Fine Arts

Become a member of organizations and committees in your industry

Stay up to date on the latest jewelry and design innovations.
Recommended Tools/Resources
Plan B
If jewelry design isn't in the cards for you, there are a lot of jobs that still utilize the creative, artistic processes that jewelry design does. Other options to consider are:
Newsfeed Featured Jobs Online Courses and Tools