Spotlights
Similar Titles
AI Manager, Data Science Manager, Analytics Manager, Artificial Intelligence Manager, Data Engineering Manager
Job Description
Ever since computers were first created, programmers have wanted them to be able to think for themselves. In fact, there's an entire field of data science called machine learning dedicated to that goal! 
As IBM explains, "Machine learning is a branch of artificial intelligence (AI) and computer science which focuses on the use of data and algorithms to imitate the way that humans learn, gradually improving its accuracy." 
Once confined to the realm of science fiction, today thousands of companies are heavily invested in AI and machine learning—with dedicated teams working hard to develop the technology further. These teams require the focused leadership of experienced Machine Learning Managers who understand their companies' business objectives and know how to coach teams to succeed.
Rewarding Aspects of Career
Working with teams on the cutting edge of technology

Developing programs to boost efficiency and meet business goals

Competitive compensation and great opportunities for skills development
The Inside Scoop
Job Responsibilities
Working Schedule
Machine Learning Managers work full-time jobs, typically with nights, weekends, and holidays off, though overtime may be occasionally needed.
Typical Duties
Look for areas where machine learning (ML) can be applied to existing projects and processes

Meet with company leadership and teams to explain concepts, propose strategies, and review potential impacts and benefits

Create a machine learning roadmap listing processes and problems, as well as the math, resources, and tools to be used

Implement ML initiatives according to the schedule 

Lead ML teams which may include data scientists, engineers, and programmers

Boost user awareness of how ML is being adopted and what changes they may need to know about

Work with mobile device management teams as needed to ensure new data strategies are implemented efficiently

Generate and deploy algorithms capable of extracting useful information from large data sets

Objectively assess different methodologies and their results

Use programming languages and tools like Python, R, and

TensorFlow

Develop automated processes for predictive model validation
Additional Responsibilities
Work with partner businesses as directed to share knowledge, insights, or information about changes

Build strong external partnership networks to enhance learning

Train or mentor team members and assistant managers
Skills Needed on the Job
Soft Skills
Analytical

Business acumen

Communication skills

Decisive

Detail-oriented

Ethical

Independent 

Leadership skills

Objective

Organized

Patient 

Problem-solving

Teamwork
Technical Skills
Different Types of Organizations
Consulting firms

E-commerce/retail stores

Financial sector

Government agencies

Healthcare and pharmaceutical companies

Manufacturing

Research institutions

Tech companies
Expectations and Sacrifices
Machine Learning Managers are expected to be at the peak of their game, and ready to effectively lead teams to meet ML-related organizational goals. 
They must be creative, ethical, and forward-thinking, able to find and exploit all opportunities to integrate and leverage ML capabilities and boost performance. In this era of high-tech competitiveness, companies that fail to stay on top of trends may quickly fall behind and lose customers.
Current Trends
Machine learning is evolving rapidly and there are several notable trends to keep track of. Among them is the advancement of deep learning and deep neural networks inspired by the interconnected network of neurons in the human brain. Reinforcement learning is also a hot trend in robotics, training programs (aka agents) to interact with environments via trial and error. 
As ML models become more complex, researchers must pay attention to ethical considerations and how ML models make decisions. Other trends include concepts like federated learning, transfer learning and pre-trained models, AutoML, edge computing, and on-device ML—each of which Machine Learning Managers need to learn about to stay up-to-date! 
What kinds of things did people in this career enjoy doing when they were younger…
Machine Learning Managers were probably in love with technology at an early age. They may have been interested in math, computer coding, and programming languages. They likely also enjoyed analytical problem-solving or even reading about the impacts of technology on businesses. 
Teamwork is an important part of this career field, but Machine Learning Managers are leaders who must be willing to act when there is disagreement. It's their job to ensure appropriate ML behavior and decision-making. This ability to lead could have developed through extracurricular activities at school.   
Education and Training Needed
Machine Learning Managers generally need a master's degree in data or computer science or a related field

Workers do not start out as managers. Managers require several years of relevant work experience, including at least a few years of supervisory experience

Many managers are promoted from within the organization, working their way up from entry- or mid-level positions as ML engineers, programmers, or in some cases even business roles

Common course topics

include:

Data modeling

Deep learning

Machine Learning algorithms and techniques

Natural language processing

Neural networks

Programming languages (R, Python, C++, Java) and Python libraries like

NumPy

,

Pandas

,

Matplotlib

, and

Scikit-learn

Reinforcement learning

Relation between AI and ML

Statistics and probability

Students can learn programming languages like

Python

on their own, too!

Check out courses offerings from

Coursera

, such as its

Artificial Intelligence: an Overview Specialization

Earning a third-party certification can be helpful, too. Options include:
Things to look for in an University
Students should seek colleges offering majors in data science, computer science, artificial intelligence, or machine learning

Look for programs that have internships or other opportunities where you can gain practical experience, especially related to AI and ML

Consider applying to a dual BS/MS program to save time on completing your master's

Decide if you want to do online or hybrid courses

Always compare the costs of tuition and other fees. Review your options for scholarships and financial aid

See if the program has any partnerships with companies that hire grads! 

Take note of graduation and job placement statistics for alumni 
Things to do in High School and College
High school students should take courses in math (including differential calculus), English, communications, and information technology (especially AI and ML, if possible)

High school students who don't have access to AI/ML courses can study on their own to start building a foundation. Consider joining or forming a computer club!

Knowledge of

Python

and

SQL

will come in handy later, and these can also be learned through self-study

Apply for a bachelor's program in computer or data science or a related field, with a focus on machine learning. Consider applying to a dual BS/MS program to save time on completing your master's

A master's degree may not be necessary for every position but it can boost your credentials and may enable you to apply for better-paying starting positions

Look for part-time jobs where you can rack up relevant work experience. You'll need years of experience to be considered for a managerial position (including experience supervising others and leading teams)

Apply for relevant internships, through your school or on your own

Read magazines and

website articles

related to machine learning. Consider doing ad hoc courses via

Coursera

or other sites for more structured learning

Request an informational interview with a working Machine Learning Manager 
Typical Roadmap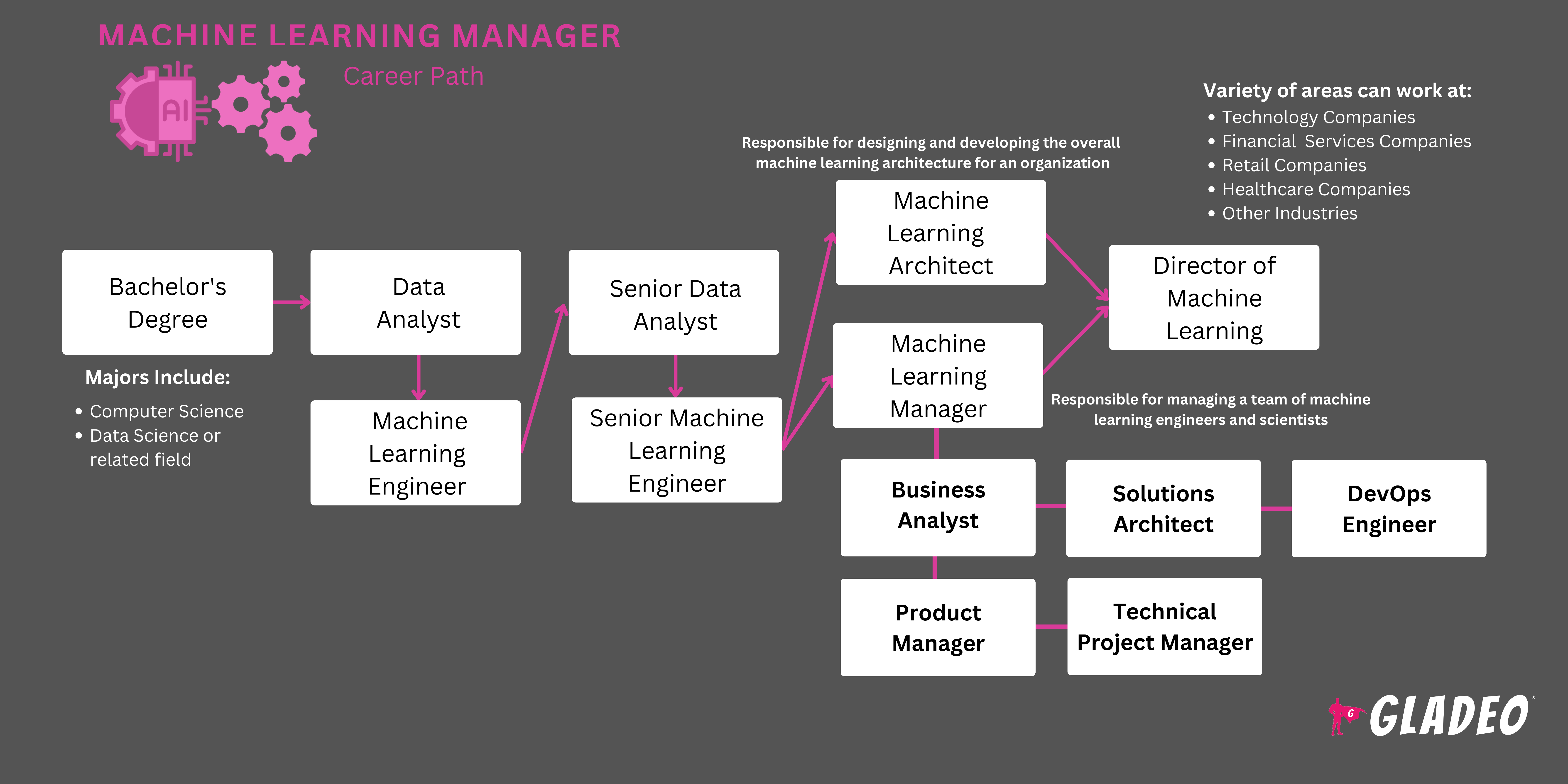 How to land your 1st job
Check out job portals like

Indeed.com

,

LinkedIn

,

Glassdoor

,

Monster

,

CareerBuilder

,

SimplyHired

, or

ZipRecruiter

Don't expect to start at a managerial level! Unless you already have a few years of relevant work experience, you'll need to apply to entry-level positions first

Consider relocating close to a

tech hub city

like Austin, Dallas, Raleigh, San Jose, or Charlotte 

Stay in touch with classmates and use your network to get job tips. Most jobs are still found through personal connections 

Ask your instructors, former supervisors, and/or coworkers if they're willing to serve as personal references. Don't give out their personal contact information without prior permission

Check out some

Machine Learning-related resume examples

and sample

interview questions

, including basics like "What Are the Different Types of Machine Learning?" or more advanced topics such as "How Will You Know Which Machine Learning Algorithm to Choose for Your Classification Problem?"

Practice doing

mock interviews

with your school's career center (if they have one)

Dress appropriately for interviews

and show your enthusiasm for and knowledge of the AI/ML field 
How to Climb the Ladder
It takes years of education and work experience to work your way up to becoming a Machine Learning Manager. Once you're there, you're already pretty high up, but there are still opportunities for advancement and salary increases

Higher-level job titles include Senior Machine Learning Manager and Director of Machine Learning or Head of Machine Learning

Managers may also seek out cross-functional leadership or industry specialization roles. Some opt to switch to pure research and development positions 

Let your supervisor know you're interested in career progression and ask for their advice

Most ML Managers have a graduate degree, but for those who don't, earning a master's will be a great way to boost credentials and qualifications

Add value to the organization by incorporating ML wherever it can be of use. Communicate with leadership and stakeholders to ensure ML objectives and benefits are understood  

Lead teams effectively and ensure projects are kept on schedule and on-budget

Keep track of AI and ML trends and challenges. Stay up-to-date on the newest software

For those working at smaller organizations, you may have to apply to work for a larger or different type of organization to make a bigger paycheck or reach higher career goals

For example, managers who work for governmental agencies may earn a more lucrative salary at a private tech company

Completing advanced third-party certifications can be helpful, too. Options include:

Of course, ML Managers with a strong business background may thrive as entrepreneurs who launch their own AI or ML-related businesses instead of working for someone else! 

Consider Stanford professor Andrew Ng, a prominent ML entrepreneur and co-founder of Coursera and Google Brain, who has a net worth of

~$122 million

!
Recommended Tools/Resources
Plan B
Machine Learning is a fascinating field but it takes years of education and work experience to qualify for a manager position. There are numerous related career options to consider, some of which may require less time to qualify for. By the same token, a few of these roles may serve as a stepping stone to becoming an ML Manager later!  
AI Prompt Engineer

Big Data Engineer

Business Intelligence Developer

Computer Programmer

Computer Systems Analyst

Database Architect

Data Scientist

Information Security Analyst

Mathematician

Machine Learning Engineer

Robotics Engineer

Software Architect

Web Developer
Newsfeed Featured Jobs Online Courses and Tools