Spotlights
Similar Titles
Administrative Analyst, Business Analyst, Business Consultant, Employment Programs Analyst, Management Analyst, Management Consultant, Organizational Development Consultant, Performance Management Analyst, Program Management Analyst
Job Description
Management Analysts, also known as consultants, work within various businesses and organizations to help improve operations. Specifically, they work with managers to find inefficient practices and ways to make them better. This involves a significant amount of data gathering in order to comprehensively review processes and hunt down problem areas.
The nature of every organization is different, so Management Analysts frequently must adapt to the goals of their employer. In fact, many workers in this field specialize in their employer's business area. For example, healthcare facilities and governmental agencies have different needs, therefore they may only hire people with related expertise. Meanwhile, for companies generating revenue, their goal is to ultimately increase profits while staying competitive. That's why they look for Management Analysts who can implement changes with a goal to reduce costs. 
With all that said, it's important to remember that there are many management principles that can be universally applied no matter what the industry.
Rewarding Aspects of Career
Helping organizations from the inside to grow and maximize their efficiency 
Learning the inner workings of large organizations
Impacting the quality or effectiveness of products and service for external customers
Keeping businesses profitable so they can retain and hire new employees, thus helping the national economy  
2018 Employment
876,300
2028 Projected Employment
994,600
The Inside Scoop
Job Responsibilities
Working Schedule
81% report working over 40 hours per week, with hours depending on the organization and the type of work being done. 18% of Management Analysts are self-employed and work via contract. This requires reviewing potential clients' advertised job needs, then writing proposals and bidding on the jobs. This amounts to spending unpaid time looking for jobs. Finally, workers in this field may be required to travel from their own office to a customer's locations and can expect to hold frequent meetings, some of which may run overtime.
Typical Duties
Becoming intimately familiar with employers' systems, equipment, hierarchy, and processes
Meeting and sometimes interviewing employees and performing on-site inspections of work areas
Reviewing organizational guidelines and standards related to work procedures 
Reviewing data, studies, and reports to look for significant findings
Writing detailed recommendations for improvements and solutions to problems
Drafting plans to implement suggestions
Following-up with managers to ensure changes are being implemented
Tracking the effectiveness of changes and talking with affected personnel
Additional Responsibilities
Interviewing personnel and conducting on-site observation
Drafting bid proposals (for self-employed contractors)
Potentially traveling to different work center sites, sometimes outside the local area, to conduct observations and meet managers or other analysts
Skills Needed on the Job
Soft Skills
Independent; ready to take the initiative
Adaptable to change
Excellent reading comprehension
Analytical and objective
Cooperative and team-oriented
Critical thinking
Desire and aptitude to improve processes
Sound judgment and decision-making  
Phone etiquette
Inductive reasoning
Integrity
Persistence; goal-orientation
Professional demeanor
Research and troubleshooting skills
Able to advise and instruct others through verbal and written guidance
Strong communication skills, including active listening 
Observant; able to analyze employee behavior
Understanding of human motivational factors
Planning and organization skills
Technical Skills
Familiarity with computers (PC or Apple)
Knowledge of office equipment such as printers, scanners, and photocopiers
Microsoft Office, Google apps, Macintosh software
Ability to create properly formatted proposals and compelling presentations
Different Types of Organizations
Banking institutions
Governmental agencies
Insurance companies
Large companies
Non-profits
Science and tech organizations
Self-employed contractor
Expectations and Sacrifices
Organizations rely heavily on the expertise of Management Analysts to ensure they are operating as efficiently as possible and, when applicable, maximizing profits. When changes are necessary, workers in this field must be on-hand to help implement and monitor those changes for effectiveness. This can result in overtime and frequent travel to various sites, to ensure new processes are being followed correctly and to obtain employee feedback and listen to problems. At times, changes are directed due to federal or state guidance, with tight timelines for implementation and penalties for failures to comply. This can create stress as organizations put pressure on management to get into compliance quickly. 
Current Trends
Around the nation, employers are seeking highly qualified Management Analysts. According to the Bureau of Labor Statistics, the field is expected to grow nearly three times faster than the average of all career areas. Competition in business is especially fierce, leading companies to seek out experts who can target and eliminate weak areas and inefficiencies. 
Healthcare is another sector in need of help, as citizens live longer and resources become stretched. Meanwhile, as insurance regulations continue to evolve, medical providers need assistance to ensure they are keeping up. 
Management Analysts working in specialty areas such as IT, human resources, public relations, and governmental agencies are expected to also be in high demand in the coming years. Those with advanced degrees can naturally expect greater opportunities and higher salaries. 
What kinds of things did people in this career enjoy doing when they were young...
In their younger days, Management Analysts were likely fond of helping their parents around the house or volunteering to serve on school committees. They were probably the person others looked to when they didn't know the answer to something or needed help with a problem. Many may have had an interest in a broad range of subjects, learning everything they could about one before moving on to the next.
In school, they likely excelled in English or Public Speaking and may have been eager to ensure their assignments were properly formatted and cited corrected, when necessary. They tend to be punctual, dependable, and often sticklers for rules, able to rationally argue the reasons why it is important to follow a certain rule.
Future Management Analysts were also probably great at trivia games, having an interest in details and a good memory. Lastly, they also have the ability to see how small details affect the "big picture."  
Education and Training Needed
A bachelor's degree is the minimum
Average employers seek workers with a Master of Business Administration or applicable graduate degree
Organizations may require years of prior work history showing relevant duty performance
Certain companies only hire workers with experiences in their sector, such as accounting or software
Specialized training such as Certified Management Consultant boost competitiveness
Things to look for in an university
Per O-Net Online, 46% of workers hold a master's degree; 38% hold a bachelor's
12% possess a post-baccalaureate certification
Certification and state licensure may be required for some jobs. Certifications include, but are not limited to: 

Certified Management Accountant 
Certified Associate in Project Management 
Certification of Achievement-Alliance Management    
Certified Form Systems Professional    
Business Forms Management 
Registered Business Analyst    
Clinical Consultant
IQBBA Business Analyst 
Certified Management Consultant
Certified Strategic Alliance Professional 

Scrutinize the program's ties to industry and their job placement rates for graduates. Many programs serve as pipelines to employers and thus maintain strong connections with recruiters
Consider taking online courses (from accredited programs)
Look for tuition discounts and scholarship opportunities offered by the school (in addition to federal student aid, of course)  
Think about your schedule and flexibility, when deciding whether to enroll in an on-campus, online, or hybrid program
Things to do in High School and College
Take entry-level jobs related to the general area you want to work within as a Management Analyst, to start gaining practical experience for the future 
Ask friends, relatives, and teachers of applicable subjects if they are aware of job or internship opportunities that can help prepare you
Work hard to build your written communication and oral presentation skills
Join clubs offering chances to practice public speaking and leadership skills
Volunteer to manage large-scale projects at school or in the local community
Take business electives such as entrepreneurship, accounting, business math, economics, marketing, and psychology
Become proficient at reading for details and deep comprehension
Get organized and learn the principles of good record keeping and records management
Consume all sorts of business media (magazines, websites, videos) and keep up with trends 
Typical Roadmap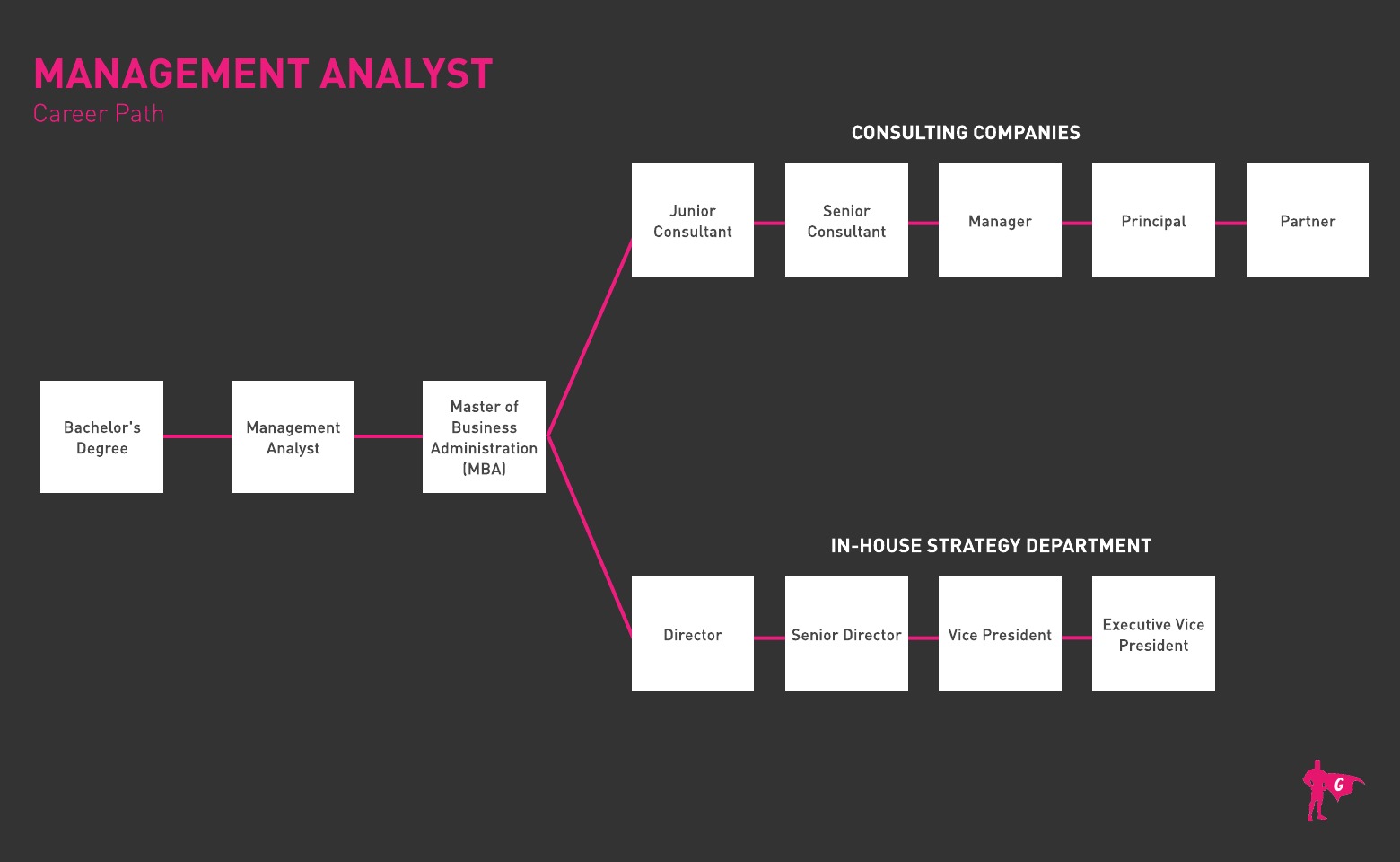 How to land your 1st job
As a future Management Analyst, expect hiring managers and admissions officers to screen your written materials for signs that you possess the needed traits
Learn to keep extraordinarily detailed records in order to inform your resume and college applications
Include numerous examples of quantifiable data on your resume or application 
Ensure all of your written materials are error-free, properly formatted, and meet every detail outlined in the applicable job posting or college program admissions requirements
Strongly consider hiring a professional editor, certified resume writer, or college admissions expert to review your paperwork before submitting
Only apply to jobs or programs you are fully qualified for
List all formal and informal job experience and training, including high school and post-secondary academics
Tailor each resume, cover letter, and/or application to the precise jobs or programs you're applying to (versus recycling the same general information)
Contact previous supervisors, instructors, and others who can speak to your qualifications. Ask if you can cite them as references, or request letters of reference
Use mock interviews to practice, prepare your answers to common questions, and study how to dress for success 
Look for jobs posted on employment portals such as Indeed, Monster, and USAJobs
Keep your LinkedIn profile up-to-date, and ensure your social media accounts are extremely professional. Yes, recruiters are scoping your social media!
How to Climb the Ladder
Plan ahead. Tell the company you're applying to (or working for) about your plans and ask if they have opportunities to help groom you for a future Management Analyst career
Master your job and over-deliver on the work you turn in. Earn those accolades!
Always be on time and flexible enough to put in overtime when needed
Maintain the utmost integrity at work
Behave like a consummate professional and role model employee
When you encounter a problem, offer a fully-developed solution (not just a complaint)
Join professional organizations such as the Institute of Management Consultants
Complete advanced education and training (and maintain a high GPA!)
Keeping up with changes in technologies and regulations that impact your interest areas
Transform yourself into an invaluable asset, the go-to expert for problem-solving (or for challenging areas of the job, such as intricate policies)
Earn a specialized certificate in a hard-to-fill area
Recommended Resources
Websites
Institute of Management Consultants
Business Analyst Learnings
BA Times
Modern Analyst
Books
Plan B
U.S. News & World Report lists Management Analyst as #12 on their list of Best Business Jobs, based on salaries, job growth, employment rate, and other factors. For those looking for something business-related, but not quite "Management Analyst"-oriented, the Bureau of Labor Statics lists many similar occupations for your consideration:
Accountants and Auditors
Administrative Services Managers
Budget Analysts    
Cost Estimators
Economists        
Financial Analysts    
Financial Managers
Market Research Analysts
Operations Research Analysts
Newsfeed Featured Jobs Online Courses and Tools