Spotlights
Similar Titles
Facility Engineer, Manufacturing Engineer, Plant Engineer, Process Engineer, Process Improvement Engineer
Job Description
If a product isn't handmade, chances are it was manufactured in a factory somewhere. Manufacturing goods is a highly complex yet well-organized process that involves several workers. Among the most critical factory employees are Manufacturing Engineers. These are the versatile experts who ensure production lines run smoothly and safely so products can be made as cost-efficiently as possible. 
 
They might be in charge of a wide range of manufacturing systems such as "computer networks, robots, machine tools, and materials-handling equipment." Workplace safety is of major concern to Manufacturing Engineers as they look for ways to cut out wasteful aspects of production processes, taking into account how many workers are needed for a task, what steps they'll perform, which technologies they'll need, and how much it all costs. They may oversee quality assurance processes to ensure products meet specifications and are ready to ship out to stores or warehouses to await purchase.  
Rewarding Aspects of Career
Collaborating with commercial and industrial designers to improve products 
Working with various teams toward a common goal
Helping to keep employees safe from workplace hazards 
Maximizing production efficiency to keep employers' costs down
Developing exciting new concepts and products to market to consumers
Turning ideas into tangible goods
Improving technologies able to perform dangerous tasks so people won't have to
2021 Employment
301,000
2031 Projected Employment
331,600
The Inside Scoop
Job Responsibilities
Working Schedule
Most Manufacturing Engineers work full-time, with overtime possible during busy seasons, or when production is behind schedule or orders exceed projections. 
Typical Duties
Meet with customers to discuss specifications for their desired products
Talk to vendors and management regarding the status of capabilities, timetables, limitations, and possible solutions to issues 
Determine the right tools, machines, equipment, and processes to manufacturer specific parts or products based on specifications
Seek ways to decrease or eliminate harmful practices and materials 
Review schedules and workflows to ensure the correct number of workers are assigned 
Use management control systems to organize team efforts
Establish quality assurance protocols to ensure products are made to standards
Continually assess production speed and look for ways to improve efficiency and reduce costs using lean manufacturing principles 
Collaborate with production teams to keep things on time, on target (and on-budget)
Analyze workflows to search for (and mitigate) potential problems such as bottlenecks 
Create backup plans to work around unforeseen problems that could cause delays or work stoppages  
Test and troubleshoot designs, materials, and processes
Offer technical assistance or training as needed
Check-in regularly with staff to see how projects are progressing. Supervise, as needed
Investigate the root causes of production failures and suggest fixes or adjustments
Generate reports on manufacturing performance 
Review financial factors related to sustainable processes and offer suggestions to management 
Ensure timely delivery of goods to clients while maintaining cost-effective transportation practices
Additional Responsibilities
Design workspace and equipment layouts and oversee installations
Procure equipment, parts, and various materials, as needed
Write documentation for various work processes 
Stay up-to-date on fabrication and assembly process improvements 
Read about trends and technological advances in tooling and equipment and incorporate them when feasible 
Ensure compliance with state, federal, and international codes and standards  
Participate in continuing education and professional organization events 
Skills Needed on the Job
Soft Skills
Ability to conceptualize 
Ability to facilitate collaboration between teams
Adaptive style
Analytical
Budget-conscious
Calm under pressure
Compliance- and safety-oriented
Concentration and focus
Good record management skills 
Initiative
Innovative
Investigative
Leadership
Organized
Patience 
Problem-solving
Realistic
Strong people and communication skills
Teamwork
Time-management
Technical Skills
Computer-aided design (CAD) tools such as Autodesk AutoCAD
Knowledge of assembly line processes
Knowledge of Solidworks
Lean manufacturing
Process improvement 
Quality assurance principles
Root cause analysis 
Six Sigma
Troubleshooting tactics
Understanding of mechanical engineering 
Different Types of Organizations
Automotive industry; transportation equipment manufacturing
Computer/electronic products makers
Manufacturing companies
Military and governmental agencies 
Expectations and Sacrifices
Manufacturing Engineers keep factory production running smoothly, but there's a ton of work and planning to get to that point. From choosing laborers with the right skills and selecting the best tools, equipment, and machinery to laying out workspaces and establishing procedures, Manufacturing Engineers certainly have their work cut out for them! 
 
Companies rely heavily on their talents to keep production flowing, costs down, and workers safe. One bad decision or oversight can throw a proverbial monkey wrench in the works, causing expensive manufacturing problems ranging from defective products to safety recalls and total work stoppages. If a seriously unsafe product hits the market, it can tank a company's reputation and spell financial ruin for its future. Other times, a product probably should've been nixed during the concept phase, such as Cheetos' disastrous lip balm product fail. 
Current Trends
The job outlook is strong for Manufacturing Engineers, in part because of the cost savings they bring to the table. A major part of the job is staying on top of trends and innovations, of which there are several these days. 
 
Automation has long been a key goal of many factories and is becoming increasingly prevalent and easier to use. Mobile and collaborative robots are also primed to alter the manufacturing landscape, bringing exciting new capabilities to bear. Meanwhile, the fabled Internet of Things keeps chugging along, empowering companies to gather valuable data they can use to optimize processes. 
 
Hailed as the Fourth Industrial Revolution, Industry 4.0 is living up to the hype with several initiatives driven by "high-speed mobile Internet, AI and automation, the use of big data analytics, and cloud technology." Additional trends include the spreading use of Enterprise Resource Planning, which is hardly new but is simpler to deploy now thanks to cloud-based SaaS. 
What kinds of things did people in this career enjoy doing when they were young...
Manufacturing Engineers are very methodical and process-oriented. They may have enjoyed doing meticulous activities that required following lots of steps in a precise order, such as building intricate LEGO sets. They're keen on cutting out inefficiencies, and might have found ways to get their chores (or their homework) done faster than others might take. As with most engineers, they usually love figuring out how to turn abstract ideas into concrete realities through a bit of creative thinking and tinkering. 
 
Because they are often immersed in cutting-edge technology including AI and robotics, they might have been avid science fiction fans as kids. And since they must oversee the work of many people and groups, Manufacturing Engineers generally have well-developed soft skills that were likely cultivated in school extracurricular activities or simply from growing up in a large family. 
Education and Training Needed
70% of Manufacturing Engineers hold a bachelor's degree; 16% hold a master's. Many university programs feature dual bachelor's/master's degree tracks which take ~5 years 

Most major in industrial engineering, manufacturing engineering, or mechanical engineering 
Engineering programs should be accredited by ABET
A master's is often needed to teach or work in R&D

Internships, co-ops, and other practical work experiences are treasured by employers
A license isn't needed to get started, but Professional Engineering (PE) licensure can lead to promotion opportunities  

A PE must pass two exams:

Fundamentals of Engineering (FE)
Principles and Practice of Engineering (PE) exam

There are several optional certifications to consider, including:

American Society for Quality - Certified Six Sigma Yellow Belt    
American Society of Mechanical Engineers International - Geometric Dimensioning & Tolerancing Professional - Technologist
Autodesk - 

Autodesk Moldflow Insight Professional Certification    
Autodesk Moldflow Insight Associate Certification    

International Association of Six Sigma Certification - various colored belts 
Packaging Machinery Manufacturing Institute - Mechatronics Certification Test - Motor and Motor Controls    
SAP America- Certified Application Associate - SAP S/4HANA Cloud (public) - Manufacturing Implementation    
Society for Maintenance & Reliability Professionals - Certified Maintenance & Reliability 
Society for Manufacturing Engineers - 

Lean Silver Certification    
Six Sigma Green Belt Certification    
Certified Manufacturing Engineer    
Six Sigma Master Black Belt Certification   
Lean Gold Certification        
Things to look for in a program
Programs should be ABET-accredited, which is a requirement for later PE licensure
Look for scholarships and STEM pathways to save time and money 
Consider the program's faculty awards and accomplishments. Prestigious honors include: teaching awards, IEEE and National Science Foundation awards and recognitions, Fulbright Fellowships, best papers, and distinguished lecturers
Check out their facilities (especially if you're planning to attend in person). Well-funded programs will have the most modern, cutting-edge research areas 
Look for affiliated centers and institutes. Most big programs collaborate with external partners which can significantly augment your learning experience
Always see what benefits or resources schools offer their graduates. Do they help with interview prep or have close ties with local industry? Does the alumni network offer career-enhancing mentorship and networking? 
Things to do in High School and College
It pays to get a jump start on college by taking prep classes in high school, such as math, physics, engineering, and technology. Strong English and technical writing skills will also pay off later 
Decide what type of manufacturing you want to get involved with, such as automotive, commercial products, computers, etc. 
Learn everything you can about the career field before signing up for classes. Do some early reconnaissance by reading job descriptions posted on employment portals 
Make a list of organizations you dream of working for, and maybe reach out to current employees to pick their brains
Major manufacturing companies based in the US include Ford, General Motors, Dell, Johnson & Johnson, General Electric, Intel, IBM, Procter & Gamble, PepsiCo, Lockheed Martin, Boeing, Hewlett-Packard, and Raytheon
Get practical experience through internships or apprenticeships
Don't neglect soft skills. Engineers should be "people persons" too!
Volunteer to serve on school committees or help with extracurricular activities, with a focus on roles that offer leadership and management experiences
Comb through our below list of Recommended Websites to find professional groups to join
Be an active participant in your school's engineering clubs
Ask a seasoned Manufacturing Engineer if they will do an informational interview with you
Typical Roadmap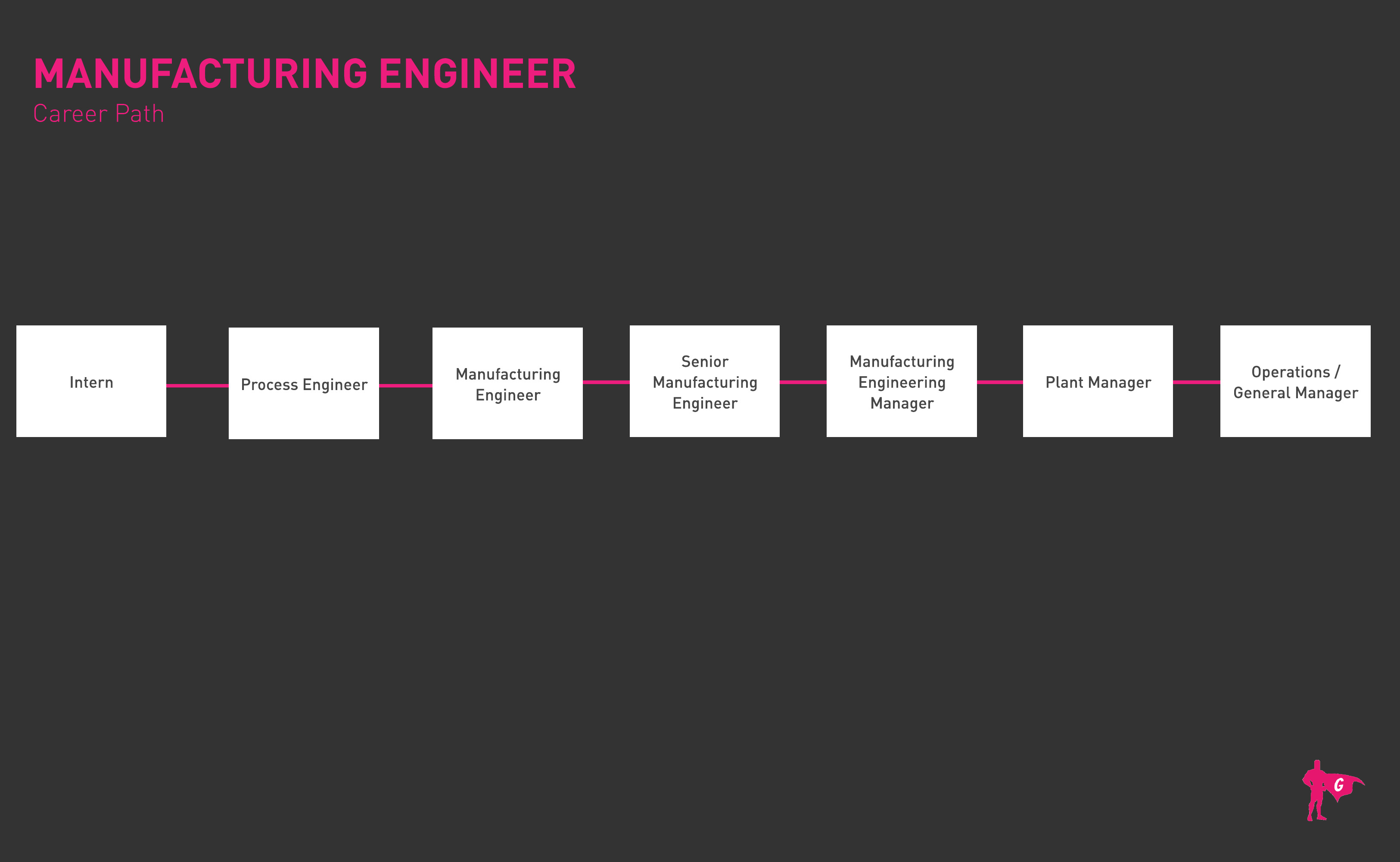 How to land your 1st job
College grads will need to apply to entry-level Manufacturing Engineer positions in factories or warehouses

Having a year or two of relevant work experience will help make you more competitive when applying
Internships may be great opportunities to snag practical experience, plus they sometimes lead to full-time jobs!

Be flexible about the hours you can work. New hires may be tagged for night or weekend duty
Sign up for notifications on job portals like Indeed, SimplyHired, Monster, USAJobs, ZipRecruiter, LinkedIn, Velvet Jobs, and Glassdoor 
Ask everyone in your network about openings. Per PayScale, 85% of jobs are found through networking!
Ask your school's career center for help with resume writing, mock interviewing, and connecting with recruiters
Do your homework on the company and tailor your resume to the specific job posting, every time
Review Manufacturing Engineer resume templates and common interview questions
Keep in mind that smaller companies may never have the advancement opportunities you might want later, but they are probably more likely to hire someone with less experience 
How to Climb the Ladder
Become a subject matter expert who gets things done, smooths processes, cuts costs, and keeps workers productive and safe
Map out your long-term goals, establish milestones, and strategize how you'll achieve them
When you have enough work experience, knock out a professional certification
Get your Professional Engineer license to show your commitment to excellence and desire to tackle bigger responsibilities
Have frank conversations with your employer to discuss your career goals. Ask about promotion opportunities when the time is right, and be mindful of the time and effort they've invested in you
Try to stay flexible without compromising your dreams. If an in-house promotion is possible in the near future, it might be better to wait rather than jump ship to work for another company
Decide what's more important to you — a higher pay rate or a more personally rewarding job? If you can find both, that's even better! 
If you work for a smaller company, your options may be permanently limited unless you apply elsewhere, but if you can't get a promotion then at least ask for a raise and justify your reasons
Recommended Resources
Websites
Accreditation Board for Engineering and Technology 
American Society for Engineering Education
American Society of Mechanical Engineers
Engineering Education Service Center
Institute of Industrial & Systems Engineers
National Council of Examiners for Engineering and Surveying
National Society of Professional Engineers
Society of Manufacturing Engineers
Society of Women Engineers
Technology Student Association
Books
Plan B
There are several fields and subfields of engineering, and hundreds of career paths to choose from. If Manufacturing Engineering doesn't sound like your cup of tea, a few alternative engineering-related jobs include:
Aerospace Engineers
Architectural and Engineering Managers
Biomedical Engineers
Computer Hardware Engineers
Electrical and Electronics Engineering Technicians
Logistics Engineers 
Mechanical Engineers 
Network and Computer Systems Administrators
Photonics Engineers
Sales Engineers
For those who don't necessarily want to pursue an engineering path, occupations that are also related to Manufacturing Engineering include: 
Cost Estimators    
Industrial Production Managers    
Logisticians    
Management Analysts    
Occupational Health and Safety Specialists and Technicians    
Quality Control Inspectors    
Newsfeed Featured Jobs Online Courses and Tools