Spotlights
Similar Titles
Business Development Specialist, Communications Specialist, Demographic Analyst, Market Analyst, Market Research Analyst, Market Research Consultant, Market Research Specialist, Market Researcher
Job Description
Marketing Research Analysts are responsible for figuring out what products and services will sell, who they will sell to, and how much they'll sell for. They feed this information to employers (usually large companies) who use the insights to inform decision-making. A business can alter its entire production strategy based on the suggestions of an experienced analyst. 
 
Workers in this area rely on a combination of analytical tools, including statistical software that captures complex Big Data and filters it for actionable output. This output can be used to generate reports that supplement an analyst's advice to their employers or customers. Information may come from sales trends, focus groups, answers to survey questions or polls, and other findings that can be captured and added to user-friendly graphical presentations. 
 
Marketing Research Analysts also look at the competition. From pricing to advertising, they review what actions others are taking to sell comparable goods and services. They'll closely scrutiny their business peers hunting for weak areas or gaps in what competitors are offering to customers. This information helps analysts compare and contrast strategies and make suggestions for potential changes in production or service offerings to meet unfilled customer demands or to "one-up" the competition. 
reward
Providing an essential core service to the company 
Learning how business works behind-the-scenes to reach potential customers
Opportunities to work with upper management and sales professionals
Enabling enhanced sales of goods and services, boosting profitability
Potentially helping employees earn profit-sharing bonuses 
Developing a broader understanding of human motivational factors
2018 Employment
681,900
2028 Projected Employment
821,100
The Inside Scoop
Job Responsibilities
Working Schedule
 
Marketing Research Analysts typically work standard 40-hour Monday through Friday schedules. However, during an unexpected event leading to a rapid decline in sales, companies need to do damage control. They may have to scramble to devise ways to quickly overcome losses and stabilize profits. In such cases, overtime may be necessary.  
Typical Duties
Review product or service sales trends and look for ways to improve sales
Generate polls, surveys, and questionnaires designed to capture customer input
Analyze customer satisfaction results from a variety of sources
Use Big Data and analytics software to generate reports on customer demographics, desires, purchasing trends, and current economic factors that impact sales 
Consider the effectiveness of advertising campaigns and offer options for change
Collaborate with marketing and sales professionals to devise or revise strategies
Monitor the competitions' efforts and adjust strategies based on their weak points and on unmet customer demands
Create graphs and presentation materials showing future sales prediction models 
Additional Responsibilities
Spending ample time in meetings and on phone or video calls
Considerable amounts of report writing and presentation preparation
Cross-checking data for accuracy and completeness
Keeping up with national and global news, looking for issues that can affect markets 
Skills Needed on the Job
Soft Skills
Ability to work independently
Goal-oriented and proactive 
Analytical thinking
Creative problem-solving skills
Ability to think "big picture" and see how small changes can have ripple effects
Strong communication skills, including:
Close reading for details and analysis
Listening for details and paying heed to statements that may seem trivial
Articulate speaking and oral presentation skills
Clear, compelling writing style
Able to translate complex data into actionable intel for decision-makers
Strong telephone and email etiquette
Integrity and confidentiality (may be dealing with corporate trade secrets)
Commitment to information assurance and information security best practices
Interpersonal skills and team-orientation
Technical Skills
Familiarity with methods for obtaining customer input
Knowledge of analytical software tools to extrapolate usable info from Big Data
Knowledge of database user interfaces, query software, or information retrieval/search software
Ability to forecast sales using information gleaned from multiple sources
Able to accurately predict problems and generate feasible solutions and ways to implement them
Understanding information assurance and security protocols
Ability to qualify for a security clearance for sensitive positions
Different Types of Organizations
Large companies and other organizations
Computer and software makers
Educational institutions
Finance and insurance businesses
Publishing agencies
Wholesale trade businesses    
Military units
Expectations and Sacrifices
Organizations that employ Marketing Research Analysts rely on them to keep operations profitable and to reach new customers. It is the analysts' job to ensure products and services offered are meeting customer demand and to suggest solutions when they aren't. A slump in sales can lead to severe impacts across the board, resulting in potential layoffs or even bankruptcy in worst-case scenarios. 
 
There is pressure for workers in this field to be highly-qualified and stay informed of current trends. They must accurately predict future trends, anticipate problems, and be able to generate ideas to keep the boss's business ahead of the competition. At all times, Marketing Research Analysts need to be on their "A-game," staying away from market issues that could negatively affect sales at any given time and without much notice. 
Current Trends
As technology continues its march to invade every aspect of our lives, consumer decisions are constantly impacted and altered. From the ways we've shifted from buying things online to the items and services we are inclined to spend our money on, technology has reshaped the business world. This trend will continue into the foreseeable future, meaning Marketing Research Analysts must keep their fingers on the pulse of modern consumer behaviors. 
 
By the same token, technology has affected how companies conduct research into markets, and how they perform marketing actions. Many social media platforms such as Facebook not only capture user data to be analyzed by marketers, but they also serve as platforms to market directly to those users through targeted ads. YouTube, Instagram, Quora, and other mobile apps continue to change how businesses reach potential clients no matter where they are. That's why employees in this field need to maintain currency as the tech evolves. 
What kinds of things did people in this career enjoy doing when they were young...
Marketing Research Analysts likely possess what True Colors labels as a Power Combo of personality traits. They were probably "analytical" yet "creative" growing up, able to access both hemispheres of their brains to come up with ideas and solutions that seem "out of the box" yet were based on hard data and insightful observation. These personality types may have excelled in academics and also been successful in assisting with extracurricular activities. They're interested in putting their skills to use to help improve situations and empower others to do well.  
 
As with any analyst field, those interested in such careers would have been comfortable working alone for periods of time, studying and diving into minor details in order to find larger truths. However, since they'll need to be able to translate their findings into compelling presentations, they might have been great writers and great public speakers. Some may have been interested in theater or other performance arts, as well as anything to do with business, marketing, "behind-the-scenes" trivia, and even debate or chess clubs. 
Education and Training Needed
Per CareerOneStop, 57% of Market Research Analysts have a bachelor's degree and 39% hold a master's

Degree majors are usually in business (or MBA), social sciences, communications, statistics, math, or computer science 

Workers can obtain certifications such as a Professional Researcher Certification from the Marketing Research Association. This optional cert requires three years of related work history, 12 hours of courses, an exam, and 20 hours of refresher courses every two years
Learn about data analytics tools to understand how to exploit Big Data
Learn how to use other technology such as analytical software, database user interfaces, query software, or information retrieval or search software
Things to look for in a program
Whether you attend in-person or online, look for accredited schools and programs
Many successful programs highlight their associations with industry partners and serve as pipelines for recruiting companies. Review program websites for job placement stats
Check out U.S. News & World Report's annual Best Colleges rankings, and also check rankings of specific programs
Things to do in High School and College
Become a self-made marketing maven. Find causes that need to be promoted and connect with others to formulate strategies
Volunteer to assist with making graphics, charts, or presentations
Pay attention to marketing and advertising efforts all around us. You'd find them on radio and TV commercials, billboards, magazine ads, YouTube, affiliate ads on websites, sponsored Google search results, social media ads, store displays, and branded apparel 
Keep track of products and services that you consume, and take notes of why you are attracted to them versus the alternatives
Sign up for programs such as Target's Bullseye Insider that allow you to participate in consumer surveys
Experiment with small social media ads and Search Engine Marketing campaigns 
Take college-prep electives related to business, social sciences, psychology, communications, multimedia, statistics, math, public speaking, or computer science
Read books about advertising campaigns and trivia about "biggest marketing fails"
Check out industry-related resources like AdAge, Adweek, or other business publications such as The Wall Street Journal
Typical Roadmap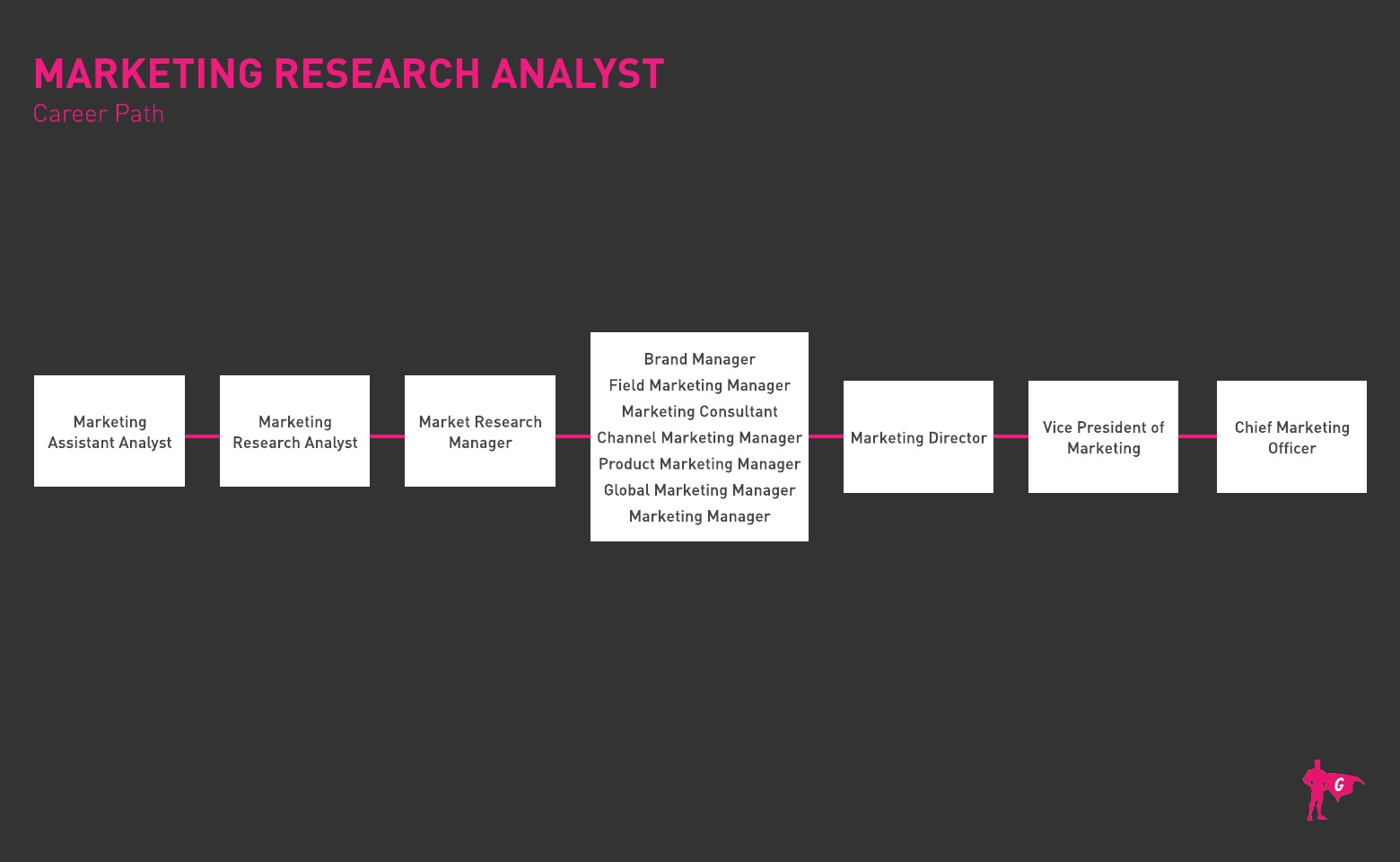 How to land your 1st job
Put your research skills to work, scouring employment portals like Indeed and Monster 
Apply for jobs that you meet or exceed minimum-listed requirements for
Do your homework. Analyze the hiring company, its vision and mission statements, and products and services, then prepare your application with these elements in mind
Review the job posting's requirements for keywords you can use in your application 
Don't "recycle" your resume; tailor it every time to the exact job posting
Let your resume serve as an example of what future employers can expect
Resumes should be full of data used in concise, easy-to-understand bullet points
If you're allowed to submit a cover letter, show off your compelling writing skills
Always ensure your written materials are 100% error-free and properly formatted
Practice your interview skills until they are perfect. Ask friends, relatives, or a professional coach to conduct mock interviews
Dress to impress! The power of first impressions cannot be overstated 
There is a lot riding on Marketing Research Analysts, so always present yourself as an utmost professional who is passionate for the work
Find former instructors and supervisors willing to serve as references. Pick ones who have actual firsthand knowledge of your abilities and who are compelling communicators
Polish your LinkedIn profile and publish a few posts related to marketing research
Don't ignore your digital footprint. Remove any social media items that could trouble an employer who is scouting out your online behavior for signs of unsuitability
How to Climb the Ladder
Ask about opportunities for advancement during interviews, but keep in mind that your primary goal is to focus on the job you were hired for
Know exactly which future job or jobs you want to strive for within the career field
Outline the milestones you need to reach and the steps needed to reach each one
In any job, focus on doing the best you can. When time allows, ask for increased responsibilities, but only if you're truly capable of taking them on
Prove to your employer that they made the right decision in hiring you
Get to know everyone you work with, what their jobs entail, and how they fit into the bigger picture
Be a reliable collaborator who always meets deadlines and provides valuable input
Put service before self to demonstrate your commitment to organizational success
Ensure compliance with organizational policies
Keep private data properly safeguarded with information assurance and security best practices 
Obtain a graduate degree and any applicable specialized certifications 
Consider working in states that have the highest concentration of jobs, such as Washington D.C., Colorado, New York, Washington, and Massachusetts
Review information on the top-paying states, currently New Jersey, Washington, Delaware, District of Columbia, and California
Recommended Resources
Websites
Alexa Tools
Google Surveys
Google Trends
Pew Research Center
SBA's Office of Entrepreneurship Education Resources
Social Mention
Statista
Books
Plan B
Marketing Research Analyst jobs require a wide range of traits and abilities. Some workers may enjoy certain aspects of the job, but not other aspects. For example, those with more creative aptitudes but less interest in numbers might consider alternatives in advertising. People who like dealing with others all the time may prefer a career in public relations. Meanwhile many simply want to work with data and otherwise be left alone. 
 
The Bureau of Labor Statics lists the following related occupations to think about:
Advertising, Promotions, and Marketing Managers
Cost Estimators
Economists
Mathematicians and Statisticians
Operations Research Analysts
Public Relations Specialists
Survey Researchers
Newsfeed Featured Jobs Online Courses and Tools