Spotlights
Similar Titles
Media Strategist, Media Buyer, Media Analyst, Media Coordinator, Media Planning Specialist, Advertising Planner, Advertising Strategist, Campaign Manager, Marketing Communications Planner, Integrated Media Planner
Job Description
Media planners decide when and where to advertise their client's product or brand. Their goal is to identify the target audience, and choose the right mix of media on which to display these ads and capture this audience's attention. Will they put their client's ad on Facebook? Instagram? MTV? A bus? A billboard? 
Rewarding Aspects of Career
Great work/life balance 
People! You work with lots of different people and build relationships.
The field is young and fast-paced.
Get to be creative.
The work is diverse and never stagnant. You're always learning!
You are helping to bring an advertisement to life - you get to see that ad out in the world and know that it's having an impact on people!
The field is growing and job opportunities are expected to increase significantly in coming years .
Room for advancement - you will move through the various levels of this career as you go.
Always working with different clients and different content 
The Inside Scoop
Job Responsibilities
Media planners analyze demographic data to make these decisions, and then evaluate the ad's overall performance in its designated location. Basically...
Identify target audience and really get to know that audience
Decide which media mix is best for displaying client's product or brand
Coordinate, observe, and analyze ad's performance in chosen media
Organization Types
Media agencies 
Advertising agencies 
Brand content/experience agencies
Digital agencies
In media agencies that cover all media, there will normally be increased interaction between the creative and media teams. Some agencies might combine media planner and media buyer roles into one job. 
Work Environment
Typically an office building, however these offices are often vibrant, young, and fast-paced. Creativity is blossoming around each corner. Media planners may be required to travel to client offices occasionally. 
You'll generally be working 40 hours a week, but you'll often be working extra hours to complete projects to meet client-led deadlines, or to give presentations or attend meetings that must be scheduled around client. 
Future of Media Planning
Over the next decade, it is expected that media planner positions expand significantly. As the media landscape moves and transforms, and more and more mediums become available, media planners must stay ahead of the industry. They must continually sharpen and expand their skills, including their ability to determine the best format for their client. 
The internet is a vast medium full of opportunity for placing advertisements. A media planner who is able to discern the demographics of surfers on any given website, will be extremely marketable. 
Job opportunities in this field are expected to increase 23% by 2026. This projections of growth is significantly faster than many other occupations, however the competition for jobs will probably be very high. 
Quality of Life - Year One to Year Ten
Your first year in the industry will most likely be spent as a junior media planner or media planner assistant. You will be helping out with larger projects or working under senior-level media planners on smaller tasks. These are the years that you will be "paying your dues." Expect long hours and lots of work! 
Five years in:
Once you hit five years, you will find yourself working on larger projects, and overseeing assistant media planners. Often times, media planners at this level take on the task of media buying as well. The ability to both plan and buy media time from various markets (tv, radio, internet), makes a media planner/buyer more marketable and effective. 
Ten years in:
As a senior media planner, you will be taking on larger projects, often working with upper-level, national clients. It is not uncommon for media planners at this level to move to other realms within the advertising agency, or even begin their own firms. Senior media planners are free and able to reach higher, coming up with marketing solutions beyond the obvious and conventional. 
Skills Needed on the Job / Keys to Success
Communication - you are communicating with clients, coworkers, sister agencies, etc. all day!
Creativity/Ingenuity 
Problem-Solving
Good teammate - be kind, genuine, and productive. Be someone that other people want to work with!
Proactivity - There are many niches within the field; don't limit yourself. The media landscape is always changing and you are constantly learning and improving, so stay on your toes! Don't be afraid to ask questions.
Strong decision-making skills
How to use analytical tools (MRI, Nielsen, MOAT, GfK)
Campaign evaluation and media buying
Marketing knowledge - understand how marketing and advertising works
Knowledge of Entertainment Media - you have to know the world of entertainment. Anything from Good Morning America, to The Bachelor, and CSI: Miami. You need to know the types of shows and their types of audience, so that you're able to place an ad appropriately. 
Knowledge of Online Media - you have to be familiar with all of the websites, social media, and blogs regularly used by consumers. 
Computer Skills - Media planners are required to do a lot of research, utilize databases and a plethora of computer programs. 
Education and Training Needed
Bachelor's Degree generally required
Suggested degrees: Communications, Advertising, Marketing, Media Studies, Public Relations, Journalism, Business Management, English, Operational Research - but any degree can enter this career.
Most of your Media Planner training will take place during your first job, with the guidance and support of a higher-level colleague. This hands-on experience is where the majority of your skills and knowledge for your career will come from!
A large part of this training will involve learning about audience research figures, which provide consumer and media information. You'll learn how to identify a target audience and get to know their interests and habits. 
Top Educational Institutions for Communication & Media Studies
University of Southern California
Stanford University 
Wake Forest University
Northwestern University
University of North Carolina at Chapel Hill
University of Denver
University of Pennsylvania
Emerson College
Boston University 
American University
Top Educational Institutions for Advertising
Brigham Young University
The University of Miami
University of Texas at Austin
The University of Georgia
Syracuse University 
Michigan State University
University of Illinois at Urbana-Champaign
University of Alabama
Temple University
Drake University 
Typical Roadmap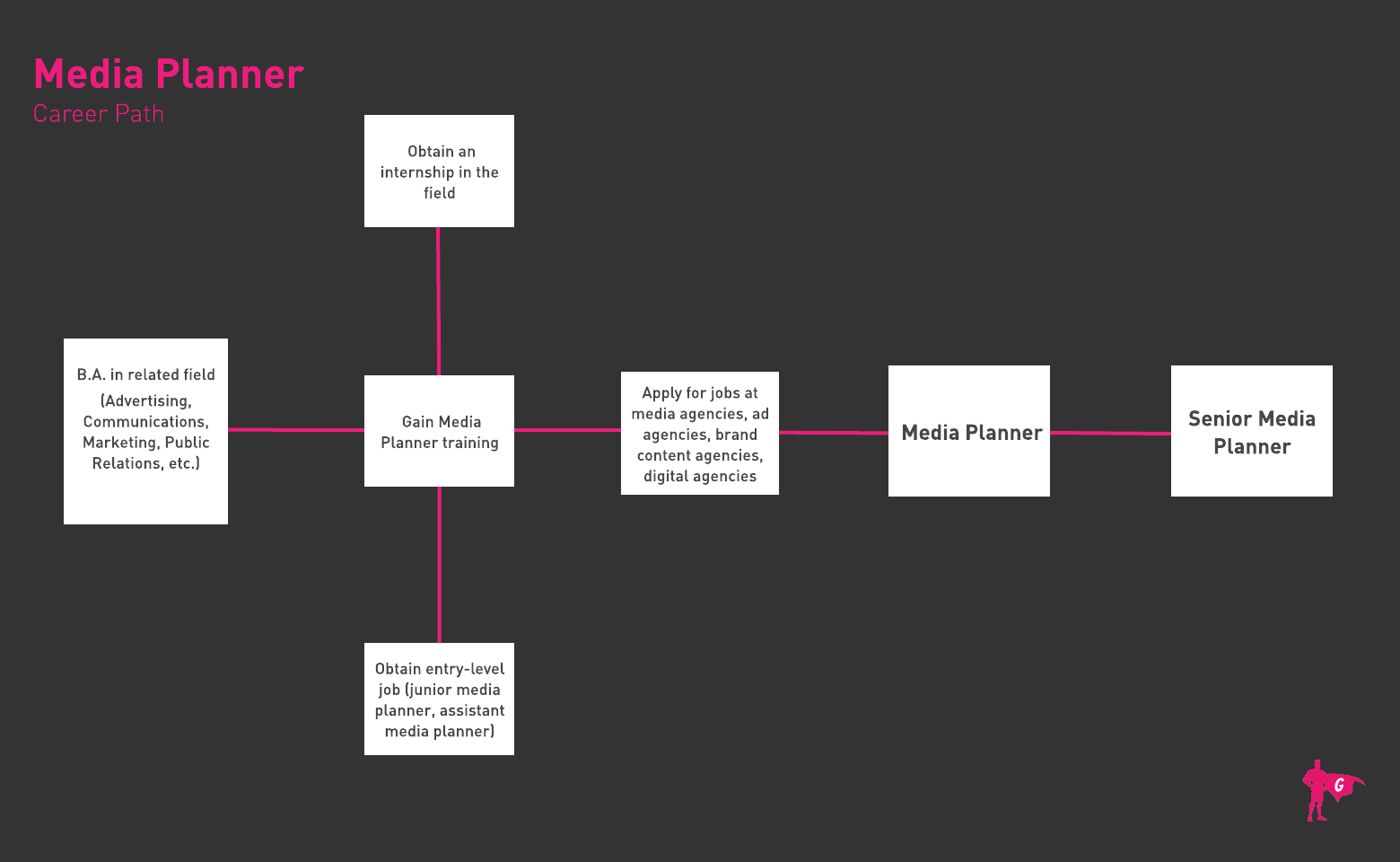 How to land your 1st job
Network - make connections! 
Get an internship in the field 
Take lower level jobs within the field (assistant media planner, assistant media buyer, etc). You can work your way up. We spoke to a media planner who began by working at the front desk of the advertising agency! 
Diversify your skill set - This industry is always moving and changing. You need to be on your toes and constantly learning. Build your skills in various forms of media - advertising, writing, creative design, virtual reality, augmented reality, etc.
Words of Advice
"Have patience. You'll have to pay your dues before you can get to the fun part. You may be doing a lot of assistant-type work at first, but it all pays off in the end!"
"Try to get an internship in the field. This can put you ahead. Maybe take a freelance job in the field."
"Be genuine with everyone you meet."
"Make sure you're throwing yourself in and becoming involved in anything you can even outside of your day-to-day job. This will build your skill set and benefit you throughout your career."
"Most media planners don't stay in the same position for their entire career, so train in other marketing courses in order to be ready for your career journey! (accounting, psychology, creative design, etc.)"
"Work hard on every project you have. Success in smaller project will undoubtedly lead you to larger projects."
"Stay up to date with the culture as it moves and transforms."
Recommended Resources
AdAge Datacenter: Key resource for business intelligence and media research. This site provides profiles of advertisers, agencies, etc. Utilize it to create a network of media planning/buying contacts. 
LinkedIn Sales Navigator: This site is where sales professionals often go to discover contacts and be referred to major media brands. 
Plan B
The degree needed for this career is extremely transferable. You will most likely be able to work in any sector of advertising, marketing, or other communication careers. 
Newsfeed Featured Jobs Online Courses and Tools