Spotlights
Similar Titles
Clinical Laboratory Scientist (Clinical Lab Scientist), Clinical Pharmacologist, Clinical Research Scientist, Medical Researcher, Physician Scientist, Research Scientist, Researcher, Scientist, Study Director, Toxicologist
Job Description
Medical Scientists perform in-depth research and a wide range of tests and experiments related to drugs and new courses of treatment. They work in labs, usually set in hospitals, universities, or pharmaceutical companies, diligently seeking innovative ways to address problems and improve medical outcomes for patients. From studying what causes health problems to conducting trials on potential cures, Medical Scientists are the behind-the-scenes professionals out there fighting for our health and wellness. 
 
They usually work with small teams, directing the work or research of technicians or students. When a new drug is ready for human trials, they put together studies and reach out to doctors who can find suitable volunteers. Once trials are over, they analyze results, publish findings, and make decisions on the best path forward. Scientists working for universities may need to write grant proposals to seek external funding for their critical research, while scientists working for private companies are paid to research areas that could also benefit the company. 
Rewarding Aspects of Career
Discovering, or forwarding research, towards disease cures
Helping patients live longer, healthier lives
Enabling opportunities for patients to try new treatment options before they're made public
Obtaining funding for critical university research that students can participate in
Helping companies stay profitable as they invest resources into experimental research and development programs
The Inside Scoop
Job Responsibilities
Medical scientists typically do the following:
Design and conduct studies that investigate both human diseases and methods to prevent and treat them.
Prepare and analyze medical samples and data to investigate causes and treatment of toxicity, pathogens, or chronic diseases.
Standardize drug potency, doses, and methods to allow for the mass manufacturing and distribution of drugs and medicinal compounds.
Create and test medical devices.
Develop programs that improve health outcomes, in partnership with health departments, industry personnel, and physicians.
Write research grant proposals and apply for funding from government agencies and private funding sources.
Follow procedures to avoid contamination and maintain safety.
Many medical scientists form hypotheses and develop experiments, with little supervision. They often lead teams of technicians and, sometimes, students, who perform support tasks. For example, a medical scientist working in a university laboratory may have undergraduate assistants take measurements and make observations for the scientist's research.
Medical scientists study the causes of diseases and other health problems. For example, a medical scientist who does cancer research might put together a combination of drugs that could slow the cancer's progress. A clinical trial may be done to test the drugs. A medical scientist may work with licensed physicians to test the new combination on patients who are willing to participate in the study.

In a clinical trial, patients agree to help determine if a particular drug, a combination of drugs, or some other medical intervention works. Without knowing which group they are in, patients in a drug-related clinical trial receive either the trial drug or a placebo—a pill or injection that looks like the trial drug but does not actually contain the drug.

Medical scientists analyze the data from all of the patients in the clinical trial, to see how the trial drug performed. They compare the results with those obtained from the control group that took the placebo, and they analyze the attributes of the participants. After they complete their analysis, medical scientists may write about and publish their findings.

Medical scientists do research both to develop new treatments and to try to prevent health problems. For example, they may study the link between smoking and lung cancer or between diet and diabetes.

Medical scientists who work in private industry usually have to research the topics that benefit their company the most, rather than investigate their own interests. Although they may not have the pressure of writing grant proposals to get money for their research, they may have to explain their research plans to nonscientist managers or executives.

Medical scientists usually specialize in an area of research within the broad area of understanding and improving human health. Medical scientists may engage in basic and translational research that seeks to improve the understanding of, or strategies for, improving health. They may also choose to engage in clinical research that studies specific experimental treatments.  
Different Types of Organizations
Research and development in medical device, biotechnology companies
Colleges, universities, and professional schools
Hospitals
Pharmaceutical and medicine manufacturing
Offices of physicians  
FDA 
Expectations/Sacrifices Necessary
Medical Scientists research and propose lifesaving drugs and treatment options to be presented to customers and patients. Their jobs carry massive responsibilities and they're expected to conduct extremely thorough research, find solutions, and ensure proposed products or drugs are safe for human use. Mistakes or oversights can lead to patients becoming ill, experiencing unexpected side effects, negative drug interactions, or even dying. 
 
The opposite side of that coin is the pressure to work fast and find viable solutions to medical problems that are causing illnesses or casualties. So, while Medical Scientists have to be extremely careful and thorough, they also experience a sense of urgency when the heat is on, and may feel stress or frustration when things don't work out. There is potential risk of exposure to contagious diseases or germs, which is why they must always practice good hygiene and wear proper personal protective equipment, when needed. 
Current Industry Trends
This is a growing field, in part, because life expectancy itself is growing! Medical Scientists are needed to find better treatments for patients who are living longer yet still struggling with chronic conditions requiring pharmaceuticals. 
 
Society is still plagued by cancer, AIDS, Alzheimer's, and other widespread medical dilemmas that must be addressed through continuing efforts. The COVID-19 pandemic created a rapid spike in research as nations struggled to fight the spread and find a vaccination, even as the virus mutated into many strains. Meanwhile, other viruses continue to change and build immunity to existing vaccines, thus requiring constant updates. 
 
The increasing mobility of our global population means that as persons travel from country to country, viruses and diseases could run rampant without preventative solutions from the medical community. Meanwhile, cutting edge nanotechnology is revolutionizing the medical industry, with Medical Scientists needed on the frontlines of research. 
What kinds of things did people in this career enjoy doing when they were young...
Medical Scientists spend their lives devoted to helping improve the health of others. They were probably always interested in things such as math, chemistry, biology, or science, and how those things might be used to specifically benefit people. As behind-the-scenes workers, they are not interested in the limelight, so much as in achieving results. 
 
Their drive and determination could come from childhood experiences, such as perhaps having a loved one who succumbed to a particular illness that had no effective cure. However, their feelings don't get the better of them. Those in the Medical Science field must be both compassionate yet objective, optimistic yet cautious and analytical so their judgement isn't clouded by emotion. They're methodical leaders, who may have directed teams in school activities involving complex logistics and meticulous organizational planning.
Skills Needed on the Job
Soft Skills
Ability to work independently or with teams
Communication skills
Compassion and empathy 
Creative, original thinking
Critical thinking 
Excellent technical writing skills 
Objective data analysis 
Persuasiveness
Project management
Resourcefulness and reasoning
Skills for coordinating and instructing activities
Sound judgment and decision-making, sometimes under pressure
Time management
Technical Skills
Databases and query software
Desktop publishing 
Enterprise resource planning software 
Good near vision
Imaging software 
Integrated development environment software 
Knowledge of scientific software, such as IBM SPSS Statistics or Minitab 
Map creation software, such as ESRI ArcGIS 
Object or component oriented development software 
Perceptual speed
Strong math skills
Technical reading comprehension
Technical writing skills
Knowledge of a wide range of medical tools, including atomic absorption spectrometers, benchtop centrifuges, beta counters, blood gas analyzers, calorimeters, chemistry analyzers, coagulation analyzers, colorimeters, and dozens more
2019 Employment
138,300
2029 Projected Employment
146,700
Education and Training Needed
Medical Scientists are generally PhD holders with Biology, Life Science, or medical degrees

Undergrad degrees should ideally also be in related fields

Some students enroll in dual degree Medical Scientist Training Programs, obtaining both practical and research skills 
PhD programs require significant lab work, research, and a dissertation, as well as possibly managing teams of undergrad student assistants
Most students specialize in a particular area of study such as gerontology or neurology
MD students initially focus on labs and classwork for two years
Med school may require a fellowship, residency of 3 to 7 years, or possible postdoctoral studies involving ample publication requirements

Some workers start working during their postdoc or residency phase

Certification or licensure is needed for anyone administering drugs or working as a practicing physician
Additional core and speciality certifications are available, such as:

Medical Laboratory Scientist - via the American Society for Clinical Pathology
Medical Physics - via the American Board of Radiology
Medical Toxicology - via the American Board of Emergency Medicine
Things to look for in a program
Decide what you want to major and specialize in before reviewing programs
According to O*Net, 29% of Medical Scientists have a doctorate degree and 45% have finished post-doctoral training
Take a look at the quality and modernity of the program's facilities and equipment 
Review faculty bios to learn about their publication history and fields of expertise; also check out funded areas of research
Peek at alumni networks to learn what graduates have gone off to accomplish
Look for professional and student organizations offering valuable learning and network opportunities 
Review eligibility to ensure you have a competitive enough application, to include GPA, relevant academic and work backgrounds, and any standardized test scores needed
Always be mindful of tuition and fees; look for university- or program-affiliated funding options and stay on top of scholarship or grant application deadlines
Things to do during high school/college
Future Medical Scientists should dive into the coursework early on to gain a solid foundation
Relevant classes include anatomy, biology, microbiology, biochemistry, pathology, and physiology
Other important classes include psychology, medical law and ethics, technical writing, grant writing, and research labs
Don't neglect your people skills! As you progress, you'll be working with teams or students, medical professionals, academic or business stakeholders, and perhaps patients during clinical trials
The earlier you can decide which area to specialize in, the better
Stay organized as you research various paths to get from high school to working Medical Scientist
Make a list of your dream, target, and safety schools; determine requirements for getting into each
Work closely with school advisors and, if applicable, family members to help you get and stay on track
As you gain work and academic experience, keep detailed records and use the information to build your future program application materials
Always look for scholarships or other funding opportunities
If one of your professors is a Medical Scientist, pick their brain as often as possible. Assist with research as much as you can, to demonstrate that you want to add value to their work while you're learning from them
Read as much as you can about the field; stay up-to-date on current trends, technologies, and breakthroughs
Typical Roadmap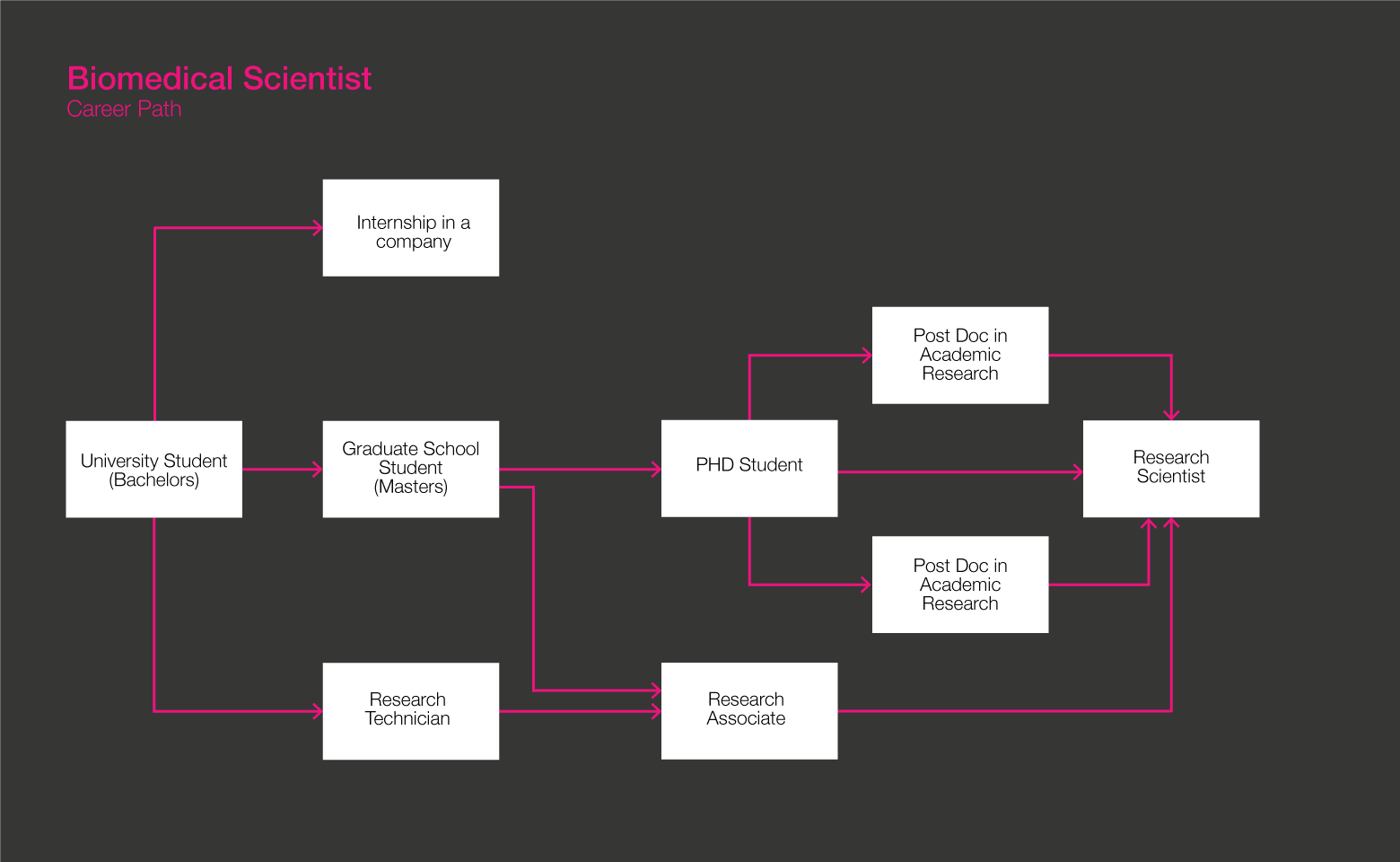 How to land your 1st job
Per BLS, 38% of Medical Scientists work in R&D related to physical, engineering, and life sciences. 21% work for colleges or universities, 17% work at hospitals, and the rest work for pharmaceutical/medicine manufacturing companies or at doctor's offices
Go where the jobs are. Medical Scientists work all over the country, but the states with the highest employment rates are California, Massachusetts, Texas, New York, and Pennsylvania

Note, states with the highest concentration of jobs are Massachusetts, Maryland, Washington, New Jersey, and Delaware
The top paying jobs are in Connecticut, Maine, Delaware, New Jersey, and Tennessee

Have all necessary educational and, if applicable, certification and licensure requirements completed  
Some Medical Scientists get their jobs lined up while doing residency; others may need to apply to job postings with a highly-polished CV
Ensure your CV lists all education and work experiences and utilizes keywords and phrases related to the posted requirements 
Be thorough and accurate; your CV should be error-free, list quantifiable data, and demonstrate the impacts your research or work has had 
Hire a professional resume writer to comb over your draft CV and perfect it
Set up job alerts on Indeed.com, Monster, Glassdoor, and other job portals, but also let your network know you're looking. Many jobs are found through networking these days!
Be mindful of your digital footprint; keep your social media clean and your LinkedIn profile up-to-date
Ask previous supervisors and professors if they'll serve as references or recommendation letter writers
Be prepared for interviews by doing mock interviews and studying potential Medical Scientist interview questions and answers 
How to Climb the Ladder
Medical Scientist positions are increasing every year, so there's plenty of room for upward advancement
Complete applicable certifications that can help you specialize and will boost your credentials
Keep getting published research out there and make a name for yourself in your area of expertise
Don't just keep up with changes but help to lead those changes by working with new technologies, treatments, and drugs
Always remember to treat peers, students, and staff with courtesy and respect
Be a devoted patient advocate; consider working in areas of research related to medical problems that are particularly challenging to the underserved and underprivileged
Find your role models! Emulate them, seek mentorship, and let them inspire your work
Develop staff and students who are working for you, and be their role model
Actively participate in professional organizations by attending conferences, giving speeches, and writing or peer-reviewing articles 
Recommended Resources
Websites
American Association for Cancer Research
American Society for Biochemistry and Molecular Biology
American Society for Clinical Laboratory Science
American Society for Clinical Pathology
American Society for Clinical Pharmacology and Therapeutics
American Society for Pharmacology and Experimental Therapeutics
Gerontological Society of America
Infectious Diseases Society of America
National Institute of General Medical Sciences
Society for Neuroscience
Society of Toxicology
Books
Plan B
The road to becoming a Medical Scientist can be a long and winding one. In the end, many job seekers are looking for something different. The Bureau of Labor Statistics lists many alternative but related careers to consider, such as:
Agricultural and Food Scientists
Biochemists and Biophysicists
Clinical Laboratory Technologists and Technicians
Epidemiologists
Health Educators and Community Health Workers
Microbiologists
Physicians and Surgeons
Postsecondary Teachers
Veterinarians
Words of Advice
"If you enjoy science a lot don't let failure deter you, that's how we know a lot of the things we know today, through trial and error and experimentation." Roshan Yoganathan   
Newsfeed Featured Jobs Online Courses and Tools