Spotlights
Similar Titles
Artist Manager, Music Agent, Talent Manager, Music Industry Manager, Artist Representative, Music Consultant, A&R Manager (Artists and Repertoire), Music Business Manager, Artist Development Manager, Creative Manager, Booking Manager, Label Manager, Music Marketing Manager, Tour Manager, Music Promotions Manager
Job Description
To make it big in the music industry, musicians need the help of industry professionals. First, they need help gaining exposure, so audiences can hear their music and potentially become paying fans. This is where licensed Booking Agents come in, to schedule gigs and arrange contracts. But once a musical act starts getting traction, it's time to contact a Music Manager (aka Artist Manager or Talent Manager). 
Managers can, in most states, also serve as agents…but their work goes beyond that. They focus more on the big picture, such as helping to promote the band or artist and arranging meetings with record labels to produce albums. Music Managers guide their clients' along their career paths, ensuring they build a successful brand image and reputation. 
As producer Ben Yonas explains, "There's usually a point in the growth phase of an artist where it just becomes too much to be creating music AND handling all of the business. At its core, the role of the Manager is to guide strategy, yet Managers also serve as a buffer to the outside world." In other words, Music Managers free up their clients to focus on writing and performing their music. 
Note, there are different types of managers. This profile focuses on Music Managers, who are sort of jack of all trades that deal with an artist's day-to-day activities, as well as their image and "brand." There are also business managers, who handle more of the financial side of things. Smaller acts may not need a business manager, while larger acts may have more than one type of manager! 
Rewarding Aspects of Career
Steering artists' and performers' careers to enhance their success

Contributing to the commercial success of musical acts, including promoting them and helping to facilitate record deals

Getting to mentor performers whose work reaches thousands or millions of fans

Potential for lucrative income (top earners can make over $164,500 a year)
The Inside Scoop
Job Responsibilities
Working Schedule
Music Managers may work full-time jobs, with some slow periods and some hectic ones. They spend lots of time on the phone and writing emails or sending messages, but many duties are performed outside of typical business hours. Travel is often required. 
Typical Duties
Note, some duties of a Music Manager occasionally overlap with those of an artist's agent. Sometimes, agents even pull double duty as work as Music Managers. However, agents must be licensed in certain states, thus Managers must be careful about doing any duties that require licensure. 
Find musical acts to represent and reach out to offer services and establish a management contract

Serve as a central point of contact and "

filter

between the band and any third party"

Watch out for the act's financial health and protect their best interests

Set up meetings with appropriate record label A&R executives who might want to do a record deal 

Coordinate with the act's agents and concert promoters to schedule more gigs, better venues, bigger tour packages, and good-paying promotional activities

Suggest merchandising and marketing opportunities 

Promote

the musical act (band or artist) to raise awareness and attract fans; maximize the potential of websites, YouTube channels, social media, newsletter campaigns, fan clubs, and other outreach

Suggest suitable producers to partner with for the best recording sessions possible

Review contract details and keep track of artists' earnings (including royalties). Ensure they're getting paid

Provide specific guidance for career advancement to include branding and marketing for albums and tours

Facilitate brand sponsorships and other cross-promotional opportunities that can enhance visibility

Stay up-to-date on industry trends to help ensure acts stay relevant and popular 

Ensure one's own

commissions

are paid per the contract terms

For example, a Music Manager typically gets a percentage of "gross earnings (all income, fees, advances or royalties)" excluding certain expenses. They also receive a set commission "based on net income generated from live performances"
Additional Responsibilities
Help resolve interpersonal disputes. Keep artists focused on their creative tasks, including writing new songs, getting ready for gigs and tours, and preparing for studio recording sessions 

Follow social media groups that discuss music acts. Pay attention to what people are saying about what they want (or don't want) to see

Build strong relationships with artists, agents, promoters, other managers, and record label executives

Manage fan and press requests; update

press kits

 
Skills Needed on the Job
Soft Skills
Attention to detail

Confidentiality

Creativity

Goal-oriented

Entrepreneurial 

Initiative

Integrity

Leadership and management skills 

Multitasking

Negotiation skills

Organization

Passion for music

Patience 

Persuasive

Problem-solving

Strong communication skills 

Teamwork

Time management 

Trust
Technical Skills
Artist relations 

Brand development

Broad knowledge of many music genres, artists, and trends

Cultural awareness

Familiarity with concert marketing strategies

Good "ear" for music

Knowledge of entertainment contracts and tour riders

Logistics (such as travel arrangements, including lodging, meals, and transportation)

Press releases 

Scheduling
Different Types of Organizations
Expectations and Sacrifices
Music Managers must look out for the best interests of the artists they represent. This goes beyond just immediate financial responsibilities; it's a long-term endeavor and requires a genuine investment in the artists' success. 
Musicians can, at times, be picky, rowdy, or difficult to manage. Many start that way so it may be hard for them to get used to having a Music Manager. Others change over time as their popularity—and income—grows. Managing high-earning acts can be challenging, especially if they disagree with their Manager's advice and want to try and do things on their own. 
Some days may feel like a high-wire balancing act, trying to please the talent while telling them things they don't want to hear. In recent times, many headliners have begun to break ties with their Music Managers, some after years of effective collaboration. This can turn into a financial problem for Managers who invested so much time in building up an act, only to be let go at the peak of their earnings.
Current Trends
Music Managers are a vital part of the industry, and up-and-coming acts rely heavily on them to get their music heard and their shows booked. Managers charge up to 20% for their services and sometimes, as bands grow in popularity and start earning more income, they resent having to pay that same percentage to the Managers who helped them reach that point. When an artist decides to try and go it alone, they might fire their long-time Manager, which obviously hurts the Managers' earnings. 
Another part of this trend is how modern music gets monetized. Consumers don't buy full albums the way they used to. Instead, they might buy a single, or just pay for a music streaming service. That's why music acts have started to rely more heavily on tours to earn a living, with concert ticket prices now soaring. This change has impacted how Music Managers earn their income. Previously, if an album were successful, they'd get their commission plus royalties for many years, but they don't have that same ability to draw long-term royalties from live performances.  
What kinds of things did people in this career enjoy doing when they were younger…
Even though Music Managers are predominantly focused on business, they've got to truly love music to make a successful career! They may have gone to see live music events growing up and wanted to be involved with the industry from an early age. Some are even musicians themselves but are ultimately drawn more to the business side of things. 
Because they must be outgoing and self-motivated, Music Managers may've been very talkative, charismatic go-getters as kids. Most are extroverts who may have held early jobs in marketing, sales, entertainment, or creative fields. 
Education and Training Needed
Music Managers don't have specific educational routes. As music attorney Kamal Moo, Esq.

writes

, "If you want to become a manager, just find an artist willing to hire you and, congratulations, you are a manager."

A college degree or at least some ad hoc courses in music, business, and/or sales can be helpful—but experience is often the most valued commodity

Per

Zippia

, 72% of Music Managers have a bachelor's, though this estimated figure may be high. The most commonly-held degrees are business, entertainment business, communications, and music

Top music

business

managers often hold an MBA

Many Music Managers start out as interns or assistants within the music industry, learning the ropes from the inside

Common subjects to be familiar with include:

Artist relations 

Booking

Brand development

Branding, marketing, and promotional strategies

Digital marketing

Entertainment contracts

Logistics 

Media/public relations

Musical knowledge

Profit and loss statements

Psychology

Ticket sales
Things to look for in an University
A college degree isn't always necessary for this career field but look for schools offering business and music majors. Always compare the costs of tuition and other fees, and review your options for scholarships and financial aid. Also, check out the program's alumni to see how many made it into the music business! 
Things to do in High School and College
Music Managers need to know how everything in the music industry works, so you've got to study a lot of different things and get as much practical experience as possible! 

Take music classes in high school to learn about theory, composition, and arrangement.

Train your aural skills

so you can develop an "ear" for music 

Sign up for classes or programs where you can learn about sales, marketing, business, legal contracts, general accounting, and psychology 

Hone your soft skills, such as team building, persuasive speaking, conflict de-escalation and resolution, and negotiation techniques 

Read about the Music Manager career field and study the career paths of

popular managers

and how they

help their clients grow

their careers

Get engaged with the local music scene and start making connections

Consider joining a band and getting a few gigs in the surrounding area to see what it's like from your future clients' perspective 

Volunteer at local venues. Apply to internships with concert promotion companies, talent agencies, and others in the industry

If you have friends in a band, volunteer to serve as their manager to get some practice

Attend concerts and take every opportunity to speak with band members, road and sound crews, agents, managers, promoters, etc. Learn everything you can about the "behind-the-scenes"

Pay attention to how band members behave. If they're acting out, think about how you'd approach the situation if you were their manager

Notice which bands seem to get the most enthusiastic responses from fans and which ones struggle to connect with the audience. Note what is working or try to troubleshoot what isn't working

Listen to a wide range of music. Sign up for accounts on streaming music services and tune in to different stations so you can gain exposure to new artists and songs

Study the business side of the music industry. Learn how record deals work and how

profit and loss statements

function. Check out sites like

Careers in Music

for insights and advice from insiders 

Participate in online discussion forums and groups. Ask questions and take notes about helpful tips. Watch YouTube videos from industry insiders

Learn about software programs that help book artists, such as

Gigwell
Typical Roadmap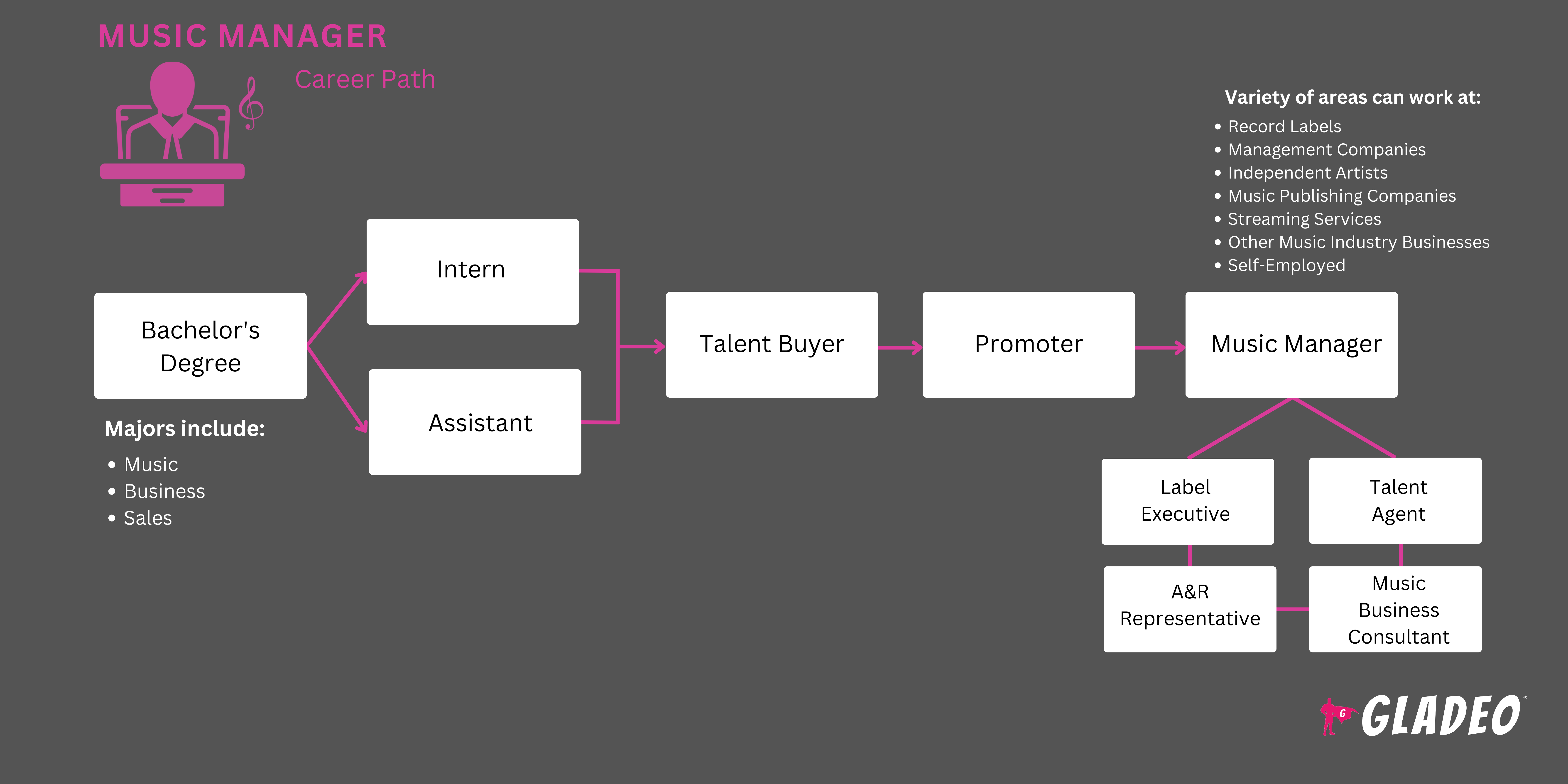 How to Land your 1st job
Music Managers need sufficient practical experience in the industry before they start managing bands. They are usually self-employed

Having a relevant music, sales, or business degree or certificate can boost your odds of artists considering you, but a track record of helping others is important 

Music Managers must often start as assistants or volunteers to rack up experience until they have enough connections and work history to launch their own business

Apply to relevant jobs at local venues such as cafes, clubs, theaters, concert promotion companies, talent agencies, community centers, seasonal festivals, etc.

Build a website, stay active on social media, get some business cards printed up, and start networking at shows to meet live-music industry players 

It's critical to have strong industry connections. Many musical acts don't advertise their need for a manager, so you might have to do some outreach to new bands that you've seen and are interested in working with. Good word-of-mouth is also important 

Move to cities with lots of live music venues 

Ask everyone for tips or connections that could help you

Ask clients or teachers if they're willing to serve as personal references or write testimonials about your work 
How to Climb the Ladder
Music Managers earn commissions, so the better your clients do, the better you'll do!

Put in the hours to help clients find the type of success they're looking for

Understand the

applicable laws

related to licensed agents and managers in the states where you work. Know your obligations and limitations, i.e. what you're legally able to do or not

Build and maintain strong relationships with all members of a musical group. Earn their trust and always act with their best interests in mind! 

Get to know their personalities and quirks and figure out how to persuade them, as needed

Maintain close ties with artists' agents, promoters, other managers, festival directors, and record label executives. Tend to these vital relationships because they may last for many years!

Watch for personality and behavioral changes as clients become more famous. Some may begin to resent being managed or told what to do—even when it is in their best interests

Many artists struggle with

addictions

that interfere with their personal and professional lives. Music Managers should help their clients overcome their substance abuse problems

Artists also run afoul of the legal system sometimes. They might get

arrested

, be accused of

copyright infringement

, get

sued by fans

, or become embroiled in other types of

lawsuits

. Managers, with the help of attorneys, must try to steer their clients out of trouble and back on course with as little reputational damage as possible

Pay close attention to the details of contracts. Make sure bands are properly taken care of and get what they need 

Look for lucrative cross-promotional opportunities, and be cautious of scammers and con artists 

Always keep learning new things because the industry is evolving thanks to streaming services

Join organizations and participate in music-industry events like

Aspen Live

and

SXSW

. Position yourself to be a well-known and respected professional 
As business coach Rasheed Ogunlaru said, "In business, sport, entertainment and beyond an idea is worth next to nothing. The energy, effort, passion, talent, tenacity, strategy, resilience and resourcefulness to see it through and make something of it is worth everything." 
Recommended Tools/Resources
Plan B
The music industry is incredibly tough to break into—and it's even harder for Music Managers because instead of applying for jobs, they must find their own clients! It's hard to get bands to trust you to manage them when you don't have experience. However, the same can be said for a lot of music jobs. 
If you're interested in exploring some alternative careers in the entertainment business, below are a few to consider! 
A&R Representative

Advertising and Promotions Manager

Audio Engineer

Audio-Visual Specialist

Bookers/Talent Buyers, Music

Business Affairs in Entertainment

Choreographer

Composer

Concert Hall Manager

Entertainment Lawyer

Entertainment Marketing

Musician

Music Producer

Music Supervisor

Music Teacher

Music Video Director

Public Relations Specialist

Sound Engineer

Studio Manager

TV Director
Newsfeed Featured Jobs Online Courses and Tools