Spotlights
Similar Titles
Arts Program Manager, Arts Director, Cultural Affairs Manager, Non-Profit Arts Coordinator, Arts Operations Manager, Arts Development Officer, Arts Program Coordinator, Non-Profit Arts Executive, Arts Engagement Manager, Arts Administration Specialist
Job Description
Non-profit Arts Administrators are multitasking experts with extraordinarily keen administrative and organizational skills. Their daily work activities can include a wide array of tasks which allows for multiple entry points to this profession. Administrators can learn these tasks on the job by starting at a coordinator level in the areas of event coordination, artist management, fundraising and donor support, finances, marketing, box office, site management and others. These jobs are available across a wide spectrum of creative organizations including theatre and dance organizations, galleries and museums, higher education, community arts centers, symphonies and opera houses, and any organization working in the visual and performing arts.   
 
Nonprofits rely on the persuasive powers of their Arts Administrators to find donors, market events, and use both traditional and modern marketing techniques to boost fundraising campaigns. That revenue is used to ensure organizations reach their goals and can push forward to new objectives. Senior Art Administrators report to the board of directors, advising peers on updates and keeping the mission on track. 
Rewarding Aspects of Career
Working with artists and art lovers to forward organizational and community goals
Opportunities to work with vibrant cultural and artistic exhibitions, events, and projects
Contributing to the public good and society's appreciation of the arts
Ability to polish skills related to project management, financial management, and fundraising
Opportunities to make your organizational vision into a reality
The Inside Scoop
Job Description
Working Schedule
Work hours are full-time but flexible, with irregular hours common. Arts-related events are often held in the evening or on weekends. 
Typical Duties
Plan and organize artists, events, logistics, buildings, and other personnel
Create and manage budgets
Keep abreast of government policy related to grants and other funding
Orchestrate fundraising activities and specific fundraising events for organizations
Network and build connections with arts patrons, community partners and donors
Develop in-house capabilities to broaden public outreach 
Work with directors and program coordinator on program designs
Manage staffing and performance schedules
Oversee curriculum development for school performances and workshops
Work on grant applications, proposals, and reports
Meet with artists, stakeholders, and clients
Liaison with media or other public relations outlets
Additional Responsibilities
Establish a creative, welcoming, and inclusive environment for artists and patrons
Oversee social media management and all marketing efforts
Manage invoices and timesheets
Maintain art spaces and general decor 
Active participation in community-organized events
Skills Needed on the Job
Soft Skills
Ability to work independently, on teams, and with third-parties
Desire and aptitude to help artists succeed
Energetic and enthusiastic
Friendly and welcoming manner
Honesty
Informed social and cultural awareness 
Keen organizational skills
Patience
Resilience and composure 
Resourcefulness and leadership
Skills for coordinating events
Strong communication skills, including active listening 
Time management
Technical Skills
General familiarity with computers (PC or Apple)
Knowledge of visual presentation equipment (such as video magnifiers, televisions, etc.) 
Knowledge of File Maker Pro and Constant Contact
Familiarity with social media, networking, and video platforms such as Instagram, Facebook, YouTube, TikTok, Twitch, Vine, and LinkedIn
Knowledge of printers, scanners, and photocopy equipment
Microsoft Office, Google apps, Macintosh software
May need driver's license to commute to sites
Different Types of Organizations
Arts councils
Community-based organizations
Cultural centers
Educational institutes
Museums
Orchestras
Performing art studios
Theaters and Dance Centers
Expectations and Sacrifices
Non-Profit Arts Administrators bear enormous responsibility to ensure organizations have sufficient incoming funding via donations and grants. Government belt-tightening and tough economic conditions make it a challenge to meet financial needs and keep up with expenses at times. Careful research and relationship building skills make the difference in securing multi-year, long term funding that can be counted on for stability. 
Current Trends
Arts and culture have always been vital to our societies; they go hand in hand with social growth and change. However, funding for the arts is often an early casualty during challenging economic circumstances. While cities across the nation renewed their commitment to the arts, COVID-19 came along and put a massive financial strain on the global economy. Government budgets—a major source of art program funding—have been stretched to the max. As a result, the culture sector suffered more than expected. 
 
UNESCO chief Audrey Azoulay summed up the need for the continued support of the arts, noting, "Culture has helped us out of the crisis. Now we have to help culture and support the diversity to which culture owes its strength." Luckily, there's been a shift to digital art in recent years that's opened the gates to exciting new opportunities, including digital art museums. 
What kinds of things did people in this career enjoy doing when they were young...
Non-profit Arts Administrators were likely always inclined towards art and fun activities and events related to music, art, and culture. They may have been born with a special knack for understanding and appreciating abstract and philosophical works. Or perhaps they one day found themselves smitten by a particular painter or singer and ended up diving into the broader world of arts. They might have drawn inspiration from visiting art galleries, theaters, or museums during school or family trips in their younger days. Some might even have experienced a transformative event that kindled their passion for the arts. Regardless of how they came to love the arts, most future administrators were also active in extracurricular activities, loving to be right in the middle of things!
 
"When I was younger, I enjoyed volunteering and giving back to my community. In high school, I volunteered at the local hospital, food banks, and supported community events.  I also enjoyed the arts and was part of several dance groups growing up!" Elida Ledesma, Executive Director of Arts for Healing and Justice Network. 
Education and Training Needed
Most Non-Profit Arts Administrators hold a bachelor's degree in a relevant field (such as a major in one of the arts disciplines i.e. Dance, Music, Theatre or Visual Arts). They MAY also have a Master's in Arts Management or Administration but often entry level positions do not require this. 

Note, per Goucher College, "there is essentially no difference between arts administration and arts management. The two terms are often used interchangeably."
New Ventures in the Arts/ Entrepreneurship

Some employers hire Non-profit Arts Administrators straight out of college, while others might prefer someone with a few years of work experience 
Things to look for in a program
Look over the program's core and elective courses to see if they offer everything you want
Take a look at how many credits are required for graduation. Some programs are more comprehensive (and thus longer and more expensive) than others!
Decide if you want to attend a traditional on-campus program or prefer an online experience or hybrid program that combines both in-person and online options
Keep in mind that even distance education programs might have an on-campus residency requirement (residency could be as short as two weeks, but some schools require more than one residency, so pay close attention)
If you do try an online program, make sure your computer and other equipment meet all minimum technology requirements listed on the program's site
Read a few faculty profiles to see who your teachers would be. Your professors are often the most significant variables in any college program, so don't be shy about researching them! 
Compare costs of tuition, room and board, and scholarship opportunities (in addition to federal financial aid for students)
Look at your potential program's graduation and job placement statistics
Things to do in High School and College
Load up on courses related to art, writing, business, marketing, public speaking, and leadership 
Non-profit Arts Administrators need highly-polished written and verbal communication skills, so seek out opportunities to put yourself and your work out there 
Pay attention to all feedback received, and learn how to adapt your style to be as persuasive and engaging as possible 
Volunteer at your school to help think of activities and events, then assist with all aspects of planning, organizing, and managing those projects
Find paid or volunteer opportunities working with local arts and culture centers. Gain exposure to the environments and the people associated with them
Become a social maven who is well-known and well-respected 
Learn how current social and political trends impact and shape the arts and what that means for artists, communities, and stakeholders
Be involved with as many arts and culture-related organizations as you can, and find ways to constantly network and bring people together
"Student's should be identifying fields that they are interested in and/or have a passion for. Students should then seek volunteer or internship opportunities within those fields to see if it is indeed a good match. By participating in volunteer and internship opportunities you'll be able to network and get a better sense of the job overall."  Elida Ledesma, Executive Director of Arts for Healing and Justice Network. 
Typical Roadmap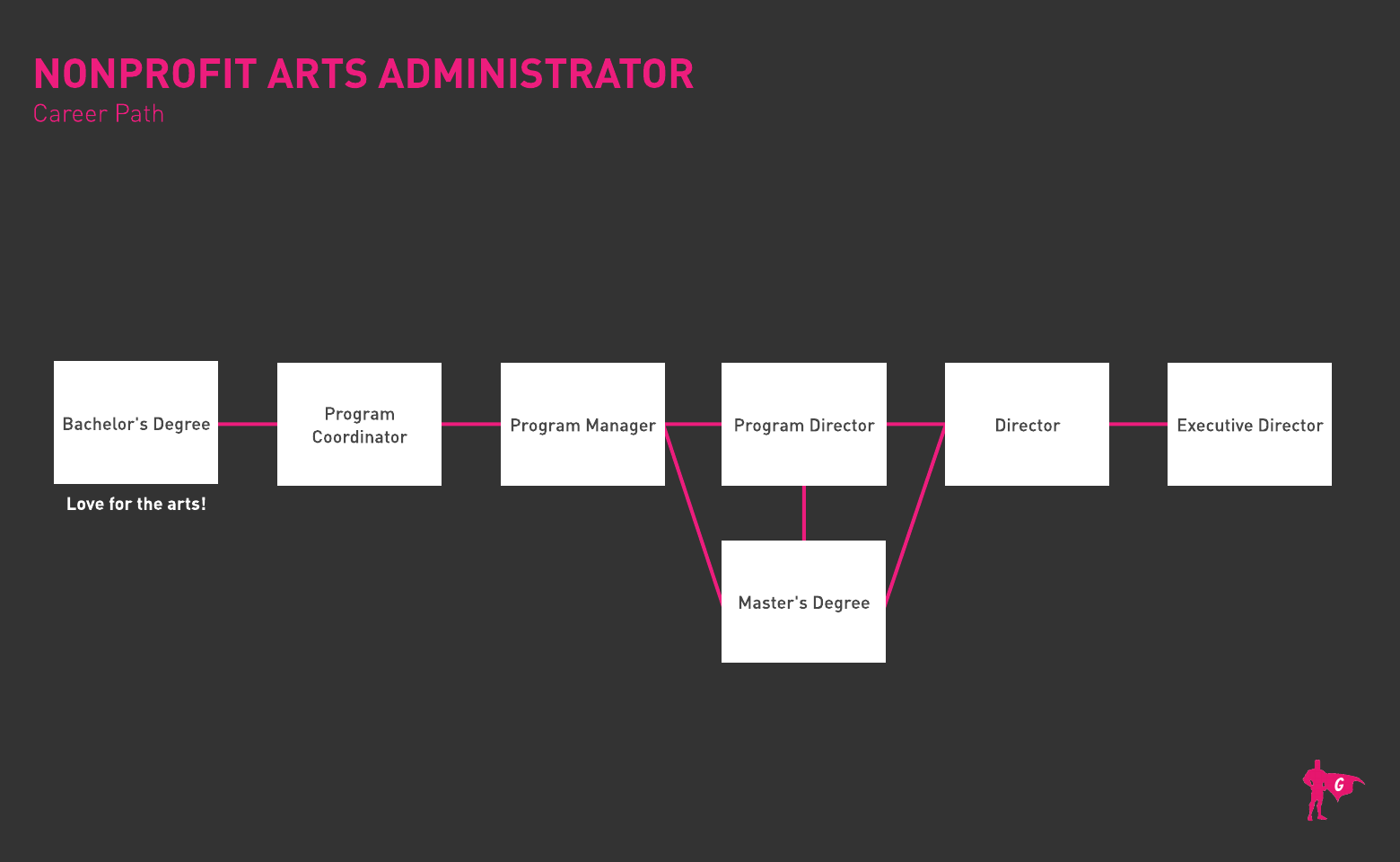 How to land your 1st job
Complete all of your academic requirements, doing as well as you can scholastically
Earning a place on the Dean's List demonstrates your commitment to learning. Employers might not all look at your GPA, but if it is strong you should reference that on your resume, along with any awards!
List details of all of your prior work and extracurricular activities on your resume

Include hard stats on any applicable financial figures (value of assets, dollars raised, profit increases under your watch, any analytical or statistical data to prove how you added value)

Keep connected with past professors and supervisors so that you can request a reference or letter of recommendation
Sign up for notification alerts for relevant job postings on Work for Good, Indeed.com and other employment portals.
If there's a specific organization you want to work for, go directly to their website and review their careers page. Reach out to them if you want to ask about upcoming openings
Print out job posts and highlight keywords and phrases. Use those same words and phrases in your resume, if you can do so in an honest and relevant manner
Be well-prepared for interviews! Review sample interview questions, practice by doing mock interviews (ask your school if their career center offers these), and let your passion and knowledge come through when the time comes 
How to Climb the Ladder
Volunteer to advocate for arts and arts education with your state's advocacy organization for arts and culture
Demonstrate your daily commitment to the arts by staying informed on trends and new developments
Explore opportunities with other organizations or institutions if your current employer doesn't have opportunities for career growth 
Build strong ties to local artists, venues, communities, and donors. Establish your reputation as a nonprofit arts leader 
Serve on high-visibility committees where you can expand your reach and influence 
Offer to mentor others, if your employer features internship opportunities 
Stay heavily involved in pertinent professional organizations (see our list of websites below), both locally and nationally
Be an advocate for young artists developing their careers. They'll remember your kind assistance when they're climbing up their own ladders! 
Keep patrons and donors excited by offering bold new event ideas that stoke interest, invite discussion, and encourage maximum participation  
Recommended Resources
Websites
Arts.gov
Arts Midwest
Mid-America Arts Alliance
National Assembly of State Arts Agencies
New England Foundation for the Arts
South Arts
U.S. Regional Arts Organizations
Western States Arts Federation
Arts Education Partnership – find your local state alliance for arts education, https://www.aep-arts.org/
Books
Words of Advice
"Career journeys are hardly ever linear. It's okay if you're not quite sure what you want to do. Identify what speaks to you and what you're really passionate about. Anyone can learn skills but passion and love for the work are hard to teach. If possible, identify a mentor who can help guide you and answer questions along the way. Also, if you're not sure what educational program you want to do, you can reach out to professors and ask if you can sit-in on one of their courses. I did this before applying to my Master's program and it helped me determine whether it was a good fit for me."  Elida Ledesma, Executive Director of Arts for Healing and Justice Network. 
Newsfeed Featured Jobs Online Courses and Tools