Spotlights
Similar Titles
Certified Nuclear Medicine Technologist (CNMT), Nuclear Cardiology Technologist, Nuclear Medicine PET-CT Technologist (Nuclear Medicine Positron Emission Tomography - Computed Tomography Technologist), Nuclear Medicine Technologist (NMT), Radiation Safety Officer, Registered Nuclear Medicine Technologist, Staff Nuclear Medicine Technologist
Job Description
Many medical tests and therapies require the use of radioactive drugs called radiopharmaceuticals to be given to patients. These allow special medical imaging equipment to detect internal problems that doctors can diagnose and treat. Nuclear Medicine Technologists are responsible for handling and administering these drugs, and operating applicable equipment. They interface directly with patients to alleviate concerns, and with doctors and other medical staff members to provide support as needed.
 
Because of the hazardous nature of radiopharmaceuticals, Nuclear Medicine Technologists receive specific safety training to ensure their own safety as well as that of the patients. They must pay close attention to any signs of adverse reactions to administered drugs. They're also in charge of maintaining records. In the rare event of a mishap, their knowledge and expertise may qualify them to serve as first responders to radioactive/nuclear incidents in their facility. Typically they earn certification in either positron emission tomography or nuclear cardiology. 
Rewarding Aspects of Career
Serving as critical subject matter experts within healthcare settings
Helping with the diagnostic and treatment processes for hard-to-diagnose patients
Working with advanced drugs and technologies 
Actively contributing to life-saving medical treatment for cancer patients
2019 Employment
18,500
2029 Projected Employment
19,500
The Inside Scoop
Job Responsibilities
Working Schedule
Nuclear Medicine Technologists work full-time, with the potential for night, weekend, and holiday shifts. Work can be physically demanding, as they stand much of the time and must sometimes help others get up.
Typical Duties
Review procedures and results with patients and family, as applicable 
Prepare and handle radioactive drugs with care, to mitigate exposure
Physically assist patients with limited motion or when needed to position them correctly for suitable imaging
Position equipment or radioactive beams to expose patients in correct areas
Determine dosage and administer radiopharmaceuticals for imaging or treatment; monitor for signs of adverse reactions
Use computerized medical imaging machines to obtain diagnostic information on internal problem areas; process images received after tracking radiopharmaceutical paths, then review with doctors 
Maintain equipment and ensure proper functioning and quality control 
Use other lab equipment to inspect samples and specimens
Document procedural activities; collect data and patient history information
Additional Responsibilities
Ensure all hazardous waste is properly disposed of 
Work with other medical staff and train them when needed
Supplement standard operating procedures with local modifications 
Skills Needed on the Job
Soft Skills
Analytical skills
Compassion and empathy for patients and family members
Cultural sensitivity and awareness
Detail-oriented
Excellent communication skills, including the ability to articulate procedures 
Independent 
Investigative
Objectivity
Patience
Physical stamina
Resilient and able to tolerate stress
Sound judgment and decision-making
Technical Skills
Critical thinking
Knowledge of medical and electronic medical record software
Familiarity with: automated external defibrillators, blood collection syringes, chart recorders, electrocardiography and electronic blood pressure units, flow sensors or regulators or components, hypodermic needles, intravenous infusion pumps, liquid scintillation counters, medical computed tomography calibration, gamma cameras, printers, imagers, darkrooms, daylight processors, and positron emission tomography 
Familiarity with: medical radiation dosimeters, single photon emission computed tomography, microcentrifuges, peripheral intravenous catheters, phantom dosimeters, pulse oximeter units, scintillation crystal assemblies, specimen collection container, spectrometers, and vacuum blood collection tubes 
Applicable understanding of biology and medicine  
Knowledge of personal protective equipment usage
Different Types of Organizations
Hospitals
Outpatient care centers    
Physician offices
Medical/diagnostic labs
Expectations and Sacrifices
Nuclear Medicine Technologists work around radioactive materials so must practice safety protocols and wear protective gear to shield them from harmful exposure. They're also expected, naturally, to keep patients safe and minimize exposure to only the amount and areas necessary. 
 
As with any healthcare professional, there is always risk of exposure to people who might have a contagious disease. It's incumbent upon Nuclear Medicine Technologists to be extremely proficient in all aspects of their profession, and to be ready to deal with emergencies if they arise. 
Current Trends
Americans are living longer (but not necessarily healthier) and thus requiring more healthcare services. Nuclear Medicine Technologists are just one of the many professions that will remain vital in the foreseeable future, in particular because of their highly specialized skills. Advances in cardiology and oncology and changes in the domestic production of radioisotope Tc-99m have impacted the field in recent years. As nuclear medicine itself continues to evolve, experts in this career field will need to stay current on changes and ready to train others. 
What kinds of things did people in this career enjoy doing when they were young...
Nuclear Medicine Technologists operate in a still relatively new area of medicine. They are inquisitive about pushing boundaries and such curiosity may have always been part of their personality. In addition to an interest in science and biology, they were also likely eager to help other people, since that's the core reason behind almost all medical professions. 
 
They're independent, confident, and attentive to detail and safety. Most likely they always enjoyed following procedures and rules, to ensure things were properly taken care of. They may or may not have had an interest in science fiction, and chances are they've had a practical, dependable streak since childhood. 
Education and Training Needed
At least an associate's degree in Nuclear Medicine Technology is needed to get started
A bachelors in biology, chemistry, radiologic technology, or nursing, and/or 12-month certification can be very helpful and make you more competitive during job applications

College programs in these areas should always be accredited by the Joint Review Committee on Educational Programs in Nuclear Medicine Technology 
Certificates from the American Registry of Radiologic Technologists or Nuclear Medicine Technology Certification Board include:

Positron Emission Tomography (PET)
Nuclear Cardiology (NCT)
Computed Tomography (CT)

Some states require Nuclear Medicine Technologists to be licensed
Things to look for in a program
Look for colleges that offer high-ranking programs in biology, chemistry, radiologic technology, or nursing
Accreditation by the Joint Review Committee on Educational Programs in Nuclear Medicine Technology is important for some employers
Review U.S. News' college rankings to learn more about schools and programs. Just because a school ranks well overall doesn't mean a specific program does, too
Check out all relevant pages on each school's website, to learn about enrollment stats, diversity initiatives, cost of tuition, scholarships, research projects and funding, student organizations, and career center offerings
Find out about faculty members! All professors aren't the same, so look for ones who have won awards or whose areas of research appeal to you
Try to find programs that feature information about average class sizes to make sure you'll get sufficient student-teacher time 
Think hard about whether an online or hybrid program is right for your schedule, or if you have the ability to attend campus and get more hands-on practice
Before applying, review acceptance and graduation rates, and peek at job placement stats. Many schools have strong partner connections and serve as funnels for recruiters looking to hire smart graduates
Things to do in High School and College
You'll need to take plenty of courses in either high school and college related to math, biology, anatomy, physiology, chemistry, computer science, physics, and radioactive drugs
At some point either in college or during a certification program, expect to receive practical hands-on clinical experience in nuclear medicine
Consider doing an internship to gain work experience in healthcare settings
Seek out volunteer opportunities that expose you to working with patients in clinical settings
Work on your professional network and join (or at least learn about) organizations such as:

American Society of Radiologic Technologists (ASRT)
Central Chapter of the Society of Nuclear Medicine and Molecular Imaging (CCSNM)
Society of Nuclear Medicine and Molecular Imaging (SNMMI)
American Society of Nuclear Cardiology
Radiological Society of North America
Society of Radiopharmaceutical Sciences
World Molecular Imaging Society
Typical Roadmap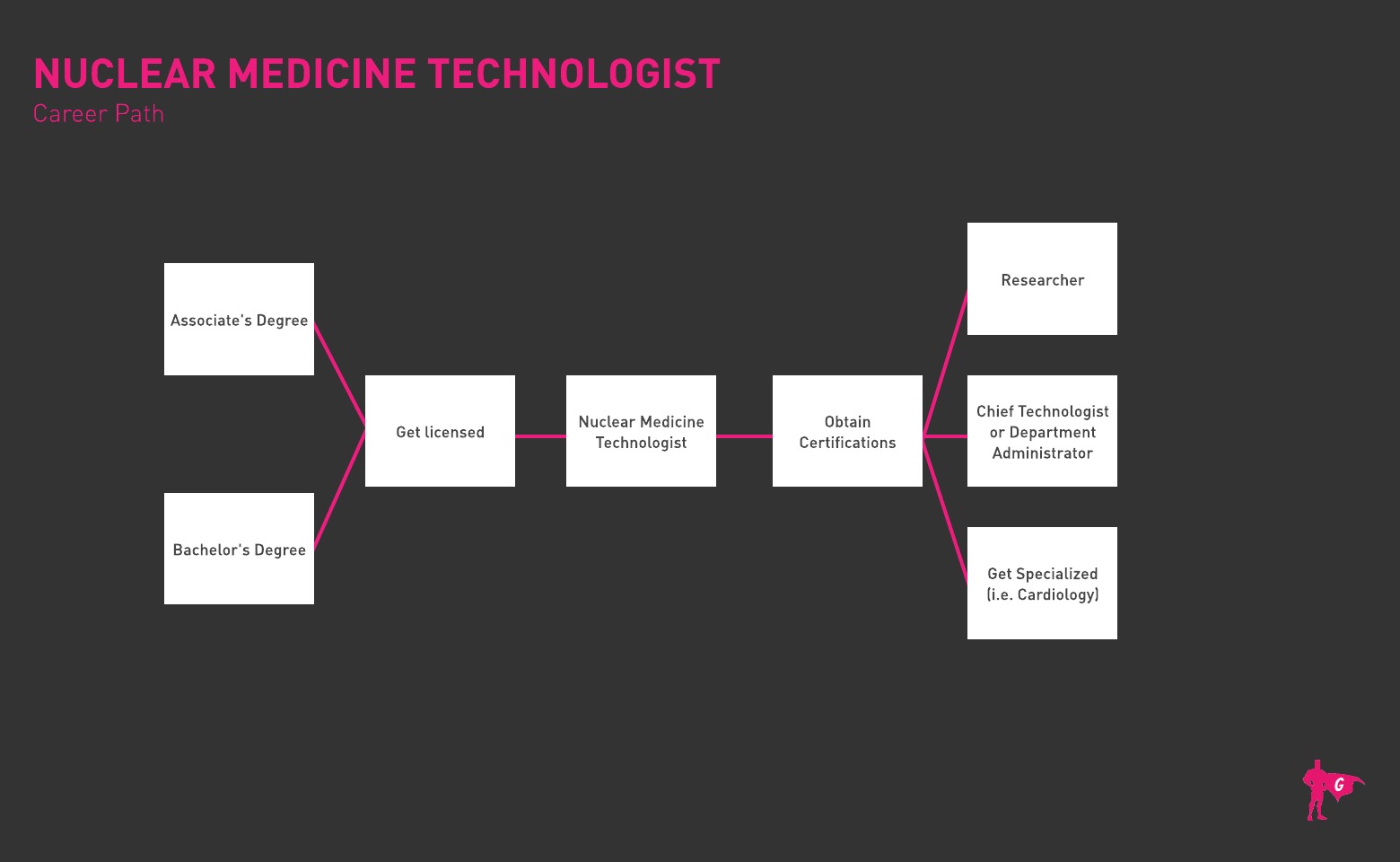 How to land your 1st job
Finish as much education as you can before applying, to be competitive
Only apply if you meet all listed qualifications in the job advertisement
Submit a polished resume that lists details about your scholastic, employment, and extracurricular achievements

Each line should be supported with data, statistics, dollar amounts, and/or impact

Sign up for job alerts on Indeed.com, Monster, Glassdoor, and related employment portals. You can also use Google Careers
Fill out your entire LinkedIn profile and invite connections! Per CNBC, up to 80% of jobs are found by using your network these days 
If feasible, use a professional editor or resume writer!
Highlight keywords in job ads and use them in your own resume. This can help get it past those sneaky Applicant Tracking System filters
If the ad lists a duty or requirement, use the resume or cover letter to address how you have experience doing that thing. Focus on recent experience first. If you don't have experience in something, list the closest experience that is similar
Keep up with new developments in case questions come up during an interview
Hone your interview skills by reading career-specific sample interview questions and responses
Talk with former supervisors and professors about being reference providers when the time comes
How to Climb the Ladder
Nuclear Medicine Technologists who don't already have a bachelor's or certification should work on those as soon as possible

Complete certifications in Positron Emission Tomography, Nuclear Cardiology, or Computed Tomography 

Get licensed if your state requires it
Impeccable work ethic and dedication to performance are keys to climbing the ladder
Strong teamwork and interpersonal skills get noticed!
Ensure a perfect safety record and follow all guidelines for proper handling of radioactive material
Keep patients as satisfied as possible. Go above and beyond to make them comfortable 
Be a leader within professional organizations. Go to conferences, offer to give keynote speeches, and establish your footing as a respected member of your field
Stay on top of new developments and offer suggestions for improvements 
Train staff and cultivate good relations with nurses and doctors you come into contact with
Build a stellar reputation as a valued team member at your facility
Advanced roles may include Lead Nuclear Medicine Technologist, Radiation Safety Officer, and Senior Nuclear Medicine Technologist
Recommended Resources
Websites
American Board of Nuclear Medicine
American Board of Radiology
American College of Nuclear Medicine
American Registry of Radiologic Technologists
American Society of Nuclear Cardiology
American Society of Radiologic Technologists (ASRT)
Central Chapter of the Society of Nuclear Medicine and Molecular Imaging (CCSNM)
Joint Review Committee on Educational Programs in Nuclear Medicine Technology
Nuclear Medicine Technology Certification Board
Radiological Society of North America
Society of Diagnostic Medical Sonography 
Society of Nuclear Medicine and Molecular Imaging
Society of Radiopharmaceutical Sciences
World Molecular Imaging Society
Books
Plan B
Working as a Nuclear Medicine Technologist can be very demanding. The stakes are high, there is a lot of standing on your feet, and sometimes people just want to do something different. There are dozens of healthcare professions to choose from, and the Bureau of Labor Statistics lists a few related specialities to think about:
Biological Technicians
Clinical Laboratory Technologists and Technicians
Diagnostic Medical Sonographers and Cardiovascular Technologists 
Nuclear Technicians
Radiation Therapists
Radiologic and MRI Technologists
Newsfeed Featured Jobs Online Courses and Tools