Spotlights
Similar Titles
A Nurse Anesthetist is also known as Anesthesia Service, Certified Registered Nurse Anesthetist (CRNA) or similar titles denoting they are a registered nurse with anesthesia certification. It is related to Nurse Midwives and Nurse Practitioners because you must obtain a master's degree and further certification after gaining experience as a Registered Nurse.
Job Description
Nurse Anesthetists are advanced registered nurses. These nurses have taken extra time to be registered to administer anesthesia, help patients recover after anesthesia, and may assist doctors and surgeons more directly. It is a specialization of an Advanced Practice Registered Nurse (APRN). APRN's are nurses who have earned a master's degree and considered leaders. This position is often a senior level.
Nurse Anesthetists often work with their patients to help them understand what their experience will be like while under anesthesia. They are responsible for monitoring patients during a surgery while they are under anesthesia, keeping track of all vital signs. 
These professionals may also complete Registered Nurse duties such as caring for patients, scheduling shifts, and providing assistance to doctors.
Rewarding Aspects of Career
Helping people and making a difference in their lives
Creating patient relationships
Easy to find new hospitals to work with
Professional autonomy – being able to have say in when and how much you work
Seen as a leader in their work community
Projected Employment
The APRN field, which includes Nurse Anesthetists, is expected to grow 26 percent by 2028. Due to the elderly population increasing, as well as older nurses retiring, there will be a greater need for this position. There is especially a need growing in inner cities and rural areas.
The Inside Scoop
Job Responsibilities
A Nurse Anesthetist will work indoors at one or several hospitals. They work closely with surgeons to determine when a surgery will take place and the level of anesthesia needed for the patient. 
Every day, an NA will meet face to face with patients who will undergo procedures needing anesthesia. Part of their job will be to answer patient questions and help the patient feel comfortable undergoing anesthesia. 
Surgery happens every day as well. As an important part of the surgical team, these professionals will scrub up and wear safety equipment such as glasses, gloves, and gowns. They are responsible for providing the patient with anesthesia from start to end. After the patient is under anesthesia, the NA will monitor vital signs and change the amount of anesthesia needed during the procedure.
If something goes wrong during a procedure, the NA will help respond. There will be an Emergency Action Plan unique to each hospital and the NA will be trained and expected to participate as described.
After a procedure is completed, the NA will help wake the patient back up and monitor any possible problems. They will also speak with the patient about any typical side effects of the anesthesia.
As an Advanced Practice Registered Nurse, this position may also carry leadership roles in the hospital. An NA may schedule other nurses, participate in delivering orientation, or consult with other medical professionals about specific cases and procedures.
Skills Needed on the Job
Soft Skills
Active communication skills, such as listening and speaking clearly
Critical thinking and problem solving
Detail-oriented
Empathy and able to build relationships
Technical Skills
Ability to learn and use hospital software systems
Computer software such as Microsoft Word
Trained to assist in surgery
Trained in basic nursing skills prior to earning APRN credential
Mathematical ability
Different Types of Organizations
Nurse Anesthetists typically work in a hospital setting. They may be employed at a smaller physician's office as well.
This position can involve changing locations as well. You might work at a hospital one day and move to a different one the next. In many cases, you will have control over this choice. Other organizations you might work are:
Hospice Care Facility
Birthing Centers
Veteran's Hospitals
Outpatient Clinic
A college nursing program
Dental Office
Expectations and Sacrifices
The greatest sacrifice will be time. It can also be expensive to become a Nurse Anesthetist.
Nurse Anesthetists must start as Registered Nurses. It takes RN's an average of four years of college to earn their license. NAs are expected to have experience in critical care situations for several years before applying to their programs. Different programs may have different requirements, but all will expect you to have experience as an RN first.
The program for a nurse to earn an Advanced Practice Registered Nursing certification is two-three years. There is a National exam after completing the program you must pass to earn title. This means it can take seven to eight years to become a Nurse Anesthetist. You are often not able to work and attend school for the program. It is likely future NA's will be required to earn a doctorate.
If you are able to complete the long school experience, however, you will be seen as a leader and advanced member of the medical community.
Current Trends
By 2025, Nurse Anesthetists will be required to earn a doctorate. This will increase the time needed to become one by at least a year.
This position has also grown in awareness – more people know what a Nurse Anesthetist is and are able to build strong relationships with them.
Nurse Anesthetists are one of the largest growing professions in the medical field as well and will continue to grow in need. It is one of the highest paying advanced nursing positions.
What kinds of things did people in this career enjoy doing when they were young...
Pretending to be a doctor or nurse
Participating in volunteer clubs at school and helping others
Interested in biology and anatomy
Excelled; always wanted to do their best and be a winner.
Education Needed
Nurse Anesthetists are advanced practice registered nurses (APRN) who need a Master of Science in Nurse Anesthesia 

Some students begin with a short 4- to-12-week Certified Nursing Assistant program or one-year Licensed Practical Nurse Program, before tackling their undergraduate degree in nursing or completing an RN bridge program 

In addition, RN licensure is needed by passing the

National Council Licensure Examination

(NCLEX-RN)

As you train to become an APRN, you'll have to get certified on cardiopulmonary resuscitation and basic life support (or advanced cardiac life support)

Nurse Anesthetist grad programs feature prerequisites applicants must meet, including a year of practical RN work experience 

Some Nurse Anesthetists go on to complete their Doctor of Nursing Practice (DNP) or even a PhD (for research or teaching positions)

In addition to their graduate degree they must also obtain board certification and state licensure 

Certified Registered Nurse Anesthetists take the

National Certification Examination

(NCE), managed by the National Board of Certification and Recertification for Nurse Anesthetists. They must also participate in the Continued Professional Certification program

NCE test centers are run by

Pearson VUE

. Test takers can also sign up for a voluntary

Self-Evaluation Examination

(SEE)
What to do in HS and college
In high school, take English, algebra, geometry, biology, chemistry, physics, psychology, anatomy, and physiology. Keep your GPA as high as you can!

Map out your education, certification, and licensure routes for the state you wish to work in

Review job ads well ahead of time so you can tailor your studies as you go

Volunteer in healthcare settings to build up your college application and resume

Apply for

healthcare internships

Request to do informational interviews with working CRNAs! Watch videos about

specializations

in this field, such as "pediatrics, plastic surgery, dental, obstetrics, cardiovascular, plastic surgery, or neurosurgical anesthesia"

Study hard during your undergrad years so you can be competitive for grad school

Get involved with professional nursing and anesthesiology organizations, read articles, learn the terminology, and stay up-to-date on the latest developments 

Learn about

bedside manner

! Getting put under sedation can be scary for many patients! 

Consider an exercise routine where you can build up the strength and stamina needed to pull long shifts

Participate with professional organizations related to nursing and Nurse Anesthesia (see our

Resources > Websites

section for links)
Typical Roadmap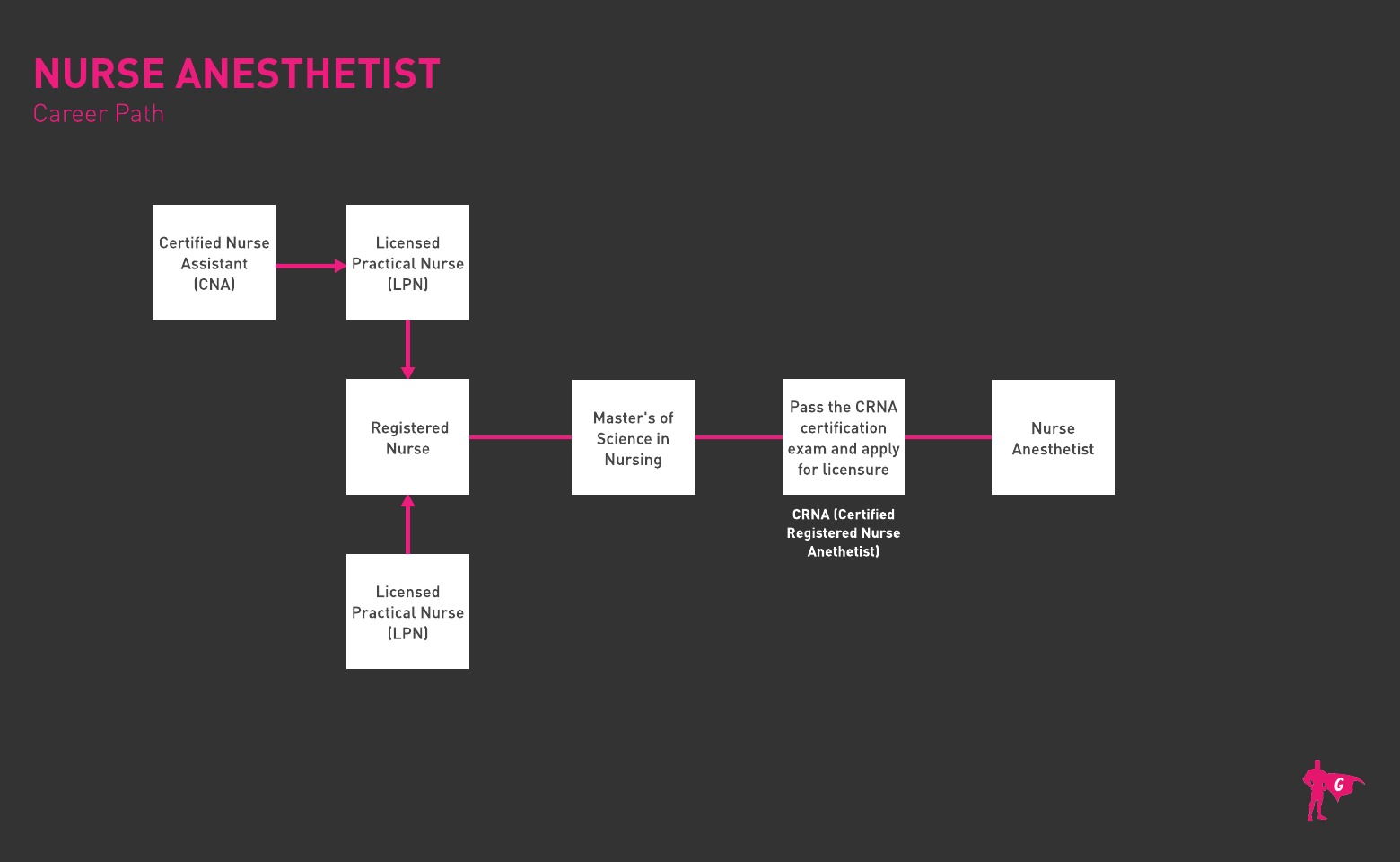 Landing the Job
Make connections during your supervised clinical practice. Treat it like a real job and ask questions about finding work after you're graduated, certified, and licensed

As an advanced nursing position, when you have obtained your license as a Nurse Anesthetists, you will already have built a network of other professionals. This network will help you find a position as an NA. Tap into your existing network of nursing peers to gain tips about upcoming openings

Considering doing extra certifications that demonstrate your commitment to your field

Look for jobs and internships on

Indeed

,

Simply Hired

,

Glassdoor

,

Nurse.com

,

ANA Enterprise

,

Nursing Job Cafe

,

NurseJobBoard

,

Nurse Recruiter

,

Minority Nurse

, and

CareerVitals

Ask your teachers for mentorship. Many have ties with local clinics and hospitals 

Talk to professors and supervisors in advance to see if they can serve as personal references  

Keep up with current techniques and terminology

The Bureau of Labor Statistics notes that many Nurse Anesthetist jobs will serving

older populations

, so it could be useful to specialize in age-related areas 

Ask your school's career center or your program manager for help with job placement, resume writing, and mock interviewing

Consider relocating to where the work is. The states with the

highest employment

of Nurse Anesthetists are Texas, Florida, Minnesota, Ohio, and New York. The highest concentration of jobs are in Minnesota, South Dakota, Tennessee, Alabama, and Missouri

Check out

Nurse Anesthetist resume templates

. Consider hiring a professional resume writer to help polish your draft
Plan B
If you plan on becoming a certified Nurse Anesthetist, you will be a Registered Nurse first. This will provide you with the option of remaining an RN or moving forward with your advanced degree. You may choose to become a different specialized nurse:
Nurse Practitioner
Health Policy Nurse
Nurse Educator
Public Health Nurse
Words of Advice
Being a Nurse Anesthetist is a challenge. There are many years of school as well as years of experience to earn. However, individuals who have chosen this path are overwhelmingly positive about their position, compensation, and work. It is considered well worth the effort needed to achieve.
This position also brings leadership and professional respect. If you are interested in health care, you can become a Registered Nurse and take time in that profession to consider advancement.
Newsfeed Featured Jobs Online Courses and Tools