Spotlights
Similar Titles
An "occupational therapist" is also referred to as an "assistive technology trainer," "Rehabilitation supervisor," or "Rehabilitation consultant." 
Assistive Technology Trainer, Certified Hand Therapist (CHT), Early Intervention Occupational Therapist, Home Health Occupational Therapist, Industrial Rehabilitation Consultant, Occupational Therapist (OT), Pediatric Occupational Therapist (Pediatric OT), Pediatrics and Acute Care Occupational Therapist, Registered Occupational Therapist (OTR)
Job Description
An occupational therapist works with patients who need help performing every day activities. These may be people with injuries, or individuals with developmental delays and disabilities. Sometimes, they are able to help a patient recover from an injury. Other times, they teach patients to make accommodations for permanent changes to their bodies.
Occupational Therapists work with the young, middle-aged, and elderly so they can lead independent lives as much as possible. They assess an individual's needs and create independent plans for each person. While much of an Occupational Therapist's work is physical, they also may work with people suffering mental health issues. 
Rewarding Aspects of Career
Helping people live a fulfilling and independent life.
Working with individuals to problem solve.
Inspiring people who may be at their lowest point.
There is a great need for the position.
2018 Employment
133,000
2028 Projected Employment
156,800
The Inside Scoop
Job Responsibilities
An Occupational Therapist is a full-time position, typically for a hospital or health clinic. They will often work indoors at a clinic, but may travel for specific patient needs. It is possible to have a typical 9-5 schedule, but many therapists work nights and weekends to accommodate their patients' lives.
Specific tasks with patients will depend on the Therapist's specialty. They may spend their therapy time helping someone to walk, another person to write their name, or how to use a device such as a wheelchair. 
Some therapists may teach individuals how to create a budget, manage their time, or perform house chores. Regardless of the specifics, they will work with the patient and their caretakers to develop an individualized plan.
In a typical day (or week), an Occupational Therapist will:
Meet with a patient, their caregivers, and their physicians to develop an initial plan, and revise previous plans based on patient progress.
Demonstrate exercises, teach a skill, or demonstrate equipment for a patient need.
Assess a living situation and advise a family how best to accommodate an individual's special needs.
Meet with a patient family to help them understand their role in the patient's therapy and new life.
Work through evaluations, billing questions, and healthcare provider communication – including insurance questions.
Occupational Therapy can involve a lot of hands-on therapy with patients. Therapists are often on their feet and moving quite a bit during a work day. It is a physically and emotionally demanding career.
Skills Needed on the Job
Soft Skills
Strong written and oral communication skills, especially active listening.
Patience and willingness to inspire hope.
Service-based outlook on life, actively looking for ways to help.
Critical Thinking and Decision Making
Technical Skills
Use of computers, including word processing, database entry, and spreadsheet software (Such as Microsoft Office)
Use of site-specific billing and patient database software.
Use of therapeutic and counselling principles and methods.
Different Types of Organizations
Hospitals
Therapy offices or clinics.
Educational Organizations such as K-12 schools, colleges, or similar.
Home healthcare services.
Nursing or assisted living facilities.
Expectations and Sacrifices
Becoming an Occupational Therapist involves working through a Master's degree. In order to be accepted into most programs, you will need to show volunteering time in occupational therapy programs, as well as having done well in your Bachelor's program. While there are some programs that can combine the Bachelor's and Masters programs, you can expect to be in school from Freshman year to the end of Graduate School for up to 7 years.
These programs involve at least 24 weeks of supervised fieldwork during your master's program. This can involve very long, flexible hours. Many occupational therapists will realize during this time if the field is a place they want to work.
As you are learning, you will meet people who are experiencing the hardest time of their lives, who will not be happy to work with you, and may not appreciate the good you are doing in their lives. This will be combined with your class load, and likely a job to make ends meet.
However, many Occupational Therapists believe the sacrifices of time to be worth it. They enter a very needed and well-compensated field.
Current Trends
Increased emphasis on patient-led therapy, with the OT as a guide more than "boss" of the therapy.
Moving therapy out of clinics and into the real-world settings a patient will need to use the skills.
An increase in technological accommodations, with a need to determine if a tech-based solution is superior to a traditional physical therapy.
What kinds of things did people in this career enjoy doing when they were young...
Exercising, running, playing sports.
Volunteering and helping others.
Pretending to be a doctor or similar role.
Education and Training Needed
Occupational Therapists need a Master of Occupational Therapy and, in some cases, a Doctor of Occupational Therapy. Some programs offer dual degree tracks to cut down completion time
Undergraduate degrees are ideally related to healthcare
Graduate degrees should be from programs accredited by the Accreditation Council for Occupational Therapy Education
Grad programs also entail ~24 weeks of supervised clinical fieldwork and a rigorous capstone project that may last 16 weeks
OJT via volunteering, part-time work, or Occupational Therapist internships is helpful to prepare you for future employment
In addition to academics and practical work experience, you'll also need a state license. In general, this requires passing an exam from the National Board for Certification in Occupational Therapy
Additional certifications are provided via the American Occupational Therapy Association

Roles which require this extra training include Low Vision Therapists, Orientation and Mobility Specialists, and Vision Rehabilitation Therapists
Things to do in High School and College
Occupational Therapist internships offer much-needed hands-on training and practical experience
Read articles in the Occupational Therapist magazines or websites
Learn about Activities of Daily Living (ADLs) — the core areas that are "absolutely necessary for daily functioning" such as eating, bathing, walking, dressing, and using the restroom; and Instrumental Activities of Daily Living (IADLs), which demand a "higher degree of mental and physical coordination and effort" like using a phone, shopping, cooking, cleaning, or using transportation
Study the other basic OT-related categories like resting, sleeping, working, education, leisure, play, and social participation
Sign up to be a member of OT professional organizations and keep up with developments and research
Typical Roadmap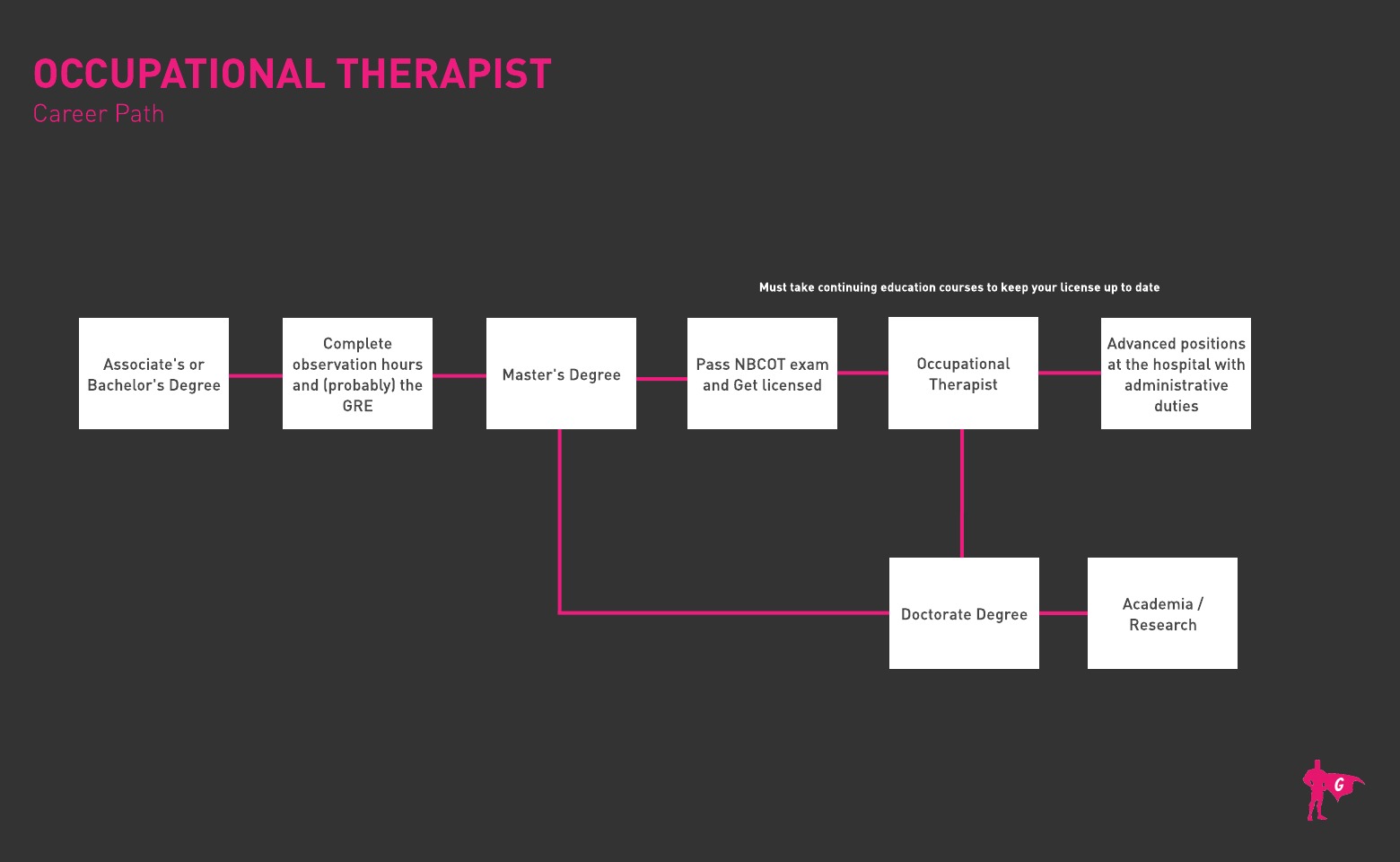 How to land your 1st job
This is a medium-sized career field with ~131,600 workers in the nation, though it is expected to increase by 17% in the coming decade

Decide what type of facility you want to work at. Most OTs are employed by hospitals, clinics, schools, nursing homes, and home healthcare service providers
Consider where you want to live and work. The highest employment levels for OTs are in California, Texas, New York, Florida, and Pennsylvania
Note, the top paying states are Maine, New Hampshire, Connecticut, Massachusetts, and Colorado

Learn as much as you can during your Occupational Therapist internship!
Make sure you are licensed in your state and ready to get hired
Scour job portals such as Indeed, Glassdoor, and Zippia for openings
Screen job ads for keywords and skills. Tailor your resume accordingly and use ideas from Occupational Therapist resume templates
Read Occupational Therapist interview questions to prepare for your own interviews!
Stay in touch with former professors, supervisors, and professional colleagues who can serve as references. Make sure to contact them in advance before listing them
How to Climb the Ladder
There are a few ways to move forward as an Occupational Therapist. You can continue your education by earning a doctorate, or doing a fellowship with a school. You can also choose a specialization in a clinical area.
In your clinic or hospital, you will also be able to seek out opportunities for administrative duties. In any work setting, be sure to do great work and market yourself when appropriate. There are not many upper level positions specific to Occupational Therapy, but you may be able to move into a Director role at a facility if you are ready.
It is also possible to work more in administration if you earn a second Master's in the field. Continuing to grow your education and market yourself will help you improve your standing and move up the ladder.
Recommended Resources
Websites
American Occupational Therapy Association
Rehabilitation Engineering and Assistive Technology Society of America
World Federation of Occupational Therapists
American Educational Research Association
American Society of Hand Therapists
American Society on Aging
National Board for Certification in Occupational Therapy
Neuro-Developmental Treatment Association
Society for the Study of Occupation: USA
Books
Plan B
Recruiter – finding the "right" OTs for specific concerns.
Health Care Writing
Teaching Courses at a College
Consulting for accommodations in public or private spaces.
Words of Advice
Becoming an Occupational Therapist will take self-discipline and attention to your studies for several years. It can be very stressful, and frustrating. OT professionals are taxed emotionally and physically in their work.
However, occupational therapists perform incredible service and help people work through debilitating injuries. It is through their work that people are able to achieve a sense of normalcy and independence. It is a profession many find very meaningful and rewarding, and well worth the time and effort. 
Newsfeed Featured Jobs Online Courses and Tools