Spotlights
Similar Titles
A paralegal is also known as a legal assistant. Both titles do the same work. It is not the same position as a "legal secretary," or someone who helps with administrative tasks such as filing and scheduling. Legal secretaries do not need legal knowledge – they are administrative assistants for law firms.
Job Description
A paralegal often works in a legal office to support the lawyer team. Their role is supportive. Paralegals do much of the legwork in preparing the important documents a lawyer might need. They often need to research law and support the lawyer's role in at a trial, hearing, or meeting. This involves meeting with the lawyer to determine the best way to approach a client's needs. The paralegal will then research laws and precedent (similar cases and their decisions) for the lawyer.
There are many documents needed in the course of a case that need to be filed at the courthouse, as well as the law firm. A paralegal works with the lawyer and legal secretary to make sure these documents are properly written. A paralegal will write the documents for the lawyer to sign.
A paralegal can also work for a corporate legal department. This can involve making sure a company is following the law, or writing up defense documents in the event they are taken to court. They will help the company's lawyers as well. A paralegal for a financial institution, non-profit, or other organization will have similar tasks.
Rewarding Aspects of Career
Helping people through a difficult part of their life.
Able to work directly with clients in need.
Every day brings something new and challenging.
2018 Employment
325,700
2028 Projected Employment
364,800
The Inside Scoop
Job Description
When preparing for a case:
Research all facts of the case, including organizing evidence, speaking with clients and witnesses, and organizing any documents needed for the case.
Review all laws, including their intent or any similar cases.
With the lawyer, communicate what will be needed before, during, and after a case is tried.
Prepare all legal documents for a lawyer's signature and make sure they are filed appropriately.
A paralegal is likely involved in more than one case at a time.
While a paralegal may have other work to do in a law firm, their main job is helping lawyers prepare for their jobs. This involves a great deal of collecting and organizing data. Paralegals keep data organized in electronic databases. They also often control "electronic discovery," which is evidence both legal parties obtain during the investigation that is electronic in nature. Examples are text messages or emails.
Skills Needed
Soft Skills
Written and Oral Communication
Interpersonal Skills such as diplomacy and networking
Research skills
Critical Thinking
Adaptable/Flexible
Technical Skills
IT Skills
Able to use desktop publishing, word processing, and spreadsheet software
Database management and analysis
Paralegals need to be computer literate, specifically database management. Their tasks can be different depending on the size of the law firm. A paralegal is more likely to be with a case from beginning to end in a smaller firm. In a large firm, they may only be responsible for part of one.
Different Types of Organizations
Corporate Paralegal – This type of paralegal works in the legal department of a company and is responsible for helping the company follow laws and rules of their industry, or help the company's lawyers if they break a law.
Other organizations a paralegal can work for are:
Hospitals
Non-Profit organizations
Government agencies
Banks and other financial institutions
Insurance and Real Estate companies
Expectations and Sacrifices
While most paralegals work 40 hours a week, there may be time they will need to work more to meet their deadlines. Being a paralegal can also leave you with little room to advance, especially at a small firm. Sometimes, paralegals can be assigned menial tasks or act as an office administer.
Paralegals are not able to provide direct legal advice or sign the documents they prepare for a lawyer. While they provide a great service and support, they may not receive appropriate credit for this work.
Current Trends
Paralegals are growing in need and demand. Not only law firms are expanding their paralegal hirings, corporations are as well. There is also a trend toward paralegals taking on roles normally given to other legal support. More employers are also looking for paralegal and legal assistants who are officially licensed.
The largest trend is in technology. Maintaining a database of evidence and documentation has become a crucial task for paralegals and legal assistants. There has been a greater emphasis on technological competence for lawyers and this is trickling down to the paralegal profession as well. There is especially a need for being able to process and study electronic evidence such as text messages and emails.
What kinds of things did people in this career enjoy doing when they were young...
Many enjoyed interacting with other people as well as reading books and problem solving. 
Kids who became paralegals enjoyed helping others
Enjoyed keeping their personal belongings organized
Education and Training Needed
Paralegals and Legal Assistants usually hold at least a certificate or associate's degree in paralegal studies

Some may complete a bachelor's with a certificate in paralegal or law studies. Common majors include social science, business, or even security and protective services

Legal/Pre-Law is not a requirement

Per

O*Net

, 50% of Paralegals have an associate's, 34% a bachelor's, and 7% a post-secondary certificate 

Class topics include legal research, legal writing, use of law-related computer programs, corporate law, and international law

Having a certificate or degree in paralegal studies may not be required to work in the field, but employers may prefer to hire workers with such credentials

In addition, there are voluntary additional certifications students can acquire from the below organizations:

Some, like the Professional Paralegal certificate, require a minimum number of years of relevant work experience, but it's good to learn about the requirements in advance

Think about any areas you might want to specialize in, such as litigation, compliance, healthcare, real estate, intellectual property, contracts, or business law. Tailor your education and training accordingly, when possible 
List of American Bar Association approved training programs
Click here to search for programs in your state
 
Things to do in High School and College
​​​​​

In high school, hone your speaking, writing, research, and clerical skills

Activities such as Debate, Forensics, or Speech can prepare you for public speaking and organized preparation.

Be familiar with the basics of computer use and typing

If offered, take classes related to

software

for accounting, business intelligence, document management, data sharing, and general office suite programs

Participate in school activities that offer organizational experiences 

Consider applying as an intern for a law firm or legal department. If you don't see ads listed online, call up a few local firms and talk with their HR rep

If you want to specialize in a particular area (like intellectual property or healthcare, for example), try to intern at a firm that focuses on the same area

Practice your

phone etiquette

and

customer service

 

Decide which learning method works better for you — in-person, online, or hybrid

Work closely with your academic advisors so you stay on track and finish on time

Review the voluntary paralegal certification options available. Some may require having a few years of work experience but learn the requirements so you can plan ahead

Paralegals have formed many professional organizations, so find at least one to get involved with!
Typical Roadmap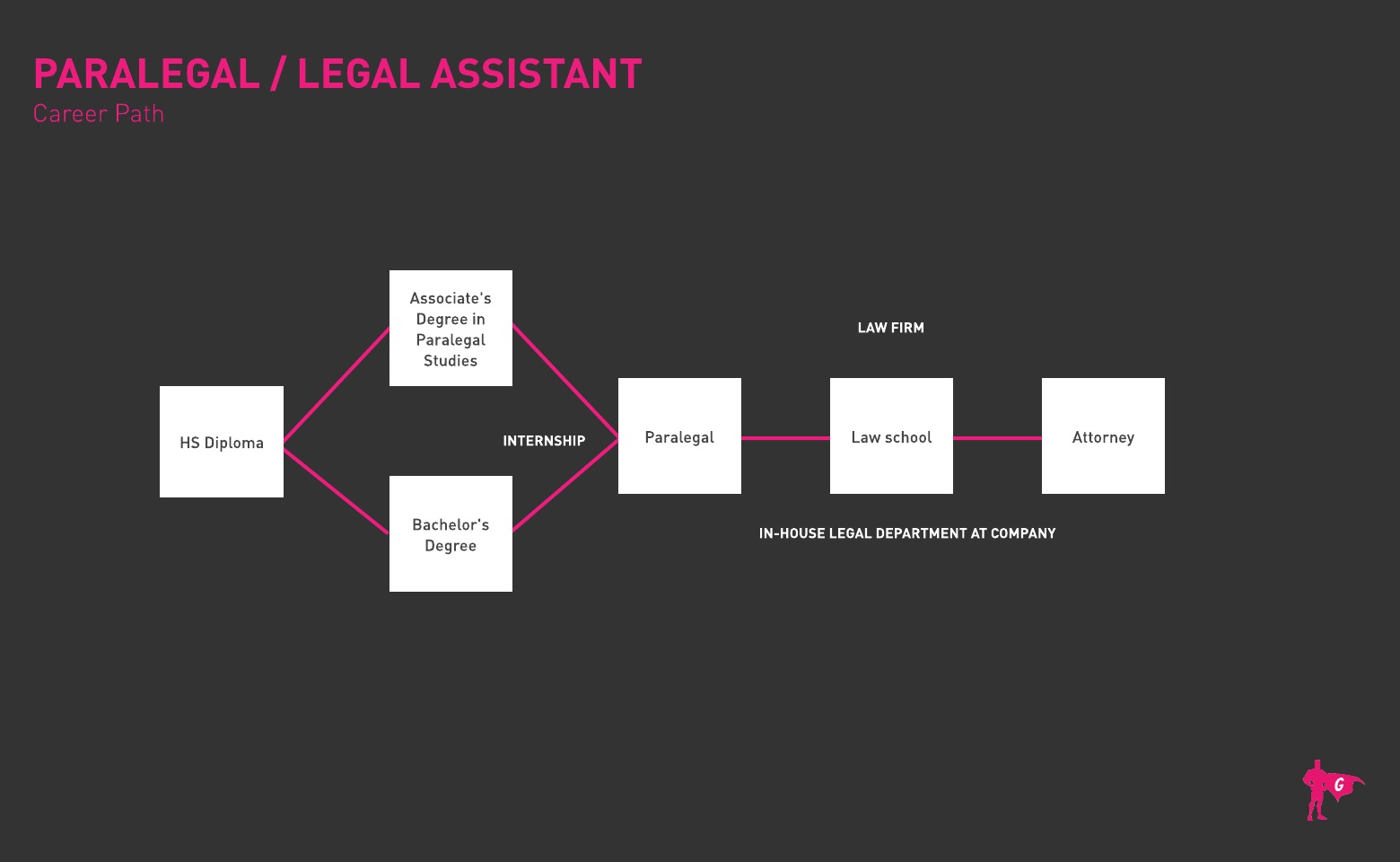 How to land your 1st job
Networking is the best way to get hired if you have your certificate and Paralegal Studies Degree

Connect and network with other students during your college experience. They can help you (and you can help them) during the job search.
Complete at least one successful internship with a legal department or law firm. These can often turn into post-graduate employment, thanks to your experience in the field.
Be involved with national, state, and local organizations – including volunteering for work within them.
Always maintain positive contact with former internships or volunteer experiences.

Paralegals can also find freelance work, or work as a legal secretary

If you are trained as a paralegal, a legal secretary can be a foot in the door.

Paralegals are expected to create documents free of mistakes

Be sure your resume and cover letter are properly formatted and error free
Keep your resume updated with any information that is relevant.

During interviews, be personable and confident. Be sure to research the firm or company you have applied at.
This is a field that values initiative – "cold-calling" or dropping off unsolicited resumes with follow up can turn into a position.
If you have a degree in a field other than paralegal studies or law, volunteer in the field.

Legal experiences, such as being a Court Appointed Special Advocate or mediator
Connect with paralegal organizations to help network and find connections

Take the initiative to start a certification program – this will help you network.

Check out common

Paralegal interview questions

Practice

mock interviews

so you can present yourself as capable and confident

Read

Dress for a Paralegal Job Interview

from Paralegal Alliance
Plan B
A paralegal can pivot to many professional, entry-level or mid-level positions. 
Become a staffing recruiter for a legal department or organization
Work in legislative affairs for elected representatives
Become an office administrator
Words of Advice
Being a paralegal is a great job for those who enjoy helping others. It can be frustrating if you are not able to move up at your firm, but being a paralegal means you can often find a job elsewhere. If you are able to find a law firm or company you enjoy working with, you will be in a much-needed career.
It is important to know most paralegals and legal assistants do not become lawyers. Lawyers require a four-year college degree as well as completion of law school. It is considered a wholly different profession.
Becoming a paralegal is a good choice for an organized, detail-oriented person who is eager to complete higher education and get to work.
Newsfeed Featured Jobs Online Courses and Tools