Spotlights
Similar Titles
Park Naturalists, Environmental Education Specialist, Environmental Educator, Interpretive Naturalist, Naturalist, Park Activities Coordinator, Program Production Specialist, Conservation Ranger, Natural Resource Specialist, Park Patrol Officer, Recreation Supervisor, Land Stewardship Coordinator, Trail Ranger
Job Description
America is one of the largest nations on Earth by landmass. It sprawls across 3.797 million square miles of territory, including Alaska and Hawaii…and a good chunk of that consists of parks and other public lands! The Department of Interior (DOI) alone oversees more than 189 million acres of public lands, for which it is responsible for preserving, managing, and protecting. 
To fulfill that mission, DOI and the Army Corps of Engineers hire Park Rangers to serve at county, state, and national parks. The duties of these Rangers can vary greatly, but in general, they will either focus on 1) law enforcement, fire protection, and emergency services or 2) conservation, environmentalism, and public education.
As DOI describes it, all Park Rangers must possess a "visible and tangible desire to protect and promote our national parks and our natural and cultural history." They must be committed to preserving the parks under their domain, including the fragile plant and wildlife ecosystems within. That said, they're also ambassadors there to welcome and help visitors learn new things while enjoying their stay!
Rewarding Aspects of Career
Getting to spend time outdoors in beautiful settings working with nature

Helping to maintain public spaces where people can come to unwind 

Contributing to environmentalism by protecting natural habitats
2022 Employment
14,086
2032 Projected Employment
0
The Inside Scoop
Job Responsibilities
Working Schedule
Park Rangers work at least full-time, with overtime possible when problems arise such as damage or safety concerns. The job entails lots of standing and walking. Expect exposure to various climate conditions, including heat, humidity, dampness, rain, and storms. Park Rangers face the risk of encounters with wildlife. 
Typical Duties
Note: Duties may vary from one position to another. Some Park Ranger jobs are more oriented to law enforcement while others are more administrative.
Provide general law and policy enforcement services to protect visitors, wildlife, and resources

Organize public educational programs, exhibits, and activities related to the park and its unique geography, plant and wildlife species, and historic or culturally relevant features

Write informative content for flyers and displays. Host public events and give presentations 

Offer park information to visitors, as needed

Create hiking trails; provide entertaining, educational tours, nature walks, and field trips

Oversee general park maintenance to include various facilities and structures, such as playground equipment or other recreation-related resources 

Manage budgets, supply ordering, and employee schedules

Perform conservation duties related to wildlife, air and water quality, and other aspects of the local ecosystem

Respond to emergencies such as search and rescue operations to help lost, injured, or jeopardized visitors

Investigate complaints and incidents. Work with appropriate external agency representatives 

Speak with media outlets related to park activities or concerns
Additional Responsibilities
Serve as liaison to law enforcement agencies and emergency first responders. Guide response efforts, as necessary

Manage, train, and supervise assigned staff members, seasonal workers, and volunteers

Organize or help with events, tours, and activities

Share information with the public via website updates, social media posts, open houses, flyers, and public announcements 

Reply to requests from the public via email, phone, or in writing

Enforce park policies and issue citations for violations 
Skills Needed on the Job
Soft Skills
Analytical

Budget-conscious 

Coordinating and instructing skills 

Detail-oriented

Initiative

Integrity

Leadership and management skills

Organizational skills

Patience

Practicality 

Public relations

Reliable 

Resourcefulness

Sound judgment and decision-making

Strong communication skills
Technical Skills
First aid, CPR, search and rescue protocols, and emergency management and response

Knowledge of animal and plant diseases and hazards (such as indigenous predator species, poisonous spiders and snakes, and allergenic plants, flowers, and berries

Knowledge of applicable safety standards and facilities management

Knowledge of natural science and conservation practices

Normal or correctable vision; normal color vision

Project management skills 

Physical strength and stamina

Skills in writing, making and delivering presentations, and public speaking
Different Types of Organizations
Department of the Interior

Bureau of Land Management

Bureau of Reclamation

National Park Service

U.S. Fish and Wildlife Service

Army Corps of Engineers
Expectations and Sacrifices
Park Rangers are entrusted with public safety and the conservation of stable natural habitats. Like Park Managers, a big part of their duty is to ensure visitors have safe, enjoyable experiences that don't unduly interfere with the fragile ecosystem of plant and animal species. 
Many country, state, and national parks sprawl over hundreds, thousands, or even millions of acres. Clearly, such locations can be ripe with all sorts of inherent hazards and risks, ranging from dangerous cliffs to unattended bodies of water, predatory wildlife, venomous spiders and snakes, and countless tripping hazards. 
All too often, hikers get lost and suffer from injuries, dehydration, and weather exposure. Park Rangers can't be everywhere at once, but they are responsible for doing their utmost to keep visitors safe from harm and to help with medical assistance or search and rescue operations, as needed. At the same time, they must watch for campers and arsonists who cause devastating wildfires that can rapidly spread and wipe out millions of acres—and animals.
Current Trends
The entire parks industry has been impacted by the loss of part-time staff and volunteers leaving as part of the so-called Great Resignation. During this critical employee gap, Park Rangers may have to occasionally help cover duties typically assigned to positions that remain vacant. 
As parks continue to recruit, there's a need for much more diversity in this career field, which is currently made up of almost 91% Caucasians, and 66% males. In terms of funding and job security, the government recently passed two significant acts that should benefit parks for many years to come—the Great American Outdoors Act and the Infrastructure Investment and Jobs Act. 
Parks are continuing to explore ways to boost interest in younger visitors, which has declined in recent years. One of the promising methods being promoted is the National Park Service's Junior Ranger Program!
What kinds of things did people in this career enjoy doing when they were younger…
Park Rangers are often lifelong outdoor enthusiasts! They may have gone camping, boating, or fishing with their parents when they were younger, or perhaps lived near large parks that featured plenty of other activities for them to get involved with. 
Many enjoy the law enforcement and habitat protection aspects of the job because they have always cared deeply about wildlife, indigenous plants, and the environment in general. 
Education and Training Needed
Park Rangers usually have a bachelor's degree in forestry, parks and recreation management, conservation management, ecology, zoology, botany, geology, or law enforcement

Some Park Rangers hold master's degrees in majors such as natural sciences, earth sciences, or natural resource management. Those who work more on the management side may have an MBA or accounting degree

Jobs at larger parks may bear higher levels of responsibility, so employers might list a master's degree as a "preferred" or "desired" criterion. However, don't let that stop you from applying, because some parks are struggling to find enough qualified applicants! 

Having practical experience from seasonal jobs, internships, or volunteer work looks great on a resume! Check out the job boards and the

Student Conservation Association

to find opportunities in your area

For most Park Ranger jobs, candidates must complete the National Park Service's

Park Ranger Law Enforcement Academy

(PRLEA) Training Program (formerly known as the Seasonal Law Enforcement Training Program)

PRLEA is offered through the below schools, with some customization per program:

PRLEA programs run for approximately 17 weeks and consist of ~680 class hours (though the total number of hours can vary by school), with additional add-on specialty classes often available

A sample curriculum (taken from Colorado Northwest's program) includes classes like:

Behavioral Science

Driving

Enforcement Operations

Firearms

Legal

Patrol Procedures

Physical Techniques

Additional specialization certifications may include Wild Land Firefighting, Emergency First Responder, and Fundamentals of Search and Rescue
Other requirements:
All students must pass the

Physical Efficiency Battery

(PEB), with components for body fat composition, flexibility, agility run, bench press, and a 1.5-mile run

Rangers must be at least 21 years old, be US citizens, and have a driver's license 

PRLEA

students

should not have any felony convictions or serious misdemeanors (such as domestic violence or weapons violations)

PRLEA graduates may need to submit to a background investigation, drug testing, a polygraph test, plus

medical

and psychological exams

Once these are passed, candidates are "eligible to receive a Type II law enforcement commission" which allows them to lawfully "carry firearms, make arrests, investigate crimes and assist in the execution of warrants"

Park Rangers can expect to receive On-the-Job training as part of their conditional employment period. They may work as "seasonal employees" for two or three years prior to being eligible for permanent placement
Things to look for in an University
There are several college majors that students can choose from, but ideally, you'll want to find a school that offers internships or other practical, hands-on experiences

Check out graduation rates and try to find information from alumni. See what they're up to, post-graduation!

Consider the cost of tuition, discounts, and local scholarship opportunities (in addition to federal aid)

Think about your schedule and flexibility, when deciding whether to enroll in an on-campus, online, or hybrid program

Many Park Ranger candidates must also complete

Park Ranger Law Enforcement Academy

(PRLEA) Training Program at one of the below-listed schools, so look for the one that fits your unique needs the best (i.e., geographic location, tuition costs, scholarship opportunities, specialization options, etc.)
Things to do in High School and College
Park Rangers should have a good understanding of natural sciences, including geology, biology, botany, zoology, and microbiology. An interest in history, English, public speaking, and communications is also helpful

To hone your people skills, volunteer for extracurricular activities, speech or debate club, and project management activities

Volunteer or take part-time jobs working with youth at local clubs or recreation centers. This can include developing curriculums for activities and games, teaching students, or simply overseeing activities to ensure safety. The more practice you can get, the better!

Take part-time or seasonal work at different park types to learn the ropes. If attending a college program, look for internship opportunities!

Read articles and watch videos related to the parks in the region where you plan to work. Study their unique geographic features, managed activities (such as hiking tours), conservation efforts, and historic or cultural sites. Pay attention to information about the indigenous wildlife and plant species, as well as any hazards posed

Establish a good exercise program that includes plenty of walking, hiking, or biking in wooded areas

Learn about basic first aid and outdoor survivalism tactics, such as how to safely build a fire, how to locate clean water in the wild, how to tell what plants are safe to eat (and which to avoid), and how to navigate with just natural landmarks (or the sun or stars)

Take guided tours of the county, state, or federal parks in your area. Talk to representatives and request informational interviews 

Draft up a working resume to keep track of your work and academic accomplishments
Typical Roadmap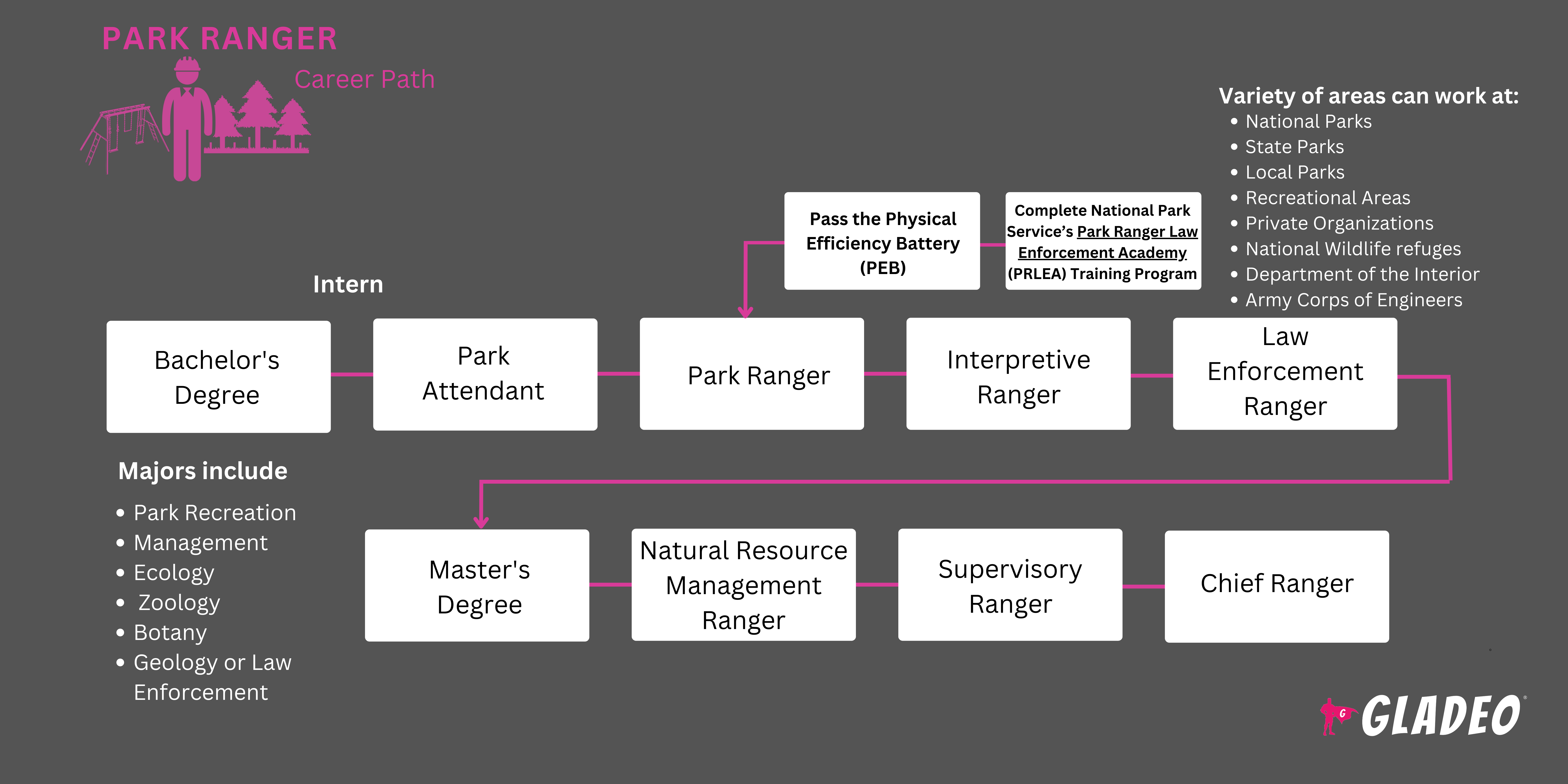 How to Land your 1st job
Park Rangers need the perfect mix of practical experience, academic credentials, and real-world training. That's why they generally need a college degree and related work experience plus successful completion of a

Park Ranger Law Enforcement Academy

(PRLEA) Training Program and all screening requirements (including medical, psychological, physical fitness, and background checks)

Students interested in PRLEA training must submit an application package answering basic questions about

any criminal history, along with results of a medical screening exam, to ensure they can safely participate in exercises such as running, jumping, wrestling, and self-defense

Completion of all academic, training, and other selection requirements does not guarantee a job, it just makes you eligible. You'll still have to apply for the job(s) you want

Look for job postings on portals such as

Indeed.com

,

USAJOBS.gov

, and local Department of Wildlife and Department of Parks and Recreation career pages

Ask your college or PRLEA program faculty and career center if they know of openings or have connections in the industry

Get permission ahead of time from anyone you plan to list as a personal reference

Conduct mock interviews with friends and

dress suitably for job interviews
How to Climb the Ladder
As federal employees, Park Rangers are assigned a

General Schedule

(GS) classification which is linked to a pay scale (i.e., their salary scale)

The Office of Personnel Management maintains the General Schedule, which consists of 15

pay grades.

Within each grade, there are 10

step rates

GS-1 (Step 1) is the lowest pay grade and step; GS-15 (Step 10) is the highest pay grade and step

Every Park Ranger job is assigned a particular starting GS grade, and each grade comes with its own work and academic minimum qualifications

For example, to qualify for a GS-5 job, an applicant usually needs at least a bachelor's. For a GS-9 job, they usually need at least a master's

Each Park Ranger job has a minimum and maximum GS grade that can hold the position. Thus, Rangers that want to be promoted beyond the maximum grade that their current job allows may need to apply to other positions, at larger parks, for instance

If you have a bachelor's, consider doing a master's or a certificate to specialize further in your field

Complete training in specializations such as Wild Land Firefighting, Emergency First Responder, and Fundamentals of Search and Rescue

Finish certifications such as:

Build strong relationships with local officials and communities, visitors, volunteers, stakeholders, contractors, and vendors

Stay on top of changes in the industry including revised regulations, technological advancements, and trends. Read updates from the

National Recreation and Park Association

and other news sources

Join professional organizations like the

Association of National Park Rangers

or the

Park Law Enforcement Association

. Attend events, give presentations, write articles, and grow your network!  
Recommended Tools/Resources
Plan B
While working outdoors at a large public park can seem like a dream job for many, it comes with plenty of responsibilities. From keeping visitors entertained and safe to conserving wildlife and plant species, protecting historic and cultural areas, and maintaining law and order, there's no end to the stream of duties that'll keep you busy all day! If you want to explore a few similar occupations, we recommend checking out the following! 
Agronomist

Animal Control Officer

Animal Trainer

Armorer

Bailiff

Bike Patrol

Border Patrol 

Code Enforcement Officer

Customs Officer

Ecologist

Environmental Scientist

Explosive Ordnance Disposal Technician 

Farm or Ranch Manager

Fisheries Scientist

Game Warden

Horticulturist

HR Manager 

K-9 Officer

Naturalist

Plant Biologist

Police Officer

Soil Scientist

Training Instructor 

Vineyard Manager

Wildlife Biologist

Zookeeper 
Newsfeed Featured Jobs Online Courses and Tools