Spotlights
Job Description
Patent attorneys obtain and/or renew patents on behalf of  inventors and companies. They also advise and represent clients on patent infringement issues and other areas related to intellectual property rights.
Rewarding Aspects of Career
Working with self-driven and inspiring inventors
Being a crucial part of the innovation process
Very intellectually stimulating work
Getting to see products of the future before most of the public
The Inside Scoop
Job Responsibilities
When applying for patents:

Conduct research to ensure the invention in question is not already patent-protected by another inventor, as well as verify the scientific and legal accuracy of the inventor's claims
Draft, file, and submit patent applications to the U.S. Patent and Trademark Office (USPTO)

In addition to filing applications, patent attorneys:

License the patent to other companies, after it has been approved by the USPTO
Represent clients in cases of patent infringement
Skills Needed
Soft Skills
Interpersonal skills: communicating effectively and building a strong professional relationship with the client
Time-management and organization skills
Technical Skills
Analytical skills: analyze large amounts of information quickly and efficiently
Problem-solving skills
Research skills
Oral and writing skills
Extensive and current scientific and technical knowledge
IT skills
Different Types of Organizations
Law firms (most common place of employment)
In-counsel for companies and/or universities
United States Patent and Trademark Office
Expectations/Sacrifices Necessary
Working long hours to hone the craft
Years of education and training that require significant commitment
Pre-career, holding a 1-2 year apprenticeship role entailing long hours and a relatively lower starting salary
Current Industry Trends
Background in a STEM field
Proficiency t in technology, i.e. the language of science and math
Keep up-to-date on trends within law and technology
Social media and digitization is becoming very pervasive within the legal industry

E.g. Law firms will sync data to a cloud in a bid to go paperless, enable access to more powerful searching tools, etc. Furthermore, attorneys have to be very careful in terms of what they publish on social media for public view.
What kinds of things did people in this career enjoy doing when they were young...
 
A love for tinkering in high school, which led to the technical aspect of their training
A passion for reading and writing often leads to a legal career
A love of learning
A need to address  groundbreaking topics and develop a familiarity with them in a short amount of time
 
Education and Training Needed
Patent Attorneys are lawyers who specialize in intellectual property. They often earn an bachelor's in a science or technology field before going to law school to earn their JD (Juris Doctor) 

Prior to applying for law school, lawyer hopefuls must take the

Law School Admission Test

(LSAT), unless the school accepts Graduate Record Examinations (GRE) scores

The LSAT is an online, remote-proctored exam that consists of multiple choice questions in the areas of reading comprehension, analytical reasoning, and logical reasoning. There's also a written essay portion

An

American Bar Association-approved law school

can take 3 years if going full-time and up to 5 if going part-time

All graduates must take what is called a

bar exam

. Every state has its own rules for this two-day test. The

National Conference of Bar Examiners

offers details

The

Multistate Bar Examination

takes 6 hours and has 200 questions

Most states also require passing the 200-question

Multistate Professional Responsibility Examination

In addition to passing the bar exam, Patent Attorneys must also pass a

registration exam

to "represent clients before the US Patent and Trademark Office," per

Investopedia

The patent bar exam features 100 multiple choice questions and is offered via a computer-based test delivery system (though USPTO does offer physical proctored testing at its Virginia office on occasion)

Note, this is a notoriously difficult test, with a less than 50%

pass rate

for the past several years!

USPTO offers a

tutorial

to help test takers understand what to expect

Patent Attorneys may also need to take Continuing Legal Education courses

After gaining a few years of work experience, attorneys can apply for various board certifications to enhance their credentials 
Career Advancement
Encouraged to  take CLE (Continuing Legal Education) patent law courses, usually offered by state bar associations as well as the American Bar Association
Board certifications offered by state bar associations and other professional organizations, and usually require some years of experience working a patent attorney
Join professional organizations or participate in seminars related to their field of expertise
Some links to patent law organizations:
Things to do during high school/college
In high school, hone your speaking and writing skills and participate in activities that offer leadership or management experiences 

Prep for college with plenty of STEM classes as well as speech, English comp, debate, philosophy, psychology, ethics, and business

Participate in STEM-related clubs and activities and learn about intellectual property rights 

While doing your bachelor's, prep for your J.D. by taking political science, history, law, English, or related topics

Look for opportunities to hone your public speaking skills and powers of persuasion 

Decide if you can attend full-time or will need to go part-time due to work or other commitments

Consider which learning method works better for you — in-person, online, or hybrid. There are pros and cons to all options!

Join professional organizations like

Phi Alpha Delta

or student clubs that help you learn and network

Look for internships that might turn into jobs one day, if you play your card right!

Work closely with your academic advisors so you stay on track and graduate on time

Study hard for all classes as well as exams like the LSAT, bar exam, or USPTO registration exam
Typical Roadmap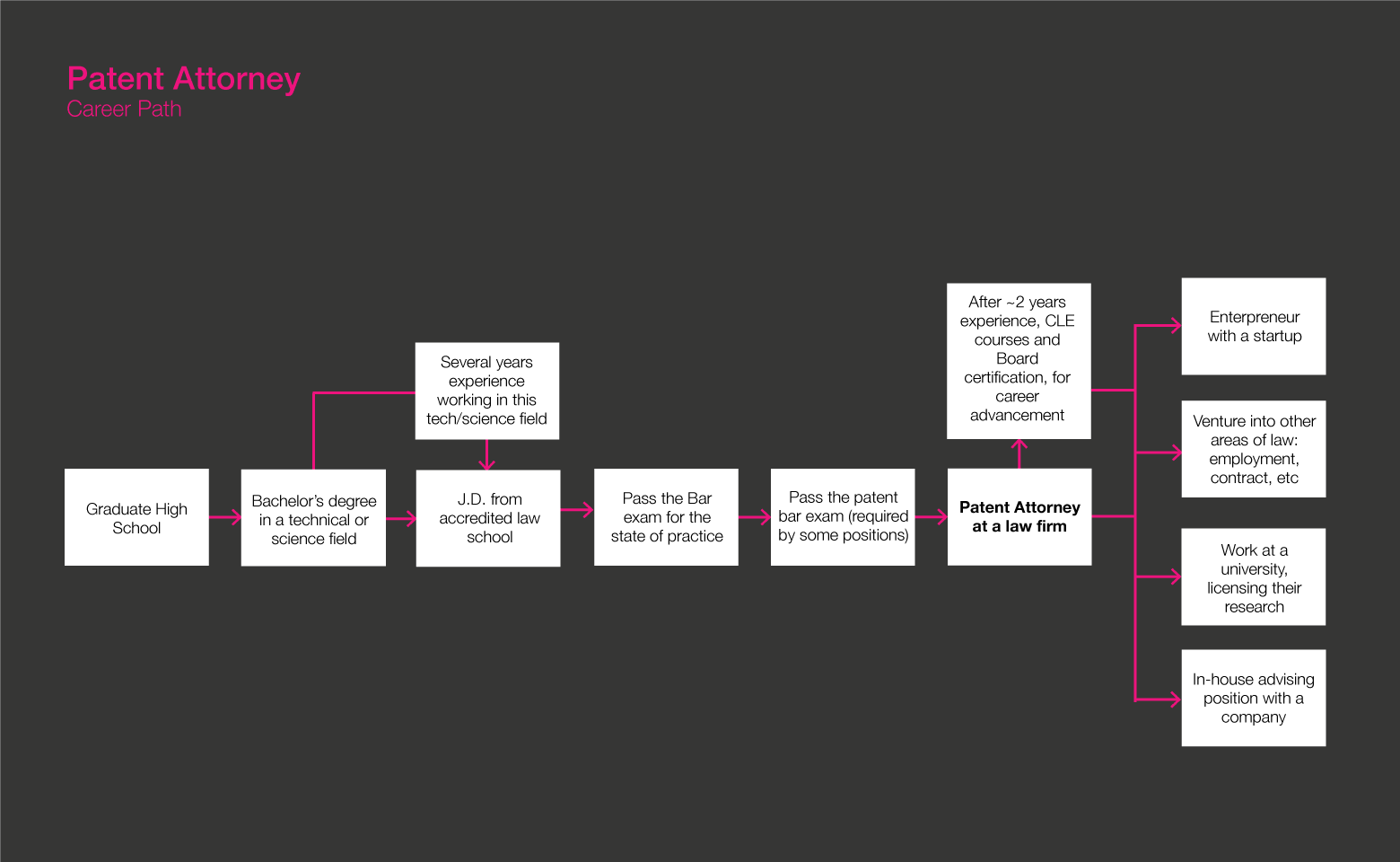 How to land your 1st job
​​​​​​Actively seek a summer apprenticeship or summer associateship program with a law firm or STEM company while in law school; oftentimes such an experience can translate into employment at the firm/company post-graduation. 

Work with your school's program or career center to locate and apply for jobs. Many schools work closely with law firms that recruit graduates! 

Attend job fairs, a career office, on-campus recruiters, etc, offered at law school

Perform to the best of your ability during any internships. Sometimes interns are offered positions contingent on their graduation and passing the bar exam

Even if a firm where you intern doesn't hire you, their references to potential employers can make a difference

Let your network know ahead of time when you are graduating and the timeframe you want to start working

Post your resume on employment portals like

Indeed

,

Glassdoor

, and

Martindale

Make certain your resume is impactful, compelling, and error-free. Think of it as a work sample, a preview of the kind of attention to detail you give your writing

Check out New England Law's

How to Write Your Law School Résumé with No Legal Experience

Seek prior approval from professors and relevant supervisors to list them as references or get letters of recommendation from them

Hone your interview skills by reviewing

Harvard Law School's Interview Questions

Read

news about the patent industry

. Be ready to discuss insights about trends and changes during interviews

Practice

mock interviews

so you can present yourself as capable and confident
What it really takes to make it and succeed
Success in this field requires a real passion for learning through working with inventors who will teach you about the latest and greatest projects they are working on
Understanding how business tool fits in the overall value for a company
How to Find a Mentor
Use search engines to  find law firms and companies that are conducting business in areas you are passionate about
Names of professionals working in these organizations is usually published with their contact info
Reach out to these professionals and see if they are willing to spend just a couple of minutes with you to talk about their career
Plan B
Entrepreneur (for example, with a startup)
Employment law and contract law
Working within a university on licensing of the technology developed, rather than acquisition of the patents
A An in-house position working for a company to directly counsel the decision-makers on actions to take regarding protection of intellectual property
Newsfeed Featured Jobs Online Courses and Tools