Spotlights
Similar Titles
Completion Engineer, Drilling Engineer, Engineer, Operations Engineer, Petroleum Engineer, Petroleum Production Engineer, Project Production Engineer, Project Reservoir Engineer, Reservoir Engineer, Reservoir Engineering Consultant
Job Description
Crude oil is a fossil fuel usually found deep beneath the Earth's surface. It's been used for thousands of years but didn't boom until the 19th century. American's first oil well was set up in 1859, and the first internal combustion engine arrived in 1872. The petroleum industry has never looked back. 
 
Today we use crude oil, or petroleum, to make fuel for vehicles, generate heating and electricity, and as an important material component of many chemicals and products. Even our paved asphalt roadways are made using petroleum. It's a highly valuable commodity, which is why Petroleum Engineering is a critical career field for the modern world. 
 
The four main types of Petroleum Engineers are Drilling Engineers, Completions Engineers, Reservoir Engineers, and Production Engineers. Petrophysicists are also an important subset within this field. Broadly-speaking, Petroleum Engineers use existing technologies and develop new ones to assist in the extraction processes for both crude oil and natural gases. Drilling operations can occur on land or offshore, using large equipment and a variety of techniques. Petroleum Engineers collaborate with geoscientists as they determine the most effective ways to safely reach those hard-to-get resources. They review site surveys, perform tests, and ensure the proper equipment is selected, set up, and maintained correctly. 
Rewarding Aspects of Career
Ensuring operations are performed safely and efficiently
Discovering new techniques to mitigate environmental impacts
Working in an industry responsible for keeping cars on roads and power in buildings
Opportunities for travel!
2018 Employment
33,500
2028 Projected Employment
34,300
The Inside Scoop
Job Responsibilities
Working Schedule
 
Petroleum Engineers work full-time, and perhaps significantly more depending on their specialty and role. Some may put in 50, 60, or more hours a week if there's a big job or lots of travel required. Extraction sites and refineries are often in remote locations away from cities. Engineers working on offshore oil rigs may arrive via helicopter and sometimes have to live on-site.  
 
Typical Duties
Review and assess potential sites using surveys and well tests
Make recommendations; plan work involved in complex drilling and recovery ops
Estimate costs associated with necessary work, and compare to potential revenue gained from extracted resources
Assist with selecting or designing equipment needed for the job
Ensure equipment is correctly set up, operated, and well-maintained
Oversee elements of production to ensure efficiency and effectiveness
 
Additional Responsibilities
Be "on-call" when problems arise; analyze problems and find effective solutions
Collaborate with geoscientists to ensure the work can be done safely
Assist in devising ways to maximize recovery 
Keep processes on-schedule and ensure production goals are met in a cost-efficient manner
Comply with state, federal, and international codes and standards  
Skills Needed on the Job
Soft Skills
 
Conceptualization skills 
Ability to facilitate teamwork under stressful or adverse conditions
Able to focus in noisy or hectic environments
Compliance- and safety-oriented
Critical thinking
Environmentally conscious
Highly realistic
Initiative and "can do" attitude
Investigative
Organized and precise
Strong leadership and communication skills
Technical Skills
Math (algebra, geometry, calculus, stats) and physics
Strong computer skills 
As noted by O-Net, Petroleum Engineers may require knowledge of software, tools, and languages such as:

Scientific and analytics - SAS, MathWorks, PHDWin, and Well Flow Dynamics
C++ , Oracle Java, Python, R 
Database/query - Landmark Graphics TOW/cs, Microsoft Access, Oracle, SQL
Development environment - Eclipse IDE
Financial analysis - GEMS, ARIES, QUE$TOR
Different Types of Organizations
Multinational oil companies (BP, Shell, Chevron, ExxonMobil)
Mining support 
Oil and gas extraction    
Petroleum and coal manufacturing
Expectations and Sacrifices
A day in the life of a Petroleum Engineer can have lots of variety! You might find them working in nice climate-controlled offices, outside in scorching heat at a drilling site, navigating through the hub of a refinery, or facing inclement weather on a rig in a stormy sea. Duty may call an engineer to travel to foreign countries for trips or even to live abroad long-term. 
 
Big oil means big business, and engineers are expected to know their jobs inside and out. However, they're not working alone, but rather with teams of other workers devoted to a common goal. Strong leadership and teamwork traits are required, and egos must be kept in check during times of frustration and adversity. Long hours and challenging conditions can drive up stress levels, but engineers are always expected to stay rational, objective, and clear-headed. 
Current Trends
The Bureau of Labor Statistics points out that one of the largest factors related to this field's job outlook is the price of oil. When prices go up, companies may strive to expand and take on new engineers to assist. When prices fall, job outlook declines with it. The Fuse recently cited a study finding a 60% enrollment drop for Petroleum Engineering undergrad students over the past three years. However, this drop seems to be an overreaction. Currently business is doing well. As Dr. Lloyd Heinze of Texas Tech notes, "Any industry that uses raw materials is significantly influenced in price by governments."
What kinds of things did people in this career enjoy doing when they were young...
While many engineering professions create new things out of raw materials, Petroleum Engineers are in the business of obtaining raw materials first. Most were probably very practical growing up, realistic problem-solvers able to get along well with others. They're hard workers, eager to roll up their sleeves and get their hands dirty. In fact, chances are they went out of their way to seek opportunities to do so!
 
Creative yet highly practical and analytical, future Petroleum Engineers most likely loved gadgets and figuring out how they function. They could have been interested in finding activities that put both their minds and bodies to work. Further, they might've been keen to travel or experience work-related adventures in the field, offshore, or in other countries. As a lucrative sector to work in, it isn't uncommon for workers to be attracted to these careers purely for the income potential. 
Education and Training Needed
Petroleum Engineers need a bachelor's degree, with petroleum engineering being the obviously-preferred major

Programs should be accredited by ABET
Some companies will also hire workers majoring in Mechanical, Civil, or Chemical engineering
Graduate degrees are sometimes required for higher-level positions or R&D

91% of Petroleum Engineers hold a bachelor's degree; 7% hold a master's, per O-Net

Internships, co-ops, and other practical work experiences are treasured by employers
A license isn't needed to get started, but there are state licensure options to consider later in one's career

Professional Engineering (PE) licensure leads to greater scopes of responsibility 
A PE must pass two exams:

Fundamentals of Engineering (FE) - to be certified as an Engineer in Training (EIT) or an Engineer Intern (EI)
Principles and Practice of Engineering (PE) exam

Society of Petroleum Engineers offers its Petroleum Engineering Certification (PEC) for qualified members
The National Petroleum Management Agency offers Certified Petroleum Professional - Levels 1 through 5 
Things to look for in a program
Consider a dual bachelor's/master's degree! Many universities such as the University of Oklahoma and University of Houston feature accelerated dual-track programs 
Programs should be ABET-accredited, which is a requirement for later PE licensure
Does the institution offer scholarships or diversity-increasing STEM pathways?
Remember, they're going to screen you, so screen them, too. Scope out the faculty bios and program awards pages. Education is expensive so get your money's worth!
How modern are their facilities? To be competitive in the job market, you'll need training on current technologies and trends
Look into the school's partnership to see who they're affiliated with and how those connections can benefit you for internships or post-grad career opportunities
Always consider what perks schools offer graduates! Do they post job placement stats? Does the alumni network offer career-building mentorship and networking? 
Things to do in High School and College
Lay a rock-solid foundation in high school by taking plenty of math and science, including algebra, trigonometry, calculus, chemistry, and physics
Technical writing and strong reading comprehension are very valuable skills to develop
IT-skills play a major role in this industry. Review the Skills Needed on the Job overview above for a refresher on which software programs and languages to study
If possible, knock out some lower-division community college classes in high school, but make sure credits will be transferable or you could be wasting time (and money)!
The earlier you can decide what area you want to specialize in, the better. Reviewing the different types of Petroleum Engineers can help you select the right classes to take
Gain practical experience through internships or apprenticeships
Volunteer to lead or manage school activities involving teams and large projects
Find relevant professional organizations to join, from your school and our list of Recommended Resources in the Landing the Job tab
Typical Roadmap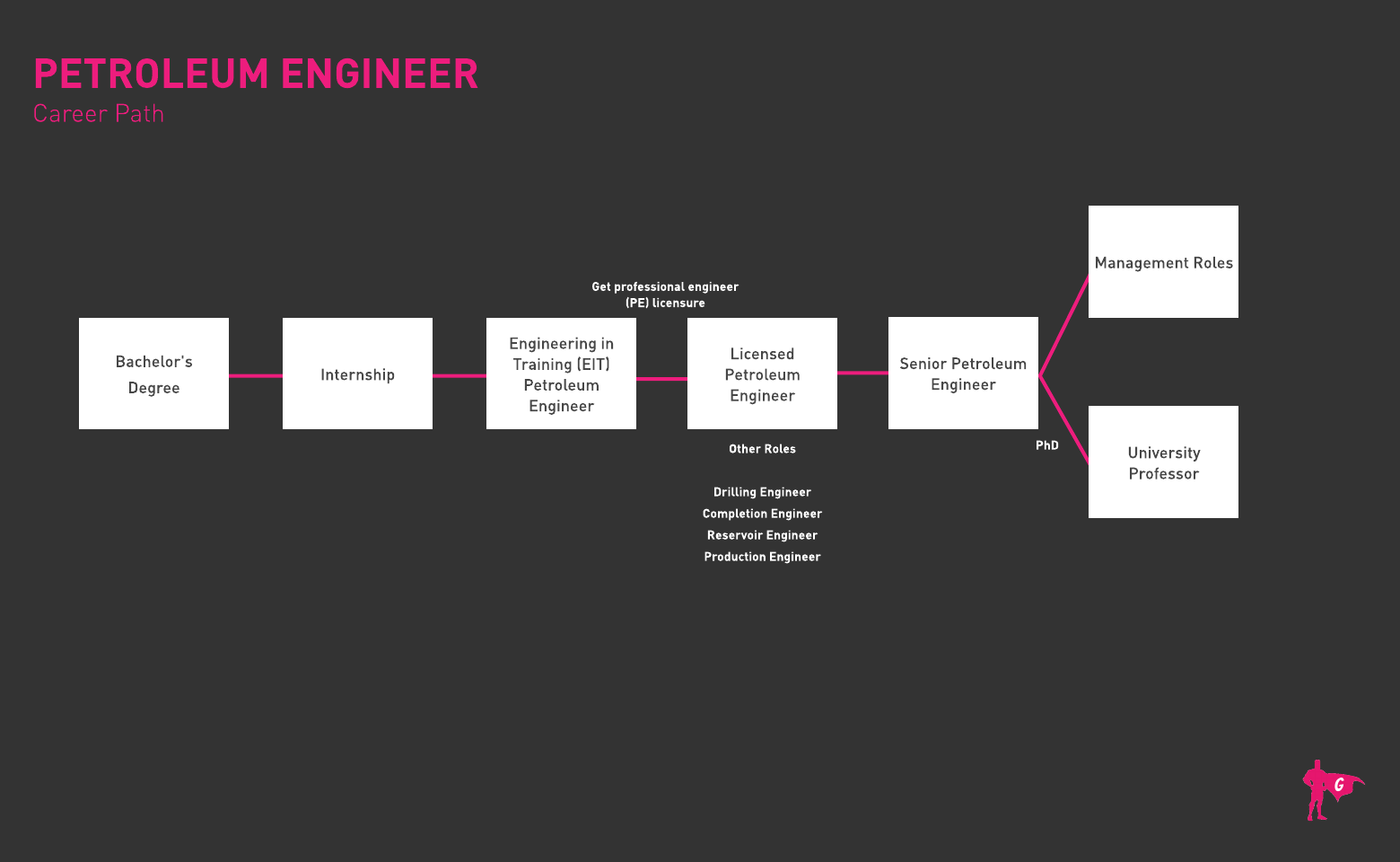 How to land your 1st job
If you do an internship, stay in touch with your supervisor; the majority of jobs these days are found through networking!
Bookmark the career pages of the largest companies:

BP Careers
Chevron Careers
ExxonMobil Careers
Shell Careers

Sign up for job alerts on 

Glassdoor 
Indeed
LinkedIn
Monster
SimplyHired
USAJobs
Velvet Jobs
ZipRecruiter

Connect to a recruiter through your university program. Many schools serve as pipelines for companies waiting to hire grads
Polish up your resume and interview skills, using your school's career center 
Tailor your resume to match each job posting; don't simply recycle the same old wording
Investopedia cites that "total revenues for the oil and gas drilling sector came to approximately $3.3 trillion in 2019." However, there are only a handful of Big Oil companies to work for, so...

Do your homework on the companies. Know their histories, where they operate, what their visions and missions are, and what they need from you, the applicant

Read common interview questions to expect. Glassdoor lists real questions that workers report being asked! You can also read Quora posts from employees in the sector 
How to Climb the Ladder
Let management know you're interested in a long-term career and want to understand their internal routes to promotion
Learn the goals and milestones, and ask for help making a plan to achieve them

Remember, pay scales vary depending on roles as well as geographic location

Pay your dues and work hard in entry-level positions. Learn everything you can from senior engineers you work with
If given formal training at your company, strive to impress the boss with your attention-to-detail and eager approach to learning
Demonstrate company loyalty, leadership, problem-solving skills, and the ability to make well-informed decisions based on solid research
Knock out your professional exams (FE and PE) and advanced certifications
Work on your graduate degree when the time is right, and make sure the program and coursework will compliment your long term career goals 
Get the advice of working professionals before deciding to do an MS or MBA
Recommended Resources
Websites
Accreditation Board for Engineering and Technology 
American Association of Drilling Engineers
American Association of Petroleum Geologists 
American Institute of Mining, Metallurgical, and Petroleum Engineers 
American Petroleum Institute
BP Magazine
BUE Library
EngNet
FuelsEurope
Independent Petroleum Association of America 
International Association of Drilling Contractors (IADC)
National Society of Professional Engineers  
Oilfield Basics
Organization of the Petroleum Exporting Countries (OPEC)
Rigzone
Society of Petroleum Engineers (SPE)
World Petroleum Council
Books
Plan B
Petroleum Engineering remains a relatively small field in terms of the number of working engineers in it. For example, according to the Bureau of Labor Statistics, there are 33,500 Petroleum Engineers (as of 2018) compared to 312,900 Mechanical Engineers. Something to think about!
 
Aside from job prospects, there are other reasons to consider alternatives before making a decision that will affect the rest of your life. A few similar occupations include:
Architectural and Engineering Managers
Civil Engineers
Engineers 
Geological and Petroleum Technicians
Geoscientists    
Industrial Engineers
Logistics Engineers
Mechanical Engineers
Mining and Geological Engineers
Validation Engineers 
Newsfeed Featured Jobs Online Courses and Tools