Spotlights
Similar Titles
Lab Liaison Technician, Mobile Examiner, Patient Service Technician (PST), Phlebotomist, Phlebotomy Technician, Registered Phlebotomist
Job Description
A Phlebotomist is responsible for drawing blood from patients for transfusions, tests, or donations. They work directly with patients to help them feel comfortable.
Rewarding Aspects of Career
Working directly with patients and helping them stay calm.
Typically a regular schedule.
Work is constant, but simple. Results are easy to see.
Detail oriented.
Demand for this job is high so you will be easily be able to find work.
2018 Employment
128,300
2028 Projected Employment
157,800
The Inside Scoop
Job Responsibilities
A phlebotomist typically works a full-time schedule, with a lot of standing. They handle needles and blood. Depending on the clinic, they may work nights, weekends, and holidays. A phlebotomist spends their day:
Drawing blood
Working through the feelings of anxiety a patient may feel.
Labeling and organizing samples according to type or other terms.
Use a database to track information.
Upkeep of workspace, including lab and medical equipment.
While the information tracked is easy to obtain, they must be detail oriented to make sure samples do not get mixed up.
Skills Needed on the Job
Excellent customer service skills.
Good oral/written communication.
Able to work with blood and bodily fluid.
Detail-Oriented
Computer literate – email, office software.
Service Oriented
Critical Thinking
Clerical skills – filing, transcribing, and filling out forms.
Different Types of Organizations
Hospitals
Laboratories
Mobile Health Care Services
Physician Offices
Blood banks
Expectations and Sacrifices
Becoming a phlebotomist typically involves a certification. You will need to graduate high school and work through a specialized program. These programs typically take 1 year. The main sacrifice will be paying for textbooks and tuition during the program, as well as working to support yourself.
Another aspect is making sure your own health is up to date – including vaccines. Even with proper safety procedures, you are at risk for blood-borne illness as a phlebotomist.
If you are scared of needles and blood, this is not the career path for you. 
Current Trends
Trends in Phlebotomy are tied to the products being used. Improvements are constantly being made to blood collection devices to minimize splatter and maximize safety for both the patient and technician.
Hospital technologies, such as bar codes for patients and increased steps to eliminate mixing up samples, are also ongoing. Database software is constantly being improved, but this will be taught to you in house at your workplace.
What kinds of things did people in this career enjoy doing when they were young...
Pretending to be a Doctor or Nurse.
Helping others – volunteering.
Soothing friends who are feeling poor.
Education Needed
Phlebotomists must have a high school diploma (or GED), plus a non-degree certificate from a community college or vocational school Phlebotomy training program

Phlebotomist programs usually only take a few weeks, for example, 10 weeks of classroom study and 5 weeks of On-the-Job training working in a clinic or doctor's office

Class topics will include anatomy, physiology, and medical terminology

Many states require Phlebotomists to earn a professional certification (which is separate from an academic certificate). Most employers want to hire a professionally-certified worker, whether the state requires it or not

Per the

National Healthcareer Association

, "93% of employers require or encourage certification for phlebotomy technicians"

Students can gain professional Phlebotomy Technician certification through one of the following organizations:

Certification requirements vary but all candidates must pass an exam. The National Center for Competency Testing listed a

72.2% pass rate

for test takers in 2021, so it is important to take the test seriously and study hard!

Students may also be required to pass a criminal background check, drug test, and submit proof of immunizations
What to do in HS and college
Take college prep classes in high school, including biology, chemistry, math, English, and communications 

If you feel uncomfortable at the sight of blood, you might want to reconsider this career option (or check out this article on

how to become comfortable drawing blood

on real people!)

Map your career goals and educational milestones in advance. While the median pay for Phlebotomists is $37,380, a Phlebotomy Supervisor can potentially earn up to twice that!

Read or watch interviews with Phlebotomists

Review job ads ahead of time to learn about the qualifications local employers are looking for

Make sure you understand your state's specific requirements related to certification. Even if certification is not needed in your state, it can be helpful for landing jobs

Volunteer with local healthcare-related community organizations

Stay out of trouble so you can pass the background check when the time comes!
Typical Roadmap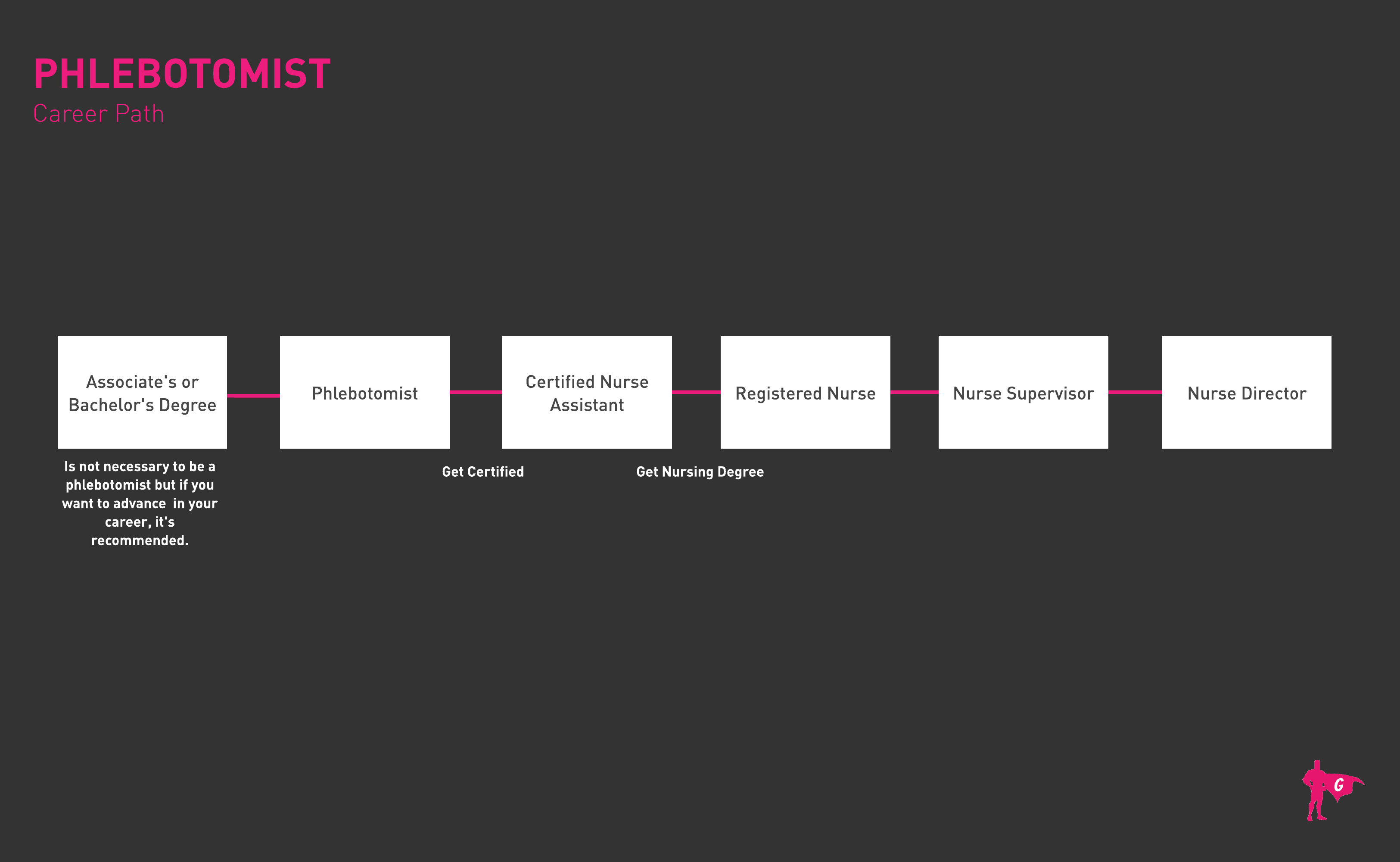 Landing the Job
Due to the high demand for the position, you will likely be able to find a job quickly after earning your certification. Your program will offer opportunities for networking and meeting shareholders who will hire you.

It is important to consider those in your program as peers who can help you later on. Always stay in positive contact with previous teachers and classmates.

You should strongly consider getting certified to boost your credentials, even if your state does not require it

Be honest on your background check questionnaire 

Build strong connections while doing clinical practice. You might later get to work in the clinic or office where you practice, so keep an eye open for job opportunities

Look for jobs on

Indeed

,

Simply Hired

,

Glassdoor

, or other popular job portals

If you complete a college or vocational school program, ask your school's career center for job-seeking tips. See if your program offers job placement assistance

The states with the

highest concentration

of jobs for Phlebotomists are West Virginia, Louisiana, New Jersey, Rhode Island, and Alabama. The highest employment levels are in California, Texas, Florida, New York, and Illinois

Check out

Phlebotomists resume templates

for ideas on formatting and phrasing

Review sample

Phlebotomists interview questions

such as:

"Tell us about a time you couldn't calm a patient down enough to safely draw blood" or;

"Tell us about a time a patient fainted. How did you respond?"

Make sure to conduct a few practice

mock interviews

and remember to

dress for interview success

!
How to Climb the Ladder
You will likely need additional training to move up from Phlebotomist. However, your certification will give you a good starting point and income if you choose to do so. Many phlebotomists study to become Licensed Practicing Nurses or Registered Nurses. Depending on your performance and employer, you may have financial support for additional school.
You will need to move up to an Associate's Degree to move into most other related fields, or to climb the ladder in your organization.
Plan B
You will need additional training or school, but you will likely be able to pivot into:
Medical Lab Technician
Medical Assistant
Intravenous Technician
Patient Care Technician
Words of Advice
Being a phlebotomist is a rewarding entry position for those interested in the health field. It is relatively easy to get started and can provide you with resources to improve your education and find higher paying jobs. If you are interested in nursing or a similar career, it can provide an excellent base knowledge to help you.
Newsfeed Featured Jobs Online Courses and Tools