Spotlights
Similar Titles
Medical Doctor (MD), Doctor of Medicine, Physician-Surgeon, Doctor of Osteopathic Medicine (DO), Surgeon-Physician, Medical Practitioner, Specialist Physician, Attending Physician, Consultant Physician, Medical Specialist
Job Description
Commonly just called doctors, Physicians and Surgeons are crucial, highly-trained specialists who diagnose, treat, and often try to prevent our medical problems. Generally speaking, Physicians perform either routine or specific exams on patients, depending on why the patient came in for a visit. Physicians closely review their patients' medical records to screen for previously diagnosed issues as they try to determine potential causes for new complaints. 
They look for telltale signs and symptoms and may order blood work, biopsies, or diagnostic imaging such as X-rays or CT scans. Once they have sufficient information, they can render a diagnosis and, if needed, prescribe medications. Physicians typically provide patients with a course of at-home treatment or some preventive care tips. Patients often need to book follow-up appointments so their Physicians can check in and assess how well the treatment is working or if changes need to be made. 
In certain cases, a Physician will refer a patient to a Surgeon who can further assess a particular problem, such as an injury or serious disease. The Surgeon may determine that the patient requires a surgical operation to help address the issue. If so, the Surgeon can schedule and perform the necessary surgery alongside other members of their team.
Rewarding Aspects of Career
Improving patient health, life span, and quality of life

Excellent pay and benefits with strong long-term job outlooks

Numerous specialization opportunities
2021 Employment
761,700
2031 Projected Employment
783,100
The Inside Scoop
Job Responsibilities
Working Schedule
Physicians and Surgeons work full-time and often overtime. For ER doctors or those on call, shifts may include nights, weekends, or holidays.
Typical Duties
Review patient medical records and ask questions 

Perform routine or specific physical exams to gather information 

Answer patient questions and respond to concerns

Input findings into medical software to update patient charts

Consult medical reference materials 

Order blood work or diagnostic imaging

Review test results 

Make an initial diagnosis of illness or injury when possible

Suggest a feasible course of treatment

Offer tips for preventative healthcare 

Discuss treatment options with family members, when necessary

Provide or order direct treatment (such as vaccines or setting a cast for a broken bone)

Refer to other healthcare provides, as needed

Write medication prescriptions

Order follow-up appointments 

For Surgeons, perform specialized evaluations and surgical procedures

Discuss postoperative care plans
Additional Responsibilities
Create or participate in public awareness campaigns 

Keep up with newly-approved medicines and pharmaceutical developments related to one's field 

Stay up-to-date on new treatment methods and technological advancements

Work as part of a patient's larger healthcare team

Assist with training new Physicians and Surgeons, as well as assistants and other immediate team members
Different Types of Specializations
There are several areas of specialization for Physicians and Surgeons, including:
Allergists and Immunologists

Cardiologists

Dermatologists

Emergency Medicine Physicians

General Internal Medicine Physicians

Hospitalists

Neurologists, Obstetricians, and Gynecologists

Ophthalmologists

Orthopedic Surgeons

Pathologists

Pediatricians

Pediatric Surgeons

Physical Medicine and Rehabilitation Physicians

Preventive Medicine Physicians

Psychiatrists

Sports Medicine Physicians

Urologists
Skills Needed on the Job
Soft Skills
Business acumen and marketing skills (for those in private practice)

Compassion

Composure

Dependability

Detail-oriented

Dexterity

Diligence

Hand-eye coordination

Integrity 

Methodical 

Observant

Patient

Problem-solving

Relationship-building

Safety conscious 

Sound judgment 

Stamina

Strong communication skills

Teaching

Time management 
Technical Skills
Deep knowledge of human biology and physiology

Familiarity with roles of other medical professionals 

Knowledge of medical illnesses and injuries, and their signs and symptoms

Knowledge of medical instruments, equipment, and methodologies

Knowledge of personal protective equipment plus hygiene and sterilization practices

Specialized skills related to one's area of practice

Use of

medical records software
Different Types of Organizations
Government and military 

Hospitals and clinics

Outpatient care centers

Physicians offices
Expectations and Sacrifices
Patients literally trust Physicians and Surgeons with their lives or the lives of their loved ones. The job responsibilities and expectations are enormous, which is why people in this field must stay on top of their game at all times. That includes giving their all while at work and keeping up with new medical developments. While the pay is great, it's well-earned by putting in long hours. 
Physicians and Surgeons are not immune to human error, but there's obviously pressure to avoid mistakes at all costs. They may overlook or inadvertently downplay a sign of a particular illness or injury, which can end up having a major impact on a patient's health. In some cases, there could be an incorrect diagnosis or a problem while performing an operation. Because of these risks, Physicians and Surgeons pay thousands of dollars a year in medical malpractice insurance premiums in case they get sued. In fact, according to Medscape's Family Physician Malpractice Report, almost half of all family practice doctors have been named in a malpractice suit at some point. 
Current Trends
There are so many trends in medicine, there's a peer-reviewed journal called Trends in Medicine and an independent website Trends-in-Medicine, too! While we can barely scratch the surface here, a few things making a difference in the healthcare industry include the expansion of telehealth for virtual care, the integration of various medical technologies using electronic records, the "Medical Internet of Things," artificial intelligence, and remote monitoring via wearable patient devices. While tech is transforming the world of medicine, patients are seeking increased participation in their own healthcare via data capturing, apps, and tailored preventative measures. 
What kinds of things did people in this career enjoy doing when they were younger…
Physicians and Surgeons may have always had some interest in biology and medicine or could have discovered it later in life. They often displayed high levels of confidence and competence at an early age, may have enjoyed reading complex materials, and demonstrated compassion for others' well-being. Future surgeons may have stood out in their younger years for having strong nerves and steady hands! 
Education and Training Needed
Education Needed
Though we often refer to Physicians and Surgeons as simply "doctors," the term doctor can technically apply to anyone holding a doctorate-level degree, including non-medical majors

In other words, all Physicians and Surgeons are doctors, but not all doctors are Physicians and Surgeons!

Physicians and Surgeons must complete extensive education and training requirements, starting with a bachelor's then working towards their Medical Doctor (MD) or a Doctor of Osteopathic Medicine (DO) at a medical school program

Bachelor degree majors vary, but nearly half of students major in

biology

to help meet med school prerequisites and to have a more competitive application

Common undergrad courses may include anatomy and physiology, biochemistry, biology, biology labs, calculus, genetics, and organic chemistry
Medical School
Many medical schools feature combined undergraduate and medical programs which can make the educational route smoother

Students should also expect multi-year internships and post-graduate residencies, with sub-specializations fellowships requiring 1-3 years of further training

Med school hopefuls must take and pass the

Medical College Admission Test (MCAT)

, and submit results along with their program applications

Notoriously challenging, the MCAT is a critical element of a successful application. The test is multiple-choice and designed to assess "problem solving, critical thinking, and knowledge of natural, behavioral, and social science concepts and principles prerequisite to the study of medicine"

Med school applications consider undergraduate coursework, GPA, MCAT scores, personality and leadership, and extracurricular activities involvement. There's also usually a formal interview

Med school programs are broken into two main phases—the first features academics, labs, classroom activities, plus some practical skills development. The second involves consulting with patients at clinics and hospitals under supervised conditions
Residencies
After graduation, learners will complete residency programs at a clinic or hospital, to develop deeper knowledge and experience in their specialty. Residencies may last from 3-9 years
Fellowships
Licensure and Board Certification
Physicians and Surgeons must apply for state licensure, with requirements differing from state to state

Physicians are either Medical Doctors (MDs) or Doctors of Osteopathic Medicine (DOs). Most Primary Care Physicians are DOs

General requirements include passing a national exam

Doctors can obtain optional board certifications in their specialty to boost their credentials. Certifying boards include:
Things to look for in an University
Medical schools are tough to get into, so you need to be very well-prepared! That includes knocking out your bachelor's in a relevant major while maintaining a strong GPA

Look for undergrad programs that are accredited and feature the rigorous foundational coursework you'll need to succeed at med school

Review faculty bios and awards; see what types of facilities and modern equipment the program utilizes; check out their research and their internship partners; learn about graduation rates and job placement stats; and peek at the accomplishments of the alumni network!

Other general considerations include tuition costs (in-state/out-of-state rates), discounts, scholarships, and course delivery options (on-campus, online, or hybrid program)
Things to do in High School and College
Participate in school activities where you can hone your soft skills and gain leadership experience 

Take college prep classes in high school, including anatomy, physiology, biology, chemistry, math, physics, calculus, statistics, English composition, psychology, and communications. Study hard to earn good grades so you can get accepted into a suitable undergrad program

Choose your undergraduate major wisely. The most common for Physicians and Surgeons is biology, but some students major in medicine, physical science, or other fields

Plan far ahead by looking at those med school requirements early on! Find out about internships, residencies, and fellowships

The key is ensuring you have a solid foundation for medical school with all prerequisites completed

Think hard about the format you want to take classes in. Some classes may be fine for online study, but others will need to be done in-person or hybrid

Apply for

pre-med jobs

like home health aide, medical scribe, phlebotomist, or certified nursing assistant

Join medical student organizations to make friends, learn from each other, and stay motivated for the long journey! Popular options include:

Keep a list of contacts (including phone numbers or emails) who might serve as future job references 

Read or watch interviews with different types of doctors to learn about their various daily duties

Check out

medical journal articles

and video tutorials about Physician and Surgeon

specialities and subspecialties

Consider if you want to work in research positions or with patients 

Keep a working draft your

resume and CV

Learn about the specific licensure requirements for the state you plan to work in

Stay out of trouble so you can pass a

criminal background check

if required for licensure in your state

Develop a workout schedule so you can stay in shape and manage stress

Practice your

interview skills

before applying to medical school

Study hard for the MCAT

with prep books and online prep courses and materials
Typical Roadmap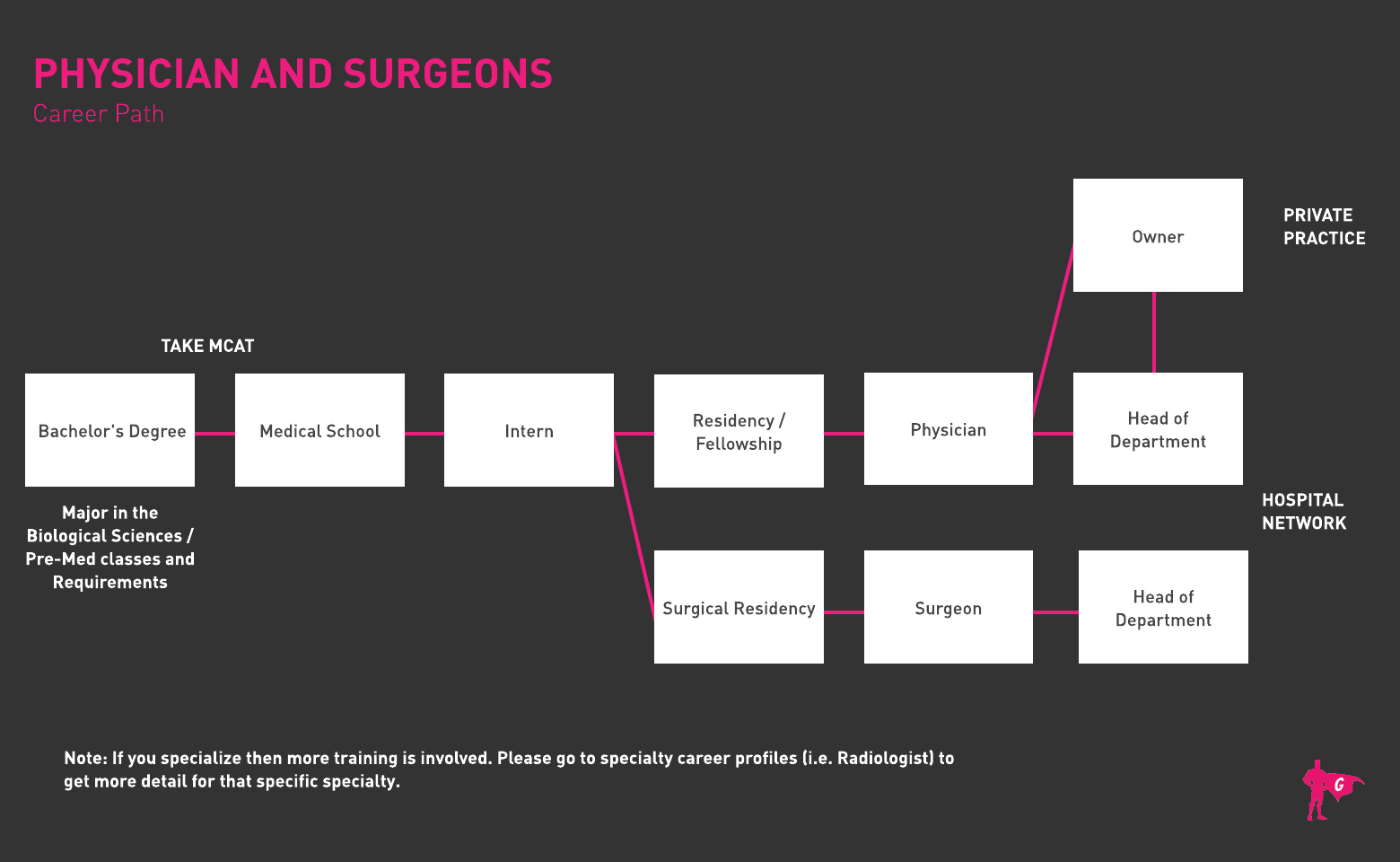 How to Land your 1st job
What is considered a doctor's "first" job? Medical residents receive a

salary

, but fully qualified Physicians and Surgeons earn far more. Still, a resident is a working student with an

employment contract

and job description, so in a way it is like your first job as a doctor! 

In terms of getting a job once you're fully qualified (i.e., all residencies, fellowships, etc. are done), competition in the job market is

relatively low

. That's because it is so hard to get through all the education and training

Note: the

dropout rate

for med school students is between 15.7 to 18.4%

Review job portals such as

Indeed

,

Glassdoor

,

healthcare job search sites

, and career pages for clinics or hospitals you'd like to work at

Advertise yourself on

LinkedIn 

Keep your social media professional. Potential employers may research candidates online

Stay involved with professional organizations. Attend events, be a guest speaker, and network with peers!

Check out

Physician resumes

or

Surgeon resumes

for ideas on formatting and phrasing

Talk with working Physicians or Surgeons to learn about the types of interview questions to expect

Do several mock interviews for practice your responses
How to Climb the Ladder
Talk with your medical supervisor and let them know your long-term career goals. Ask for their advice on how to move up

Get board certified in a subspeciality 

Master your duties and bedside manner, follow all hygiene protocols, and stay up-to-date on relevant hospital or clinic policies and procedures 

Do your best to provide exemplary service to your patients. Earn their trust—and their

positive reviews!

Consider opening a

private practice

Study manufacturer and software guides for equipment and programs you use frequently

Never stop learning about your field of expertise. Study journals, attend conferences, and take extra classes, if needed

Demonstrate top-notch leadership capabilities and patiently train and mentor younger professionals 

Live up to your

medical oath

or promise 

Stay constantly engaged with professional organizations to build upon industry connections

Attend events, give speeches, hold committees posts, get published, and actively work to advance your reputation
Recommended Tools/Resources
Websites
Medical Journals
Books
Plan B
It's a long, arduous road to becoming either a Physician or Surgeon, but the rewards can be great for those who make it over the finish line. Not everyone interested in a medical career wants to take that journey, though, and that's okay! There are dozens of exciting healthcare careers to explore. Below are just a few of the most popular ones to consider: 
Chiropractors

Dentists

Nurse Anesthetists, Nurse Midwives, and Nurse Practitioners

Optometrists

Physician Assistants

Podiatrists

Registered Nurses

Veterinarians
Newsfeed Featured Jobs Online Courses and Tools