Spotlights
Similar Titles
Agronomist, Arboriculture Researcher, Crop Nutrition Scientist, Forage Physiologist, Horticulture Specialist, Plant Physiologist, Plant Research Geneticist, Research Scientist, Research Soil Scientist, Scientist
Job Description
"Plants are vital to all life on Earth," says the Smithsonian Institute. They not only remove carbon dioxide from the air we breathe, they literally produce oxygen, too! If that weren't enough, nutrient-rich plants are the primary food source for most living things—including humans, who cultivate crops and consume their edible parts (i.e., vegetables). We also rely on seed-bearing plants which produce tasty fruits! 
Plant Scientists and Botanists study our world's treasure trove of plants and ensure they're well taken care of. From critical farm crops like corn, wheat, barley, and potatoes to plants we use for medicines or ornamentation, all these plants have unique needs related to the amount of sun and water they get and the type of soil they grow in. Workers must also identify and control pests, diseases, fungi, and other hazards to each plant type. 
Botanists focus more on classification, genetics, and ecology, while Plant Scientists prioritize cultivation, breeding, and disease management. Other related job titles include agronomists, horticulturists, plant pathologists, plant geneticists, and arboriculture researchers. 
Rewarding Aspects of Career
Protecting plants and related ecosystems 
Ensuring human populations have enough crops to eat and plants for medicinal purposes
Impacting the physical health and well-being of communities 
Flexibility and variety of work that is available
2021 Employment
19,100
2031 Projected Employment
20,800
The Inside Scoop
Job Responsibilities
Working Schedule
Plant Scientists and Botanists work full-time jobs with nights, weekends, and holidays off. However, overtime may be needed to meet deadlines or during emergencies. Travel for fieldwork and site visits to farms or research stations may be needed, so there could be exposure to inclement weather or hazards such as pests or chemicals. 
Typical Duties
Research better ways for planting, spraying, cultivating, and harvesting plants
Assess the effects of climate and soil conditions on crops
Run tests and experiments to find safe methods of storing and moving plants
Develop ways to boost crop quality and yields 
Understand pests, pesticides, plant diseases, fungi, and their effects on ecosystems
Classify pests; assist with pest control methods and means
Determine which insects may be useful, such as pollinators like bees and butterflies, or pest-eating bugs such as ladybugs and tiger beetles
Find methods to enhance soil, improve disease resistance, and control weeds
Review findings with employers, stakeholders, governmental agencies, etc.
Make recommendations to farmers about land usage and problem avoidance, such as mitigating erosion
Investigate problems such as poor growth; try to determine root causes like lack of nutrients in the soil or tainted water supplies
Examine how soil changes under various natural or manmade circumstances. Look for ways to amend or alternate soils to boost productivity 
Develop and help implement sustainable farming methods 
Conduct fieldwork and site visits to take soil samples, monitor situations, and look for hazards 
Collect data from site sensors; compile data using software and analyze results
Look for signs of pollutants and environmental changes that impact plants
Collaborate with appropriate governmental agencies when reporting pollution activities
Survey lands for classification and planning purposes
Research requirements for urban green spaces
Supervise land conservation/reclamation projects
Research plants to use for green fuels 
Additional Responsibilities
Stay up-to-date on crop/plant-related regulations, standards, and challenges 
Write and publish papers for peer-reviewed journals
Offer advice regarding environmental management and conservation
Submit records and technical reports to local, state, or federal agencies 
Help with public education and awareness programs
Calibrate equipment, track samples, enter data, and coordinate with labs
Skills Needed on the Job
Soft Skills
Active learning
Activities coordination 
Analytical 
Attention to detail
Communication skills 
Critical thinking
Decisive
Detail-oriented
Independent
Investigative
Monitoring 
Objective
Organized
Perceptive 
Persistence 
Problem-solving
Reasoning
Safety-oriented
Technical Skills
Botanical knowledge
Environmental monitoring tools
Familiarity with local, state, and federal water quality regulations
Fieldwork, sampling, and lab techniques
First aid
Genomics and bioinformatics
Geographic Information Systems (GIS) and remote sensing tools
ImageJ image analysis software
Microbiology and molecular biology
Personal protective equipment use
Plant breeding and genetics, physiology and biochemistry, propagation, cultivation, and pathology
Programming languages like R and Python
Safety protocols working around pests, pesticides, and chemicals 
Scientific writing 
Statistical analysis
Different Types of Organizations
Biotechnology companies
Botanical gardens
Educational institutions
Horticulture businesses
Laboratories
Nurseries
Local, state, and federal governmental agencies
Pest management companies
Expectations and Sacrifices
We rely on Plant Scientists and Botanists to conduct diligent research that enhances our understanding of plant biology, ecology, and agriculture. Through their tests, experiments, and findings, society can benefit from better agricultural practices, enhanced plant traits, and more sustainable solutions for food security and environmental challenges. Without their hard work, we could face crop shortages or ecological nightmares. 
The responsibilities are huge, but workers often serve as part of larger interdisciplinary teams! They must sometimes get out in the field to conduct assessments and gather samples, so expect regular travel and exposure to inclement weather or other environmental conditions. In addition, there may be potential for exposure to pests, pesticides, and chemicals, so it is important to wear appropriate protective gear like gloves, goggles, or face masks. 
Current Trends
There are several trends in the plant science industry right now, with three of the most important being precision agriculture, the demand for more plant-based foods, and the need for climate-resilient crops. 
Precision agriculture relies on high-tech, data-driven approaches to optimize agricultural practices. Sensors, drones, GPS technology, and data analytics all play a part in this new wave of smart farming, which lets farmers tailor irrigation, fertilization, and pest control to improve yields and reduce waste and environmental impacts!
The demand for plant-based foods has risen thanks to health and environmental concerns, not to mention many consumers just don't want to eat meat anymore. Plant Scientists are hard at work developing ways to improve plant-based alternatives to meat-based products. They are also striving to enhance climate-resilient crop varieties, breeding plants that can tolerate extreme temperatures, drought, flooding, and other environmental stresses. 
What kinds of things did people in this career enjoy doing when they were younger…
Plant Scientists and Botanists are often very patient and probably always loved working in the garden, getting their hands in the soil. They care about plants and the important benefits they contribute to our fragile ecosystems. They're also analytical and likely excelled in STEM subjects from an early age, and liked being able to apply science concepts in practical ways. 
Education and Training Needed
Plant Scientists and Botanists generally need a bachelor's with a major in plant science, plant biology, botany, horticulture, agricultural science, viticulture and enology, or a related field
A master's in plant science may not be needed but can make you more competitive and may qualify you for a higher starting salary or position
Per CareerOneStop, 60% of Plant Scientists have a bachelor's, 27% have a master's, and 13% have a doctorate 
Some students opt to pursue a dual bachelor's/master's which can save time and money
An internship can develop practical skills. Study abroad opportunities are another way to expand your learning outcomes!  
Common college courses topics include:
Horticulture 
Plant biology 
Plant breeding and genetics 
Plant pathology and plant-microbe biology 
Soil and crop sciences
Students in some programs will need to select an area of concentration, such as:
Ecology of Managed Landscapes 
Organic Agriculture 
Plant Breeding & Genetics 
Plant Pathology & Plant-Microbe Biology 
Soil Science
Optional certifications include:  
         - Associate Professional Horticulturist    
         - Certified Crop Adviser - Resistance Management Specialty
         - Certified Crop Adviser - Sustainability Specialty    
         - Certified Professional Agronomist 
         - Accredited Agricultural Consultant    
         - Associate Certified Entomologist
         - Tree Risk Assessment Qualification
         - Wetland Professional in Training
         - Associate Professional Soil Scientist    
Things to look for in an University
Students should seek colleges offering majors in plant science, plant biology, botany, horticulture, agricultural science, or a related field
Seek programs with internships or opportunities to get practical experience 
Compare tuition and fees costs, noting in-state vs. out-of-state costs
Review scholarship and financial aid options
See if the program has any partnerships with companies that hire grads! 
Take note of graduation and job placement statistics for alumni 
Things to do in High School and College
Sign up for high school classes in biology, chemistry, math, environmental studies, Earth science, physics, geology, ecology, statistics, and writing. Consider doing advanced placement classes if possible 
You'll need a strong math and science foundation, plus experience with computer programs and laboratory work! Get some scientific research and lab experience under your belt, any way you can
Start your own garden at home or at a community plot 
Look for internships, cooperative experiences, part-time jobs, or volunteer projects while in college. You could work at a plant nursery, on a farm, or for a local college.
Ask a teacher or counselor about school-related plant or agricultural programs you can participate in. Also, participate in extracurricular activities where you can manage projects and work with teams
Read books and articles and watch YouTube channels about plant science and botany. Get in the habit of reading technical materials such as scientific papers, and not just blogs
Take ad hoc courses via Coursera, Class Central, and other sites
Request an informational interview with a working Plant Scientist or Botanist in your community
Join professional organizations to learn, share, make friends, and grow your network (see our list of Resources > Websites)
Keep track of the names and contact info of people who can serve as job references later
Typical Roadmap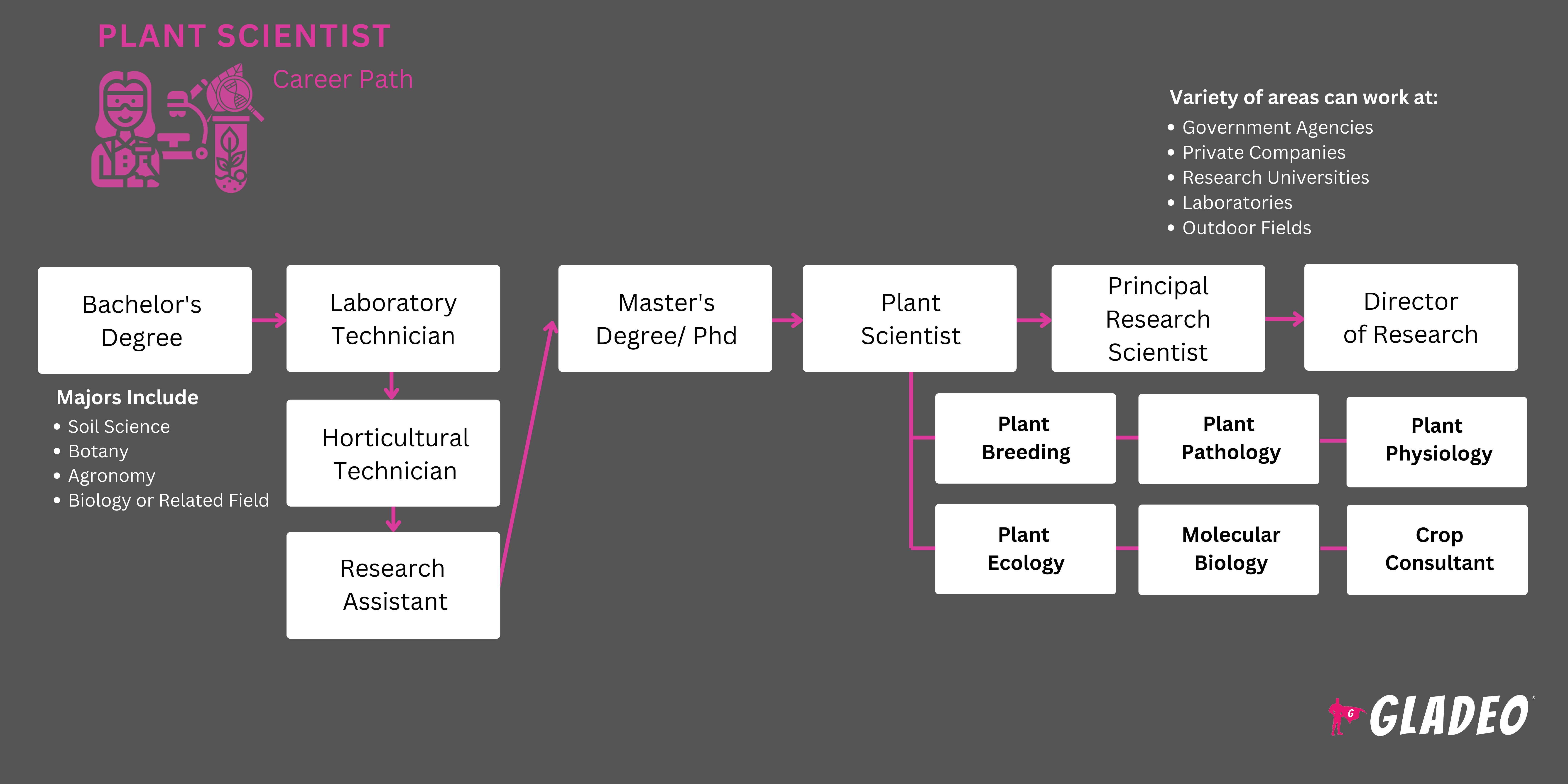 How to land your 1st job
Check out job portals like Indeed.com, LinkedIn, Glassdoor, Monster, CareerBuilder, SimplyHired, ZipRecruiter, USAJOBS, AgCareers.com, Greenhouse Grower, Society for Experimental Biology's job board, American Society of Plant Biologists' job board, and the websites of local colleges or universities
Look on Craigslist for local opportunities with smaller employers 
Be ready to accept entry-level positions to get experience so you can work your way up
Take note of important keywords in job postings. Work them into your resume and cover letters
Check out Plant Scientist and Botanist resume examples and search online for sample interview questions
Tell everyone in your professional network that you're looking for work
Consider relocating to where there are more job openings
The states with the highest employment numbers for Soil and Plant Scientists are North Carolina, Iowa, Washington, Nebraska, and Michigan
The states with the highest concentration of jobs are North Dakota, Iowa, South Dakota, Nebraska, and Montana
The states that pay the most for these jobs are Washington D.C., Louisiana, Maryland, Alabama, and Mississippi
Ask your college professors, former supervisors, and/or coworkers if they're willing to serve as personal references. Don't give out their personal contact information without prior permission
Do mock interviews with your school's career center or with your friends, so you'll feel prepared and more relaxed during real interviews
Dress appropriately for interviews and show your enthusiasm for and knowledge of the field 
How to Climb the Ladder
Do your current job to the best of your ability, delivering high-quality work on time
Let your supervisor know you want to take on additional responsibilities and are willing to undergo additional training, as needed. Be sure you understand the promotion criteria
Keep up with environmental trends and challenges that impact soil and plants, especially vital crops
Learn about emerging technologies through continuing education courses, workshops, or conferences
Demonstrate independence, integrity, and leadership. Talk to colleagues to exchange information and tips. Teach and mentor others
Stay on top of the latest software developments, and master programs or languages like R, Python, MATLAB, ImageJ, plant genome databases, etc. 
Participate in professional organizations like the American Society of Agronomy. Go to conferences and workshops. Give lectures. Keep learning and expanding your knowledge base and skills
Collaborate effectively with team members and develop strong relationships with local environmental agencies
Knock out a specialty certification such as the American Society of Farm Managers and Rural Appraisers' Accredited Agricultural Consultant cert
Publish papers in high-impact journals to demonstrate your research skills and to get your work seen by a wider audience
Complete a graduate degree and consider specializing in a hard-to-fill niche. Currently, there's a need for experts in plant breeding, plant pathology, soil science, environmental plant science, and molecular plant biology
Keep an eye out for internal job postings! Apply to jobs that match your career goals
Recommended Tools/Resources
Plan B
Most Plant Scientists and Botanists express satisfaction with their careers, but of course, not everyone wants to work in these fields. Some may want more money; others might want more job opportunities in the area where they live. Many towns and cities simply don't have a lot of openings for Plant Scientists and Botanists. 
If you're interested in related career options, consider the below similar occupations: 
Agricultural and Food Science Technician    
Agricultural Engineer
Biochemists and Biophysicist    
Biologist
Chemical Technician    
Conservation Scientist and Forester    
Environmental Scientist and Specialist    
Farmer, Rancher, and Agricultural Manager    
Industrial Ecologist
Microbiologist    
Precision Agriculture Technician
Veterinarian    
Zoologist and Wildlife Biologist
Newsfeed Featured Jobs Online Courses and Tools