Spotlights
Similar Titles
Policeman/Woman, Patrolman, Patrol Officer, Police Sergeant, Cop, State Trooper, Peace Officers, Civic/Civil Guards, Highway Patrol Officer, Law Enforcement Officer, State Trooper, Public Safety Officer
Job Description
Police officers protect life and property. They maintain order by enforcing local, state, tribal, and federal laws.
Rewarding Aspects of Career
"Being a police officer is more than just making arrests and chasing "bad guys." It is about serving a community and knowing you are going to make a difference. Sometimes that means saving a life either directly or indirectly. Police officers can save a life by pulling someone out of harm's way or doing CPR on a child. But police officers save lives indirectly all the time by simply being present in the community. Their presence could cause a person to reconsider a bad choice or prevent a crime altogether. When a police officer makes contact with someone in trouble or living in a high-risk situation, they can help direct that person to resources that can help them get out of their situation." Active police chief
 
"Being a lifetime learner. There is always something new to learn and many skills that require ongoing training." Active police chief
The Inside Scoop
General Overview
Most police officers patrol in cars or on foot, but a few ride horses, bikes, or motorcycles. Some work in boats on rivers and in harbors. Some work with dogs.
Most police officers work at least 40 hours a week. Some police have to work nights and weekends. They have to be ready to go to work at all times and work very long hours on a case.
The day consists of on calls for service that take place within a 10-12 hour shift.
Police officers work outdoors in all kinds of weather. Some take extreme risks when chasing criminals or when making an arrest. Good training, teamwork, and good equipment keep police officers safe.
Police officers usually work a specific area with specific duties such as: Traffic enforcement, patrol operations, investigations, county jails, or work in the county courthouse. Some agencies require police officers to work a combination of duties.
Characteristics of Police Officers
Most police officers are people who are good leaders with good moral character that love problem solving and hate injustice. They enjoy working with people from all walks of life. They usually respond well in chaotic or stressful environments, and take control of out of control situations. A good police officer has a personality that projects a calm authority and can divide their attention while doing so.
Employment Types
City Police
Airport Police
Transit Authority Police
Border Patrol
Harbor Police
District Attorney's Police Investigators
Click here to see different Local, State, and Federal Law Enforcement Agencies
Expectations/Sacrifices Necessary
Sometimes functioning on very little sleep.
Working odd hours and being away from family on weekends and holidays.
Discipline in every aspect of your life (i.e physical fitness and making good moral character choices.
Dangerous
2016 Employment
807,000
2026 Projected Employment
860,300
Education Needed
The educational requirements for Police Officers depend on their exact role. At a minimum, they must have a high school diploma or GED
Applicants need a valid driver's license and will need to pass a physical exam and background check (and probably a drug test)
States have differing minimum age requirements and most agencies require applicants to be U.S. citizens
Different types of Police Officers include uniformed officers such as sergeants and lieutenants, detectives, state police, highway patrol, fish and game wardens, sheriffs, air marshals, and more
Uniformed officers generally complete a police academy program prior to beginning On-the-Job training. Some take law enforcement or criminal justice-related college classes but most don't need a degree to apply
Police or other training academies feature classroom instruction on laws, civil rights, and ethics. Cadets also learn how to use firearms and perform first aid and other emergency response duties

Some police require additional training such as motorcycle and horseback riding

Those who aren't yet old enough to attend training may have opportunities to participate in Law Enforcement Explorer Posts

Explorer programs are sponsored by various agencies and are endorsed by professional organizations like the International Chiefs of Police Association and National Sheriffs Association
Spending time in an Explorer program can teach invaluable skills and provide experience that may significantly boost an applicant's credentials when it's time to apply

Other training options include working as a volunteer Auxiliary Officer and participating in a local Citizens on Patrol group
Federal agencies often require applicants to have a bachelor's. A bachelor's is also useful to qualify for a promotion, for example from officer to detective
Many fish and game wardens earn a bachelor's in wildlife science or natural resources
Recommended Educational Institutions
Things to do in high school
Leadership and good moral character (staying out of trouble), staying away from drugs
Public speaking
Decide which type of Police Officer you want to be and plan your education and training path accordingly
Think about your long-term goals and where you want to be in five to ten years
Take courses in English, writing, communications, social sciences, psychology, human anatomy, law, and criminal justice
Get certified in first aid and CPR
Stay physically active. Participate in sports or set up your own exercise program to develop strength, stamina, and response times

Don't wait to start prepping for the fitness test that police cadets need to pass. You'll want to train for push-ups, sit-ups, jumping, distance running, and sprinting
Some find it useful to practice running with a weighted vest

Consider taking self-defense courses
Volunteer to participate in extracurricular activities that promote leadership, teamwork, and organizational skills
Ask your local police department how to apply to go on a ride along
Consider participating in a Law Enforcement Explorer program or volunteering as an Auxiliary Officer
Do an informational interview with a Police Officer to learn about their day-to-day routine
Read the local police blotter to find out about crimes, incidents, and arrests in your community
Watch the daily news related to local, state, and national law enforcement stories
Keep your social media professional
Stay out of trouble and make sure you'll be able to pass a background check

There are several potentially disqualifying background factors to consider, such as past felony convictions, less than honorable military discharge from the military, history of drug abuse, former gang membership, or excessive traffic violations
Education Stats
15% with HS Diploma
17.3% with Associate's
27.4% with Bachelor's
4.2% with Master's
0.6% with Doctoral
Typical Roadmap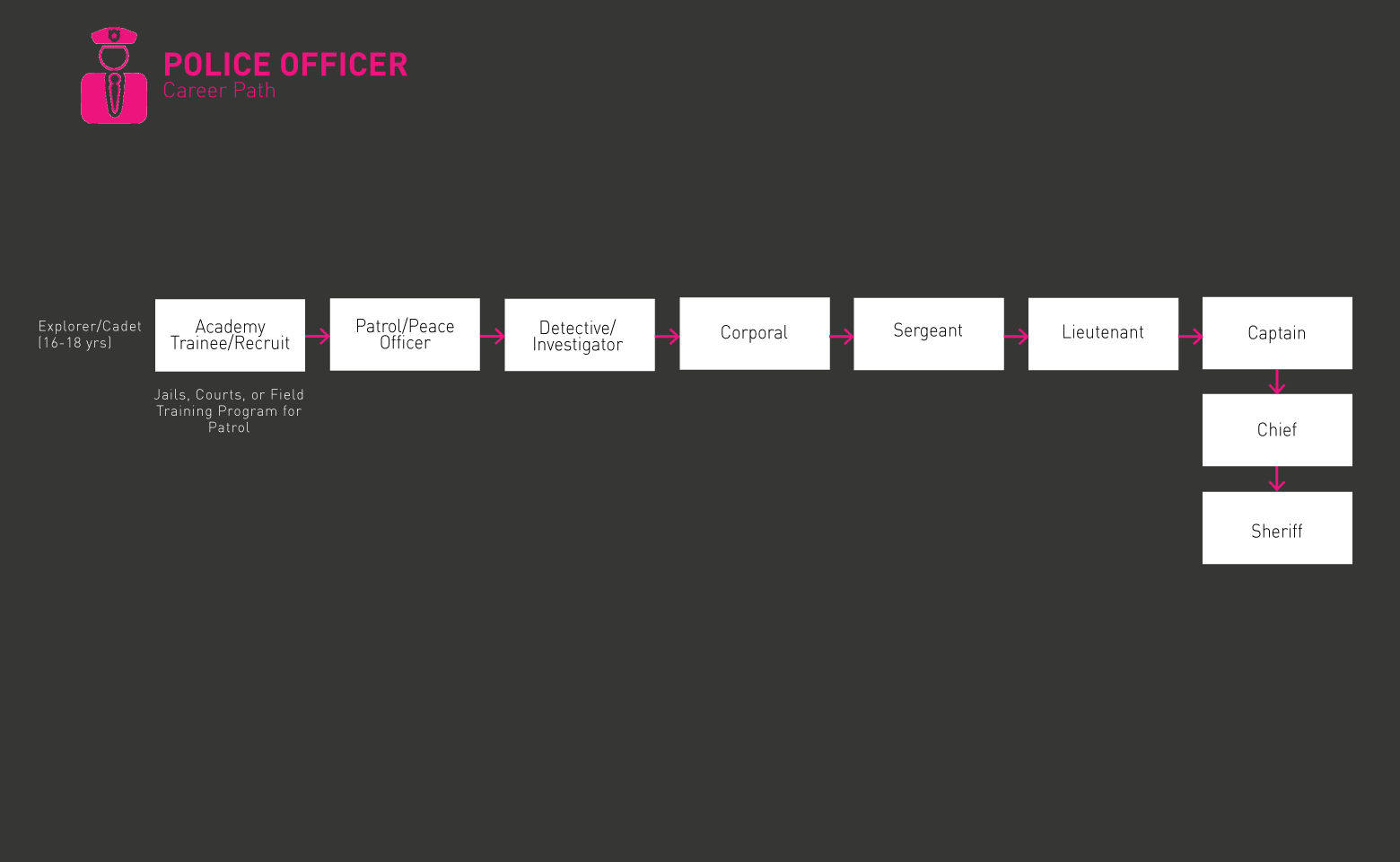 How to Land your 1st job
Having a clean record and making sure you are in good shape.
Research via the city's civil service commission website, or the police department recruitment section on the Internet, the phases of the hiring process.
Apply for your cities Peace Officer Standards and Training (POST) basic academy class which usually takes up to 6 months to complete. The training will include:

 Written Exams
 Physical Aptitude Exam
 Psychological Exam
 Structured Panel interview in front of 3-5 officers where they put you through hypothetical, role-playing scenarios. How you handle this phase may be the basis for your ultimate ranking.
Polygraph Examination
Physical Stress Test, vision and psychological exams.
Oral Interview. This is the final step, if you pass you will be placed as a training officer in a law enforcement unit in your area.

Review all application requirements and ensure you are a good match to apply to the specific agency you want to work for
Learn about the details of the job as well as the community where you'd work
Make sure you meet all minimum application requirements, including the minimum age for your state
If you did any volunteering, ask your old supervisor(s) for their endorsement via a letter of recommendation or their contact info so you can list them as a personal reference
Post your resume on traditional employment portals like Indeed and Glassdoor
Check out local sites such as Craigslist for opportunities, too!
You may not need a resume in the beginning, but study Police Officer resume templates to get ideas
Review sample interview questions to get an idea of what to expect

A common question is "Why do you want to be a police officer?" Think about how you'd respond, but don't just tell them what you think they want to hear. Be sincere!

Be ready to discuss situations where you were able to stay calm under pressure and deescalate tense situations
Practice mock interviews so you can present yourself as capable and confident
Stay up-to-date on trends and terminology so you can impress interviewers with your technical knowledge
Show up in good physical condition and dressed professionally
Don't complain about former employers or co-workers during interviews! Keep things positive
Be honest during background checks and medical exams
What to look for a mentor
Someone who loves their job and genuinely cares about helping people even after being on the job for long periods of time.
Someone who has experience in a similar specialty or unit as you (i.e. Drug Unit or Police Detective).
Someone who is not afraid to tell you the areas you need to challenge or improve yourself in, someone who will keep you in line morally.
Recommended Tools/Resources
Websites
American Association of State Troopers
APCO International
Bureau of Alcohol, Tobacco, Firearms and Explosives
Department of Homeland Security
Drug Enforcement Administration
Exploring
Federal Bureau of Investigation
Fraternal Order of Police
International Association of Chiefs of Police
International Chiefs of Police Association
National Conference of Law Enforcement Emerald Societies
National Narcotic Officers' Associations' Coalition
National Sheriffs' Association
National Tactical Officers Association
The International Union of Police Associations
U.S. Customs and Border Protection
U.S. Fish & Wildlife Service
U.S. Marshals Service
U.S. Secret Service
Books
Plan B
Alternate careers:
Correctional officers
Criminologist
Any Federal Law Enforcement Agency: Customs and immigration inspectors
Firefighter
Private detectives and investigators
Security guards
Any first responder job or jobs within the criminal justice system i.e (police, courts, and corrections, which include community supervision and diversion programs.)
Newsfeed Featured Jobs Online Courses and Tools