Spotlights
Similar Titles
Procurement Specialist, Sourcing Analyst, Supply Chain Analyst, Purchasing Analyst, Vendor Analyst, Contract Analyst, Procurement Coordinator, Strategic Sourcing Analyst, Procurement Operations Analyst, Supplier Analyst, Materials Manager, Materials/Supply Management Specialist, Purchasing Agent
Job Description
Everyone loves shopping — even businesses! Companies of all types require a wide range of products and services to keep things moving. But they need to choose carefully and get the best deals they can find because costs add up quickly. That's why many companies hire dedicated workers whose focus is on finding suitable options before buying anything. Procurement Analysts determine the needs of their employers, then do thorough research and evaluation of products and services that Business-to-Business (B2B) suppliers and vendors are selling. 
They may pay visits to factories or distribution centers to learn specifics about how the suppliers and vendors operate and to gain insights into those companies before deciding to do business with them. Naturally, price discussions and speed of delivery factors also come into the equation. Once an analyst has a comprehensive picture, they draft and share reports for decision-making by management or other members of the procurement and purchasing team. After suppliers or vendors are selected, analysts may help draw up the contracts and close the deals. 
At the end of the day, it's the job of a Procurement Analyst to find strong business partners and maintain good long-term relationships that are profitable for all parties.
Rewarding Aspects of Career
Helping their employers find high-quality products and services within their budget

Providing insights and options that can save companies money 

Building and strengthening long-term relations with other businesses, which can be good for local economies
2022 Employment
532,500
2023 Projected Employment
503,100
THE INSISDE SCOOP
Job Responsibilities
Working Schedule
Procurement Analysts usually work full-time jobs, with some overtime possible depending on the needs of the employer. Shopping trends and holidays may affect how busy a company is, which in turn impacts how busy its analysts and purchasing managers will be! 
Typical Duties
Forecast the employer's upcoming procurement needs; make plans for meeting needs and goals

Create and post

Requests for Quotes

,

Requests for Proposals

, and

Requests for Information

Review submissions and catalogs

Attend trade shows and events to stay on top of new products and services on the market

Draw up lists of potential suppliers and vendors (suppliers are those who sell directly; vendors are third-party sellers)

Maintain technical proficiency and understanding of pertinent products or services being considered

Conduct impartial evaluations of supplier and vendor offerings and risks of doing business 

Compare bids, quotes, prices, distinctions, advantages, and disadvantages between potential suppliers and vendors

Arrange meetings with prospective partners; schedule interviews and site visits

Conduct visits and tours of factories and distribution centers to evaluate the suitability, reliability, and efficiency of potential partners 

Test products and services for quality 

Ensure supplier/vendor practices align with the employer's brand values 

Generate cost reports to help managers make informed purchase decisions 

Make impartial, objective, and discrete decisions regarding which suppliers and vendors to buy from

Negotiate fair prices with suppliers and vendors; come to agreeable terms then draw up contracts for review and signature

Ensure compliance with applicable guidelines and laws

Work with legal teams, manufacturing points of contact, and supply chain managers

Use

Contract Lifecycle Management Systems

to keep records safe and organized 

Conduct supplier/vendor assessments to gauge performance

Review contracts when it is time for renewal 
Additional Responsibilities
Look for ways to reduce costs and streamline deal-making 

Study sales records and track price trends

Review invoices/purchase orders for errors

Analyze trends and potential supply chain risks; devise backup plans 

Utilize

strategic sourcing principles

Liaison between the company and its suppliers and vendors; build rapport and manage long-term relationships

Perform inventory management to ensure items are stocked as needed
Skills Needed
Soft Skills
Active listening

Analytical thinking

Collaboration 

Decisiveness

Detail-oriented

Frugality 

Impartiality 

Independence

Integrity

Intuition

Leadership 

Objectivity

Patience

Persistence 

Persuasiveness 

Problem-solving skills

Strong communication skills

Teamwork
Technical Skills
Different Types of Organizations
Manufacturing

Wholesale trade

Government agencies

Private companies 

Retail trade
Expectations and Sacrifices
Many companies grant their Procurement Analysts a lot of trust and independence, relying on them to look after the best interests of their employer. Analysts must do diligent research to ensure they find the best potential partners to do business with. Switching suppliers and vendors can be a major hassle, so it's always important to try and get it right the first time, then build upon those relationships. 
That said, when problems arise, analysts have to stay objective and consider what's right for their employer's long-term needs. They must maintain ties that are mutually beneficial, but break off and move on if a supplier or vendor relationship isn't working out. 
Issues that often come up include sellers not upholding their end of a contract and products or services no longer being cost-effective to purchase. The longer a company and supplier/vendor have been doing business together, the harder it is to make the call and end things. When the time comes to end a contract, analysts need to know how to handle it professionally without burning bridges.
Current Trends
Procurement processes may not evolve quickly, but they do change over time. One of the big trends impacting the field is the increasing reliance on digitalization and automation, both of which are helping improve efficiency and cut costs. Similarly, companies are focused more than ever on staying flexible, agile, and resilient in the face of unexpected events. Procurement Analysts will rely more and more on data and analytics to make or advise decisions. Meanwhile, as supply shortages and transportation disruptions continue to create challenges, companies are doing all they can to strengthen supplier relations while adding diversity to mitigate risk.
What kinds of things did people in this career enjoy doing when they were young...
Procurement Analysts must research and analyze data and statistics, which means they are pretty organized, methodical, and patient. These traits may have been developed during certain childhood activities or they were simply inherent personal qualities. In their youth, analysts might have been very curious about things and enjoyed reading, playing games, solving puzzles, or watching how-to videos. They also usually show strong interpersonal skills and might have grown up in larger families or participated in school activities where they helped plan and organize events.
Education and Training Needed
Most Procurement Analysts need a bachelor's degree in business administration, finance, economics, accounting, or something similar

Employers usually want to see at least two years of related work experience

Related jobs include procurement specialist, junior analyst, supply chain specialist, or junior logistics analyst 

Students must develop strong English, writing, and other communication skills, as well as take plenty of math, accounting, supply chain and logistics, and procurement courses

Applicable software to learn includes programs and tools for:

Budgeting and financial analysis 

Customer relationship management 

Database reporting  

Enterprise Resource Planning 

Inventory management 

Legal contracts

Materials requirements planning

Procurement 

Project management

In addition, Procurement Analysts must be familiar with technologies related to products or services being procured, which vary by industry

Certification options include: 
THINGS TO LOOK FOR IN A UNIVERSITY
Consider the cost of tuition, discounts, and local scholarship opportunities (in addition to federal aid)

Think about your schedule and flexibility when deciding whether to enroll in an on-campus, online, or hybrid program. Ideally, you'll want as much hands-on practice as you can get

Check out the program's faculty awards and accomplishments to see what they've worked on

Look closely at the facilities they teach in and the equipment and software they let students train on

Review job placement stats and details about the program's alumni network
Things to do in High School and College
Stock up on STEM courses as well as English, communication, business, marketing, and law

Volunteer for school activities where you can learn how to work effectively as a team, practice your soft skills, and manage projects 

Apply for

business internships

to get practical work experience 

Study books, articles, and video tutorials related to supply chains, logistics, and procurement (see our list of

Resources > Websites

)

Join professional organizations to learn about trends and grow your network
Typical Roadmap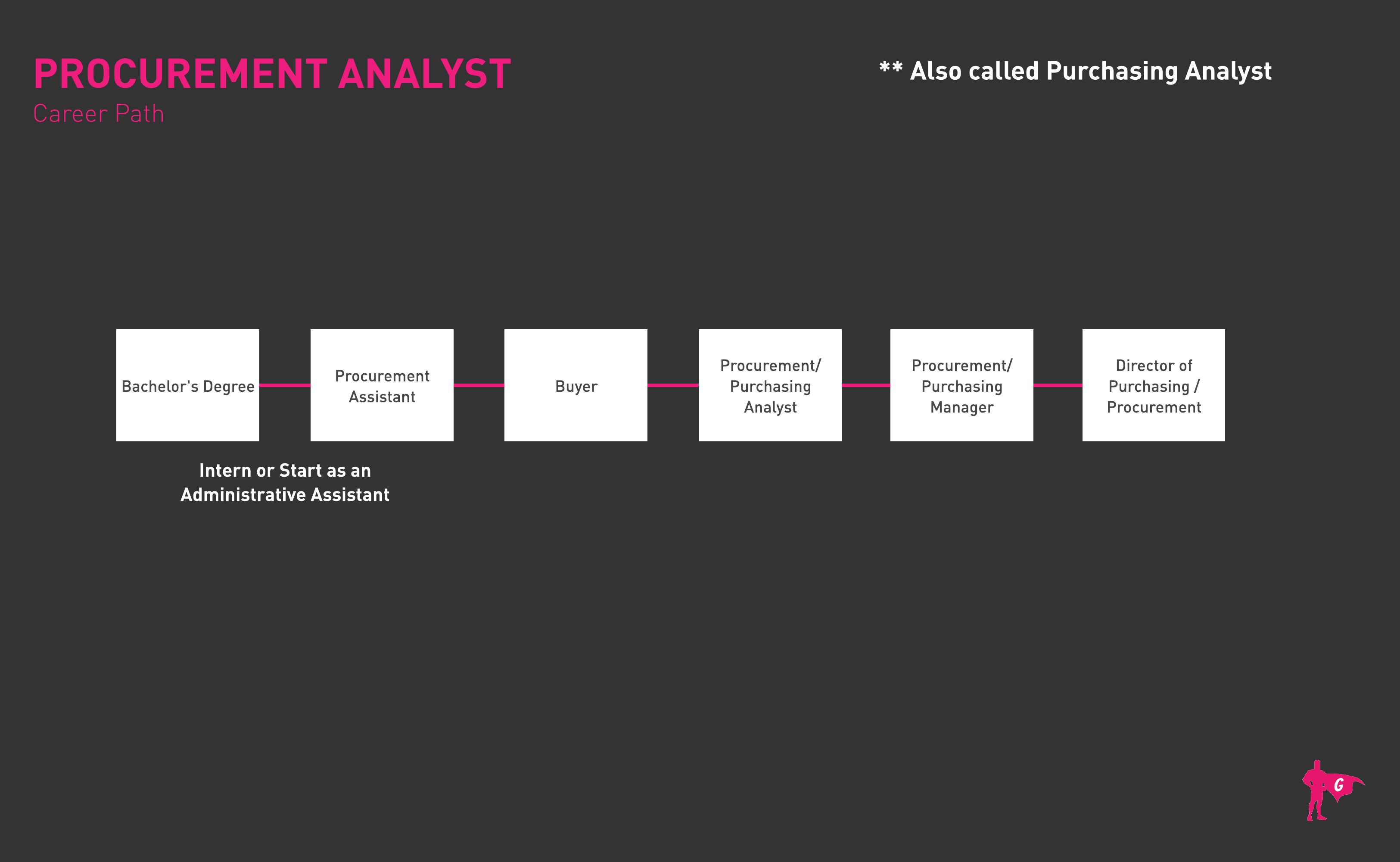 How to land your 1st job
Chances are you'll have to apply for entry-level jobs and work your way up to Assistant Director roles

Many Procurement Analysts start as procurement specialists, junior analysts, supply chain specialists, or junior logistics analysts

Rack as up as much experience as you can before applying

Study job ads carefully to ensure you meet all the listed qualifications 

Join organizations like the

National Association of State Procurement Officials

to learn and network

Let your network know you are looking for jobs or internships! Per

CNBC

, "Research shows that 70% of all jobs are not published publicly on jobs sites and as much as 80% of jobs are filled through personal and professional connections"

Move to where the most relevant jobs are! Per

BLS

, the states with the highest employment for in the related field of purchasing management are California, Texas, New York, Illinois, and Massachusetts

The highest concentration of jobs is in Washington D.C., Connecticut, Massachusetts, Arkansas, and New Hampshire

Hop on

Quora

and start asking job advice questions and requesting answers from working directors 

Check out procurement forums as well as job portals such as

Indeed

,

Simply Hired

, and

Glassdoor

Ask your professors, supervisors, and peers if they'll serve as personal references 

Talk with your school's career center for help with resumes, mock interviews, and job searches 

Review

Procurement Analyst resume templates

to get ideas for formatting and phrasing

Study

Procurement Analyst interview questions

to prepare for those crucial interviews 

Always dress appropriately for

job interview success

!
How to Climb the Ladder
Help your employer find and negotiate great, cost-saving deals on high-quality products and services

Build strong, mutually beneficial relationships between your employer, vendors, and suppliers

Do diligent research to ensure suppliers and vendors are able to deliver on their promises, including meeting output goals and timeframes

Treat everyone with respect and build your reputation as a professional with integrity

Be transparent in your dealings and comply with all applicable ethical and legal requirements

Complete additional education and certifications that can improve your job skills and qualify you for higher levels of authority 

Watch and learn from more senior analysts. Ask questions and take notes of best practices 

Keep growing your professional network in the local community and via increased engagement with professional organizations

Try to win awards and recognitions that'll look good on your resume

Have frank discussions with your supervisor. If your employer doesn't have opportunities for advancement, consider whether you want to stay or move on
Recommended Tools/Resources
Plan B
The Bureau of Labor Statistics lists the following related occupations to think about!  
Advertising, Promotions, and Marketing Managers

Bookkeeping, Accounting, and Auditing Clerks

Financial Managers

Food Service Managers

Lodging Managers

Logisticians

Procurement Clerks

Purchasing Agents

Wholesale and Manufacturing Sales Representatives
Newsfeed Featured Jobs Online Courses and Tools