Spotlights
Similar Titles
Art Director, Production Art Designer, Set Designer, Production Design Coordinator, Creative Director, Visual Designer, Set Decorator, Production Design Supervisor, Production Design Consultant, Production Design Manager
Job Description
A Production Designer is often a position in the film industry (sometimes larger theater productions). They are in charge of the Art Department. Working with the director and producer, they help determine the visual style used in the film. The main focus for the Production Designer will usually be the physical set and props used. They may work with visual and practical effects departments as well, to make sure the style is cohesive across departments.
Rewarding Aspects of Career
Working on films and productions for the entire world to see.
Able to work in a creative field – Very creatively fulfilling
Able to eventually select projects you work on
Being responsible for an entire film's art style
The Inside Scoop
Day in the Life
As with many careers in the entertainment industry, this position's days tend to look different from one another. Your work will slowly shift from Pre-Production (Planning a movie) into Production (During the filming of a movie). 
Production Designers are freelance workers, and need to find a balance between well-paying jobs and those that provide experience and larger expression. They are similar to contractors, in that they will hire their own workers for their department with the budget provided by the Production.
PRE-PRODUCTION
During this time, you will meet with the director and producers. Depending on their plan, you may have a lot of input for a movie's artistic direction. The producer will define a budget with you for the Art Department. This will help you determine the look of the movie's practical sets and props.
You will then help find locations that match the film's look as well as design any sets. The Production Designer will also supervise the building of these sets, as well as making sure they are "dressed" – ready with all props. You will work with all other departments to make sure there is a cohesive look for the film:
Director of Photography – To make sure your sets are lit properly during filming.
Costume/Hair/Make-Up – Discuss color palettes for costumes to fit in with the sets.
The success of movies depends on the planning! This will be the most important part of your work.
PRODUCTION
You will hire a crew and delegate jobs before production, and these professionals will follow through on the filming of the movie. During filming, the crew will split up duties between what is currently being filmed, and what is going to be filmed the next day.
Typically, the Production Designer will personally supervise sets that are going to be filmed on, leaving an Art Director on the set being filmed. If there is an emergency, the Production Designer can return to the filmed set. Proactive, strong planning skills will make these events minimal.
Larger movies will often film in several locations, sometimes with crews in different cities filming at the same time. A Production Designer will need to be able to coordinate both sets at the same time.
Skills Needed on the Job
Soft Skills
Strong Communication – Oral and Written
Coordination and Planning
Creative Problem Solving
Visualization – Able to picture something in your head as it moves or is rearranged.
Technical Skills
Set Construction and Design
Communication – Via two-way radio, text, phone, or other methods.
Fine Arts – Painting, Graphic Design, and similar skills
Able to use computer aided design programs for set design, as well as be able to read blueprints and models – Examples are Adobe Systems products, and AutoCAD.
Different Types of Organizations
Television Production (Can be Long-Term)
Film/Movie Production
Theatrical Production
Expectations and Sacrifices
If film is a field you want to be a part of, you will likely need to move to Los Angeles and find a job to pay for expenses as you search for other opportunities.
Becoming a Production Designer means a film production has hired you to be a Production Designer. To get to that point, a person will likely spend many years at entry level jobs in the Film Industry, such as a Production Assistant (PA). 
A PA is expected to do any necessary job on a film set – from helping tape down cables to getting coffee for the crew. While you may not do design work, you will learn more about how a film set is run. This experience will also build your network.
Media Production involves long hours and sometimes repetitive tasks. It is an area that rewards you if you are passionate about making movies and creating. The long hours start at the PA level and continue, even if you are the director of a whole movie.
You can eventually move up to a Set Dresser, which are typically assigned to specific sets in the film shoot. This may turn into an Art Director position. Art Directors work directly for a Production Designer. This is the time you will use your connections to make the move to Production Designer.
There is no corporate structure or company who will promote you. You will need to demonstrate the know-how and attitude to become a Production Designer. You may be able to have this role on a small, independent movie or student film. However, if you want to make it on larger productions in Hollywood, you will likely need to start at the bottom.
Eventually, you will be able to join the Art Directors Guild or similar freelancer's union. The Union can help you find jobs, as well as provide benefits while you are working.
Current Trends
Production Designers face a challenging industry. One area is the increase in "virtual sets" that can be filled in by VFX departments.
Another is an increased need for sustainability. At the end of a shoot, the sets are dismantled. In the past, they could often be thrown away. However, Production Designers now face the task of finding ways for these set pieces to be re-used in other productions, proper disposal of any hazardous waste used by the set construction, and general questions of sustainability.
What kinds of things did people in this career enjoy doing when they were young...
Painting, sculpting, or other visual arts.
Woodworking, and other practical arts.
Theater and media production activities
Education and Training Needed
Production Designers (PDs) need a bachelor's or master's degree in Production Design, design, art, or film studies
Some students attend production design programs at schools such as:
American Film Institute's AFI Conservatory
Carnegie Mellon University School of Drama
NYU's Tisch School of the Arts
San Diego State University's School of Theatre, Television and Film
University of North Carolina School of the Arts School of Design & Production
Sample courses at AFI include: Narrative Workshop and Analysis, Set Design and Art Direction, Applied Set Sketching, Intro to Visual/Special Effects, and Modeling with VectorWorks
Per O*Net, 74% of "Art Directors" have a bachelor's, 17% a master's, and 9% an associate's
Production Designers who work on small indie films have no formal educational requirements, but many also hold college degrees or attended formal training
PDs should be familiar with popular design and art software to create the "mise-en-scène" — arrangement of all visual elements to be captured in a filmed shot
They must have strong organizational and visual storytelling skills, and be familiar with set design, lighting, space use, composition, aspect ratio, types of filmstock, costumes, and performer movements 
Many students gain practical experience through Production Design internships in studios and small production companies
Union Training Course – Art Directors Guild – Offers courses for those interested in being a PA or other entry level position.
Portfolio – Be sure to maintain a portfolio of your work, both online and physically. Pick the work that demonstrates your best work.
Things to do in High School and College
Participate in set construction, in a theatrical or student film.
Intern in Media or Film Production, if one is offered.
Stock up on courses in art, technical drawing, English, writing, design, model-building, and photography
Join audiovisual clubs to get hands-on experience and learn about team collaboration
Watch a variety of production types, including films, TV shows, commercials, etc., and pay attention to sets, props, locations, lighting, mood, and effects
Learn how to read and visualize stage directions in screenplays, and sketch out ideas for sets
Volunteer with local community or school productions and try to work with independent filmmakers on small projects
Become familiar with the various roles within a film or TV art department, such as PD, supervising art director, art director, concept artist, set designer, graphic designer, motion graphic designer, art department coordinator, and assistants 
Advertise your Production Design services in the local area or through online freelance platforms 
Keep honing your skills and reviewing changes in technology and techniques
Try to make as many industry contacts as you can through constant networking
Stick with it and keep applying for Production Design internships until you land one!
Study books, articles, and video tutorials on Production Design (see our list of Resources > Websites)
Watch video interviews with seasoned Production Designers 
Join professional organizations to expand your network as you learn and build your reputation 
Typical Roadmap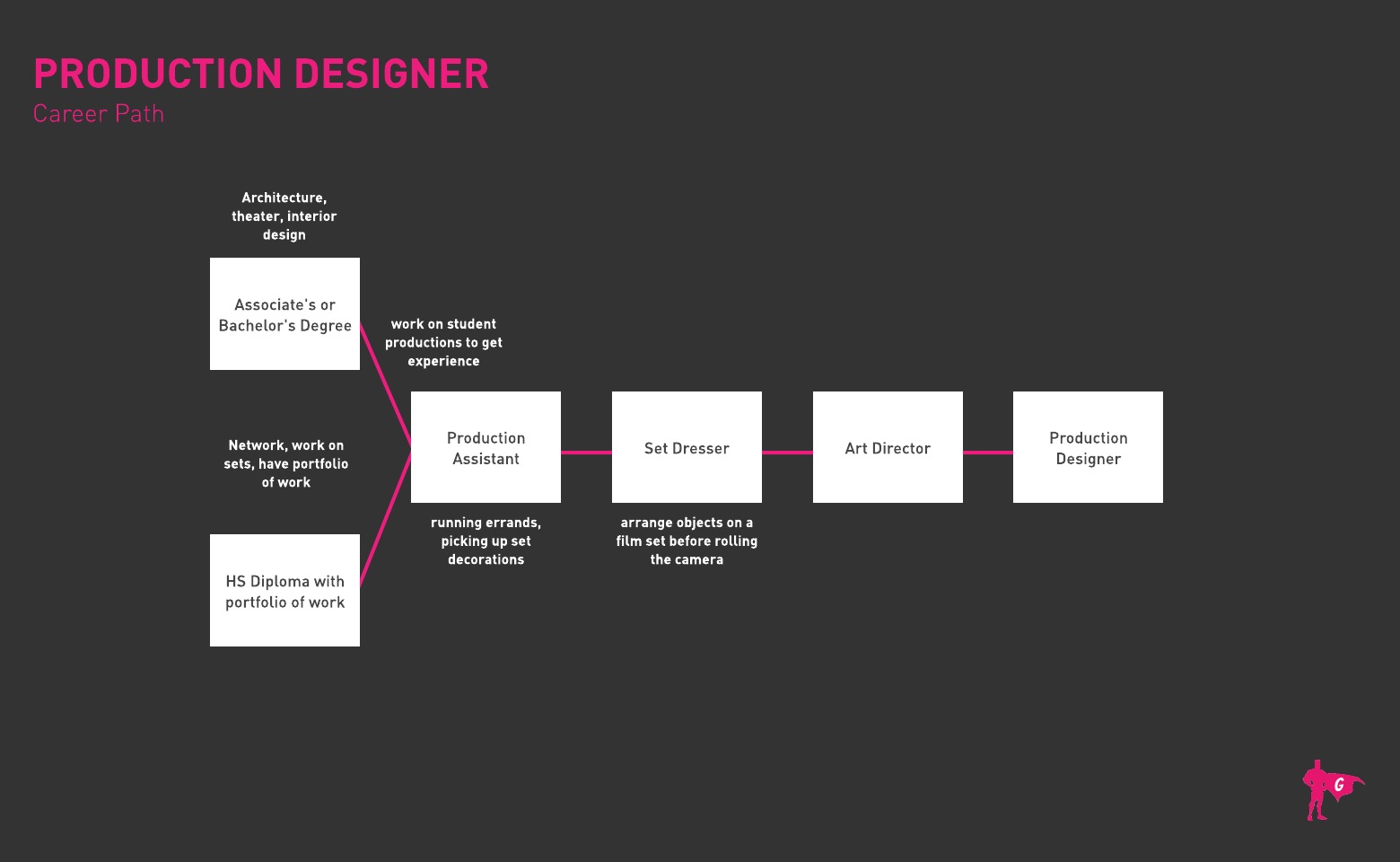 How to land your 1st job
Create an organized online portfolio of work to showcase your talents and skills, and include: mood boards, rough drafts, drawings and sketches, models, photos, final design pictures, reviews, notes on your process, and details on your involvement with previous projects
If you attend a film school, ask your career center how to connect with employers
Relocate to where you are needed the most! Per BLS, the states with the highest employment for film jobs are California, New York, Texas, Florida, and Georgia
The way to be a Production Designer is to build a network of other industry professionals and to build a reputation as a hard-working, enjoyable co-worker. Keep an eye out for early PA positions and be ready to do any task (unless it is unsafe). Becoming a PA can take luck, but it often takes a willingness to do the job even if it has nothing to do with your chosen field.
Many individuals in the Art Departments of media production are happy to help you if you demonstrate talent, a willingness to compromise, and are generally pleasant to work with. It can be helpful to find a mentor, or to participate in social meetings with those higher up in production. 
Looking for jobs on smaller productions as a Set Dresser, Art Director, or even Production Designer can also provide you with this experience. You may move around these positions based on your previous work. It will depend not only the quality of your work but the size of a production. A large scale film's Art Director may be doing more work than a small student film's Art Director.
Above all, stay on good terms with everyone you meet in the industry and be ready to take an opportunity when it happens. It will take a combination of luck, hard work, and networking to help you move up.
Upload your portfolio on Production Beast https://www.productionbeast.com/
Recommended Resources
Websites
AIGA
Architecture and Film
Art Departmental
Art Directors Guild
Chic Fun Gory Silly
Design Observer
Hollywood Reporter
Interiors Journal
Production Designers Collective
Production Designers Collective
Scenography Today
Set Decorators Society of America
The Designer's Assistant
Variety
Books
Plan B
Graphic Designer
Other Industry Positions
Director
Visual Effects
Production Design for Magazines and Publishing
Words of Advice
Becoming a Production Designer can take many years and involve long hours. However, for many, the opportunity to be a part of making movies is worth the struggle. 
If you make the decision to move to Hollywood, you will need to temper your hope with realism. Be prepared to have a different job until you are able to find a PA position. If you are able to attend school, this can offer you opportunities for internships so you can begin building a network.
Knowing people, especially people in charge of hiring, is the best way to move up in the film industry. Be prepared with your portfolio so you are able to take advantage of any opportunity, and be ready to keep your ego in check. Your first film set job may not seem glamorous, but you will need to start at the bottom. 
Newsfeed Featured Jobs Online Courses and Tools