Spotlights
Job Description
Keeping a business operating is no easy task. It requires a coordinated effort by many individuals, but perhaps the heart and soul of any business lies in the production and movement of materials. Materials can include everything from parts to finished products, all of which have to be moved around from one location to another. That's where Production, Planning, and Expediting Clerks come in. Broadly speaking, they coordinate the smooth movement of both work and materials within a company or from the company to another location. 
 
This career category is so critical it is broken down into more specific roles, such as Material Control Clerk, Expediter, Production Control Clerk, Production Scheduler, and several others. For this reason, specific duties can vary from one role to another. Some may focus more on shipping speeds while others focus on troubleshooting problem areas or ensuring proper inventory documentation. However, the main goal is to keep things moving on schedule while ensuring efficiency and accuracy. 
Rewarding Aspects of Career
Learning how business works "behind the scenes"
Playing a direct and key role in the success of a company
Enhancing collaboration skills and gaining exposure to a range of other fields
Preventing problems which could impact jobs and customer experiences
Building problem-solving skills that are useful for any aspect of one's life 
2018 Employment
358,700
2028 Projected Employment
373,800
The Inside Scoop
Job Responsibilities
Working Schedule
 
Production, planning, and expediting clerks typically hold full-time positions, with many roles working standard Monday through Friday schedules
Certain jobs require night, weekend, and holiday shifts
Schedules can be impacted by various unforeseen issues, and at times employees may need to work overtime to avoid delays in production or transport
Typical Duties
Work in locations such as production plants and warehouses and help keep them clean, well-lit, climate-controlled, and hazard-free
Engage with external sources such as customers, vendors, and agencies 
Routinely collaborate with other elements of a company, such as transportation
Review, revise, and distribute work schedules, orders, and other documents to ensure requirements are met in a timely fashion
Order and maintain inventories of items needed to produce goods
Manage the logistical arrangement for incoming and outgoing goods
Ensure processes are adaptable to changes, such as shortages or disruptions
Monitor and keep records on inventory, budget, production numbers, billing, and quality assurance/compliance data 
Forecast production materials needed, costs, timetables, sales, and personnel needs
Additional Responsibilities
Meet with supervisors, managers, and members from other sections of the company to review processes and keep things on track
Coordinate the procurement, maintenance, and repair of equipment
Order a wide range of supplies and materials 
Resolve complaints, HR matters, and workflow interruptions
Route and deliver parts to ensure production quotas are met 
Conduct visits to vendor or customer locations 
Skills Needed on the Job
Soft Skills
Analytical thinking with the ability to envision "the big picture" of logistics
Close listening and attention to minute details
Ability to solve complex problems promptly
Phone etiquette and customer-oriented communication skills
Focus and efficient time management skills
Sharp organizational skills
Comfortable in large, busy environments
A keen eye for reading and noting specific details 
Resilience and composure 
Reliability 
Resourcefulness and leadership
Skills for coordinating operations and directing the duties of others
Sound judgment and decision-making, sometimes under pressure
Technical Skills
Math and general clerical skills
Knowledge of using IT equipment
Knowledge of accounting, database, inventory, scheduling, and document management applications
Familiarity with Microsoft Office, Macintosh software, Google apps, and calendar software
Presentation software and tools such as PowerPoint and Prezi
Familiarity with barcodes, scanners, RFID tags, blockchain, and other technologies
Different Types of Organizations
Aerospace Industry 
Apparel Wholesalers    
Architectural
Engineering
Federal Agencies
Iron and Steel Mills 
Machinery Manufacturing
Medical Industry
Merchant Wholesalers
Ship Building    
Warehousing and Storage
Expectations and Sacrifices
Production, Planning, and Expediting Clerks have jobs that demand following strict routines. They're expected to handle pressure, make independent decisions, and direct others as needed. At times there may be little interaction with others, as they focus on tasks. Other times are hectic and involve coordinating with many people. 
 
Much of the work is done indoors, often in a large open area without a lot of privacy. Adherence to timetables is essential. During holidays, when large shipments arrive, or when things get behind schedule, work hours may be extended. This requires flexibility at times, which is challenging for some employees (especially those in college, and who have families or other commitments). Starting pay may not be the best, but workers can earn a good salary as they gain experience. 
Current Trends
Many sectors are seeing the impact of automation in their work centers. However, the Bureau of Labor Statistics points out that Production, Planning, and Expediting Clerk duties are "difficult to substitute with technology." Meanwhile, it is vital to keep up with changes as related fields experience shifts. 
 
Blockchain and the Internet-of-Things are quickly emerging as crucial technologies for tracking and tracing products. Clerks working in areas such as Shipping and Receiving may notice more changes as technology merges with their fields. As with any company, changes in one area can affect others. 
What kind of things did people in this career enjoy doing when they were younger…
There is no one-size-fits-all when it comes to the types of personalities that match with this career field. Growing up, many workers liked hobbies that involved following procedures, such as assembling LEGO sets. They took comfort in predictable routines at home, knowing what to expect from day to day or even hour to hour. They might have been frequently called "reliable" or "dependable," or known as a person others could count on to get something done. 
 
Some may have been introverted, enjoying digging into the details of a project, or focusing closely on a specific task. However, others liked to take charge, leading or assisting with the management of big group activities. A few common traits are the ability to deal with pressure, focus on goals, make decisions, meet deadlines, and work together with others to overcome problems and accomplish things as a team. 
Education and Training Needed
Note: most employers will offer On-the-Job Training of at least one-to-three months.
A high school diploma (or GED) is the minimum threshold for entry into this field
56% had at least some college under their belt, according to Recruiters.com
12.9% of workers held a bachelor's degree
Ability to collaborate with and potentially lead teammates
Awareness of basic math, including general economics and accounting 
Awareness of production processes and costs
Desire to enhance process efficiencies
Knowledge of and commitment to quality assurance and safety standards
Clerical skills such as typing and records management
Ability to assess the work of others and taking appropriate actions to correct deficiencies 
Excellent communication and computer skills
Strong time management and problem-solving skills
Things to look for in an university
Degree or certificate offerings related to parts, warehousing, and inventory management
Courses to build skills related to administration, management, recordkeeping,  logistics, math, and other related skills
Consider specialization areas such as blockchain, applicable software platforms, or equipment operation, if offered and related to the career you want to pursue
The school should be accredited, meaning it has undergone a quality assurance process to ensure it's providing high caliber education
Consider the cost of tuition, discounts, and local scholarship opportunities (in addition to federal aid such as FAFSA or Workforce Innovation and Opportunity Act benefits)
Think about your schedule and flexibility, when deciding whether to enroll in an on-campus, online, or hybrid program
List of Programs
There are several programs related to Parts, Warehousing, and Inventory Management currently available in the US, many of which are accredited and offered on-campus, online, or via hybrid courses where some coursework is done. 
Things to do in High School and College
Many local companies offer tours of their operations. These are filled with working professionals who are perfect to ask for guidance and mentorship
Remember to ask if they offer internships or opportunities to volunteer! Any hands-on experience working behind-the-scenes will help you to understand day-to-day operations
If your high school offers them, consider taking courses that can help prepare you for future college courses related to business logistics, accounting, and database management
Hone up on your reading, math, and writing skills
Network often and keep a list of contacts, including email addresses
Volunteer to organize large scale activities at school or other organizations in your town
Consider volunteering with a local Chamber of Commerce to get exposure working with business leaders
Check out community college programs that accept high school students 
As you gain experience, find roles that demand you to exhibit leadership skills and perform duties with increased responsibilities and less oversight
Typical Roadmap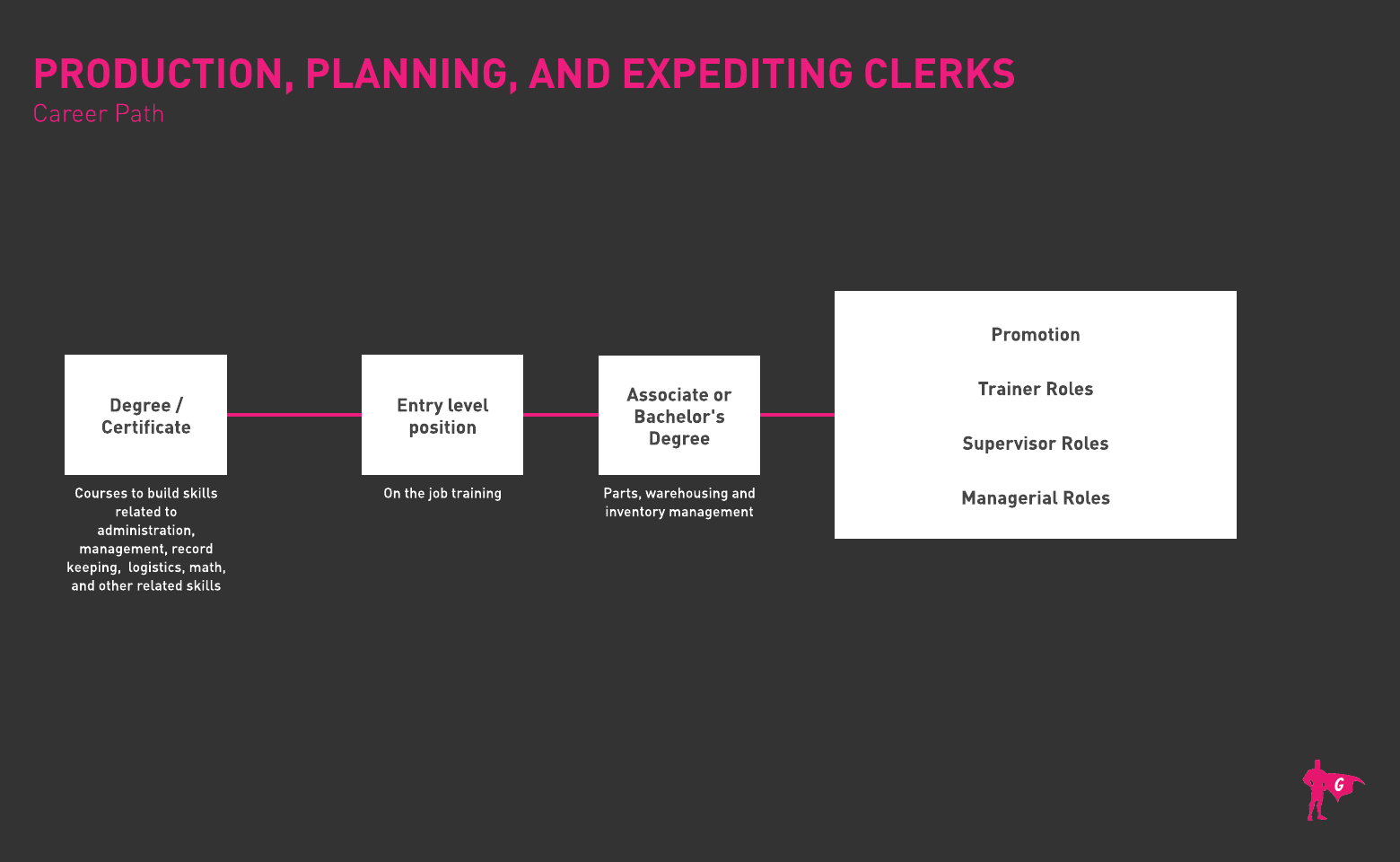 How to land your 1st job
Keep track of all the volunteer or intern work you do in school and elsewhere that may look good on your future resume or college applications. A Word document or Google Doc is a great place to log everything
Remember, the more legwork you put in ahead of time, the higher your odds of impressing recruiters and hiring managers
Use measurable, quantifiable data on your resume, when possible (statistics and numbers are much better than generalized statements)
Put your network to work! Don't be shy asking for tips or leads about openings
Ask your connections if they can write recommendation letters for you, or if you can list them as references
Know your terminology. Brush up on the lingo used in the career field, and know how to use it correctly
Beef up your LinkedIn profile and make it professional. You never know who's looking!
Apply for jobs found on Indeed.com and other employment portals, and sign up for alerts
If there are specific companies you want to work for, check out their websites, too 
Practice your interview skills via mock interviews with friends, college alumni, or relatives
How to Climb the Ladder
Additional education, training, and certification boosts your chances for moving up
Specialize in hard-to-fill areas. Make yourself invaluable by taking advanced courses 
Explore "off-duty" opportunities that offer leadership/management experience  
Behave according to the "job you want, not the job you have"
Exploit every chance to expand your professional network with those in higher positions
Teach others how to do the job right and gain the respect of your co-workers
Join professional organizations; read publications that give you a knowledge edge
Save the company money! Find ways to improve processes and "build a better widget"
Keep customers happy. Satisfied clients give feedback which finds its way to supervisors
Watch out for declines in certain sectors that can affect employment stats. Stay competitive and ahead of the curve
Recommended Resources
Websites

APICS
Institute for Supply Management

Books
Plan B
Take courses to increase job opportunities and earnings potential
Finish your bachelor's degree to get ahead of the competition and stay relevant
Consider related occupations, such as:

Stock clerks and order fillers
Shipping, receiving, and traffic clerks
Weighers, measurers, checkers, and samplers, recordkeeping    

Consider similar occupations, such as:

General office clerks 
Laborers and material movers    
Information clerks    
Newsfeed Featured Jobs Online Courses and Tools