Spotlights
Job Description
Two things all buildings have in common? 1) Someone owns them, and 2) they're probably expensive! 
Real estate prices have been on a rollercoaster lately, with home prices and interest rates pushing a lot of people to rent a house or apartment instead of buying. Meanwhile, more small businesses are leasing commercial spaces versus risking a purchase because there's no guarantee they'll be able to stay in business. 
Owners of residential and commercial properties rent or lease to tenants who pay them each month in exchange for using the buildings or spaces. These owners, of course, must ensure their properties are well-maintained while they're being rented out. Owners also have an obligation to their tenants to keep things in order and respond to problems—which is where Property Managers some in!  
Property Managers protect the owner's investment, making sure the building or space is kept up so it retains its value. They may advertise to potential tenants directly or use a third-party agent. They handle the financial aspects of managing the property, collecting rent, paying mortgages (if the owner still owes money to a lender), and helping to deal with insurance and taxes. Property Managers also send out crews to take care of routine maintenance issues or to address problems, as needed.
Rewarding Aspects of Career
Helping people find housing or commercial space to rent

Taking care of property owners and tenants

Contributing to the overall real estate economy
2021 Employment
392,900
2031 Projected Employment
404,000
The Inside Scoop
Job Responsibilities
Working Schedule
Property Managers work full-time and may need to respond to urgent after-hours tenant issues. Traveling to view and inspect properties is necessary if the manager doesn't live on the premises. 
 Typical Duties
Meet property owners to discuss goals (and timelines, if they only want to rent a building or space for a temporary period)

Advertise available properties or work through an agent

Interview potential tenants and provide tours of available properties 

Review rent or lease terms, responsibilities, and costs

Collect rent and other applicable fees

Make mortgage payments to lenders

Submit taxes and insurance premium payments on time 

Hire contractors to perform tasks related to painting, roofing, windows, flooring, gutter cleaning, tree trimming, landscape work, plumbing, and

HVAC-R

Collaborate and pay (as needed) utility service providers for electricity, water, natural gas, sewage, trash, cable, phone, and Internet   

Handle tenant issues including complaints and urgent repair issues

Respond to safety and security problems and cooperate with applicable agencies such as law enforcement or fire departments 

Procure new equipment or appliances 

Schedule and conduct routine property inspections and take note of issues 

Maintain thorough records of all rental agreements, rent collections, and insurance payments. Prepare budget reports and statements for owners 

Ensure strict compliance with housing and commercial tenant laws
Additional Responsibilities
Stay up to date on local, state, and federal laws related to renting and leasing properties, including tenant and landlord rights and responsibilities

Build and maintain good relations with tenants and contractors

Keep owners aware of all issues related to their properties, especially financial considerations

Train new staff on relevant duties
Skills Needed on the Job
Soft Skills
Accuracy

Business and financial acumen

Dependability

Detail-oriented

Diligence

Empathy

Integrity 

Listening skills

Multi-tasking

Objectivity

Organized

Problem-solving

Relationship-building

Sound judgment  
Technical Skills
Understanding of basic finance, accounting, and commonly used software 

Knowledge of real estate property values and taxes

Familiarity with contracting property maintenance and repair workers

Familiarity with utility service providers including electricity, water, sewage, gas, garbage, cable, Internet, phones, and security systems
Different Types of Organizations
Real estate agencies

Private owners 

Self-employed
Expectations and Sacrifices
Property owners usually have a lot of their finances tied up in their real estate investments. They rely heavily on Property Managers to find good tenants who'll take care of their places and pay the rent on time. Problematic tenants can cause thousands of dollars in damages, and those costs are often only recouped in court—if at all! 
Meanwhile, late rent payments can mean late mortgage payments, which can lead to foreclosure and negative impacts on an owner's credit rating, causing higher interest rates on future loans. Managers have to walk a fine line because they're also responsible for complying with landlord-tenant laws and respecting occupants' rights.
Current Trends
Real estate prices have experienced a lot of fluctuation in recent years, which ultimately is never a good thing for investors or renters. Buyers may overpay for a property that they must then rent out for enough to cover their mortgage payment, taxes, and cost of maintenance. If property values go down too much in the area, renters are less inclined to pay over the going market average. Then the owner may be forced to charge less rent, and must pay the difference out of pocket. When owners can't pay their mortgages, banks can foreclose and then everyone is out of luck! 
Property Managers must do their best to help owners turn a profit each month, or at a minimum cover their expenses. Real estate is usually a long-term investment. As long as incoming rent is covering the outgoing mortgage, taxes, and other monthly costs, in the long run, the owner will get a return on investment when they choose to sell (since someone else paid off their mortgage). 
The Bureau of Labor Statistics predicts that single-family housing market growth "may have a positive influence on demand, as some new housing developments will require property managers to oversee jointly owned common areas, such as pools, gyms, and business centers and to enforce homeowner association laws."
What kinds of things did people in this career enjoy doing when they were younger…
In their youth, Property Managers may have displayed high levels of responsibility and maybe an interest in helping do house and yard maintenance. They may have been tidy, organized, and always followed a schedule, keeping their daily affairs in order. As they got older, they might have liked helping other people manage activities and finances!
Education and Training Needed
Education Needed
Property Managers don't need a degree to find work, but having one helps if managing commercial or expensive properties 

Depending on the level of responsibility, a bachelor's or master's in business administration, real estate, or accounting/finance may be necessary to get hired

Knowledge of accounting and contracts is usually essential but can be gained through other job experiences before applying for a Property Manager role

Many Property Managers enter the field after having worked in other real estate roles where they showed properties to prospective tenants

Employers often have their own formal training requirements, usually provided by third parties such as real estate associations. Common training topics include:

Accounting and finance

Building mechanical systems

Community associations

Human resources, contract management, and tenant relations

Increasing property value

Insurance

Real estate and business laws

Risk management

Some states require Property Managers to hold a real estate license or other credentials from organizations like

BOMI International

and the

National Association of Residential Property Managers
○ O*Net Online features dozens of other real estate-related professional certifications for Property, Real Estate, and Community Association Managers
Things to look for in an University
Not all Property Manager positions require a degree, but ~55% of Property, Real Estate, and Community Association Managers hold a bachelor's

College can make you a more competitive candidate for higher-level jobs, but you'll also need plenty of practical experience

Look for undergrad programs in business administration, real estate, or accounting/finance to get the foundation you'll need

Ideally, your program features some form of internship or way to gain hands-on experience

Other general considerations include tuition costs (in-state/out-of-state rates), discounts, scholarships, and course delivery options (on-campus, online, or hybrid program)
Things to do in High School and College
High school students can prepare by taking classes in typing, math, accounting, public speaking, and English composition  

Participate in school activities where you can hone your soft skills

Learn about basic property maintenance and utility contracts for services like painting, roofing, window installation, carpeting and other flooring, gutter cleaning, tree and hedge trimming, landscaping, plumbing, HVAC-R, gas, electric, water and sewage, trash pick-up cable/phone/Internet providers, and security alarm and camera systems

Make connections with people in the real estate world! Look for part-time job opportunities where you can gain some first-hand experience with properties

Check out

online articles

about Property Manager roles and responsibilities 

Decide if you want to pursue a degree or apply for an entry-level job to start working right away. Having either related work experience or a degree should boost your odds of getting hired

Study the real estate market where you intend to work

Keep a list of contacts (including phone numbers or emails) who might serve as future job references 

Practice your professional demeanor and learn the art of presentation (for when you need to show properties)
Typical Roadmap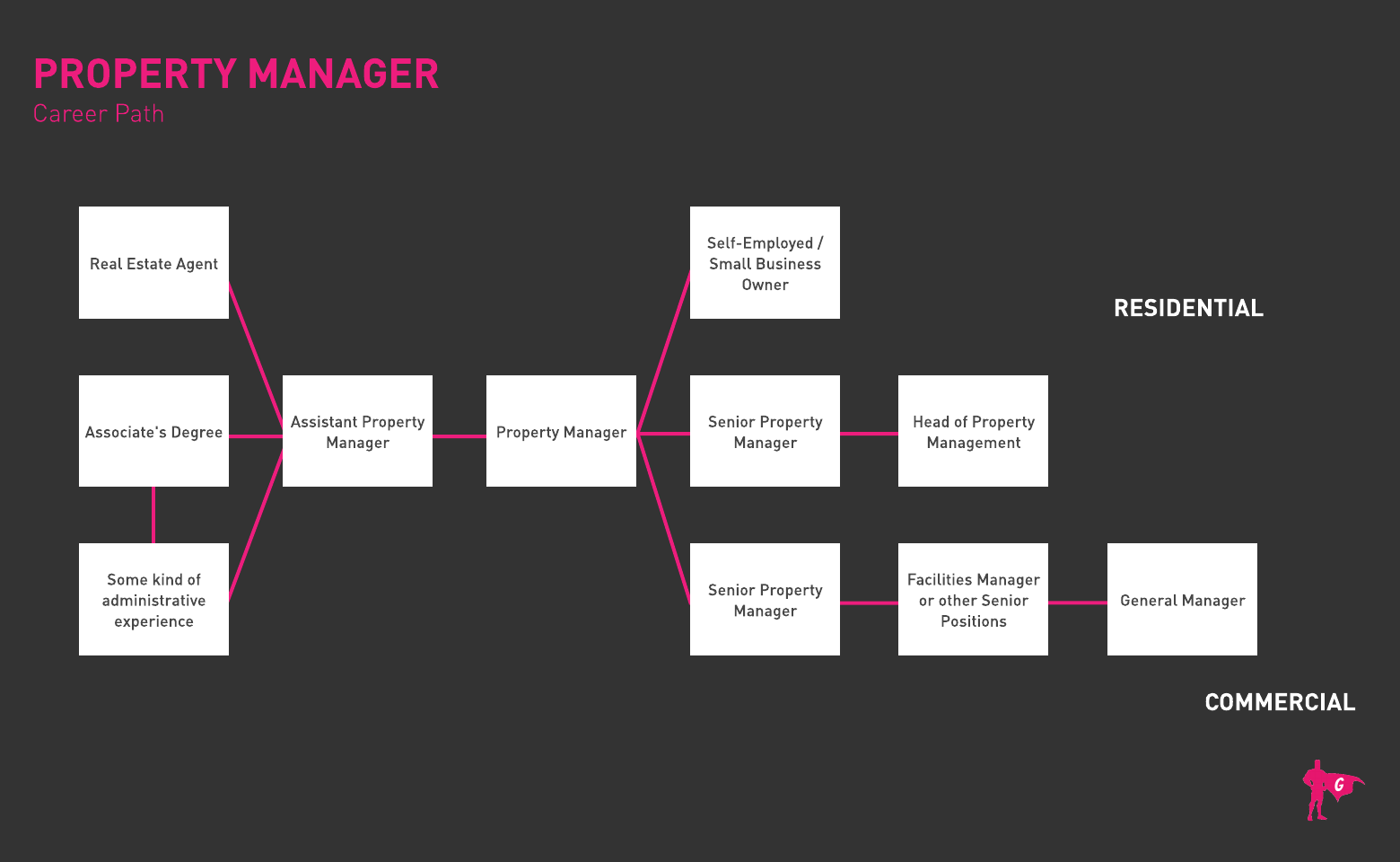 How to Land your 1st job
Try to get some relevant work experience before applying for your first Property Manager job. Whether it's working as a real estate agent or an accountant, practical experience is helpful

If you don't have work experience, having at least some related college courses under your belt can help land you an entry-level position. A bachelor's may help qualify you for better-paying roles handling larger properties 

Hop on LinkedIn and let your network know that you are looking for work!

Review job portals such as

Indeed

,

Glassdoor

,

Craigslist

, and websites for local apartments, malls, and business centers 

Always keep your social media professional

Check out

Property Manager resume templates

Read

Property Manager interview questions

, learn your career-related terminology, and practice your answers

Consider moving to a state where there are more

employment opportunities

Get advance permission from the people you want to use as job references before sharing their contact details

Practice doing

mock interviews

and

dress professionally for interviews

!
How to Climb the Ladder
Talk with your employer about advancement opportunities and let them know when you think you're ready for more responsibility

Many employers may not have much room for growth for their Property Managers. If you have to apply for a new job in order to get ahead, remember not to burn any bridges as you leave

Always work with integrity and efficiency 

Earn certifications that will qualify you for specialized duties or higher levels of responsibility 

Educate yourself through

reading constantly

Know, comply with, and enforce all applicable federal, state, local, and organizational policies

Attract tenants who will take care of properties and pay rent in a timely manner

Display a positive, proactive attitude and treat tenants with respect, fairness, and empathy

Be willing to make tough calls when needed, including going to court when that's the only option to resolve a tenant issue 

Establish long-range goals to enhance your employer's profits from investments 

Make sure you take great care of properties to ensure they retain value

Build strong connections with contractors so they'll love working with you (and may offer discounts or do favors in a crunch)

Participate in professional organization activities to grow your reputation, learn new things, and expand your network
Recommended Tools/Resources
Plan B
Property Management can be a dynamic career field to get into, but some workers don't want to deal with tenants and maintenance issues every day. If you're curious about a few similar occupations, the Bureau of Labor Statistics recommends the following options:
Facilities Managers

Food Service Managers

General and Operations Managers 

Lodging Managers

Real Estate Appraisers

Real Estate Brokers and Sales Agents
Newsfeed Featured Jobs Online Courses and Tools