Spotlights
Similar Titles
Behavioral Health Technician (BHT), Health Care Technician, Licensed Psychiatric Technician (LPT), Mental Health Assistant (MHA), Mental Health Associate, Mental Health Specialist, Mental Health Technician (MHT), Mental Health Worker, Psychiatric Technician (PT), Residential Aide (RA), Mental Health Therapist
Job Description
Psychiatric Technicians, also known as Mental Health Technicians, assist patients suffering from various mental health, substance addictions, or developmental issues. This can include disorders and disabilities that greatly impact a patient's life and ability to function safety without professional help. Technicians are usually tasked with giving certain levels of therapeutic care, and they're responsible for directly monitoring the conditions and behavior of those they're assigned to watch. 
 
Technicians serve on a larger medical service provider team, and may take direction from doctors, nurses, counselors, and associated healthcare workers.  When a patient exhibits problematic behavior or any behavior that isn't routine for them, Technicians report this to applicable team members. They might be involved in aspects of rehabilitation, group counseling, or other treatment processes, as well as aiding in patient hygiene practices and giving medications. Many facilities also employ Psychiatric Aides who have lower levels of responsibility. 
Rewarding Aspects of Career
Taking care of people who have difficulty managing on their own
Improving quality of life for persons with life-altering mental health conditions
Providing critical aid to some of society's most at-risk populations
Helping those with substance abuse issues recover and return to normal life
2019 Employment
82,800
2029 Projected Employment
93,800
The Inside Scoop
Job Responsibilities
Working Schedule
Psychiatric Technicians work either full-time or part-time jobs. They may spend time outdoors with patients, and are usually on their feet most of the day. Schedules can include shifts during nights, weekends, and holidays.   
Typical Duties
Assist with intake and discharging of patients
Review relevant details on patient medical histories 
Watch their behavior and pay attention to the problems they state
Pay close attention to orders that doctors give regarding treatment and handling
Take notes about disturbing behavior or statements, to share with relevant medical staff such as psychiatrists 
Direct patient activities during therapy activities
Administer medications as needed, through oral and intravenous delivery
Perform routine medical checks such as taking vital signs
Physically assist patients who need help with hygiene or eating meals 
Take active measures to ensure patients are protected from themselves and each other, to include physically restraining those displaying violent or suicidal behavior
Additional Responsibilities
Train new staff as needed
Escort patients to appointments, when necessary
Reach out to their relatives as directed, to schedule meetings 
Liaison with other medical professionals 
Skills Needed on the Job
Soft Skills
Active listening
Calm under pressure
Clear, articulate speaking skills
Compassionate
Decisive
Patient
Perceptive
Persuasive and motivated
Rational and good with problem solving 
Understanding of basic psychology 
Physical fitness and stamina
Safety- and security-conscious 
Team player
Technical Skills
Inventory management software 
Medical programs such as Allscripts Sunrise Clinical Manager, GE Healthcare Centricity EMR, and MEDITECHBehavioral Health
General office applications
Drug administration techniques
Different Types of Organizations
General hospitals
Psychiatric and substance abuse hospitals
Residential and outpatient mental health facilities/substance abuse centers
State agencies    
Jails
Special school programs
Mobile teams/Crisis units
Expectations and Sacrifices
Psychiatric Technicians work with people who cannot always control their own behavior. They might have emotional outbursts, yelling, cursing, or even becoming physically violent. Technicians have reported high risks of on-the-job personal injury, so must be able to take care of their own safety while preventing patients from hurting themselves or others. 
 
Technicians must have strong nerves, composure, and the ability to withstand possible verbal abuse from angry, uncooperative patients. They'll also need sufficient physical strength and stamina to stand for extended periods and to lift or hold patients. Duty hours vary, but since many facilities are open 'round-the-clock, night and weekend shifts are common. Sometimes that's a challenge for workers with families. There is also, of course, an emotional toil that comes with working around persons who suffer from mental health issues, so Technicians must tend to their own wellness needs and recognize signs or symptoms of stress, anxiety, or depression. 
Current Trends
Psychiatric facilities have not always had the best historical track records when it comes to patient care, but luckily modern policies have led to significant improvements. A focus on improving care and outcomes has extended into the hiring practices of Psychiatric Technicians, who must be well-trained and qualified to work with patients. Indeed, patient-centered care is a critical goal that requires a deeper commitment and more collaboration among associated team members. 
 
Another trend relates to the advent of telehealth, with increasing outpatient work being done online. How this impacts the job outlook for Technicians remains to be seen, but so far job growth is expected to continue at a good pace. As Americans live longer, their rates of cognitive decline due to Alzheimer's and other issues continue to expand, and telehealth is not always a viable option. They need direct, in-person assistance to function safely. 
What kinds of things did people in this career enjoy doing when they were young...
Psychiatric Technicians embrace challenges and may possess a combination of traits ranging from compassion to firmness and persistence. Being able to manage unruly patients requires a unique mix of skills that were likely developed early on. For example, growing up with a sibling or parent coping with a mental health disorder or substance abuse problem might have offered insights into associated behaviors and ways to deal with them. Since physical stamina is required as well as mental fortitude, it's probable that Psychiatric Technicians participated in sports or athletics, which not only helped them stay in shape but also developed their drive and determination. 
Education and Training Needed
Psychiatric Technicians may not need a bachelor's but a postsecondary certificate or Associate of Science in Psychiatric or Mental Health is often required. Each state has different entry-level requirements 
Typical coursework covers topics such as biology, psychology, and counseling
Previous clinical, cooperative, or practical nursing experience is a bonus
Some states require licensure, which involves finishing an accredited degree program before testing 

The American Association of Psychiatric Technicians offers four voluntary national certification exams to test competency

Workers can expect significant On-The-Job training, with ample supervision during the training period, plus in-service training and workshops
Things to look for in a program
Look for programs that are accredited and meet state-specific licensure prerequisites, if your target state requires a license

Many Psychiatric Technician training programs are online. If you're considered an "out-of-state student" for that school, ensure its program meets requirements for the state you intend to work in

If attending a community college or vocational training program, check for program-specific scholarship opportunities
Review stats on enrollment and job placement after program completion
Check out accelerated programs like those offered by California's Gurnick Academy, which can be completed in 12 months
Some Technicians go on to complete practical nursing or registered nursing degrees

Other bachelor degree options include special education, social work, psychology, or sociology 
Things to do in High School and College
Think ahead about what type of setting you want to work in, and take classes accordingly

For example, if you want to work in a substance abuse recovery facility, you might take courses on how drugs and alcohol affect the body

Volunteer at shelters to gain exposure to elements of the population that are at-risk of mental health and substance abuse issues
Keep up with your physical fitness;  consider resistance training to build muscle, since you'll need strength to lift or occasionally hold patients
Complete resilience training to develop mental toughness in advance of working in a stressful environment
Beef up your draft resume with details about your accomplishments in school, to include any recognitions, awards, or extracurricular activities
Learn about the various governmental agencies you might interact with during the course of your daily duties
Talk with people currently working in this field, to get insider facts about working conditions at different locations
Visit the websites of the places you're thinking about working, to find any videos or information that can further explain what it's like there
Typical Roadmap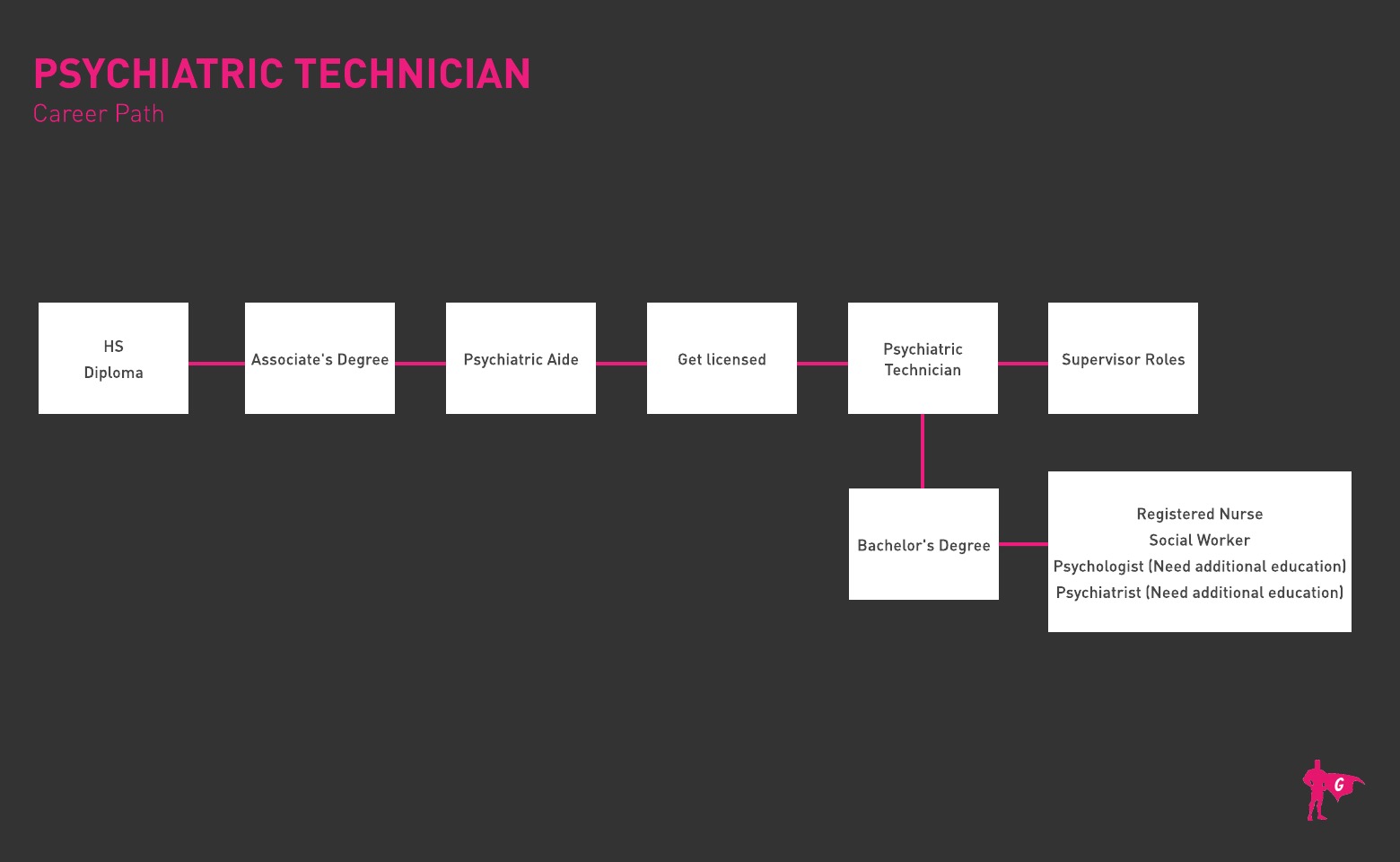 How to land your 1st job
Complete all necessary education to include certification or licensure requirements based on your state and job duties
Make certain you meet all qualifications listed in a job ad, and don't apply otherwise
Never exaggerate your qualifications! Even though there is On-The-Job training, there are certain things they expect you to know upon starting
Read ads carefully and screen for keywords you can recycle and add into your resume
Use portals like Indeed, Monster, and Glassdoor and scope out the websites of the various places you might want to work. They list job openings on their Careers pages
Optimize your LinkedIn profile and invite all your potential connections
Recruiters and hiring managers look at your online footprint, so keep social media professional
Talk with potential reference providers about their ability to take calls or emails from hiring managers, or to write letters of recommendation. You could offer to write a draft letter for them to work from, if they are busy
Glassdoor lists real-world questions and answers submitted by workers who went through job interviews to become Psychiatric Techs
You'll never wear formal business attire to work in this job, but you should check out Indeed's guide on What to Wear to an interview
How to Climb the Ladder
If working but not licensed yet, get your license if the state offers one
Some Technicians complete degrees in nursing, special education, psychology, or other areas. Find out which suits your goals then go for it! 
Know your workplace protocols for what to do in all situations, including emergencies or violent outbursts. Become the subject matter expert on safety and security
Help train new staff members; ensure they're familiar with standard operating procedures
Build strong relationships with all team members. Let them see they can trust and count on you 
Treat patients with respect. Many survived extreme hardships or trauma, struggle with unseen disorders or addictions, and may miss loved ones or face other stressors
Support patients every way you can and help make their stay as pleasant as possible
Knock out any professional development training or continued education requirements
Look for speciality and advanced certifications that pertain not only to the job you have, but the job you want to get some day
Demonstrate superb leadership and management qualities and set the example 
Volunteer to give lectures or teach workshops or classes in the local area, if feasible
Participate in professional organizations and expand your network
Recommended Resources
Websites
Accrediting Bureau of Health Education Schools
American Association of Psychiatric Technicians 
American Psychological Association 
Board of Vocational Nursing and Psychiatric Technicians
Bureau of Private Postsecondary Education
National Alliance on Mental Illness
National Board for Certified Counselors 
Books
Plan B
Psychiatric Technicians have sometimes stressful jobs and the daily requirements can seem overwhelming. Do thorough research before making a decision to enter this line of work! If it turns out you'd like to pursue something else, take a look at the Bureau of Labor Statistics' list of similar occupations to consider: 
Childcare Workers
Home Health Aides and Personal Care Aides
Licensed Practical and Licensed Vocational Nurses
Medical Assistants
Nursing Assistants and Orderlies
Occupational Therapy Assistants and Aides
Registered Nurses
Social and Human Service Assistants
In addition to the above, O*Net Online lists these jobs as being similar, too:
Physical Therapist Assistants 
Correctional Officers 
Newsfeed Featured Jobs Online Courses and Tools