Spotlights
Similar Titles
Social Media Coordinator, Social Media Manager, Social Media Producer, Social Media Strategist, Digital Engagement Specialist, Online Community Manager, Digital Marketing Specialist, Social Media Marketer, Social Media Analyst, Content Creator, Influencer Marketing Specialist, Brand Ambassador
Job Description
Social media specialists work on the overall social media strategies for a business or organization. They communicate with the public through social media platforms such as Facebook, Twitter and Instagram. Solving customer service issues and promoting their employer's brand online are all part of the day to day work of a social media specialist.
Rewarding Aspects of Career
Seeing the excitement one of your posts can create online
Helping customers expand their message, mission, or brand
The Inside Scoop
Day in the Life
Checking posts from the day before to see what worked and what didn't work
Check what's trending online and see if you can play into it
Working on campaigns to promote the company's brand
Writing and scheduling posts
Creating graphics
Running ads
Replying to fans
Dealing with customer service issues (if freelance)
Skills Needed
Copywriting
Design: graphics and video
Knowing how to tell a story using elements such as photos and video
Customer service/community engagement
Behavioral psychology
Working with analytics
Social media management software (i.e. Hootsuite)
Budgeting 
Different Types of Organizations
As social media use grows, more companies are looking for social media specialists to promote and manage their brand online. Social media specialists can find employment in a wide variety of organizations. 
Current Industry Trends
The biggest trend right now is video. Social media platforms like Facebook and Instagram are pushing video through features such as live streaming.
Education and Training Needed
There is no set degree path for becoming a Social Media Specialist. Many hold bachelor's degrees in communications, public relations, business, marketing, digital media, or design. Some may go for an MBA to qualify for higher-paying jobs
Some students sign up for digital marketing bootcamps to knock out their main academic requirements in a shorter period. A few options include:

Harvard's Digital Marketing Strategy 
Udacity Digital Marketing Course
General Assembly Online Digital Marketing

Knowledge of social platforms and social media management principles is essential

Popular social apps and sites include TikTok, YouTube, Facebook, Instagram, Pinterest, LinkedIn, Snapchat, Twitter, WhatsApp, Telegram, Reddit, and Quora 

Social Media Specialists should understand their employers' products, services, and target customer avatars. They also need to know how each social platform is best utilized to communicate messages
Common college courses may include English, writing, storytelling, graphic design, mass communication, social media marketing strategy, social media campaigns, digital advertising, writing for new media, business, math, finance, and virtual environments 
There are several tech tools you may need to learn about for campaign management, such as CoSchedule, Hootsuite, Feedly, Airtable, and TweetDeck. General knowledge of design software like Adobe Photoshop or Illustrator is also helpful 
Stats and analytical programs are also essential tools to become comfortable using, such as BuzzSumo, NodeXL, HubSpot, Sprout Social, Google Analytics, and Tapinfluence
Things to do during high school/college
Stock up on courses in English, creative writing, psychology, storytelling, art, graphic design, audiovisual technology, and digital media
Tap into your creativity and find unique ways to translate ideas into shareable content 
Practice your social media skills by launching practice sites and channels. Pay attention to what gets viewed, shared, or commented on (versus what doesn't)
Learn from success! Study viral social media ads, videos, and copywriting to see what works. Try to figure out "why" it works for the intended audience and how they created it
Read or watch tutorials on the built-in features of applicable apps and platforms. If you can't figure something out, ask others on discussion boards 
Take online courses (via Coursera, Constant Contact, Skillshare, HubSpot Academy, Google Digital Garage, or Wordstream) to master skills beyond the basics, such as using software to edit videos and add audio, special effects, and other enhancements
Get familiar with analytical tools and software that can display user engagement stats
Create freelancer accounts on sites like Upwork or Fiverr to gain practice experience working with clients
Build an awesome Social Media Specialist portfolio to hook potential employers! 
Social media trends move fast, so keep up and try to get ahead of the curve
Volunteer to do social media jobs at your school and apply for Social Media internships
Keep up with the social media trends. Listen to podcasts or subscribe to SmartBrief for Social Business.
Don't fall behind. Social media changes every day; apps like Snapchat are always updating. Stay on top of how popular social media platforms work but don't just use them to post selfies! Think of how you could use them to promote a business.
Try to land internships that focus on working with a company's social media team
See if your university has anything to offer; some schools have social media jobs for students. Helping run your school's Instagram account will help you work on your skills and build your portfolio of work.
Typical Roadmap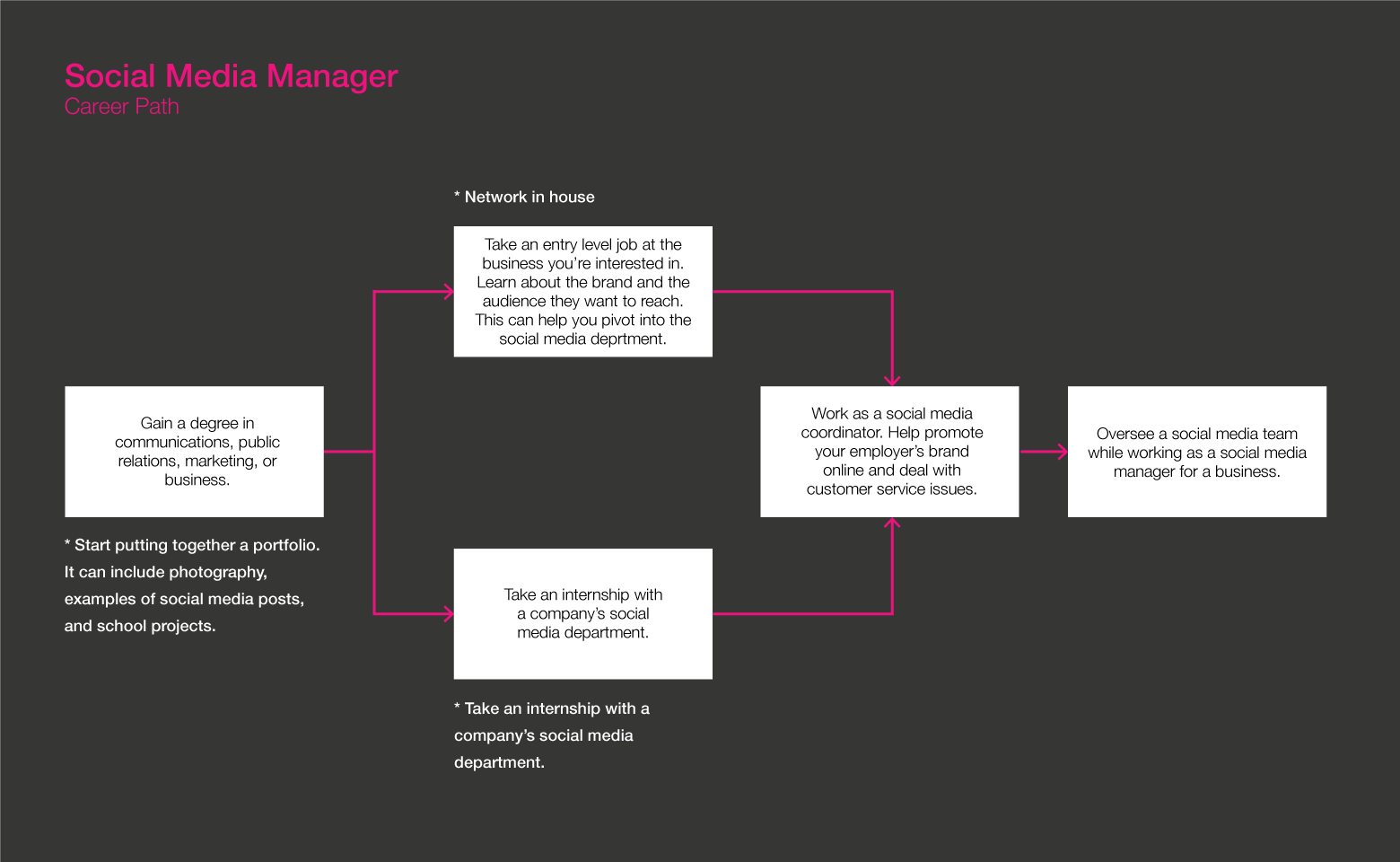 How to land your 1st job
Social Media Specialists need to have a demonstrable background in using social sites to engage audiences. This may require unpaid practice but can pay off in the end. 
In some cases, recruiters may reach out to you. They often scout for talent on sites like LinkedIn, Facebook, Twitter, and Instagram
Once you have a portfolio of work to show off, start looking for internships or jobs on Indeed, Simply Hired, Glassdoor, or other job portals. If needed, work as a freelancer on sites like Upwork, Guru, Freelancer, Hubstaff Talent, or Fiverr until you land a big client…or a motivated startup company you can grow with!
Acadium is another resource for training and job seeking  
If attending college, ask your school's career center for help connecting with potential employers
Be your own client! Put your social media skills to work on your behalf and advertise your availability!
Reach out to local businesses or marketing agencies that you think could benefit from your services. Don't be afraid to do some cold pitches. Enough small accounts could tide you over until you find a full-time position
Stay connected with professors, supervisors, and clients who can serve as professional references 
Check out Social Media Specialist resume templates and interview questions
What it really takes to make it and succeed
Being well rounded. A social media manager's tasks include photography, marketing, customer service, web production, design and analytics all while considering the legality of what you're putting up online.  
Must know social media platforms inside and out.
Be and stay curious!
Plan B
Public Relations Officer 
Digital Marketer
Newsfeed Featured Jobs Online Courses and Tools