Spotlights
Similar Titles
Licensed Clinical Social Worker, Caseworker, Case Manager
Job Description
Social workers work with people who have been socially excluded or who are experiencing crisis. Their role is to provide support and resources to enable clients to help themselves. They can work in their local community and internationally.
Types of Social Workers
Direct-Service:

Family Social worker
Child Protective Services Social Worker
School Social Worker
Foster Care Social Worker

Clinical

Health Care Social Worker
Mental Health and Substance Abuse Social Worker
Rewarding Aspects of Career
"My strength in social work is to identify the strength in people. It's rewarding to see really vulnerable, under-privileged, or under-resourced people realize their potential and realize they are innately good at things and they will not be oppressed their whole life. It can be so difficult for people to look past tomorrow with all the struggles hanging over their head, but once you start helping people see their potential again, they can begin to think about the future, set goals, and to dream. That is the ultimate reward, seeing the tenacity and strength come back alive in someone." Amy Collins, Social Worker
The Inside Scoop
Day in the Life
A Case Manager will have a caseload of up to 5 people a day.
Conducts interviews with clients and their families to assess and review their situation.
Provides clients with resources such as:

Research and refer clients to community resources.
Legal services, healthcare, food, clothing, vocational services.
 Assist them in applying for housing.
Setting them up with counseling.

After working with each client there is paper work and record keeping assessing where their client is at and what actions to take in the future.
Skills Needed on the Job
Empathy (the heart for trying to understand) NOT sympathy
Ability to be flexible
Learning to compartmentalize
Active listener
Problem solving: taking a problem and figuring out multiple different solutions based on your knowledge of the community or person you are working with.
Personable
Intuition: ability to sense situations before they escalate.
A good listener
Organization Types
Licensed Clinical Social Worker

Mental health clinic
Hospital
Private-Practice
Schools

Social Worker (Domestic)

Homeless shelter
Human Resources at any business
Non-profit organizations

Social Worker (International – policy, programming)

Non-profit organizations/NGO
Government Organization

PhD in Social Work
Expectations/Sacrifices Necessary
Requires an investment of your time that requires a passion to want to better people's lives and mental health status. This does not always get done during a 9am - 5pm workday. There will be long hours required.
Must learn to compartmentalize and set boundaries between your home and work life.
"Self care" is a term often used in the social services field meaning you must make it a priority to take care of yourself physically, emotionally, and mentally because you can not help others if you aren't taking care of your self.

Go to therapy.
Have a mentor.
Take time off work if possible to avoid getting burnt out.
What kinds of things did people in this career enjoy doing when they were young...
Often played the role as problem solver or mediator between friends.
The friend everyone would go to for advice or because they were an un-biased, good listener.
Valued authentic relationships.
2016 Employment
682,100
2026 Projected Employment
791,800
Education Needed
To be a Social Worker, ideally, you'll want at least a bachelor's in a relevant major (such as social work, public policy, social services, or social science) to qualify for entry positions
Most prospective Social Workers must also perform supervised fieldwork or internships
A Master's in Social Work teachs clinical assessment and diagnostic skills that can help you get hired or qualify you for better-paying jobs
Those who perform clinical social work definitely need a master's degree, along with a state-issued license and supervised practicum clinical experience (or internship)

Employers may be more likely to hire a licensed master social worker (LMSW) or licensed clinical social worker (LCSW)
Note, nonclinical Social Workers may need a license depending on which state they work in
The Association of Social Work Boards features information regarding state requirements

Supervised clinical training will continue, sometimes for years, as you work and gain experience
Degrees should be from programs that are accredited by the Council on Social Work Education
Common courses include psychology, sociology, social welfare policy, ethics, economics, and political science
Things to do in High School and College
In high school, stock up on advanced classes in psychology, sociology, social welfare policy, ethics, economics, and political science
Strengthen your communications skills such as English, writing, speaking, giving presentations, and negotiating
Volunteer to work with local social welfare organizations to gain real-world experience and exposure to problems, conflict resolution techniques, and more
Look for social work internships in your local area
Decide if you want to complete a Master's in Social Work. You'll need a master's if you want to do clinical work or get licensed
Think about the various specialization areas, such as Child, Family, and School Social Workers; Healthcare Social Workers; and Mental Health and Substance Abuse Social Workers
Per O*Net Online, these different specialization areas have various typical education requirements. For example:

Child, Family, and School Social Workers — 69% have a bachelor's, 26% a master's, and 6% an associate's degree
Mental Health and Substance Abuse Social Workers — 77% have a master's, 19% a bachelor's, and 4% a post-master's certificate
Healthcare Social Workers — 70% have a master's, 15% a bachelor's, and 11% a post-master's certificate
Education Stats
8.7% with HS Diploma
6.8% with Associate's
33.7% with Bachelor's
32.9% with Master's
2.9% with Doctoral
(% of employees aged 25 to 44 in the occupation whose highest level of educational attainment is)
Top Educational Institutions
Typical Roadmap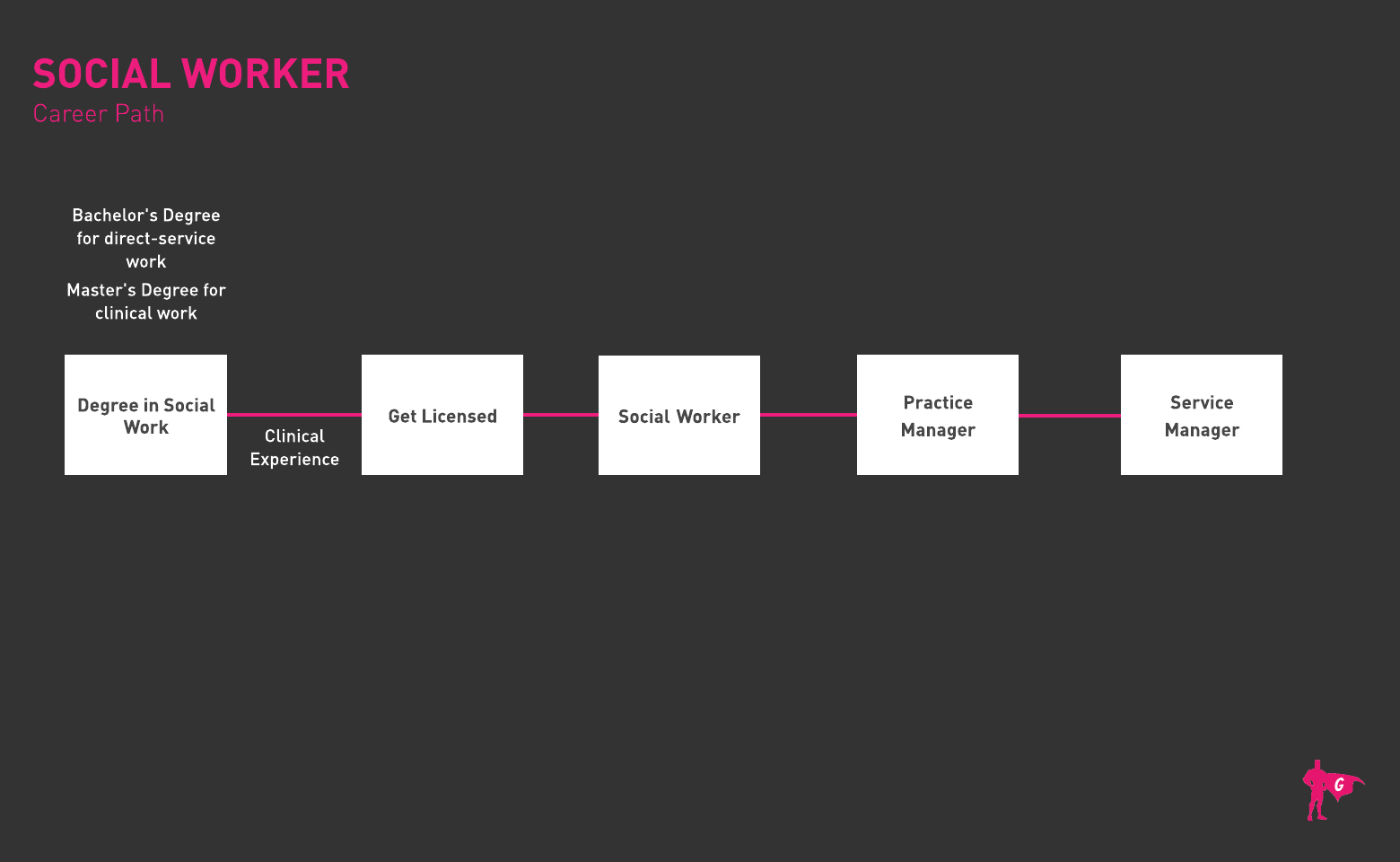 How to Land your 1st job
There is no shortage of Social Worker jobs, but it can be helpful to understand which sectors most of them are in

Per BLS, there were 715,600 Social Workers, as of 2020. 335,300 — about 1/3 — perform Child, family, and school work; 184,900 are in healthcare; 124,000 work in mental health/substance abuse; and 71,400 do "all other" social work
18% are employed by individual and family services; 14% are employed by local government agencies, 14% by ambulatory healthcare services, and 14% by state governments

Set up profiles on job portals such as Indeed, Glassdoor, and Zippia to get notified of openings
Build your network while doing internships and field work; it is possible to roll those experiences into full-time employment
Get involved with local community groups as well as national organizations (see Recommended Resources > Websites). Attend conferences, host events, do site visits, give presentations, share information on social media, and make connections!
Advertise your availability on LinkedIn and other platforms
Ask former teachers and co-workers if they'll serve as references
Scan job posts for keywords and skills needed; make sure your resume reflects your ability to match the employers' requirements
Obtain your state license to be a licensed master social worker (LMSW) or licensed clinical social worker (LCSW), if desired
Review Social Worker resume templates to get ideas for your resume
Study Social Worker interview questions to prepare for job interviews!
How to stay in the game
Stay on top of new developments in the field, go to seminars, and continue educating yourself after you have completed your schooling.
Self-Care
It is not about competing with other social workers, but to better yourself so you can continue to best serve people.
Be idealistic but stay grounded.
Recommended Tools/Resources
Websites
American Association for Marriage and Family Therapy
American Counseling Association
American School Counselor Association
Association for Addiction Professionals
Association for Community Organization and Social Action
Association for Play Therapy
Association of Social Work Boards
Council on Social Work Education
National Association of Social Workers
National Hospice and Palliative Care Organization
National Kidney Foundation Council of Nephrology Social Workers
School Social Work Association of America
Society for Social Work Leadership in Health Care
Books
Plan B
Alternate careers with or without more education: Psychologist, School and/or Career Counselor, Anthropologist, Sociologist, Probation/Corrections Officer, Lawyer, Lobbyist
Newsfeed Featured Jobs Online Courses and Tools