Spotlights
Similar Titles
Agent, Athlete Marketing Agent, Sports Representative, Athlete Agent, Sports Manager, Sports Broker, Sports Negotiator, Sports Contract Advisor, Player Agent, Sports Talent Agent, Sports Business Representative, Sports Agency Representative
Job Description
Many professional sports players start their careers as early as their late teens, with little to no experience in the financial aspect of things. Meanwhile, once they've started working, they spend most of their days either practicing, training, traveling, or playing their respective games. These athletes require the services of an experienced Sports Agent to help them land favorable contracts, both starting out and as they grow and progress. 
Sports Agents manage their clients and look after their best interests in all things related to finances and public relations. After all, many players essentially become very lucrative brands in their own right. Thus, their public image has to be carefully groomed and marketed. Savvy Sports Agents are always on the lookout for endorsement deals, sponsors, merchandising opportunities, and other ways to expand their clients' money-making potential.
Rewarding Aspects of Career
Negotiating fair, equitable contracts for players

Reaping financial rewards alongside clients

Being involved in the behind-the-scenes world of sports and engaging with famous players, teams, coaches, managers, and owners
The Inside Scoop
Job Responsibilities
Working Schedule
Sports Agents work full-time and often "overtime." They may be employed by

agencies

or work independently. Their schedules must be flexible to accommodate the needs of their clients and stakeholders. Frequent travel is necessary, as players traverse around the country. 
Typical Duties
Analyze existing player contracts to determine reasonable baselines based on

"current market value"

Present clients' long-term value to interested teams

Utilize statistical data to justify a client's requested compensation 

Negotiate personal services contract terms between players and teams

Explain standard player contract details to younger, inexperienced players and their families

Help clients build a well-crafted public persona that can be embellished through savvy branding, marketing, and PR 

Collect payments on behalf of clients, as needed

Look for promotional opportunities for clients, such as endorsement or paid appearance contracts, sponsors, etc.

Plan out short- and long-term success strategies

Set up meetings and events; arrange travel and plan itineraries

Consult or hire personal trainers or performance coaches

Inspect areas or environments where clients are scheduled to appear, to ensure safety and to understand what the client will be doing

Negotiate fine print items such as renewal terms or "do not trade" clauses

Be familiar with state-specific athlete

agent forms and laws

, including

NIL

— "name, image, likeness" collectives and rules 

Under NIL, players may make money via: 

appearing in ads

launching sports camps or other business ventures

paid appearances and speeches

selling ad space on their social media accounts

selling merchandise

signing/selling memorabilia
Additional Responsibilities
Show clients how to invest wisely and save money while mitigating tax liabilities

Prepare clients for future retirement or downtime due to injuries or trades

Keep clients "out of trouble" and help to manage their moods by decreasing stress factors 

Ensuring clients abide by any contract covenants (i.e., refraining from certain acts such as dangerous activities that could lead to injury and prevent them from playing)
Stay up-to-date on trends and changes in the industry, in particular, the "Big Four" — NFL, MLB, NBA, and NHL. Note, agents may also represent golfers, Olympic sports players, and extreme sports players
Skills Needed on the Job
Soft Skills
Attention to detail

Collaboration 

Communication skills

Creative

Data-driven

Integrity

Negotiation skills 

Networking skills

Persistence

Persuasiveness

Realistic

Salesmanship

Sound judgment

Thinking on one's feet
Technical Skills
Creative and technical writing skills

Deep understanding of relevant sports, unions, and contracts

Familiarity with financial software

Familiarity with social media platforms

Knowledge of advertising and marketing principles 

Project management
Different Types of Organizations
Self-employed

Sports Agent agencies

Labor relations

Human resources departments within private organizations
Expectations and Sacrifices
Sports Agents are trusted by young players and their families to land the best deals possible and to "watch their clients' backs." They're also trusted by experienced players who are hustling each day to stay on top of their game and need someone else to take care of the financials and PR. 
Agents are often on standby, ready to respond as needed when a situation or opportunity arises. They might work nights, weekends, or holidays, often traveling around to meet with scouts, recruit new clients, and manage their talent rosters. An agent's total compensation is based on that of their clients, so it pays for agents to find the best players to partner with and to develop their careers over time. 
Current Trends
Social media has transformed public relations and now the words and actions of sports players are scrutinized 24/7 by fans, critics, and media hounds. Sports Agents need to help their clients successfully navigate their careers under this constant limelight, where brand reputation is critical and financial stakes are higher than ever. 
GlobalNewsWire reports that the "global sports market is expected to grow from $354.96 billion in 2021 to $501.43 billion in 2022." The incomes of individual players continue to grow in tandem, as noted in Forbes' article, Top 50 Sports Stars Combined To Make Nearly $3 Billion In A Year. 
The cutoff salary to make it into that top 50 list was $37.6 million a year. Sports Agents not only help negotiate those lucrative contracts, but also help find sponsorships, endorsements, and other ways to help their clients increase earnings. Consider Michael Jordan's estimated net worth of $1.9 billion (of which only $90 million came from his sports salary). 
What kinds of things did people in this career enjoy doing when they were younger…
Naturally, most Sports Agents probably loved watching or playing sports growing up. They may have wanted to become professional players themselves, or in some cases perhaps they did but had to leave because of an injury. 
Sports Agents have the "gift of gab" and can negotiate deals because of their power of persuasion and deep knowledge of contracts. They may have been good at math, economics, and statistics as well as technical or legal reading. Of course, they also have a knack for branding and marketing and may have been involved in their own entrepreneurial endeavors in their youth, too. 
Typical Roadmap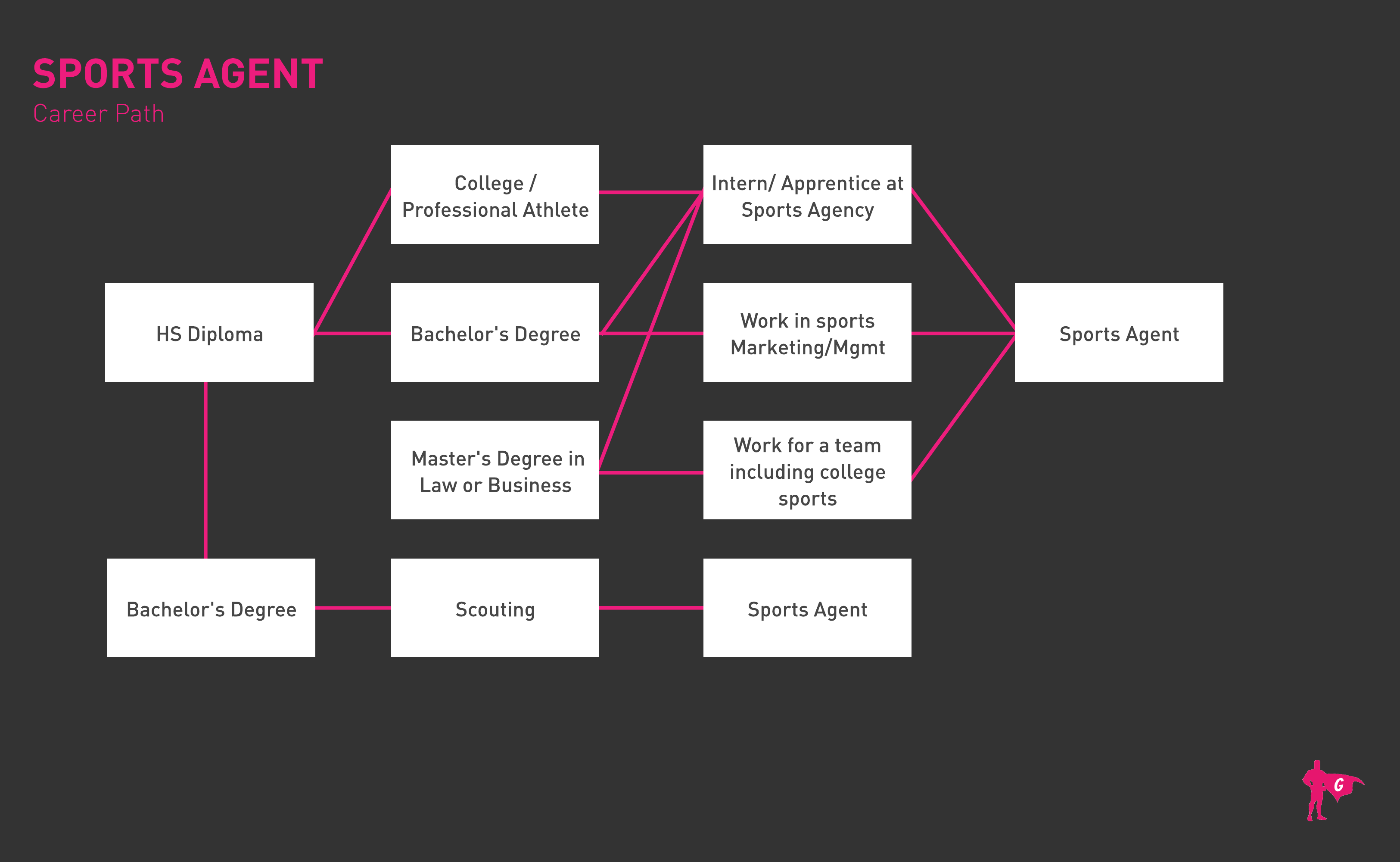 How to Land your 1st job
Many Sports Agents start in entry-level jobs for sports agencies

Internships are a reliable method of landing a temp gig that could before a full-time job later

Sign up for alerts on popular job portals like

ZipRecruiter

,

SimplyHired

,

Indeed

,

Monster

, and

Glassdoor

 

Read through job ads carefully. If you're missing qualifications, go back and work on those so you'll be competitive

Polish up your

LinkedIn profile

Launch your own website to advertise your work and experiences

Write posts about sports topics and share them across multiple channels. Try to build up a strong followership

Ask people in your network for tips about job openings

Reach out to former professors and supervisors to see if they'll serve as personal references

Knock out a professional certification to beef up your application

Find out what resources your school's career center offers, such as help with resumes, doing mock interviews, or locating job fairs

Promote yourself just as fiercely as you would one of your own clients!

Check out

Sports Agent resume samples

and make sure your resume is error-free

Review Indeed's

How to Dress for an Interview
How to Climb the Ladder
If you work for an agency, the best way to climb the ladder is to land great clients and make amazing deals for them

Be a go-getter who isn't afraid to aim high and go for big endorsements and sponsorships

Know your business inside and out, and keep honing your salesmanship and negotiating skills 

Demonstrate your ability to tackle increased responsibilities by showing leadership and offering to mentor others

Stay up-to-date on developments and current market rates

Sign up for additional certifications and consider completing a graduate degree 

Ensure you are listed in

Sports Agent Directory

and similar sites, so players can find you!

Hold clients accountable for compliance with contract terms. Keep your players out of trouble!

Treat everyone with dignity and respect, and build your reputation on integrity 

Have discussions with your supervisor and ask about promotion opportunities. Plan very carefully before leaving an agency in an effort to climb your career ladder
Recommended Tools/Resources
Plan B
Being a Sports Agent requires a ton of enthusiasm and commitment. The job requires a true love for sports and dealmaking and revolves around building long-term relationships in an evolving industry. Not everyone has the energy to be out there hustling every day, which is why it's good to have a few alternative career options lined up, such as: 
Accounts Manager

Advertising Sales Agent

Corporate Partnerships

Athletic Administrator

Event Coordinator

Financial Management

Lawyer

Marketing Manager

Parks and Recreation

Public Relations

Resort Management

Sports Camp Director

Sports Writer

Talent Director

Youth Sports Coordinator
Newsfeed Featured Jobs Online Courses and Tools