Spotlights
Similar Titles
Artist, Concept Artist, Previsualization Artist, Cinematic Artist, Story Artist, Comic Book Artist, Animation Storyboard Artist, Visual Storyteller
Job Description
Long before a crew starts shooting a video production, someone has to map out every scene that's going to be shot. That person is called a Storyboard Artist! These fine artists collaborate with writers, directors, and other personnel to conceptualize scenes via illustrated panels. This layout includes camera angles, character perspectives, and action sequences which must be carefully choreographed due to the dangers and high cost of repeating the action and special effects takes. In other words, it's crucial to get it right the first time! 
Once all scenes are captured in this illustrated format, the finished product resembles a lengthy comic strip. This storyboard will serve as a visual template for shooting the actual show, film, ad, or video. For animated features, the storyboard will act as a preliminary sketch for artists to base their work off. 
Storyboard Artists are often overlooked by TV and film fans, but the talents and creativity of these behind-the-scenes workers are vital to the entertainment industry.
Rewarding Aspects of Career
Translating a storyteller's or director's vision into visual images

Being a critical part of the commercial TV show, video game, and film creation process

Often participating in massive projects employing hundreds or thousands of workers
The Inside Scoop
Job Responsibilities
Working Schedule
A Storyboard Artist's schedule depends on whether they are working freelance or as a full-time studio artist. They are typically given an assignment and deadline, so the complexity of the job and the length of time allotted to finish it will also impact the schedule. Sometimes these artists have to work weekends or nights to complete a project on time. There may also be periods with little work coming in. 
Typical Duties
Review scripts and visualize action and sets

Work with the production's head of story, director, writer, art designer, or other storyboard staff

Determine proper composition, space, and perspectives based on the director's style

Draw rough sketches of action, including character behavior and perspective 

Present ideas to teams for discussion 

Add, remove, and make revisions to panels as requested

Illustrate panels with finer details as ideas become more defined 

Create a finished product used to determine camera angles, actor movements, and other scene elements
Additional Responsibilities
Add illustrated special effects

Note direction of action and special lighting requirements

Meet animators to review key sequences

Adapt to the requirements of different directors and frequent requests for changes
Skills Needed on the Job
Soft Skills
Ability to follow directions closely

Attention to detail

Collaboration 

Communication skills

Creativity

Organization skills

Perceptiveness 

Presenting 

Problem-solving 

Time management 
Technical Skills
Document management 

Knowledge of filmmaking and photography principles 

Illustration

Graphic design 

Familiarity with illustration software such as Adobe Photoshop, Illustrator, Artemis Pro, Astropad Standard, Boards Storyboard Creator, and FrameForge Storyboard Studio

Other Storyboard programs include: StudioBinder, Moviestorm, ShotPro, Storyboard Quick, Toon Boom, Storyboard Fountain, Storyboard Composer, and Storyboard That

Applied skills with various artist tools, including pencils, pens, paints, and digital tablets like the

Wacom Cintiq
Different Types of Organizations
Film and TV studios

Video game companies (job title could be concept artist)

Advertising Agencies

Freelance / Self-employed
Expectations and Sacrifices
Without Storyboard Artists, it would be almost impossible to successfully shoot a film, TV show, music video, or even a short commercial. Every shot has to be methodically planned out in advance, and there's simply too much for everyone to keep in their heads. Storyboard panels give clear, easy-to-understand visual guidance that ensures everyone is on the same page. However, Storyboard Artists aren't mind readers. They must be able to collaborate creatively and efficiently with all applicable parties, to ensure that what they draw represents how everyone wants the shot to look. Sometimes there's pressure to make last-minute changes, which can be stressful when an expensive production is on hold.
Current Trends
The basics of storyboarding haven't changed much in the past few decades, other than the increased use of digital tools. Digital illustration tools have greatly expanded artists' abilities to make changes quickly, avoid accidental damage to their paperwork, and share ideas easily. 
Another thing that's changed is the explosion of independent productions. Thanks to relatively inexpensive digital cameras and recording equipment — alongside the advent of the Internet, YouTube, and affordable digital editing and special effects tools — nearly anyone can whip up a movie or show these days. Indie creators may not have the budget for a high-end Storyboard Artist, but that opens the doors for freelancers and up-and-comers to get some practice working on a smaller production. 
What kinds of things did people in this career enjoy doing when they were younger…
Storyboard Artists typically grew up loving to draw. They may have been huge comic or manga fans as well as movie buffs who enjoyed learning about the behind-the-scenes of film production. Some may have dabbled in making their own videos for YouTube or other online platforms. 
They may also have created their own short comic strips or panels for local papers, Instagram, or just for themselves. It isn't enough to simply be a talented creative artist, though. Storyboard Artists need to have strong communication and collaboration skills, which could have been developed through school activities in their youth, such as working on a student council. 
Education and Training Needed
Storyboard Artists don't officially require a degree, but having one helps show employers proof of academic qualifications

A bachelor's in graphic design, photography, digital media, animation, or fine art is very helpful, as are classes in film studies. You'll also want to learn how to give great presentations and how to work effectively on teams 

Per

Zippia

, 80% of Storyboard Artists hold a bachelor's, 11% have an associate's, 5% have a master's

30.6% major in animation, 23.2% in graphic design, 17% in fine arts, and 8.7% in photography

Related art internships are also handy for gaining real-world practical experience

Basic skills needed are drawing/illustration, storytelling, knowledge of cinematography, and communication/collaboration skills

Students can also learn skills through short, specialized programs like Emile Cohl Atelier's intensive, 4-month

Storyboard Artist Certificate Program

, which covers:

Film Analysis

Framing and Composition

Gesture Drawing

Layout

Perspective

Portfolio Design

Storytelling

and more…
Things to look for in an University
Storyboard Artists must develop a wide range of skills beyond just drawing. Aspiring college students should look for programs with a curriculum that includes (or can be customized through electives to include) graphic design, digital media, animation, fine art, cinematography, and film studies. Some courses may be more conducive to in-person learning, but flexible online and hybrid programs may be better for busy working students.
LIST OF STORYBOARD ARTIST PROGRAMS
The top majors for Storyboard Artists are animation, graphic design, fine arts, and photography. U.S. News features a range of resources to help narrow down your search, including the following helpful articles:
Also check out Art & Object's 10 Best Art Schools in the U.S. 2022! 
Things to do in High School and College
The main skill to practice is drawing, obviously! In particular, you'll want to practice drawing characters and settings in a comic book-like style

Take a sketchbook around and capture people in mundane real-world situations. Don't just practice drawing dramatic stances or forward-facing figures 

Experiment with different art techniques and tools until you find your style

Apply for apprenticeships in art, graphic design, or film

Go to the library and check out books about storyboarding (or find used books on Amazon, because storyboard books can get expensive!). Find a storyboard for a show or movie you like (like

Game of Thrones: The Storyboards

), then watch the film while examining the storyboard panels 

Check out Studio Binder's

46 Storyboard Examples from Movies, Animation, and Games (with FREE Storyboard Templates)

Redraw panels from storyboards that inspire you, but put your own spin on them

Watch videos about how films are made. Pay attention to the art department's job

Download some film scripts and practice drawing panels for what you think the scenes should look like

Create an online portfolio of your work, featuring a video reel of your best work on the homepage, plus notes about your tools and methods listed in the content sections of your site 

Offer freelance services on sites like Upwork 

Attend film festivals and look for indie filmmakers to collaborate with. Volunteer to help with a short independent film if they don't have a budget 

Make an original

single panel comic

or

comic strip

for local papers or your own Instagram account

Make connections with people in the industry as well as fellow students, teachers, and alumni. Engage with people online and try to build professional relations

Look for applicable scholarships to help take off the financial burden of school 
Typical Roadmap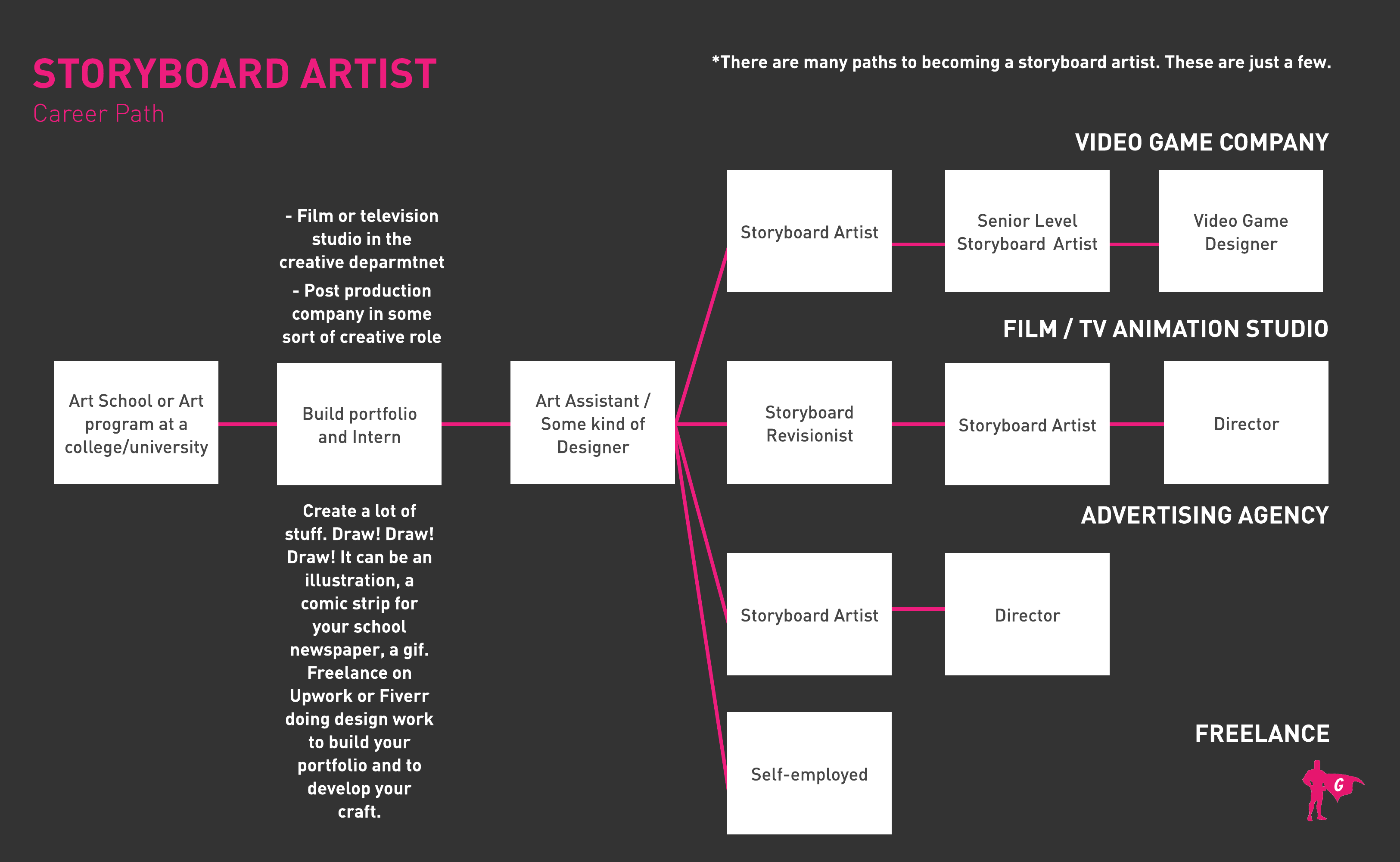 How to Land your 1st job
Build your portfolio of work. Always be drawing something - a gif, a comic book page, an illustration.

Sometimes internships can lead to full-time job opportunities

Listen to industry insiders like Chris Oatley about how to create a compelling

storyboard portfolio

Sign up for alerts on popular job portals like

ZipRecruiter

,

SimplyHired

,

Indeed

,

Monster

, and

Glassdoor

 

Ask people in your network for tips about job openings

Move to where the jobs are!

ZipRecruiter

notes that popular cities for Storyboard Artists to work include:

Los Angeles, CA

Gilroy, CA

Sacramento, CA

Lehigh Acres, FL

Santa Fe, NM

Santa Cruz, CA

Portsmouth, NH

Boston, MA

Reach out to former professors and supervisors to see if they'll serve as personal references

Utilize your school's career center for help with resumes and mock interviews

Check out

Storyboard Artist resume samples

Make sure your resume is error-free, concise, and up-to-date. If requested, add a compelling cover letter that compliments the resume and showcases your personality 

Learn how to make an

amazing first impression

!
Review Indeed's How to Dress for an Interview
How to Climb the Ladder
Always meet deadlines!

Remember the importance of your work and never cut corners 

Master the art of presentation so you speak with ease in front of a group while showing your ideas

Ask senior Storyboard Artists for tips about advancement 

Have discussions with your supervisor about promotion or pay raise opportunities 

Build your reputation as a creative, calm-under-pressure team member

Set goals for continual learning and improvement

Keep honing your skills and adding new ones. Stay up-to-date on trends, including changes in filmmaking and digital illustration technologies

Stay open-minded about projects. Many Storyboard Artists work outside of the film industry on ads and video games, or for governmental or private organizations
Recommended Tools/Resources
Plan B
Being a Storyboard Artist comes with a fair amount of associated stress at times. Stress can come from working with teams who may have different ideas about how panels should look. Working with constantly looming deadlines can also make artists feel pressured…especially if there's a large film production waiting for those storyboards to be finished). 
For those who want to explore a few similar career options, consider titles such as: 
3D Modeler

Computer Animator

Graphic Designer

Logo Designer

Multimedia Designer

UI/UX Designer

Video Game Designer

Web Designer

Web Developer
Newsfeed Featured Jobs Online Courses and Tools