Spotlights
Similar Titles
Civil Engineer (Structural), Structural Design Engineer, Bridge Engineer, Building Engineer (Structural), Structural Analysis Engineer, Construction Engineer (Structural), Seismic Engineer, Steel Structures Engineer, Concrete Structures Engineer, Structural Integrity Engineer
Job Description
Structural engineers analyze, design, plan and research structural components and structural systems to achieve design goals and ensure the safety and comfort of users or occupants. The primary goal is to develop a support system that will allow the structure to stand safely, and to minimize the risk of collapse.
Rewarding Aspects of Career
"Structural engineers must be very detail-oriented and systematic in how they solve problems. They often get ambitious designs from architects and must figure out how to make the structures stand while staying true to their design intent. Sometimes the work can be tedious, but figuring out a design solution and seeing the project become built makes the hard work well worth the effort." Christina Cho Yoo, Professional Engineer
The Inside Scoop
Day in the Life
"You may be running building system analysis programs on the computer or doing structural calculations. Sometimes you are required to draw out detail connections or systems. You may also be meeting up with architects and other engineering consultants to coordinate your drawings with theirs. During construction, once in awhile you may be going to inspect how things are going at the building site." Christina Cho Yoo, Professional Engineer
Skills Needed on the Job
Analytical
Creative
Detail-oriented
Computer skills: Revit, Rhino, SAP, ETABS, RISA, Excel, Word, maybe AutoCAD
Where do they work?
Engineering firm
Government entity
Research or consulting firm
Current Industry Trends
Structural sustainable design, computational geometry, façade engineering, digital fabrication, building information modeling
What kinds of things did people in this career enjoy doing when they were young...
Enjoyed building and organizing things.
Tried to figure out how to fix things.
Enjoyed drawing.
Enjoyed math and science.
Education and Training Needed
Structural Engineers are a type of Civil Engineer. They usually need a bachelor's in civil engineering or civil engineering technology from an ABET-accredited engineering program
A master's isn't needed but can help qualify you for advanced positions and higher wages
Per O*Net, 86% of all Civil Engineers have a bachelor's, 10% a master's, and 5% have a post-baccalaureate certificate
Entry-level workers don't need a license, but many opt to complete a Professional Engineering (PE) licensure program so they can become licensed Professional Engineers able to "oversee the work of other engineers, sign off on projects, and provide services directly to the public"
Each state has different licensing requirements. Candidates may need to first take a Fundamentals of Engineering (FE) exam, become an Engineer in Training or Engineer Intern, then later take their Principles and Practice of Engineering (PE) exam
Additional certifications can bolster your credentials. These include:

Academy of Coastal, Ocean, Port & Navigation Engineers

Diplomate, Ocean Engineering    
Diplomate, Navigation Engineering    
Diplomate, Port Engineering    

Academy of Geo-Professionals - Diplomate, Geotechnical Engineering    
American Academy of Project Management - Certified Planning Engineer    
American Hospital Association - Certified Healthcare Constructor    
American Public Works Association - Certified Public Infrastructure Inspector    
American Society of Heating, Refrigerating and Air-Conditioning Engineers - Certified HVAC Designer    
Association of Energy Engineers -

Certified Building Commissioning Professional    
Certified Building Energy Simulation Analyst    
Certified Energy Procurement Professional    
Certified Measurement and Verification Professional    
Distributed Generation Certified Professional    

Construction Specifications Institute - Certified Construction Contract Administrator    
Golf Course Builders Association of America - Certified Golf Course Builder
Green Business Certification Inc. - LEED AP Neighborhood Development    
International Fluid Power Society - Fluid Power Connector and Conductor    
National Council of Building Design Certification - Certified Professional Building Designer    
National Ground Water Association - Certified Ground Water Professional    
Society of American Value Engineers -

Certified Value Specialist    
Value Methodology Associate Certification   
Things to look for in a program
Is the school focused on research or practicum? Theory or design?
Top Educational Institutions
MIT, Stanford, UC-Berkeley, Imperial, Caltech, ETH Zurich, UCLA, UT-Austin, Cornell
Things to do in High School and College
Stock up on courses in physics, calculus, statistics, algebra, geometry, linear optimizations, statistics, science, engineering, finance, production systems planning, manufacturing systems, English, and writing
Gain practical work experience through Structural Engineer internships
Volunteer for school activities where you can practice teamwork and collaboration skills
Technology and software to become familiar with include:

Adobe Fireworks
Computer-aided design software
Development environment software
Document management software
Enterprise resource planning software
Extensible markup language
File versioning software
Geographic information system
MathWorks MATLAB
Oracle Business Intelligence Enterprise Edition
Project management software

Supervisory control and data acquisition
Read articles and watch tutorials about Structural Engineering to learn from insiders
Try to schedule an Structural Engineer informational interview to ask questions
Get specialized with an in-demand certification
Join professional organizations to learn, grow, and network (see our Recommended Resources > Websites for a list of options)
Typical Roadmap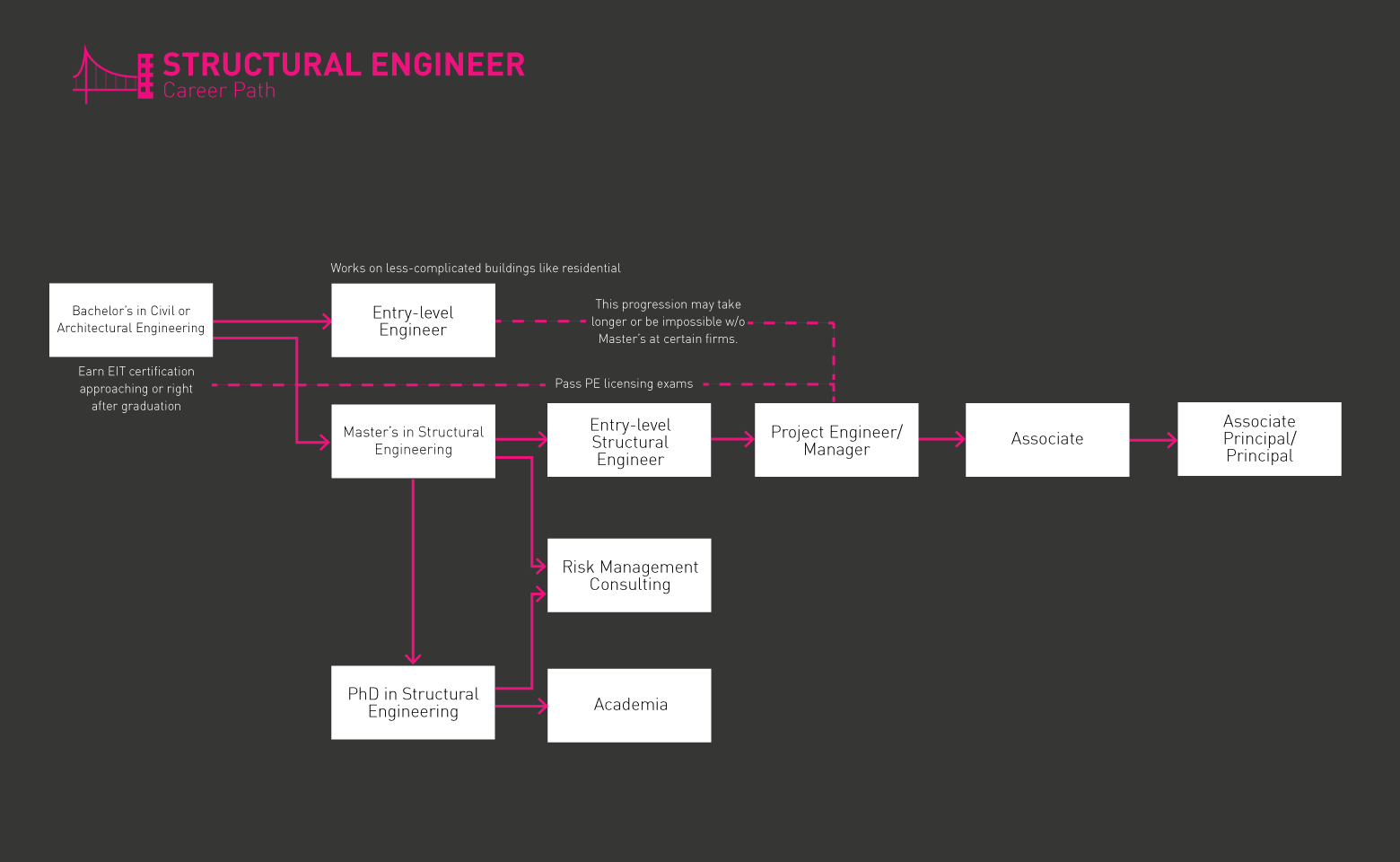 How to Land your 1st job
Structural Engineer internships are a great way to get started
List any certifications you have on your resume (if you're working on a professional license, list that, too)
Sign up for alerts on job portals such as Indeed, Simply Hired, Glassdoor, and Zippia
There are also several engineering-specific job boards, such as National Society of Professional Engineers, EngineeringJobs.net, IEEE Job Site, Society of Women Engineers, ASCE Career Connections, Society of Hispanic Professional Engineers, American Council of Engineering Companies, C&ENjobs, ASHRAE Jobs, and Tau Beta Pi The Engineering Honor Society
Talk with your school career center for help with resumes, mock interviews, and job fair dates and locations
Let your LinkedIn network know you are looking for a job!
Ask former professors, supervisors, and co-workers to vouch for you as personal references
Review Structural Engineer resume templates to get fresh ideas
Study Structural Engineer interview questions to prep for interviews
Take time to learn how to dress for interview success
After interviews, jot down notes so you can learn and improve
Recommended Tools/Resources
Magazines: Structure, American Society of Civil Engineers (ASCE)
Professional organizations: EERI, Structural Engineers Association – International (SEAINT) or your local chapter
Websites
Books
Plan B
Key transferable skills: Organized, systematic problem solving; knowing how to make things stand up and stable.
Alternate careers: Architect, contractor, patent lawyer, finance – quantitative analysis
Newsfeed Featured Jobs Online Courses and Tools