Spotlights
Similar Titles
Addictions Counselor, Case Manager, Certified Alcohol and Drug Counselor, Chemical Dependency Counselor, Chemical Dependency Professional, Clinical Counselor, Counselor, Drug and Alcohol Treatment Specialist, Prevention Specialist, Substance Abuse Counselor, Mental Health Therapist
Job Description
The problem of alcohol and drug addiction hurts families and communities around the world. In the United States, substance abuse disorder impacts over 20 million people, of which only about ~10% ever receive treatment. Sadly, the Centers for Disease Control and Prevention revealed the alarming statistic that "more than 109,000 people died of a drug overdose" from March 2021-2022.  
Substance Abuse and Behavioral Disorder Counselors are on the frontlines of the battle against these pervasive problems. Also known as addiction counselors, these compassionate workers engage directly with people suffering from harmful, often devastating addictions. Their role is to teach clients ways to break addiction cycles and handle problems without self-medicating. Counselors also offer help during the journey to recovery, empowering people to rebuild their lives and repair damaged relationships. 
Substance Abuse and Behavioral Disorder Counselors work with groups as well as individuals. In many cases, they act as part of a larger team of healthcare and mental health professionals treating patients. Many focus efforts on specific target groups such as teens or persons with disabilities. The job can be challenging at times, requiring immense patience and perseverance—but the reward comes from transforming people's lives for the better!
Rewarding Aspects of Career
Working directly with clients and seeing the impact of one's efforts 

Serving as part of a larger healthcare team to improve patient outcomes

Potentially preventing people from substance overdose, self-harm

Mitigating risks of homelessness

Potentially saving others from the harmful action of impaired individuals
2021 Employment
351,000
2031 Projected Employment
428,500
THE INSISDE SCOOP
Job Responsibilities
Working Schedule
Substance Abuse and Behavioral Disorder Counselors may work full- or part-time, with night, weekend, or holiday shifts necessary in some settings. 
Typical Duties
Review client/patient records and reports to gain an understanding of their backgrounds, setbacks, and progress to-date

Schedule one-on-one or group counseling sessions

Analyze the severity of a client's drug dependency 

Develop and adjust customized treatment plans 

Gather biological samples for drug testing

Keep track of the client's drug or alcohol abuse patterns 

Collaborate with healthcare team members, such as psychologists, psychiatrists, and social workers, as needed

Discuss client situations with parole officers or others in the justice system, as required

Conduct interventions during crisis situations

Review progress and goal attainment status

Attend training sessions to increase knowledge and skills related to the field

Conduct interviews with affected family members, go over services and program options, and educate them on ways to support patients as best as they can
Additional Responsibilities
Check-in with discharged patients for follow-up care 

Train new counselors and interns

Make referrals for other social services or treatment options, as needed

Create public education materials and programs

Attend meetings and give presentations

Stay up-to-date on relevant industry policy and funding changes

Maintain and safeguard physical and electronic records
Skills Needed on the Job
Soft Skills
Compassion

Composure

Cooperation

Dependability

Detail-oriented

Diligence

Innovative thinking

Integrity 

Listening skills

Methodical 

Motivation

Negotiation skills

Observant

Patient

Persistent

Persuasive 

Relationship-building

Safety conscious 

Sound judgment 

Teaching skills

Time management 
Technical Skills
Calendaring tools to make appointments 

Database query software

Medical programs such as Athena's

Penelope Case Management

Office software

Presentation programs

Records management programs
Different Types of Organizations
Governmental agencies

Hospitals and clinics

Mental health and substance abuse recovery centers
Expectations and Sacrifices
Persons suffering from addictions can be challenging to work with. Their behavior may be unpredictable, and relapses are common. Often, they struggle with mental health problems, as well, creating another layer of complexities. Substance Abuse and Behavioral Disorder Counselors must apply all their knowledge and skills to find workable treatment and recovery paths for their clients and patients, some of whom are not always willing participants (such as those who are involuntarily committed to a rehab program). 
The job can be an emotional rollercoaster leading to stress and frustration at times. Many counselors experience burnout due to an overload of cases and/or a scarcity of resources. There's a lot riding on the effectiveness of their treatment plans and the pressure can take a toll when things don't work out. However, it's important to expect and plan for setbacks and to keep pushing forward. When counselors stay motivated and persistent, they can often help clients turn their lives around! 
Current Trends
The Bureau of Labor Statistics projects up to 22% job growth for the field, compared to an average of just 5% for all occupations. One reason for the job boost? Several states are viewing counseling services as a more humane alternative to jail time for persons charged with drug-related activities. There's also a growing movement by the military to help veterans in need of professional mental health and substance abuse counseling services. 
Another reason is that alcohol and drug use surged during the Covid pandemic, creating a desperate need for more trained Substance Abuse and Behavioral Disorder Counselors to enter the workforce. Of particular concern is the frightening trend of cartels targeting younger customers with "rainbow fentanyl" which is "50 times more potent than heroin" and can be fatal in doses "equal to 10-15 grains of table salt."
What kinds of things did people in this career enjoy doing when they were younger…
Substance Abuse and Behavioral Disorder Counselors tend to be compassionate people who may have always tried to help others. The field attracts people from all walks of life, but it's not uncommon for people who were affected by substance abuse—either from their own use or that of a loved one—to take up this profession. Data USA notes that currently nearly 3/4th of workers in this field are women, with the most common college majors being psychology, education, and public admin/social services.  
Education and Training Needed
Education Needed
Substance Abuse and Behavioral Disorder Counselors usually need a bachelor's to get started, though some enter the job market with a certificate instead of a full degree

The most common degree majors are addiction counseling, substance abuse counseling, psychology, education, and public administration and social services

Common

college courses

include behavior disorders, case management, dynamics of group counseling, foundations of addictions, psychopharmacology, and working with families on alcohol/drug issues

To get a state license, counselors may need to complete a master's degree and have several hours of work experience. Counselors working in a private practice will also need a license

Some positions require workers to hold CPR/Basic Life Support certification. In addition, there are several optional certificates available from the below organizations:
Things to look for in an University
Substance Abuse and Behavioral Disorder Counselors should decide upon their major and pin down their long-term career goals as early as possible. That will help determine the most suitable attributes for their college program 

General college considerations include tuition costs (in-state/out-of-state rates), discounts, scholarships, and course delivery options (on-campus, online, or hybrid program)

Ideally, you'll want a program that offers hands-on work experience you can count towards licensure
Things to do in High School and College
High school students can prepare by taking classes in health, anthropology, ethnic studies, gender studies, sociology, psychology, and child development, if offered

Participate in school activities where you can hone your soft skills such as speaking, active listening, time management, negotiation, and conflict resolution

Decide which college degree major is right for your goals and interests

Talk to program staff about internship opportunities to gain real-world experience

Think about whether you want to do an online, in-person, or hybrid degree, but keep in mind you may need several hours of in-person field experiences 

Volunteer or apply for part-time social work jobs in your community. Read or watch the news to gain an understanding of the most pervasive problems in your area

Keep a list of contacts (including phone numbers or emails) who might serve as future job references 

Check out articles and video tutorials about substance abuse and behavioral disorder issues

Think about the area you might want to specialize in, such as working with youth or military veterans
Typical Roadmap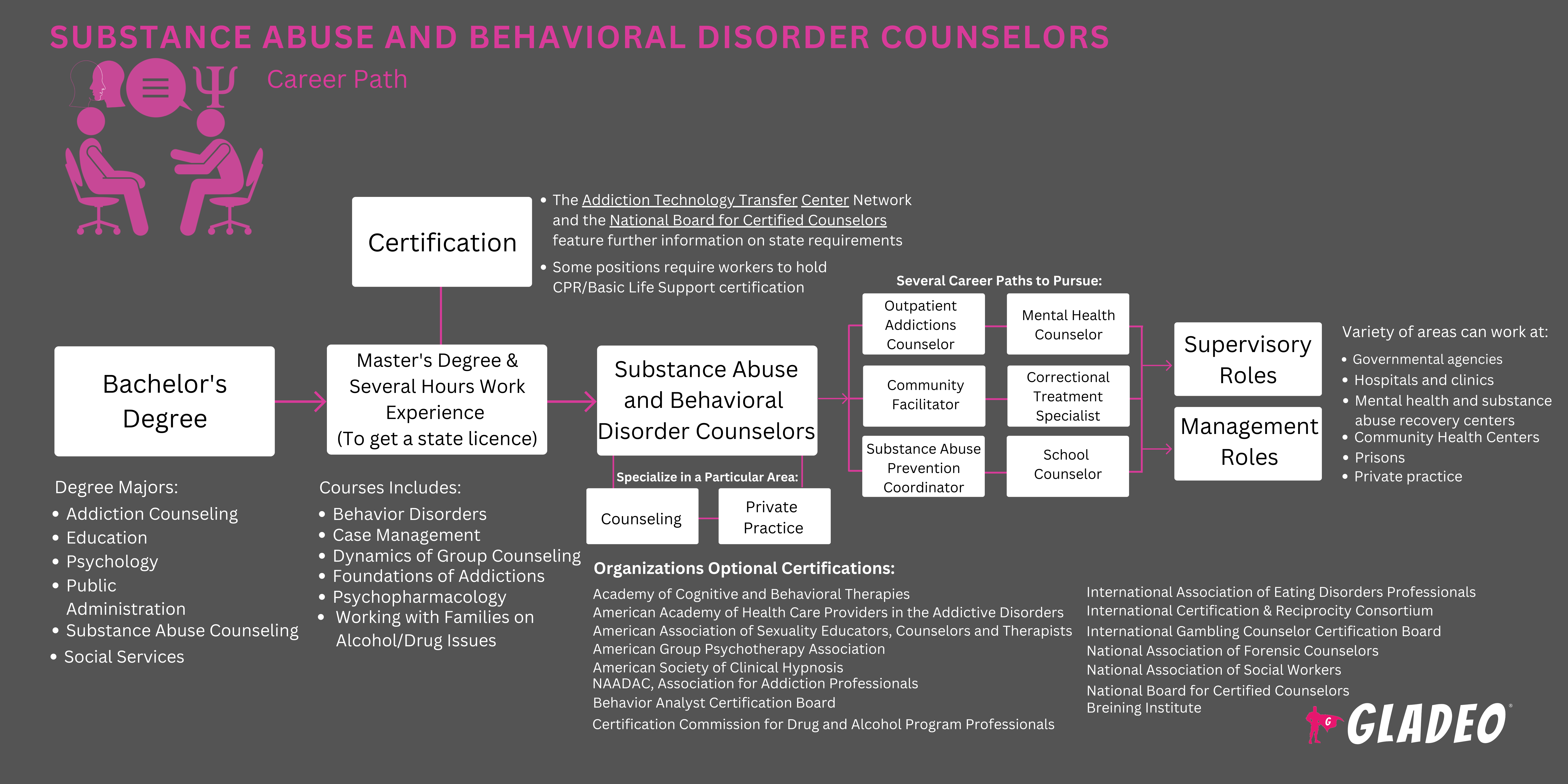 How to Land your 1st job
Ask you school's faculty or career center for tips about connecting with employers

Let your professional network know that you are looking for work

Look at the career pages of local social work agencies or drug treatment facilities 

Keep your social media clean and professional, in case job recruiters take a peek

Read counselors

interview questions

, learn your career-related terminology, and practice your answers

Consider moving to a state where there are more

employment opportunities

, but make sure you are licensed to work there

Be familiar with the most common problems in your area, and be ready to speak about those during interviews

Remember to get permission from potential references before giving out their contact info

Practice doing a few

mock interviews

with friends or relatives 
How to Climb the Ladder
Talk with your supervisor and let them know your career goals. Ask for their advice on how to move up

Earn a certification in a hard-to-fill specialty area

Maintain your composure at all times, and treat all clients/patients with respect

Stay committed to long-term client/patient goals, and stick with them through the tough times

Don't be stubborn if a problem is beyond your control. Know when to make necessary referrals

Stay up-to-date on relevant counseling techniques

Know, comply with, and enforce all applicable federal, state, local, and organizational policies

Synergize your efforts with other members of the client/patient's treatment team

Get involved with your community, conduct outreach activities, and build your reputation as a leader who cares!

Engage regularly with professional organizations. Attend events, give speeches, and take on committee roles
Recommended Tools/Resources
Plan B
Though their work is often rewarding, Substance Abuse and Behavioral Disorder Counselors frequently can experience stress and frustration for various reasons. For some, the ups and downs of the job can be tough to manage. If you're interested in related career fields to explore, consider the following options:
Healthcare Social Workers

Health Education Specialists and Community Health Workers

Marriage and Family Therapists

Physicians and Surgeons

Probation Officers and Correctional Treatment Specialists

Psychologists

Registered Nurses

School and Career Counselors

Social Workers
Newsfeed Featured Jobs Online Courses and Tools