Spotlights
Similar Titles
Geomatics Engineer, Geospatial Analyst, Land Surveyor, Geographic Information Systems (GIS) Specialist, Topographic Surveyor, Cadastral Surveyor, Remote Sensing Specialist, Mapping Technician, Cartographic Designer, Geospatial Data Analyst
Job Description
The roles of Surveyors and Cartographers are not exactly the same, but they work together so closely that we decided to bundle the two fields into one profile! As Environmental Science notes, both "gather data and map the landscapes all around us," and their work is "used for construction, mapping, and geological study."
Surveyors physically visit the actual sites they need to map. They use measuring tools and techniques to gather data which is later plugged into the software. Cartographers use captured information in the creation of maps made for various purposes, such as showing borders or geographic features like elevation and water sources. The ongoing efforts of both Surveyors and Cartographers are needed to ensure maps are kept accurate and up-to-date. While Surveyors are exposed to weather conditions and potential outdoor hazards, Cartographers spend more time indoors working with programs but may have to travel as needed
Rewarding Aspects of Career
Helping capture and utilize geospatial data for mapping and planning purposes

Empowering thousands of organizations with tools to improve operations

Potentially saving lives by mapping and finding natural disaster spots
2021 Employment
13,400
2031 Projected Employment
13,700
The Inside Scoop
Job Responsibilities
Working Schedule
Surveyors and Cartographers usually work full-time. In some cases, overtime may be necessary if a task is urgent. Some may only work in part-time positions, as needed.
Typical Duties
Surveyors
Research and review existing maps, surveys, deeds, land titles, lease contracts, and other pertinent documentation related to legal geographic boundaries

Visit various locations where fieldwork is to be done

Take note of important landmarks and other fixed reference points and features

Use equipment to calculate accurate distance and angle measurements of various surfaces

Direct other survey team members, as needed

Create sketches and draft maps of locations, showing relevant topographical features and property lines

Ascertain terrain heights, depths, shapes, dimensions, and other aspects necessary to determine property lines

Record latitudes and longitudes of boundaries using GPS and other tools such as

theodolites, transits, and levels

Record survey data and use it to prepare reports, charts, maps, and other documents

Produce written survey findings with visuals for clients, agencies, or in some cases legal professionals

Work with engineers and architects, as needed

Calibrate and modify survey instrumentation 

Take geodetic measurements to help assess geomorphic and topographic aspects 

Provide sworn testimony in property dispute cases

Plan out aerial survey projects including which equipment to use 

Conduct surveys of bodies of water such as lakes and rivers

Stay up to date on developments surveying/mapping technologies

Use photogrammetric map and electronic data processing tools 
Cartographers
Determine valid sources for collecting geographic data; establish criteria standards for data usage

Gather geographic data from surveys, reports, aerial photos, satellite images, remote sensors, and existing maps or charts

Filter data to ensure only the most current, relevant, and accurate information is used

Examine legal documents listing or showing current property boundaries

Create comprehensive databases

Decide upon suitable map content, layout, sizes, colors, and other factors, based on employer's needs

Use suitable data and programs to make visual representations such as digital and graphic maps, charts, 3D models, tables, etc. 

Reference important geographic features and details, including control points,

hydrography

, geodetic points, elevations,

planimetric features

, and topographic features

Review final outputs for accuracy 

Use precision

stereoplotting tools

and drafting instruments to note details on photos 

Conduct site visits as needed to observe and verify accuracy of information 
Additional Responsibilities
Update maps regularly using current data

Train and supervise other team members, as needed

Stay up to date on industry changes and technological advancements

Attend professional organization events to share information and learn from others
Skills Needed
Soft Skills
Activities coordination 

Analytical 

Attention to detail

Collaboration 

Critical thinking

Detail-oriented

Impartial 

Independent

Normal color vision

Objective

Organized

Patient

Perceptive 

Problem solving

Reading comprehension 

Strong communication skills

Time management 

Visualization 
Technical Skills
Computer aided design (CAD) programs

Data analysis software

Database management systems

Design software, blueprints, 3D models, technical plans

Development environment software

Enterprise resource planning 

Geographic information system, such as

ESRI ArcGIS

Geospatial industry programming languages

, including Python, JavaScript, C+, HTML/CSS, Swift, Java, C#, SQL, PHP, Rust, Lotlin, Ruby, TypeScript, Matlad, Go, etc.

Google Earth

,

KMZ files

, and

lidar

 

Graphics/photo imaging programs

Map creation software like

CDA International's Manifold System

or

ITT Visual Information Solutions

Mobile location-based services software 

Previous work in/familiarity with consulting engineers and/or surveyors

Scientific software, such as

Coordinate geometry COGO

 

Understanding of geography
Different Types of Organizations
Architectural and engineering services

Construction

Governmental agencies

Management, scientific, and technical consulting services

Mining, quarrying, and oil and gas extraction
Expectations and Sacrifices
The work of Surveyors and Cartographers is vital for many industries and accurate results are often critical. Precision is the name of the game and mistakes can be costly. Major land disputes can be resolved with accurate surveys, while inaccurate results can lead to expensive legal battles. 
In addition, many companies make business decisions based on maps and other information supplied by Surveyors and Cartographers. Expectations run high and related sacrifices include reputational damage for the workers or even financial liability in some cases. This is why Surveyors may need business insurance. Another sacrifice is the need for frequent travel and outdoor work, sometimes during inclement weather conditions.
Current Trends
Surveyors and Cartographers must keep up with the significant changes that are revolutionizing their lines of work. Remote-control unmanned aerial vehicles (UAVs) and drones aren't new to the world of surveying, but they are increasingly relied upon for their flexibility, ease of use, and ability to obtain data that would otherwise be much harder (if not impossible) to acquire! 
But another disruptive technology — the cloud — has expanded capabilities in terms of gathering and managing large datasets, especially with the advent of the 5G mobile network. Speaking of mobile, mobile mapping systems are being used to scan all sorts of environments very quickly, cutting down survey times and leading to notable cost savings over the long term.
What kinds of things did people in this career enjoy doing when they were younger…
Surveyors and Cartographers might have appreciated being outdoors and paying attention to the details of their surroundings. They may have enjoyed consulting maps for navigation or to learn information about various regions of the world. Surveyors were possibly more "hands-on" types who liked rolling up their sleeves to work with gadgets. Cartographers may have spent more time working with computers and data. Both were likely a bit obsessed with accuracy in whatever they were up to! 
Education and Training Needed
Surveyors 
Surveyors and Cartographers usually need at least a bachelor's degree, ideally from an

ABET-accredited

program

Surveyors major in quantity or land surveying, hydrographic surveying, engineering (usually civil or mechanical), or in some cases natural resources

Surveyors must learn how to use

equipment

such as theodolites, measuring tape, total stations, 3D scanners, GPS/GNSS, levels, and rods, among many others

They will also learn common surveying software like Civil 3D, AutoCAD, BIM 360, Revit, Navisworks, and more
Cartographers
Cartographers major in cartography, surveying, geography, or geomatics, with plenty of coursework in programming, mobile mapping, geographic information systems (GIS), and related topics

Some states require Cartographers to obtain a Surveyor license 

Students will need to learn how to use various software programs such as

ArcGIS

and

MapInfo Pro

Other topics of learning include

Boeing SoftPlotter

, AutoCAD,

lidar

sensors, and cartographic methods, theories and principles, 

There are several national certifications available for Surveyors, including:

Certs for Cartographers include:

Note, the

United States Geospatial Intelligence Foundation

"temporarily and voluntarily suspended the Certified GEOINT Professional (CGP) program for a period of three (3) years, starting February 1, 2021." Please check their website for more information and other opportunities 
Things to look for in an University
Consider the cost of tuition, discounts, and local scholarship opportunities (in addition to federal aid)

Think about your schedule and flexibility when deciding whether to enroll in an on-campus, online, or hybrid program

Check out the program's faculty awards and accomplishments to see what they've worked on

Look closely at the facilities they teach in and the equipment and software they let students train on

Review job placement stats and details about the program's alumni network 
Things to do in High School and College
Volunteer for school activities where you can learn how to work effectively as a team, practice your soft skills, and manage projects 

Sign up for high school courses such as arithmetic, algebra, geometry, trigonometry, computer science, computer programming, geography, mechanical drawing, and drafting

Consider applying for a land survey or cartography apprenticeship 

Future Surveyors might want to gain work experience through part-time construction jobs. The practice may help develop a few skills with surveying equipment, plus build up physical stamina

Write down the names and contact info of people you work with, as they might serve as future job references one day! 

Study books, articles, and video tutorials related to Surveying or Cartography depending on your goals

Ask a few seasoned Surveyors or Cartographers if you can shadow them to get a feel for their day-to-day activities

Join professional organizations to learn about trends and grow your network 

If you meet the eligibility requirements, get certified in a specialized area to bolster your credentials 

Think about which state you want to work in, so you can review their licensure requirements

Consider which industry you want to focus on, and compile a list of potential employers. Review their websites to learn more about their needs and check out their career pages

Don't wait to start drafting your resume. Keep a log of the software and equipment you've learned to use, so you don't lose track

Review criteria for jobs in advance by checking out postings on Indeed and other job portals
Typical Roadmap for Surveyor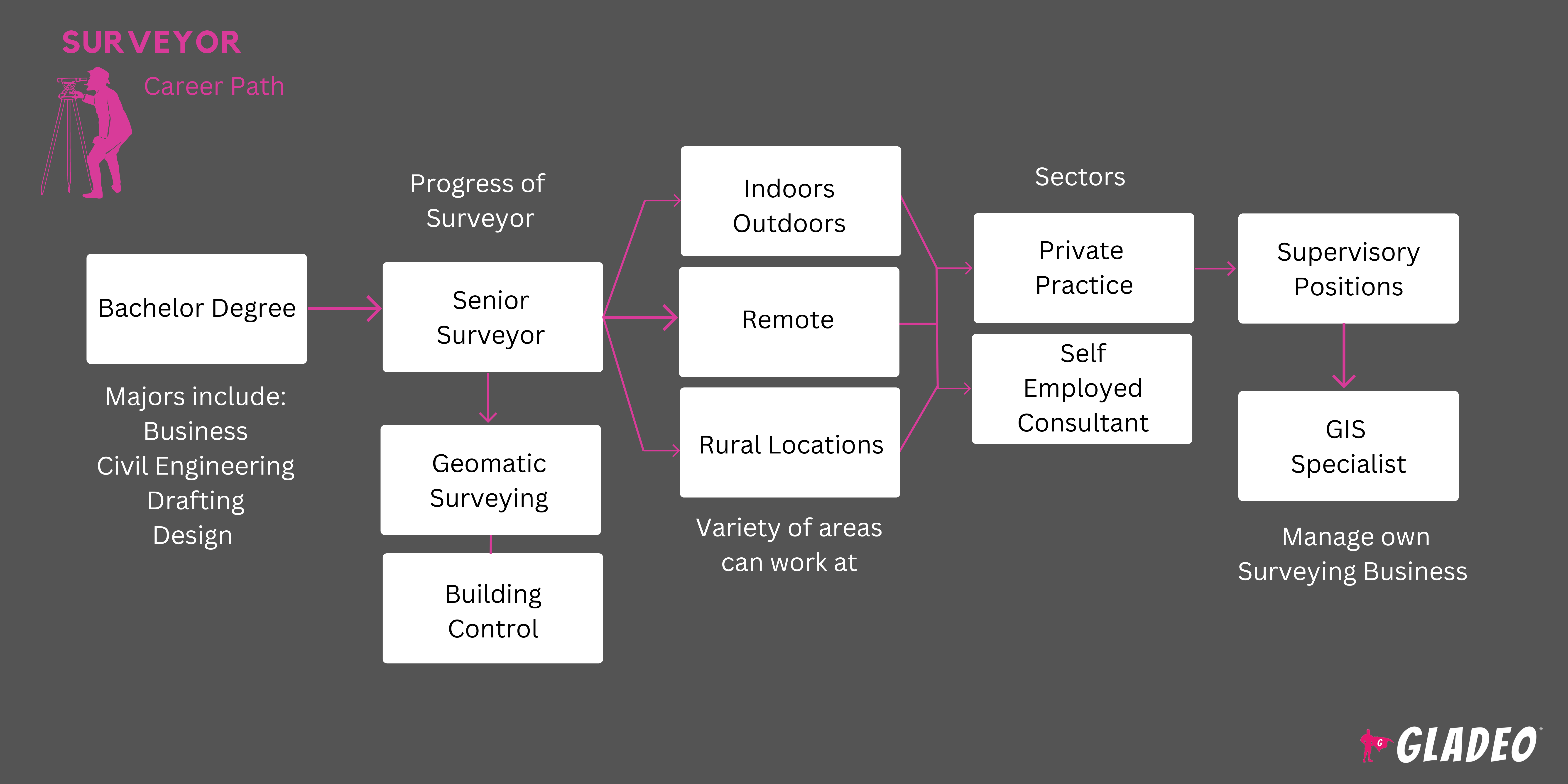 Typical Cartographer Roadmap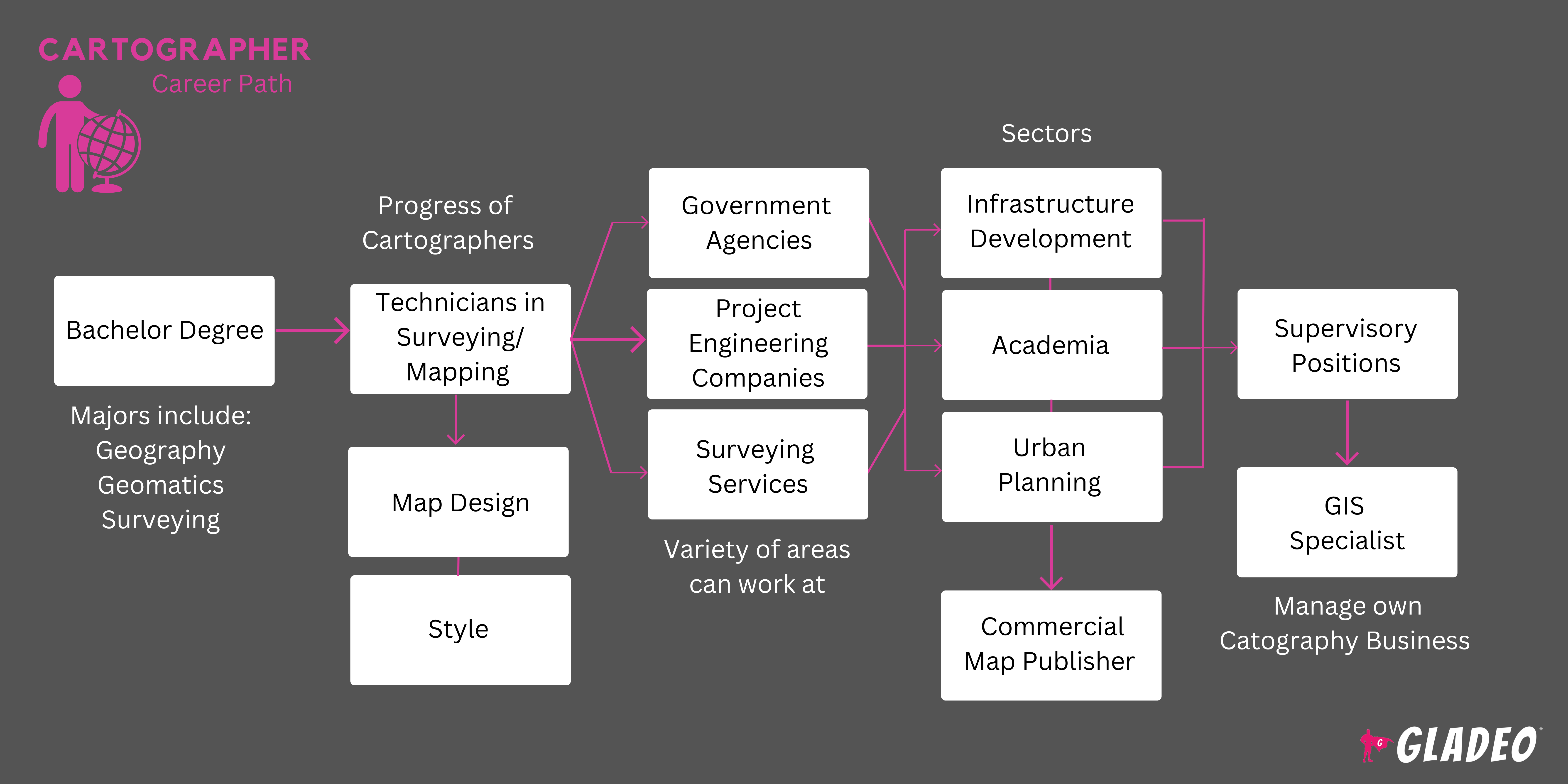 How to Land your 1st job
Survey or Cartography-related apprenticeships may be a good way to break in

Learning how to use as many relevant tools, pieces of equipment, or programs as you can before applying

Upload your resume on job portals such as

Indeed

,

Simply Hired

,

Glassdoor

, and

Zippia

and keep it current

Note, some national and state professional associations that list jobs, too, such as the National Society of Professional Surveyors's

job board

,

GIS Jobs Map

, or the Professional Land Surveyors of Oregon

job board

Search for job ads and screen them carefully to make sure you meet the requirements to apply

Reach out to working Surveyors or Cartographers to ask for job-seeking tips

Spread the word through your network that you've begun your job search

Move to where the most job opportunities are! The states with the highest employment level for

Surveyors

are Texas, California, Florida, Colorado, and Georgia. For

Cartographers

, it's Texas, Colorado, California, North Carolina, and Virginia

Ask your college's program or career center for help with resume writing, mock interviewing, job fair schedules, etc. 

Many programs serve as pipelines to recruiters so let them know you're ready for work!

Review

Surveyor

and

Cartographer resume templates

to get ideas for wording and formats

List all education, skills, training, and work history on your resume

Consider having your resume drafted or at least reviewed by a professional resume writer or editor 

Ask former teachers and supervisors ahead of time if they'll serve as personal references. Don't catch them off guard by listing their contact info without permission

Study

Surveyor

and

Cartographer interview questions

to see what you might be asked

Make an account on

Quora

to ask job advice questions from workers in the field

Always dress appropriately for

job interview success

!
How to Climb the Ladder
During your internship work experience phase, pay close attention and learn all you can. Even though you're out of school, you're still in "learning mode" during those first years (and beyond, too)

Keep progressing! Get licensed as soon as you're eligible to apply and take the Fundamentals of Surveying and the Principles and Practice of Surveying exams

Stay on top of the game by constantly improving your skills and learning new things through online courses, a master's degree, or advanced certifications to qualify you for higher levels of authority 

Build trust by being accurate and accountable. Meet deadlines and ensure high-quality results 

Watch and learn from more senior Surveyors and Cartographers. Ask questions and take notes of best practices 

Grow your professional network in the community and via increased engagement with professional organizations

Give lectures at organizational events, publish articles, and try to win state and national awards to enhance your professional reputation

Schedule a conversation with your supervisor or manager to discuss opportunities for advancement

If needed, consider applying to new jobs with more promotion potential — or launch your

own land surveying company

!
Recommended Tools/Resources
Plan B
The technology behind surveying and cartography is always evolving, and sometimes it's hard to keep up. Both jobs are challenging and rewarding, but may not be the best fit for some workers. For those who want to consider a few alternative paths, the Bureau of Labor Statistics lists related occupations to think about!  
Architects

Civil Engineers

Construction and Building Inspectors

Drafters

Environmental Scientists and Specialists

Forest and Conservation Workers

Geographers

Geological and Hydrologic Technicians

Landscape Architects

Surveying and Mapping Technicians

Urban and Regional Planners
Newsfeed Featured Jobs Online Courses and Tools