Spotlights
Similar Titles
Arts Educator, Teaching Performer, Artist-in-Residence, Community Artist, Creative Educator, Arts Integration Specialist, Teaching Performer, Artist-Educator, Outreach Artist, Workshop Facilitator
Job Description
Some career paths are more clear-cut than others. Artists often work in those less clearly defined spaces, and one particular career choice comes to mind when we talk about artists as educators—the Teaching Artist! Renowned actor, author, and businessman Eric Booth defines the Teaching Artist as "the model of the 21st century artist, and simultaneously, a model for high-engagement learning in education." So what exactly do such artists do every day? 
 
Also known as artist-educators, Teaching Artists are practicing professionals serving dual roles. They earn a living as artists but are also trained in educational pedagogy. They mentor students of all ages, working in a variety of settings, including schools and other community outlets. Teaching Artists train students on the particular art forms that the artists specialize in, such as music or visual media. Learning occurs in a more personalized fashion that relies less on traditional curricula and more on finding ways to inspire students to express their inner artistry. 
Rewarding Aspects of Career
Working in one's chosen field of art, but in a new and exciting way
Training aspiring visual and musical artists
Exposing diverse types of students to art forms that may benefit mental wellness
Earning extra income doing something you love!
 
"My work as a teaching artist inspires and informs my work as an artist. One influences the other. It advances our personal story and what we want to say to the world as an artist."  Miko Lee, Teaching Artist and Executive Director of The Teachings Arts Guild
The Inside Scoop
Job Responsibilities
Working Schedule
Teaching Artists may or may not work full-time as educators. They already work as professional artists, but may supplement their income through freelance teaching. Hours may be in the day, evening, or weekends, depending on the courses and settings. 
Typical Duties
Work with leaders and managers of schools, museums, studios, or other community institutions to discuss and plan teaching opportunities  
Develop lesson plans and curricula relevant to diverse classrooms and settings
Train a wide range of student types, from K-12 and post-secondary students to prison inmates, medical patients, museum visitors, tourists, or executives
Stay flexible and meet students at their current level of knowledge and experience
Assign projects and review instructions with students
Teach proper use of applicable tools and materials for specific projects
Those teaching visual arts must share knowledge of lines, 2-D shapes, textures, 3-D forms (i.e., the volume of height, width, and depth), space (perspective), color wheels, and value (i.e., lightness or darkness tones)
Those teaching music must know basic elements such as sound, rhythm, melody, harmony, texture, structure, expression, and of course, must train students on specific instruments such as percussion, string, brass, keyboards, or wind instruments
Guide students along their creative journeys as they explore their own styles
Teach not only skills related to art but also self-confidence, communication, and collaboration
Organize short workshops, residencies, or topical teaching series
Set up collaborative projects that allow groups to work together
Additional Responsibilities
Ensure all needed materials and equipment are available 
Discuss budget requirements with hosting organizations 
Plan for frequent travel, to include out-of-town stays
Budget for trips away from home and verify which expenses are covered 
Stay on top of new developments and trends
Help promote and market your events
Potentially work with nonprofit organizations
Demonstrate the safe use of hazardous electrical equipment or toxic supplies, such as glue, paint thinner, scissors, etc. 
Skills Needed on the Job
Soft Skills
Desire and aptitude to help others succeed
Empathy and patience
Enthusiasm 
Informed social and cultural awareness 
Keen organizational skills
Resilience and composure 
Resourcefulness and leadership
Skills for coordinating and instructing activities
Sound judgment and decision-making
Strong communication skills 
The ability to assess and guide student behavior
Time management
Technical Skills
Familiarity with tools and supplies relevant to the level being taught
Art and craft supplies may include: various weights and types of paper, canvas, crayons, pastels, charcoal, markers, graphite drawing pencils, sharpeners, colored pencils, ink pens, paintbrushes, trays, thinners, acrylic paint, oil paint, watercolors, tempera, sponges, glue, glue sticks, paste, rubber cement, pom poms, beads, glitter, string, yarn, felt, scissors, rulers, erasers, tape, felt, gloves, and hand cleaners
Music supplies will include specific instruments, microphones, speakers or amplifiers, recording devices, instrument cleaning supplies, and items unique to a particular instrument (picks, bows, reeds, drumsticks, etc.)
General familiarity with computers (PC or Apple)
Knowledge of visual presentation equipment (such as video magnifiers, televisions, etc.) 
Different Types of Organizations
Art studios
Community colleges
Cruise ships
K-12 schools
Medical facilities
Museums
Prisons and jails
Tourist attractions
Universities
Expectations and Sacrifices
Perhaps the largest "sacrifice" that Teaching Artists must make is that their career path isn't as stable and predictable as others. However, for many, if not most, that's exactly what draws them! They want freedom and flexibility instead of a traditional 8-to-5 job, in part because they're already working as professional artists. 
 
Teaching Artists are still expected to be devoted educators, but teaching is only part of what they do for a living. The main thing they do is to perform their art. Without mastering their art, they can't exactly teach it to others. Still, during times of economic downturn, Teaching Artists might turn more to the teaching part of their lives, looking for extra income. If that downturn affects their teaching jobs, too, it can make for hard times. 
 
Many Teaching Artists do not hold traditional teaching licenses or credentials, so finding traditional work can be more of a challenge if the need ever arises. However, between their artist jobs and their teaching gigs, they're usually more than able to make ends meet!
Current Trends
The concept of the Teaching Artist has evolved over the years. The Teaching Artists Guild (TAG) and other like-minded organizations have strived to improve the visibility of the field while offering training and advocacy resources at local, state, and national levels. TAG connects artists through regional networks, online and in-person events, social media, storytelling, and fundraising. It also offers a job board plus an interactive map for organizations and partners (like schools and community centers) to find artists they might like to host. Around the nation, the arts have been thriving, making this a thrilling time to discover the vibrant world of the Teaching Artist industry!
What kind of things did people in this career enjoy doing when they were younger…
Teaching Artists were almost undoubtedly passionate about the arts at an early age, eventually becoming drawn to one area in particular. Visual artists and musicians may have found solace in their art and the way it empowered them to express their creative sides. Over time they mastered their chosen art form through education and training or simply through self-discovery and countless hours of practice. 
 
Whatever method they chose to learn their art, along the way, they also recognized their desire to share with others. It's possible they were inherently adept at teaching. Perhaps they were an older sibling, or were just good at a specific subject in school, prompting their friends to ask for help. In any case, they discovered their love of teaching matched their enthusiasm for their art—and thus, they combined their two interests to become Teaching Artists!  
Education and Training Needed
Teaching Artists are not usually traditionally licensed or certified school teachers
They may complete a bachelor's degree or higher, majoring in the subject of their chosen art form (such as Music or Visual Arts)
Many Teaching Artists learn their art through one-on-one mentorships, such as via private lessons taken for years
Others are essentially self-taught, learning through endless hours of practice and, in some cases, live performance
Organizations like the Teaching Artists Guild and Iowa Arts Council offer training, workshops, and other resources to help launch a career in this field 
Look for short online courses such as Kadenze Academy's Intro to Being a Teaching Artist
Things to look for in a program
Teaching Artists don't necessarily have to have a college degree, but if you do attend college, there are many things to keep an eye out for!
Ideally, your university should have an excellent reputation for its commitment to the arts
Look for programs that have gotten regional or national acclaim, with classes taught by professors who are accomplished in their respective artistic careers
Visual artists should look for schools featuring museums and art exhibits; musicians should seek out schools that have an auditorium and host performances and events
Compare tuition and other costs between schools to make sure you're getting the best value for your money
Think hard about the pros and cons of attending online versus on-campus. Many arts-related classes are better taught in person. In some cases, a hybrid program might be suitable
Check out graduation and job placement statistics. Low or unpublished numbers could be a negative indicator. Successful schools are proud to display their stats!
Things to do in High School and College
Teaching Artists must be masters of their subject matter if they want to have credibility. Use free time to practice and get as good as you can!
Along with being a master of your art form, you'll need to be an expert educator, too. Hone your written and verbal communication skills, as well as your ability to lead activities, manage projects, and teach others using proven pedagogy 
Take courses like public speaking, psychology, special education, and behavior management
Practice your classroom management style by volunteering for projects that put your leadership and project management skills to the test
Get out there and start freelancing!  Post ads online (but watch out for scam replies), take on private students, and find inroads to work small gigs at schools, youth organizations, art and cultural centers, medical treatment centers, and correctional facilities 
Learn about diversity and social standards so you can tailor your teaching to ensure successful outcomes for students from all walks of life
Typical Roadmap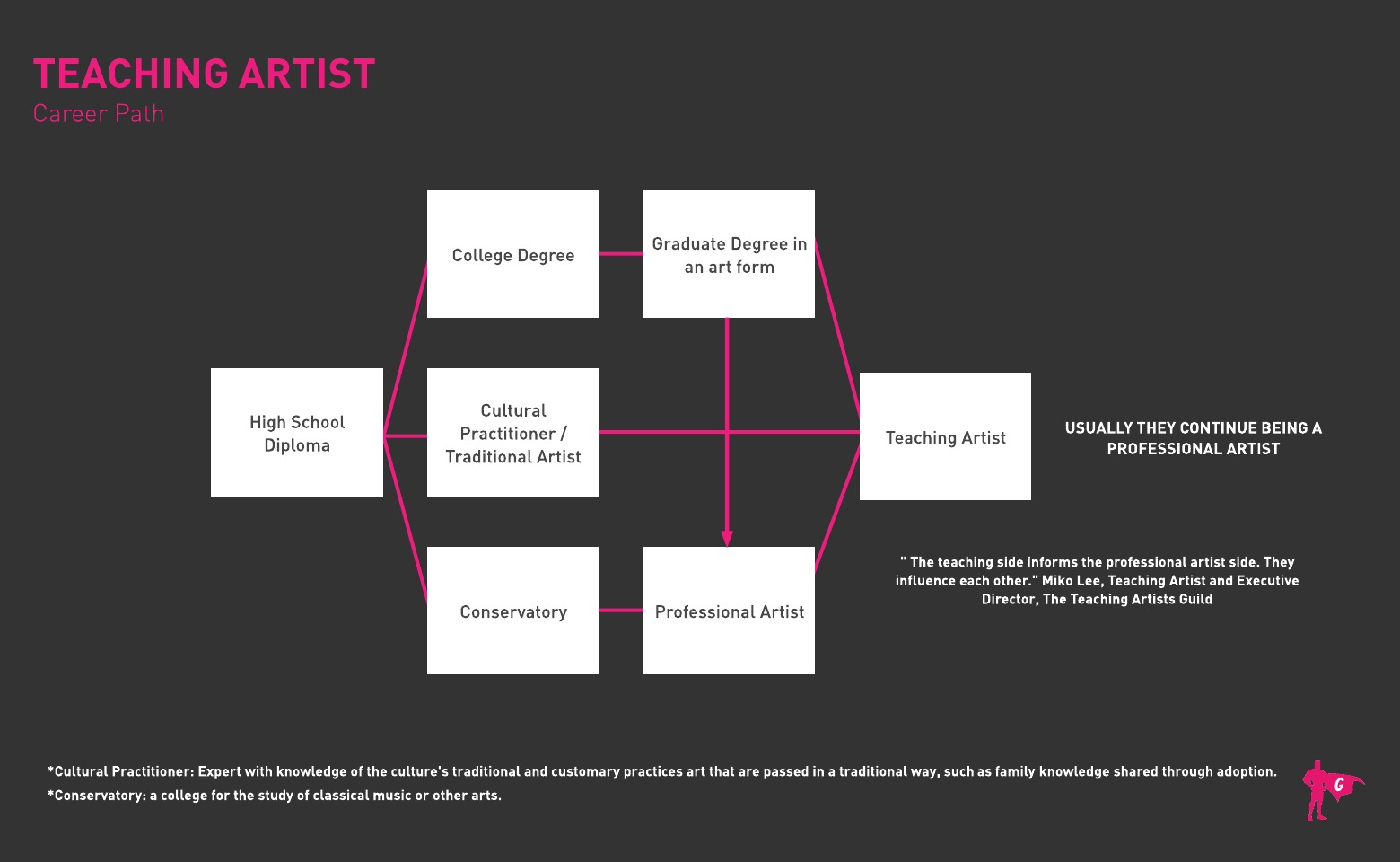 How to land your 1st job
For Teaching Artists, your reputation means a lot! Your educational background is important, but having demonstrable experience as a working professional artist goes a long way
When an organization/school asks you to do a workshop, or be a guest speaker, do them and get experience teaching students. The more visibility you get, the more likely it is that you can get a residency. 
On your resume, list ample details about your professional experiences as an artist, as well as any other work experience, formal education, volunteerism, and accolades
Look on employment portals like Indeed but keep in mind you might have to "make your own" opportunities by contacting potential hosts directly
Read job posts thoroughly and make sure your background meets all applicable needs listed by the employer
Take notes of any skills or experience gaps you might have, so you can work on those and boost your qualifications 
Reach out to old supervisors, teachers, and mentors. Their letters of reference can make all the difference when employers start vetting applicants and selecting candidates to interview
Remember that often the people who interview you aren't subject matter experts themselves. Part of your job is to persuasively explain what you can bring to the table
Be enthusiastic! Even if you're a successful professional artist, you must convey to potential employers how important their job is to you
How to Climb the Ladder
Embody the spirit of the TAG Teaching Artist Manifesto to "make the arts accessible to all, regardless of circumstances or 'talent" 
Find collaborators to do joint projects with. 
Strengthen your teaching credentials. Consider earning your master's degree or completing additional training or advanced certifications
Demonstrate interest in all students' educational progress in the arts
Learn to market yourself! Establish your professional reputation and make a name for yourself through personal branding! 
Get your work published or released as much as possible
Try to be featured in relevant magazines or appear on radio shows and podcasts
Mentor other Teaching Artists and get involved with professional organizations (see our list of website resources below), festivals, workshops, lectures, and other events
Build rapport with school administrators and faculty, community members involved in the arts, youth associations, and parents groups
Keep your students motivated by being a student yourself! Stay up-to-date on creative new pedagogical methods through constant reading, watching tutorials, and other learning methods 
Recommended Resources
Websites
Arts Education Alliance Bay Area
Arts Integration Framework
Arts Midwest
Dave Ruch Educate & Entertain Blog
Harvard Project Zero
Iowa Arts Council
National Endowment for the Arts
NYC Arts In Education Roundtable
Rethinking Schools
Rhode Island Teaching Artists Center
TASC of California
Teaching Artists Guild
https://teachingartistsguild.org/map/
Throughline Arts
Viola Spolin
Books
Plan B
If you want to work in the education sector, but a career as a Teaching Artist seems less stable than you're comfortable with, have no fear! The Bureau of Labor Statistics lists plenty of education-related career paths to choose from, such as: 
ESL Teachers
Career Teachers
School Principals
Kindergarten and Elementary School Teachers
Middle School Teachers/Postsecondary Teachers
School and Career Counselors
Special Education Teachers
Teacher Assistants
Words of Advice
"Find a mentor, someone who fosters your growth and believes in you." Miko Lee, Teaching Artist and Executive Director of The Teachings Arts Guild
Newsfeed Featured Jobs Online Courses and Tools