Spotlights
Similar Titles
Broadband Technician, Central Office Technician, Combination Technician, Customer Service Technician (CST), Field Technician, Install and Repair Technician, Installer, Outside Plant Technician, Service Technician, Telecommunications Technician, Cable Installer, Telecommunications Maintenance Technician, Telecommunication Specialist
Job Description
Telecommunications Equipment Installers, aka telecom techs, work in a very specialized sector! They set up signal-carrying equipment, such as phone lines, routers, switches, and fiber optic cables. They also work with diagnostic and other tools to maintain, update, and fix items following manufacturer specs. Some installers work outside, logging everything they do, including calculating parts and labor costs. Others focus on home installations and repairs, setting up phone, Internet, and cable modems for residential customers. 
 
Still others work at central offices or switching hubs, where incoming data is routed and amplified. At such sites, problems can be monitored and remotely corrected. The last type of Telecommunications Equipment Installer is stationed at headend control centers where they monitor cable network signals, similar to the functions of their peers at central offices. Despite the wide range of options within this career field, there are many similarities in education and training requirements. 
Rewarding Aspects of Career
Working within the vital telecommunications industry
Ensuring people can stay connected through phone and Internet
Facilitating the distribution of news and entertainment resources
2019 Employment
215,700
2029 Projected Employment
210,100
The Inside Scoop
Job Responsibilities
Working Schedule
Telecommunications Equipment Installers may work outside or travel to residences to work inside homes or rooftops. They may offer round-the-clock response times, depending on the employer. 
Some telecom techs stay indoors, performing duties in central offices or headends, with night, early morning, or holiday shifts possible. 
Typical Duties
Install equipment and components in homes and offices, including buildings that may be under construction
Set up, inspect, calibrate, test, and repair or replace routing equipment, wiring, and phone jacks
Clean and lube equipment to keep it in good operational order
Review blueprints and work instructions; run cables or wiring
Refer to technical manuals as needed
Work with various hand tools and diagnostic equipment 
Climb ladders to access rooftop equipment 
Work with customers to explain products and services
Travel to various job sites (especially for residential installers)
Collaborate with peers to identify and fix issues
Additional Responsibilities
Maintain records of work performed, including installations, maintenance, and repair work, as well as associated costs for parts
Train ends users on operation, as needed
Inspect and maintain work vehicle
Install computer programs
Skills Needed on the Job
Soft Skills
Ability to work independently
Attention-to-detail
Critical thinking
Customer service orientation
Good communication skills 
Good hand-eye coordination
Normal color vision
Organized and methodical workmanship
Sound judgment and decision-making
Troubleshooting
Technical Skills
General familiarity with computers (PC or Apple)
Knowledge of Microsoft Office and Macintosh software
Repair and installation skills
Quality control analysis
Fluke ClearSight Analyzer or Fluke Networks TechAdvisor Field Access System
Communications server software such as IBM Domino
Database user interface and query software 
Industrial control software such as SCADA
Internet protocol IP multimedia subsystem software 
Use of hand tools, such as wrenches, cable splicers, circuit testers, pliers, hex keys, scissors, screwdrivers, multimeters, stripping tools, tape measures, utility knives, wire cutters, and test sets
Different Types of Organizations
Telecommunications companies
Electrical contractors    
Other technical service providers
Cable networks
Expectations and Sacrifices
The life of a Telecommunications Equipment Installer isn't always as glamorous as it sounds! Techs might have to climb, crouch, or crawl to access hard-to-reach areas. Once they get to those areas, they may have to take safety precautions to avoid injuries, such as electrical shock. At times they'll need to move things around to gain access. 
 
Because of the proximity to powered equipment and the need to work at heights sometimes, this field is exposed to higher than average risks of physical injury. Indeed, according to the Bureau of Labor Statistics, it has one of the highest rates of injuries out of all occupations.  However, with proper training, precautions, and personal protective gear, workers are able to stay safe. 
 
Another sacrifice is time. Some employers provide 24/7 availability for residential services. Headends and central offices might need employees to work shifts, holidays, or weekends. If you're looking for a standard 8-5 job, this may not be the best fit! 
Current Trends
The telecommunication industry is changing, with wireless and mobile services replacing older, less efficient technologies. As a result, the demand is shifting and also shrinking, as newer tech requires less time to install. It's predicted that workers in this sector should beef up their credentials with an associate's degree or higher, in order to stay competitive as older workers leave and companies hire fewer people to replace them. 
 
For example, many residential cable providers simply mail customers a do-it-yourself kit instead of sending a technician out on the job. The Bureau of Labor Statistics points to a -3% decline in job growth in the coming years, compared to the national 4% average increase for other jobs. The key to staying relevant is to learn about current technology and systems while staying flexible enough to adapt as those change in the future, too! 
What kinds of things did people in this career enjoy doing when they were young...
Telecommunications Equipment Installers often enter the field after learning about it from a friend or family member. Many served in the military and received training that they put to use later as civilians. In general, employees in this field enjoy working with their hands and troubleshooting problems. They may have been inquisitive as kids, content to spend time digging into topics related to science and technology. To succeed in telecom, they need patience and the ability to read and understand relatively complicated texts, which are skills often learned at an early age. 
Education and Training Needed
Telecommunications Equipment Installers usually have completed some college-level courses in electronics, telecom, or networking
Some hold a vocational certificate; others may have an associate's degree or higher

21% of workers in this field have a post-secondary certificate

Most telecom techs are given thorough on-the-job-training (OJT) at their place of employment, which can last for months
OJT involves working under the mentorship of a seasoned technician but may also include taking practical, hands-on courses
There may be proprietary training related to specific equipment and software
Core, Speciality, and Advanced certifications exist, too, such as:

Broadband Premises Installer 
Certified Satellite Installer
BICSI Installer 2, Optical Fiber 
Inside Electrical Craft Certification    

Expect to receive or to seek out continual refresher training to keep up with changes
Things to look for in a program
Telecommunications Equipment Installers might not need to attend a university. It can be faster and less expensive to complete courses at a vocational/community college that can teach you all the basic skills needed
Decide if you want to pursue a certificate or go for a full associate's degree
If you are planning to take online classes, keep in mind that some coursework may be best learned in-person or via hybrid methods
Try to look for courses in the latest technology, and that offer hands-on experiences 
Things to do in High School and College
Stock up on electronics and electrical courses
Finish your certification and, if possible, an associate's to help you stand out from the crowd
Many Telecommunications Equipment Installers only hold a high school diploma, so look for apprenticeships or part-time work if you are taking classes
Practice the art of reading technical books and instructions, to ensure you understand the actions you must take after reading 
Develop your soft skills, including customer service and clear speaking 
Work closely with your teachers and pick their brains for advice and mentorship
Get as much practical hands-on experience as you can, and keep track of your academic and work achievements for your resume 
 
Typical Roadmap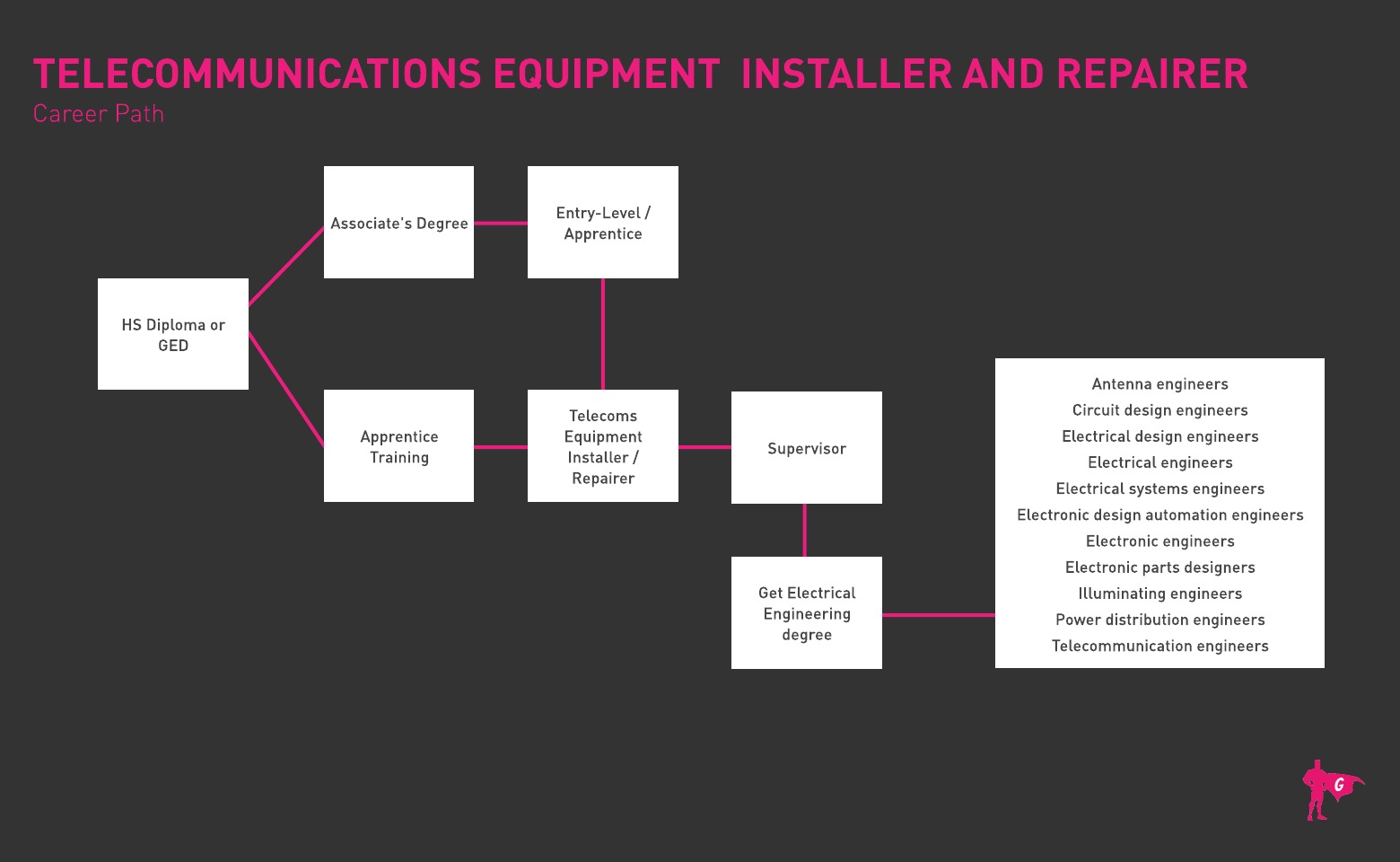 How to land your 1st job
Finish your academics with a focus on the most current (and developing) technologies
Let your applicable instructors or school know that you're about to start job searching
Sign up for alerts on job portals such as Indeed and Glassdoor, but also comb through Craigslist or other local sources
If there is a specific company you want to work for, bookmark their website and visit the careers page often
Many workers in this field received free, comprehensive technical training in the military, which has options for short terms of paid enlistment service plus tuition benefits
Think about who you want to act as your references and ask them in advance; make sure they can speak or write about you in a positive, persuasive way
Only apply for jobs you meet all the listed requirements for
Review telecom resume templates to get an idea of how to fill yours out
Polish those interview skills by practicing with sample telecom interview questions
Stay current on trends and terminology by reading industry news (see our list of Websites in the Recommended Tools/Resources section below
How to Climb the Ladder
Know where you want to go with your career, and map out a plan of action
Show up on-time and ready to go every day
Be proactive and look for solutions before complaining about problems
Do your homework and know what to do in situations before they arise
Master your primary duties then ask for more advanced responsibilities 
Become a paragon of safety and always practice good procedures to mitigate injuries and downtime
Add value to your workplace and become a go-to expert
Be a team player but also hone your leadership skills and demonstrate decisiveness
Take great care of your customers, whoever they might be. Positive reviews go a long way; so do negative ones
Stay ahead of the curve by studying industry developments
Participate in professional organizations and consider writing articles for publication
Knock out additional certifications that can help you get ahead
Train others to perform their duties correctly and safely
Recommended Resources
Websites
Communications Workers of America 
Independent Telecommunications Pioneer Association 
National Coalition for Telecommunications Education and Learning
NTCA - The Rural Broadband Association 
Society of Cable Telecommunications Engineers
Telecommunications Industry Association
USTelecom 
Books
Plan B
With the telecom industry evolving, some might be inclined to look for a more predictable career path with greater job growth potential. BLS offers a few alternative careers to consider:
Broadcast, Sound, and Video Technicians
Electrical and Electronics Installers and Repairers
Line Installers and Repairers
O*Net Online features a few extra options to check out: 
Audiovisual Equipment Installers and Repairers
Electronic Equipment Installers and Repairers, Motor Vehicles
Radio, Cellular, and Tower Equipment Installers and Repairers
Security and Fire Alarm Systems Installers
Newsfeed Featured Jobs Online Courses and Tools