Spotlights
Similar Titles
Theme Park Architect, Theme Park Imagineer, Ride Designer, Attraction Designer, Entertainment Designer, Experience Designer, Environmental Designer, Theme Environment Designer, Show Set Designer, Concept Designer
Job Description
If you've ever been to a theme park like Disneyland, Universal Studios, SeaWorld, or Six Flags, you may have been instantly WOW'd by the size and scope of the venue. From the assortment of shops and events to the thrilling rides and attractions, it is easy to get overwhelmed during your tour. That's why most visitors never sit and wonder at the astounding logistics of putting such a complex enterprise together. In other words, most of us totally forget about the hard-working Theme Park Designers whose work helped turn these dreams into reality! 
When you hear the title Theme Park Designer, you might think of what Disney likes to call "Imagineers." As LAist describes them, these are the creative "staff responsible for designing and building everything at the Disney theme parks, resorts, attractions, and cruise ships." Whatever title you want to use, there are actually hundreds of people involved in the design aspects of a theme park. From engineers and computer scientists to film specialists, architectural planners, set designers, interior designers, and writers, it takes a village to make a theme park possible. 
For this career profile, we'll focus on the general aspects of becoming a Theme Park Designer, without diving too deep into the weeds about each specialty. So grab your ticket and let's go exploring!
Rewarding Aspects of Career
Participating in massive projects employing hundreds or thousands of workers

Envisioning whimsical projects and helping to bring them to life

Being part of the team that creates family entertainment centers around the world
The Inside Scoop
Job Responsibilities
Working Schedule
Theme Park Designers may work as project-based contractors. Thus, they could work full-time for a period of months, then have to find another contract after that. As

Themed Attraction

writes, this type of contract-based work "is not for the faint of heart." However, certainly, some designers do find work as full-time employees. 
Typical Duties
Since there are many types of careers that fall under the Theme Park Designer umbrella, the duties depend on the exact role

For example, designers who focus on concept creation and illustration will develop and draw ideas for structures, landscapes, and rides

Graphic designers will specialize in exterior signage and other observable details 

Architects will review concepts for feasibility and draft up models that capture the spirit of those ideas in a realistic manner

Interior and industrial designers will also work from concepts and will focus on how objects and spaces appear as well as how humans interact with them

Engineers are tasked with figuring out how to bring developed concepts into the physical world while ensuring functionality and safety

Landscape architects lay out the overall park design and ensure compliance with environmental standards

Other roles include working in research and development, software, music, planning, consumer insights, fan engagement, marketing, props, sets, and light designers
Additional Responsibilities
Be an expert in one field but maintain general knowledge of the others

Collaborate with other Theme Park Designer roles to come up with workable ideas that can be implemented within budget

Understand budgeting, planning, timelines, and project management

Share, maintain, and organize documentation and files
Skills Needed on the Job
Soft Skills
Ability to follow directions closely

Attention to detail

Collaboration 

Communication skills

Creativity

Organization skills

Perceptiveness 

Presenting 

Problem-solving 

Time management 
Technical Skills
Applied skills with various artist tools, including pencils, pens, paints, and digital tablets like the

Wacom Cintiq

Document management 

Familiarity with computer-aided design and drafting programs like AutoCAD 

Familiarity with illustration software such as Adobe Photoshop and Illustrator

Graphic design 

Illustration

Knowledge of art, design, landscapes, architecture, engineering, and marketing principles 
Different Types of Organizations
Theme parks

Self-employed
Expectations and Sacrifices
Without Theme Park Designers, we wouldn't have amazing recreational and educational centers like Disneyland Park, Walt Disney World Resort, Epcot, Universal Studios Hollywood, SeaWorld, or Six Flags. But the sheer scale of such undertakings is enough to boggle the mind. 
Since the very first fairs of the Middle Ages, such attractions have consistently grown in size in order to compete with each other and grab the world's attention. This constant need to "outdo" other parks has led to leaps in innovation…and mountains of pressure for workers! Adding to the stress is the unpredictable nature of various factors such as weather, pandemics, economics, and societal pressures. 
Theme Park Designers have many more things to consider than ever before, while simultaneously juggling bigger and bigger investments. The stakes have never been higher, but neither have the potential rewards. Per Statista, "in the United States, the revenue generated from amusement and theme parks is forecast to amount to over 22 billion U.S. dollars…and this is expected to continue to rise in the future." 
Current Trends
The Covid pandemic deeply impacted theme park profits, which typically rely on packing as many visitors into a space as possible. Social distancing requirements have forced some to make alterations to boost safety without cutting down visitor numbers too much. Safety trends include implementing more "touchless technology" as well as AI that can track safe capacity rates. 
Still, fewer visitors equates to higher ticket prices to turn a profit. As a result, parks have turned to more immersive experiences with heftier price tags. Disney's Star Wars: Galactic Starcruiser hotel experience is a perfect example of this "luxury pricing model," with visitors spending $6,550 for two nights (for a 3-person family stay). 
Meanwhile, Theme Park Designers are incorporating Internet of Things tech to streamline supply issues and provide real-time data for visitors. They're also adding additional virtual and augmented reality features to create more immersive 3D experiences. To learn more, check out Linchpin SEO's Theme Park Marketing & Industry Trends Shaping 2022!
What kinds of things did people in this career enjoy doing when they were younger…
Like all of us, Theme Park Designers probably enjoyed the animation, TV shows, and movies growing up. They may have dreamed about interacting with the characters and settings they watched…until that fateful day when they finally got to visit a theme park, where they fell in love with the "magic" of it all. Visiting a theme park as a child inspires many designers to learn more about how such places of wonder are built and managed. 
Another trait many Theme Park Designers share is an early knack for drawing. Having both the creative and technical skills to draw complex settings and worlds is a huge benefit for anyone wanting to break into this career field. But designers also need to be team players who can collaborate with a wide range of professionals to envision park spaces, rides, and attractions. Such teamwork skills are often learned through group activities in school.
Education and Training Needed
There are so many different career types represented under the title of Theme Park Designer that education and training requirements vary a lot

In general, a bachelor's is needed, but the major depends on which aspect of the park design process your role fits into. Common majors include graphic design, animation, fine art, film studies, architecture, civil engineering, structural engineering, mechanical engineering, and computer science

Some roles will require a master's. For example, a

Master of Architecture

degree might be needed for advanced positions

It's important to specialize in one area yet be generally familiar with all areas of theme park design. You'll also need to learn how to give great presentations and how to work effectively on teams 

Related art internships are very useful for gaining real-world practical experience. Again, the specific internship you apply for depends on your intended field of specialization

Basic skills needed are drawing/illustration, storytelling, knowledge of theme parks and affiliated characters or storylines, and communication/collaboration skills

Theme parks like SeaWorld feature live animal attractions, so designers may need special training in biological sciences or zoology
Some professional jobs require licensure or certification. For example, the National Council of Architectural Registration Boards offers an Architectural Experience Program prior to being eligible for an architecture state license
Things to look for in an University
Theme Park Designers have countless degree options to consider, based on what specific role they want. All students should look for accredited schools, and those majoring in a STEM field should ensure their program is accredited by ABET (Accreditation Board for Engineering and Technology, Inc.). Several majors are conducive to flexible online and hybrid learning, but in-person team-building skills are critically important to develop.
Things to do in High School and College
Decide which area of park design you want to focus on. Will it involve science and technology, or engineering? Or will be it more art and design based? 

Sign up for high school classes that will help prepare you for your college major

Apply for apprenticeships in your area of interest

No matter which role you opt for, you'll probably be working with illustrated concepts, so study art, architecture, landscapes, interior design, and color theory

If you plan to be drawing yourself, then experiment with different techniques and tools

Go to the library and check out books about the subjects that capture your imagination

Watch

YouTube videos

about theme parks around the world and how they were designed

If you have the time and money, visit as many theme parks as you can. Pay attention to the details, take photos, draw sketches, and engage with employees

Create an online portfolio of your own work, and update it as you get better. Add notes about your tools and methods in the content sections of your site 

Make connections with people in the industry as well as fellow students, teachers, and alumni. Engage with people online and try to build professional relations

Look for applicable scholarships to help take off the financial burden of school 

Sign up for ad hoc online courses such as Designer's Creative Studio'

How to Work in Themed Entertainment
Typical Roadmap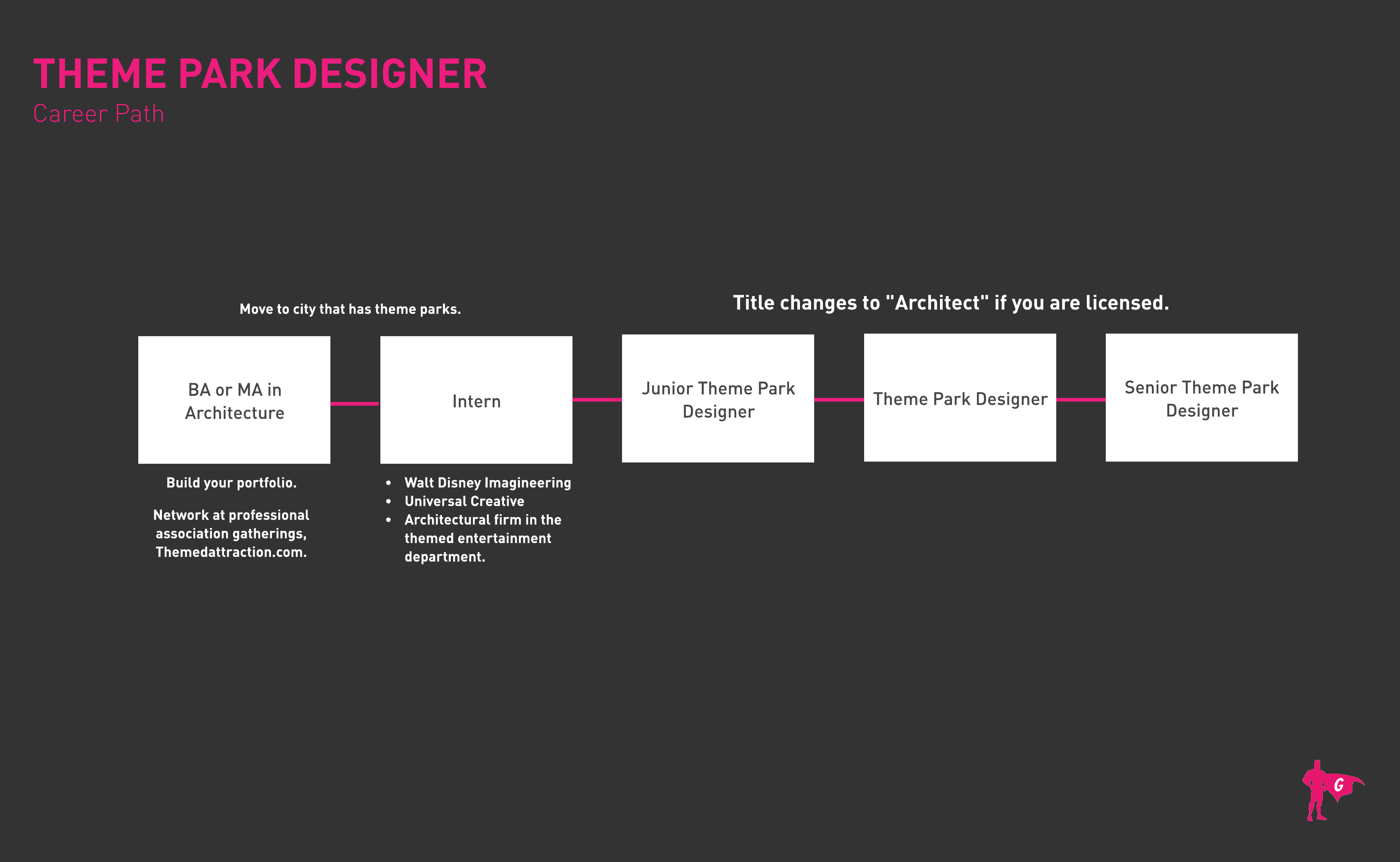 How to Land your 1st job
Sometimes internships can lead to full-time careers so try to intern at a theme park with lots of job opportunities 

If needed, complete any additional certifications or state licensure to qualify for the best jobs

Sign up for alerts on job portals like

ZipRecruiter

,

SimplyHired

,

Indeed

,

Monster

, and

Glassdoor

, but also ask people in your network for tips about openings

Go where the jobs are! States with the most theme parks include California, Florida, Texas, New York, and Illinois

Ask professors and former supervisors if they'll serve as personal references

Visit your school's career center for help with resumes, mock interviews, and job connections 

Add data and stats to your resume, make sure it is error-free, and add a compelling cover letter, if requested

Study how to make an

amazing first impression

!

Check out Indeed's

How to Dress for an Interview

Listen to industry insiders like J. Daniel Jenkins about the principles of

theme park design

and the

functional purposes of theme parks

(such as economic, educational, emotional, escapist, informative, social, and self-improvement functions). These insights can help you answer questions during interviews
How to Climb the Ladder
If you work for a park with film-based attractions and shops, then watch the latest releases from that studio and offer unique new ideas

Check out what other parks are doing to draw inspiration

Always meet deadlines and be known as the "go-to" problem solver

Remember the importance of your work and never cut corners 

Build your reputation as a creative, calm-under-pressure team member

Treat everyone with dignity and respect

You'd be surprised how many subject matter experts fail because of their lack of people skills. Be a team player and also a leader! 

Put yourself in the shoes of your park's visitors and think through every detail of their experience so you can avoid problems 

Master the art of presentation so you speak with ease in front of a group while showing your ideas

Ask other Theme Park Designers for tips about advancement 

Have discussions with your supervisor about promotion or pay raise opportunities 

Set goals for continual learning and improvement. Consider doing an advanced degree or certification 

Keep honing your skills and adding new ones. Stay up-to-date on trends, including changes in your area of specialty
Recommended Tools/Resources
Plan B
It might be your dream to become a Theme Park Designer, but…after reviewing the responsibilities and work details, you could also be curious about exploring extra career options. Don't worry; we've got a list of related job titles for you to consider! 
Architectural and Engineering Manager

Civil Engineer

Construction and Building Inspector

Construction Manager

Drafter

Industrial Designer

Landscape Architect

Surveying and Mapping Technician

Surveyor

Urban and Regional Planner
Newsfeed Featured Jobs Online Courses and Tools