Spotlights
Similar Titles
TV Development Executive, TV Development Producer, TV Development Manager, TV Development Coordinator, TV Development Associate, TV Development Assistant
Job Description
These TV executives manage current programming, development or both:
 
Development executives develop new concepts for TV that will be made into television series, television movies, or unscripted ("reality") television.
Current programming executives work on projects that are "currently" on the air. They are the liaison between the network/studio and the actual production.
Rewarding Aspects of Career
Be part of the TV making process!
Dynamic and exciting!
Pay: If you make it to the top (VP and above), your salary can be very high.
Meet creative and interesting people daily.
The Inside Scoop
Day in the Life
Sept – Dec/early Jan: Pitch/Development season
Jan – April: Pilot season
May: Upfronts and Staffing season

Current Programming (YEAR ROUND)
Deal with studio partners for current shows – book directors and writers.
Manage the shows you are assigned to that are currently on the air: Will be on set occasionally.
Writer/Director general meetings: Calls from agents pitching their potential projects and/or clients.
Pitch
Hear pitches from writers, producers: Decide which pitches to buy. Draft deal memos to get the negotiations started (sometimes this could take months to close).
Notes calls/meetings: This is where they start developing the idea into a script and give notes to the writer/producer.
Development
Read available scripts.
Marketing strategy calls: See marketing decks and give notes to the marketing team in case they need to adjust the creative.   
Meetings surrounding current and new shows about to launch.
Pilot
Read final development scripts.
Must "sell" internally why they like their favorite projects: Send to big boss for consideration for final decision to be made.
Order pilot and start negotiations (book directors) and start casting: Have "tests" sessions to finish casting roles.
Shoot pilot and get rough cut: Will be on set managing the pilot.
Give notes on the rough cut.
Receive final delivery of the pilot and test with focus group at a testing facility.
Screen for the final decision maker.
Upfronts/Staffing
When series is chosen to be "picked up" (greenlit to shoot episodes), announcement is made in NY in May during "Upfronts".
Concurrently, they are feverishly staffing writers for the shows: Entails reading writing samples and meeting writers and directors for the series.
Meet with marketing to finalize marketing campaign.
New series launches!
Skills Needed on the Job
Cultural observers
Understanding of story narrative
Knowledge of current audience tastes and future trends.
Passion for film or TV.
Relationship cultivation
Discretion
Flexibility
Troubleshoot story problems
Great communication skills
Writing skills: Must write up treatments, notes on the script, clearly articulate their thoughts.
Organizational and time management skills
Broadcast vs. Cable
Note: Things are constantly evolving. In the past, cable TV shows only showed during the off-season of broadcast television (summer) so as not to compete. Now due to popularity of cable programming, episodes have increased and many cable shows are shown throughout the year.  
 
Broadcast: September through May, 22-24 episodes.
Cable: Varies, 13-24 episodes.
Premium Cable like HBO, Showtime: Varies, 10-13 episodes.
 
Types of TV and their Titles
 
General
Titles: Original Programming, Development, Production, Original Series
 
Drama
Titles: Drama Development, Drama
 
Comedy
Titles: Comedy Development, Comedy
 
Unscripted ("reality")
Titles: Unscripted Development, Unscripted Programming, Unscripted Television
Organization Types
Networks distribute shows (programming). This is the channel you are watching.
Studios finance and produce television shows and sell them to networks for distribution.
Production Companies produce the shows. The idea usually originates with the production companies who then pitch to studio. Many production companies have first look deals with studios.
 
Note: It can get very confusing because a show can be on the FOX network but the show was produced by CBS Studios. Most networks also have studios but that doesn't mean they only distribute their own shows. They can distribute other studio's shows and vice versa.
Expectations/Sacrifices Necessary
Expect to do menial tasks when you start off like answering phones, getting coffee, scheduling, but this is time where you can really learn. You can learn how your boss negotiates, read scripts, determines.
You will start off as an intern or assistant and move up the ladder. You cannot become an executive without "paying your dues".
Difficult personalities
Cutthroat environment:  there are hundreds of people who would do this job for no pay, so work hard, don't feel entitled and watch your back.
Luck: There is an element of luck (right place at right time) in this job.
Current Industry Trends
Networks are not brands anymore. The millennial generation doesn't care about the network's brand but the individual shows.
Digital distribution: Thinking of innovative ways to deliver content digitally but also to monetize it. Work with content providers (like cable, DirecTV) to create solutions.
What kinds of things did people in this career enjoy doing when they were young...
"I watched a lot of TV!"
Read scripts!
Interested in stories and analyzed what made some stories better than others.
Loved telling stories to friends and family.
Practiced their Golden Globes acceptance speech with their hairbrush as their microphone in front of the mirror.
Education Needed
TV Development/Programming Executives don't necessarily need a degree, but many complete bachelor's degrees in Film and TV Studies, creative writing, screenwriting, communications, or related subjects. Some may go on to earn an MBA with an entertainment-related focus 

TV Development Executives focus more on new show concepts and must know how to work effectively with writers, directors, production companies, and casting directors 
Programming Execs worry more about currently airing shows and need to work efficiently with creative teams including writers, directors, producers, performers, and crew

Both need strong people skills and must understand their station's target demographics
In-depth knowledge of the entire TV production process is required, including reviewing scripts, determining the potential for a show's success, estimating production costs, ordering pilots, deciding which shows are greenlit, scheduling time slots, and ultimately deciding the fate of current series based on viewership and ratings
Consider doing a certificate program such as UCLA Extension's 12-course Film and TV Development program

Required courses include: 

Pre-Production and Production for Film and Television
Story Analysis for Film and Television
Story Development Workshop: Crafting Your Original Story
The Business of Entertainment
The Language of Filmmaking
Understanding Genre
Things to look for in an university
If you definitely know you want to be in the entertainment industry, it is highly recommended to go to a university /program in Los Angeles or New York City so you can be interning at a company during the school year and summer. However, if you don't live and breathe film/TV, then it's not necessary to go to those schools and you can intern during the summer. More than other industries, connections are extremely important in this industry. The more you intern, the more connections you will have.
Top Educational Institutions
Things to do in high school
Stock up on courses in English, creative writing, psychology, storytelling, audiovisual technology, math, finance, and digital media
Read scripts of popular TV shows, subscribe to TV Guide Magazine, and check out Rolling Stone's 100 Greatest TV Shows of All Time
Write a few scripts just to get a feel for how the process works
Participate with your school's audiovisual club or other local community projects 
Apply for TV internships to gain exposure to the "behind-the-scenes" environment 
Watch popular shows outside of your general interest area and try to understand why those shows appeal to many viewers
Talk to people about TV! Have in-depth conversations about the latest shows and what people love about them
Participate in online discussion groups and pay attention to what gets the fans most engaged (or most enraged)
Read or watch interviews and behind-the-scenes documentaries about how shows are made
TV Writers Vault has several transcribed interviews to comb through
Know who your favorites writers and directors are.
Attend industry-related events, talk to writers and performers, and keep growing your network
Things to do in college
Network! Network! Network!
Read screenplays.
Intern at a production company or studio.
Work at your college or local television station.
Produce your own Youtube show!
Typical Roadmap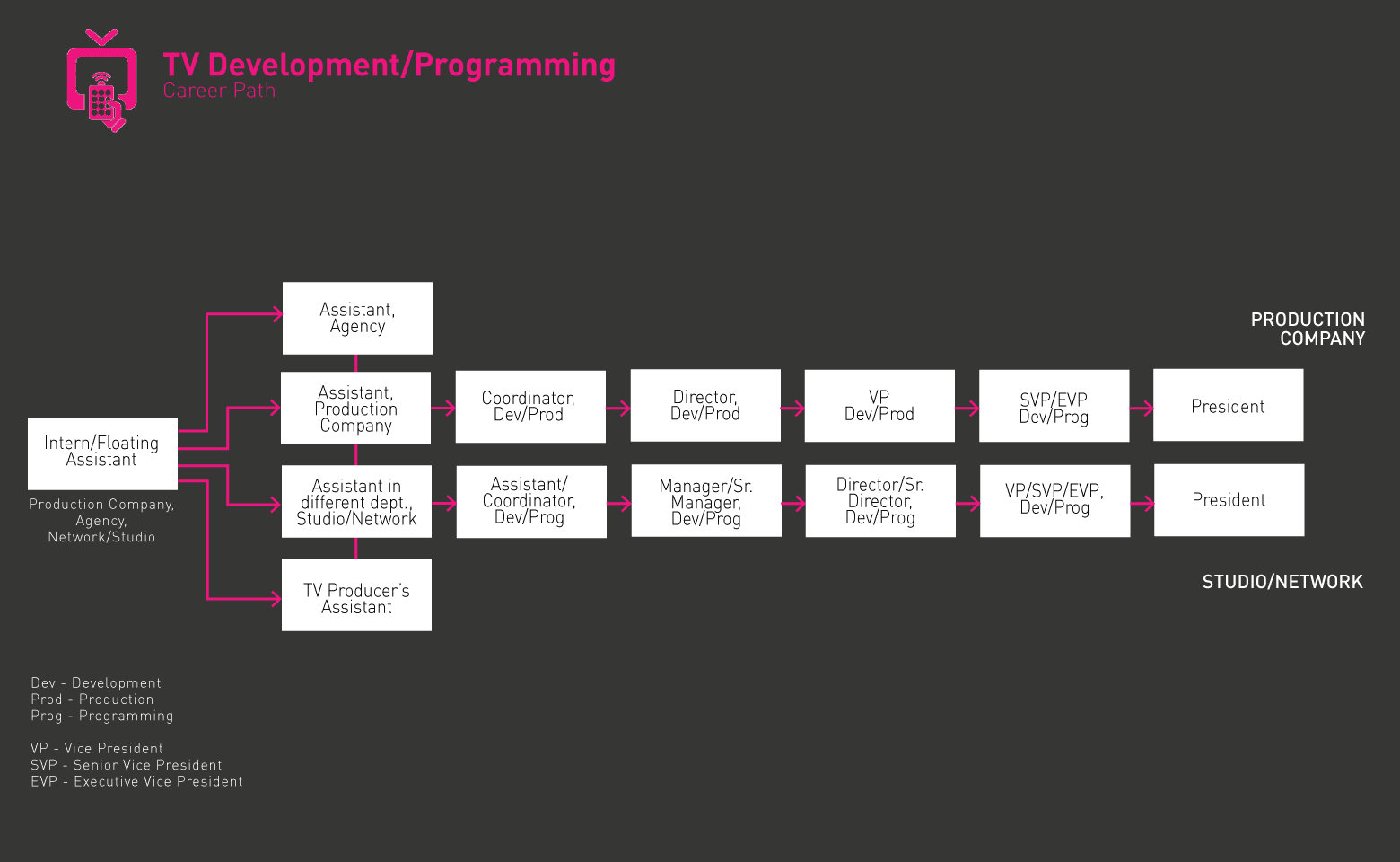 How to Land your 1st job
Must show that you have serious interest in television!: What are your favorite shows? Who are your favorite writers? Do you know what's going on in the industry? What production company has a deal with which studio? What pilots just got picked up? Do you have examples on your resume that can show this serious interest?
Get your foot in the door in the following ways (see Typical Roadmap):

Intern at a production company: Here you will learn about the industry, the players.  Start gaining connections. This internship can lead to an assistant position at the production company or they can refer you to another production company, agency, or network/studio.
Reader at a network/studio: Start gaining connections and that might lead to assistant position at that network, studio, production company, or agency.
Mailroom at an agency: These jobs are very competitive. Very difficult without internship experience. After a year at the agency, you can then find a job as assistant at a network or studio. Click here for a list of the top agencies.
Temp Agency: Like Friedman Agency and they place you as a floating assistant at an agency. At the agency, impress the agent who you are working for and you can become full-time assistant or be placed on another agent's desk.  
Intern/Assistant in a different department at network and studio: For instance you can be the assistant to a marketing executive or business affairs executive at the studio or network and then you can network within the company and transfer to becoming an assistant to somebody in TV development or programming.

Job Sites: Entertainment Careers, the UTA Job list, Reality Staff, and Media Match.
How to stay competitive and stay in the game
Network!: Know writers, up-coming talent, go to film festivals and networking events.
Always be reading new material!
Look out for up-coming talent: go to pitch fests, film festivals and meet up and coming writers, directors.
Find a niche, create your brand: be really good at a certain genre (character-driven scripts, comic books).
Foster good relationships with other executives, agents and talent (writer, director, actor).
Recommended Tools/Resources
Trades
Resources
Internet Movie Script Database (IMSDb)
Internet Movie Database (IMDB)
Associations/Organizations
Alliance of Motion Picture and Television Producer  
American Assn. of Television Arts & Sciences (Emmys)
American Federation of Television and Radio Artist (AFTRA)
Directors Guild of America
IATSE (National): labor union representing technicians, artisans and craftspersons in the entertainment industry, including live theatre, motion picture and television production, and trade shows.
Minority Media and Telecommunications Council
National Academy of Television Arts & Sciences (The Emmy Awards)
National Association of Broadcasters
National Association of Minorities in Communication
National Cable and Telecommunications Association
NATPE (Alliance of Media Content Professionals)
Satellite Broadcast & Communications Association
Screen Actors Guild
Writers Guild of America
Books
Plan B
Alternate careers: TV Writer, TV Producer, Content Manager at Digital Media company
Newsfeed Featured Jobs Online Courses and Tools