Spotlights
Similar Titles
Television Director, TV Show Director, Episode Director, Series Director, Television Episode Director, TV Program Director, TV Series Director, Television Show Director
Job Description
Television Directors work closely with writers and producers to create the shows we love to watch on TV! Many shows use multiple directors so they can get the filming done on a compressed timeline. They may also use guest directors to inject some freshness and unique perspectives, without veering too far from the show's general aesthetic. Sometimes a show may bring on a particular director who has expertise in things like car chases or other action scenes. 
Unlike Film Directors, TV Directors may have less input into the stories. Instead, it's their job to capture the vision of the showrunner (aka the executive producer) while doing the legwork to plan and film shoots while overseeing the crew and cast. Different types of TV Directors include Factual TV Director, Entertainment TV Director, Drama TV Director, and Live TV Director, each of which has slightly differing duties and responsibilities. They may also film commercials, working with ad agencies to raise awareness of a brand's product or service! 
Rewarding Aspects of Career
Working in a fast-paced creative environment 
Capturing performances on camera for shows watched by potentially millions of people for years to come
Helping keep cast and crew working together in harmony
The Inside Scoop
Job Responsibilities
Working Schedule
Television Directors may work full-time when assigned to direct a whole season of a series. In this situation, they may also have to put in a lot of overtime, depending on schedules. Not all TV Directors direct every episode of a show, and some don't direct any series at all. If a director is brought in to do a single episode, or to film a commercial, play, or other relatively short production, they may have to supplement their income with other work. 
Typical Duties
Review TV show and commercial scripts 
Discuss ideas with the show's writers, producers, and other stakeholders 
Collaborate with sound, lighting, camera crew, the director of photography, the first assistant director, unit directors, and others 
Ensure the showrunner's creative vision is understood and captured
Work with casting directors, if necessary. Most series have their core cast pinned down already
Work with art departments, wardrobe, hair and makeup, special effects prosthetics, and many other teams to make sure everyone is working cohesively   
Approve set or stage designs, as applicable (some shows have several regular interior sets they use repeatedly, while others may not)
Go over budgets and financial considerations before production starts. Work with the unit production manager, as needed
Help actors and other talent understand desired outcomes for each take, without micromanaging performances
Direct scenes in a variety of settings including interior sets, outdoor location shots, green screen studios, and many more  
Ensure filming stays on schedule and within budget
Additional Responsibilities
Talk with location scouts to find suitable places for filming particular scenes
Go over anticipated technical or logistical difficulties such as inclement weather or physical hazards requiring stunt coordination
Oversee post-production, when necessary (i.e., editing, and Foley sound effects, and adding visual effects such as CGI, compositing, and motion capture)
A Sample Day in the Life
Arrive before 7am
Answer last minute questions about what the team will shoot that day
Conduct private, short rehearsal with actors for the first scene
Show the scene to the crew
Get marks on every position where the actors stand
Talk to the DP about how the scene will be shot
Watch a camera rehearsal with the stand-ins
Conduct a camera rehearsal with the actors
Shoot the scene
Move onto the next scene
Will shoot on average 5-7 scenes per day
Skills Needed
Soft Skills
Ability to inspire others 
Active listening
Ambition
Calm under pressure
Collaborative 
Conceptualization skills
Confidence 
Creativity
Decisiveness
Detail-oriented
Empathy
Flexibility
Intuitive
Leadership 
Patience
Persistence 
Persuasiveness 
Problem-solving skills
Strong communication skills
Teamwork
Visual and written storytelling
Technical Skills
Knowledge of video camera equipment and filmmaking software, including professional editing tools 
Technical knowledge of framing and staging shots
Familiarity with sound and lighting technologies
Familiarity with design, special effects, and post-production processes
General understanding of the roles, responsibilities, and challenges of all critical departments and crew members, including production design, wardrobe, art, makeup, sound, special and visual effects, set decor, stunt coordinators, cast directors, etc. 
Different Types of Organizations
TV and motion picture studios
Independent Productions
Advertising and PR firms
Performing arts industries
TV broadcasting
Video industries
Expectations and Sacrifices
Without Television Directors, we wouldn't have anything to watch when we turn on our TVs! Although they don't have the same level of creative responsibilities as Film Directors, they have complicated jobs that require a huge amount of leadership and multitasking. Luckily, the showrunners, producers, and writing teams take off a lot of the creative burden so that TV Directors can focus on their myriad other duties! 
They don't have to be away as long as Film Directors when shooting on location, but there are still plenty of sacrifices. Hours can be long, with hectic schedules and untold production problems ranging from budgets to logistics. Sometimes TV Directors even have to deal with unruly actors or crew. 
Another potential sacrifice is that there may not be a steady paycheck if a director is only brought in for one or two episodes or a brief production such as a commercial. That's why TV Directors often have to do other work to bring enough yearly income. 
Current Trends
TV shows are becoming increasingly sophisticated thanks to the rise of streaming platforms. This has attracted big-name actors who are now more willing to do TV than ever before. Producers have risen to meet the challenge, upping the ante by hiring top-notch Television Directors to make shows that look and feel more like movies. 
From Netflix, Hulu, and HBO Max to Disney+, Apple TV, and Amazon, the floodgates have opened and viewers are met with a barrage of exciting new digital content they can binge from their living rooms. While Hollywood is still fighting to reel audiences into movie theaters, streaming has forever changed our viewing habits…which is great news for TV Directors who have more opportunities than ever before! Streaming has also opened things up for documentary makers and independent directors. A few other things: 
Increase in the amount of product for viewing
"Binge watching" is growing
Realignment of release windows
Increased demand for female-focused films
What kind of things did people in this career enjoy doing when they were younger…
Television Directors were almost certainly huge movie and TV buffs growing up. They may have enjoyed using camcorders or smartphones to shoot amateur videos for YouTube, showing early indications that they weren't content to simply "watch" but instead had a burning desire to create! 
Like all good directors, they were likely innovative and driven, good with both people and technology, and comfortable being in charge of things. In school, they might have been involved in student projects, extracurricular activities, and audiovisual clubs. 
Directors tend to know at least a little about a lot of things, and thus might have been voracious readers on a variety of subjects. Perhaps above all, they are storytellers who love to use visual media to share and inspire. 
Education and Training Needed
Most directors need a bachelor's degree in film, cinema studies, or a similar field. Many complete master's degrees, too
Independent directors of small films have no formal educational requirements, but many also hold college degrees or attended formal training
Film schools such as New York Film Academy offer short programs as well as full degree programs (see our list of Resources > Film Schools)
Additional ad hoc certifications such as the New School's Documentary Media Studies Certificate can bolster your credentials 
Directing requires a slew of people and project management skills, so consider taking courses in communications, leadership, team building, conflict resolution, and project management 
Most film studio directors have years of experience working on sets in assistant director or other roles. Many get their start through studio internships
The Directors Guild of America offers a highly competitive Assistant Director trainee program 
Directors may also need training on various health and safety issues, as well as state, local, federal, international, and studio policies regarding filming and human resources
Some Reputable Film Schools
American Film Institute
Boston University College of Communication 
Chapman University's Dodge College of Film and Media Arts
Columbia University School of the Arts
Florida State University College of Motion Picture Arts 
Full Sail University
LA Film School 
Loyola Marymount University School of Film and Television
Motion Picture Institute of Michigan 
New York Film Academy
NYU/Tisch School of the Arts 
San Diego State University School of Theater, Television and Film
Seattle Film Institute 
UCLA School of Theater, Film and Television
UCLA Extension - Entertainment Studies
USC School of Cinematic Arts 
University of New Orleans Film and Theatre
University of Texas at Austin Department of Radio-Television-Film 
Things to do during high school/college
Stock up on courses in art, English, communication, speaking, psychology, design, and photography
Volunteer for school activities where you can learn how to work effectively as a team, practice leadership skills, and manage large projects 
Consider signing up for confidence and resiliency courses, so you'll be able to direct teams and actors even under stressful circumstances 
Join audiovisual clubs to get hands-on experience
Participate in school and local theater productions 
Start making your short films for YouTube or Vimeo. Look for friends and community members who want to join your projects!
Borrow or rent video cameras, sound gear, and lighting equipment to get practice 
Become familiar with video editing techniques and software, plus special effects software 
Advertise your freelance filmmaking services in the local area or online 
Launch an online portfolio to showcase your skills and work
Apply for film internships until you land one!
Study books, articles, and video tutorials (see our list of Resources > Websites)
Don't just learn about directing. Get to know the ins and outs of every major department involved in filming TV shows, ads, documentaries, etc. 
Attend film festivals and film school open events
Check out Keanu Reeves' documentary Side by Side, featuring interviews with some of the biggest directors in Hollywood
Submit your film to a film festival. 
Join professional organizations to learn about trends and grow your network 
Typical Roadmap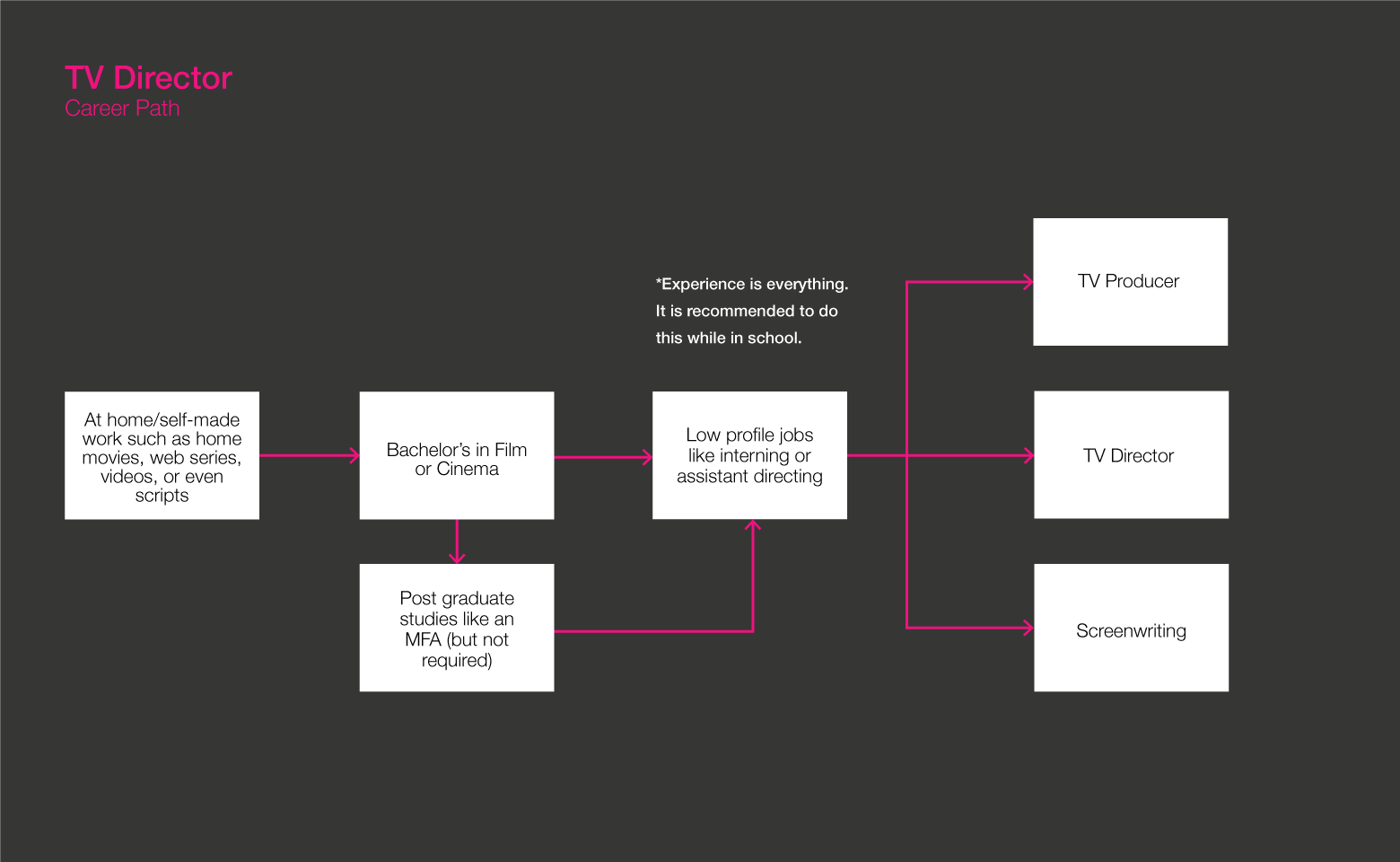 How to land your 1st job
Move to where the most movie and TV jobs are! Per BLS, the states with the highest employment for these jobs are California, New York, Texas, Florida, and Georgia
Work with actors and Direct plays
Chances are you'll have to apply for entry-level jobs and work your way up to Assistant Director roles

Many Directors start as production assistants or interns. Even these are coveted positions, so contact your state film commission learn about to upcoming opportunities 

Let your network know you are looking for jobs or internships! Per CNBC, "Research shows that 70% of all jobs are not published publicly on jobs sites and as much as 80% of jobs are filled through personal and professional connections"
Build your reputation and ensure your work is seen! Enter film festivals, promote your work on social media, and get published in industry journals or on popular websites 
Check out film job sites and forums as well as job portals such as Indeed, Simply Hired, and Glassdoor
Ask your professors, supervisors, and peers if they'll serve as personal references 
Once you have a reel, apply to television director development programs
Join the DGA union when you're eligible and can afford the steep initiation fee
Hop on Quora and start asking job advice questions and requesting answers from working directors 
Talk with your film school or college's career center for help with resumes, mock interviews, and job searches 
How to Climb the Ladder
Build trust by delivering episodes on time, on budget
Capture the producers' imaginations and make them want more work from you
Continue to hone your craft while also learning more about everyone else's roles
Treat everyone with respect, always be well-prepared for the day's shoots, and stay calm and in control
Build your reputation as a director that actors and crew love to work with
Direct as many things as you can to expand your portfolio of work
Knock out additional education and training that can improve your technical and creative skills
Watch and learn from more senior directors 
Listen to assistant directors, department leads, and crew members  
Keep growing your professional network and tackling larger, more ambitious projects 
Make yourself available for film festivals, local events, conferences, and workshops
Join professional organizations like the Directors Guild of America
Try to win award and other recognitions that'll look great on your resume
Words of Advice
"Directors direct! If you have an iPhone and a computer, you have the first tools you need to make a short film....." Mary Lou Belli, TV Director
Plan B
The job of a Television Director isn't nearly as glamorous as some people think. It's can be grueling work (when you actually have any work), with long hours and non-stop duties. Energetic people with the right combination of leadership ability, technical know-how, and storytelling skills can make big names for themselves in this industry. However, it's not for everyone and that's understandable. The Bureau of Labor Statistics lists the following related occupations to think about!  
Actors
Art Directors
Choreographers
Film and Video Editors and Camera Operators
Special Effects Artists and Animators
Top Executives
Writers and Authors
Newsfeed Featured Jobs Online Courses and Tools