Spotlights
Various Titles within UX Team
UI (User interface) Designer, Interaction Designer, Visual/UX Designer, Information Architect
Job Description
A UX Designer works on websites, applications, intranets, online communities or software and they encompass one or more of the following elements (depending on the company):
Information Architecture: Designs the structure, the "blueprint" of the site (i.e. How the pages group together, navigation) that support the objectives of the system they are designing. What is the flow of users through our site? How does the software help the user catalog their information? How is that presented back to the user?
Interaction Design:  Organizes and labels the site to maximize findability (ability of user to find information on site) and usability (user's ease of reach, use and understanding of site) for the user. There are five dimensions of interaction design: words, visual representations, physical objects/space, time, and behavior.
Visual Design:  Designs the "look-and-feel". Works with the graphics, colors, typography, and images.
Front-end Code: Programs the code to produce the visual design.   
User Research: Provides an understanding of user behavior (what they need, what they want, what they think, how they interact with other people, and why).  Know how to get un-biased, pure feedback as best as possible.
Rewarding Aspects of Career
Fun to build something you can see and use!  

Impacts daily life

Dynamic – ever-changing and exciting

Mix of creativity and technology – hybrids

Career is in demand and growing

People are always thinking of ways to do things better
"It's fun. The great thing about design is that it is a fun field. You get to work with creative and passionate people. You get to build something that is totally satisfying at the end." Ann Ku, Former Manager of Interaction Design, Hotwire.com
The Inside Scoop
Skills Needed on the Job
Adobe After Effects

Adobe Illustrator, Adobe InDesign, Adobe Photoshop

Adobe XD

Conceptual Skills

Decision Mapping

Design Principles

Digital media Design

Figma

Graphic Design

Ideation

Information Architecture

Knowledge of Front End Coding

Layout Design

Marketing

Photo Composition

Storytelling

Typography

User Experience

User Experience Design

User Interface

User Research

UX Writing

Web Content

Wireframing and UI Prototyping

Wordpress

Empathy: Must understand the users' needs and goals when they go on the site

Bring together several moving pieces

Ability to prioritize information

Team work: You are working with a multi-disciplinary group of people and it takes a team to create a good user experience.

Communication and Selling skills: Design is subjective so you need to clearly communicate and "sell" why your design decisions are the way to go.

Data analysis: Need to analyze and apply user feedback and research

Software: (visual) Photoshop, Illustrator; (front-end code) HTML, CSS, JavaScript, HTML5; (wireframing/ prototyping) Visio, Omnigraffle or Axure.  
Main Activities
Doing research (what other sites are doing, to get ideas), creating sketches (drafts, wireframes) to improve site, share with team (programmers who build)

User research: get people's feedback.

Mixture of individual work and team work.

Project base work, deadlines

Have product working, prioritize what we need to work and then when do we want to get done.

Coordinate with lots of people, work on deadline.

Communicate and convince people (look at data), in the past we tried this layout and more people clicked on it.

Analyze data and show people that this layout worked and this one didn't…
Different Types of Organizations
In-house startup: Ideal if you can wear many hats, longer hours.

In-house established company: Usually specialize in one of the elements, Usually regular hours.

Agency: Work for different companies, usually specialize in one of the elements.
Current Trends
Increasing UX design work in mobile, tablet, and social media.

Demand for user research (how to build user feedback into build, collect user data).
What kinds of things did people in this career enjoy doing when they were younger…
"I was open to new ideas, was curious about how things worked and how to improve things."
"I wanted to build something that was functional."
Education and Training Needed
It may be possible to land a job in this field without a degree. However, UX Designers need a strong mix of technical skills along with an understanding of users. Having a degree shows employers that you have the academic credentials
It's very helpful to have a bachelor's degree in a major such as Computer Science, Graphic Design, or Game Design, with a minor in a subject like Psychology or Sociology. Human-Computer Interaction is another option
It's important to remember the differences between User Experience and User Interface or Graphic Design, and to focus on studying the most applicable software and programming skills
Information Architecture, Wireframing, Prototyping, and Visual Communication are important applied skills to master
Top Educational Institutions
This is a new discipline that is still being defined in the academic setting.
Human Computer Interaction programs
Carnegie Mellow University

Georgia Institute of Technology

University of Washington, Seattle

University of Michigan, Ann Arbor

University of California, Berkeley

Cornell University

Institute of Design, Illinois Institute of Technology

University of Art and Design Helsinki

Design your own major at Stanford University (includes classes in Product Design, Computer Science, Art, Psychology and Communication)
Things to do in High School and College
Get practical hands-on experience with programming languages and applicable software
Be proactive about self-study; there are tons of books, websites, and YouTube tutorials to help you understand the basics of UX Design
Check out online short courses where you can learn advanced subject matter
Sign up for school clubs where you can share information and enthusiasm with peers
Volunteer to work on sites for friends, family, or local organizations once you have sufficient experience and knowledge
Study websites and take detailed notes about features that interest you, so you can learn how they did it
Experiment with techniques and tools as you learn, and — again — take plenty of notes!
It's never too soon to work on your UX Designer portfolio and case studies, but keep them updated and showcase only your best work
Connect with working UX Designers; ask questions about how they got hired and what they do to keep their skills fresh and sharp
Create a profile on freelance sites like Upwork to get experience working with paying clients. Also consider freelancing for an agency, as long as they are supportive and willing to pay a fair wage
Consider finishing a UX Design Bootcamp
Hop on LinkedIn to start growing your professional network and making it easier for recruiters to find you
Typical Roadmap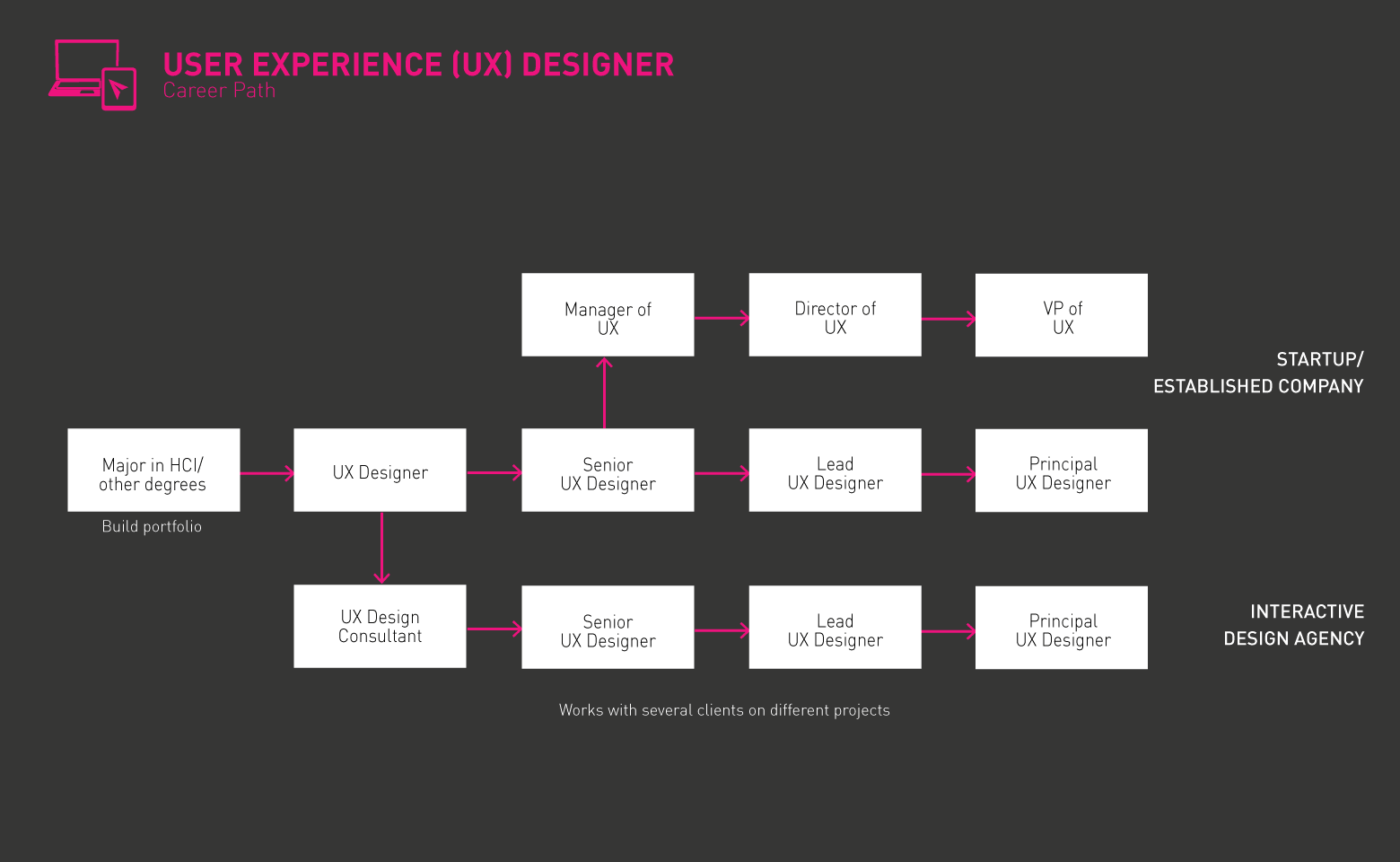 How to Land your 1st job
Try to get as much practical work experience as possible, through internships, freelancing, agency work, or related jobs
Having a degree or UX bootcamp certification will help you be competitive
Let your network know you're job-seeking, ask for informational interviews to learn more about the field, and broadcast your availability via LinkedIn's Open for Business feature
Keep your social media "inspection ready" because hiring managers and recruiters may be peeking at what you're posting
Use your school's career resource center to prep your resume, do mock interviews, and find out about job fairs
Talk to past professors, supervisors, and colleagues about their willingness to serve as references
Create accounts on job portals such as Indeed.com, IxDA Jobs, UX Jobs Board, Dribbble, Krop, Authentic Jobs, Coroflot, Remotive, AngelList, Glassdoor, and others
Get connected with UX Designer communities to learn tips, stay inspired, and get your work seen
Have your UX Designer portfolio and case studies ready to go so employers can see your talent on full display!
Check out UXfolio's very helpful 42 Common UX Designer Interview Questions
In the interview: Must be able to explain the thought process behind your design:  what was the goal of project, why did you choose this layout instead of another?, what other options did you consider? Need to clearly communicate your reasoning. 
How to Climb the Ladder
Need to be on the forefront of changing technologies: Design for Mobile, tablet, understanding social media.

Be passionate about design.

Go to conferences/talks.

Follow the trends in the industry.

See other sites that you like, sites that people are using a lot.

Get out there and talk to people.

Be and stay intellectually curious and educate yourself: This is a changing field so you must stay up to date with what's going on in the industry and new trends and technologies.

Become a leader in the field: blog about your expertise, teach classes.
Recommended Tools/Resources
Plan B
User Researcher, User Strategist
Newsfeed Featured Jobs Online Courses and Tools