Spotlights
Similar Titles
Venture Capital Associate, Venture Capital Analyst, Venture Capital Investment Professional, Venture Capital Partner, Venture Capital Principal, Venture Capital Fund Manager, Venture Capital Managing Director, Venture Capital Investor, Early-stage Investor, Startup Investor
Job Description
Venture capitalists spend their time on raising funds, finding startups to invest in, negotiating deal terms, and helping the startups grow.
Rewarding Aspects of Career
Help innovative companies get funded and grow 
Get to be entrepreneurial without having to be an entrepreneur 
Potentially financially lucrative 
The Inside Scoop
Job Responsibilities
Venture Capitalists lead fast-paced careers. Much of their work involves email, text message, phone calls, and in person meetings. During a typical day they will:
Source new startups to invest in and develop relationships with the founders. 
Deal Execution: Conduct due diligence on potential startup investments, analyze their markets and financial projections, and negotiate deal terms.
Portfolio Company Support: Helping portfolio companies with all aspects of their business so they can grow and scale. If the portfolio companies are successful, the venture capital firm is successful. 
Networking: Create relationships with lawyers and bankers who work with startups so that they can refer companies to you. Attend events and conferences, judge pitch competitions. 
Brand-Building: Publish blog content. Guest speak on panels and share the firm's investment thesis. The more well known the VC firms is, the easier it is to convince the coveted founder to work with your firm. 
Fundraising and Limited Partner (LP) Relations: Help the firm raise new funds and updating and maintaining relationships with your LPs. 
Internal Operations
Skills Needed on the Job
Networking: Solid network of Limited partners and all-star serial entrepreneurs. Ability to find new investors and new companies to invest in. 
Sales: Strong access to high quality deal flow and ability to close the deal. 
Analytical skills 
Entrepreneurial 
Mentor-like qualities 
Networking: 
Domain experience (e-commerce, SaaS...etc)
Foresight: Long-term vision and ability to see opportunities in the market. Understanding if a company has the ability to grow and scale given its team, the marketplace, the financial composition and the vision for the product or service.
Creativity and Problem Solving: Ability to help portfolio company founders deal with their biggest challenges. 
Expectations and Sacrifices
Being a Venture Capitalist is a career of long ours and demanding results. In order to succeed, the companies you invest in need to succeed. Before being recruited to a firm, you will have already demonstrated success through your own business or in a similar financial position. 
Being a successful Venture Capitalist takes patience. Even after finding a position at a firm, it is likely the firm can fail. 
Becoming a VC will typically involve you already being successful in finance or as an entrepreneur. This means you will be leaving a career you likely have sweated through already to start over again. 
Your job will typically involve finding funding for investment projects – you will turn down many people who are trying to get their dreams off the ground. You also may say yes to projects that might lose your investors' (limited partners) funds. As part of the business, you will not only provide capital, but also direction for the entrepreneurs as you guide them. 
Current Trends
Big Data continues to inform the financial sector. However, VC's are still looked on to interpret the data and trusted for their "gut." Being able to process and analyze data alongside computers processing algorithms has become a sought-after skill. 
"Seed Investing," or investing in the very early stages of a business, is growing in popularity. This is, in part, to compete with Internet crowdsourcing efforts.    
What kinds of things did people in this career enjoy doing when they were young...
Talking to lots of different types of people 
Like to convince friends to follow their idea 
Enterprising: Sell things 
Good at math
Analytical, problem solver 
Education and Training Needed
Bachelor's – Finance, Accounting, Economics, or similar.
Masters's – Business Administration
Per Crunchbase, ~75% of Venture Capitalists earn an advanced degree. Of those, 51% completed an MBA
Crunchbase's study discovered that just 12 schools produced ~42% of all VCs. Unsurprisingly, colleges like Harvard, Stanford, UPenn, MIT, and Columbia topped the list
Most Venture Capitalist firms look for career-driven people at the top of their field already. Moving up in the financial sector often means a Masters in Business Administration. Even with this educational background, it is an uphill journey to becoming a Venture Capitalist.
It is also possible to enter the field after successfully starting and owning your own business as an entrepreneur. Individuals have leveraged a successful business ownership into a role in a VC firm, or been able to start their own firm. Success in business AND education makes you far more attractive to possible partners and investors.
Things to do in High School and College
Stock up on courses in math, business, and finance, as well as classes to build writing, speaking, and presentation skills
Learn how to carefully read and understand business plans to determine if they are good or not
Volunteer to help new programs and initiatives get started, to gain experience working through problems with others
Learn everything you can about investing by reading books and watching videos
Look for startups that you can offer free consulting services to while you learn
Seek mentors who guide you on your path and offer advice along the way
Apply for Venture Capital intern jobs
Write on platforms like Medium, Quora, and LinkedIn to share your knowledge and gain exposure
Join professional organizations such as the National Venture Capital Association
Grow your network and try to make meaningful connections with business leaders
Practice trading stocks using simulators such as Thinkorswim, Moomoo, TradeStation, Warrior Trading, and NinjaTrader Free Trading Simulator
Play investment games like Build Your STAX, The Stock Market Game, Wall Street Survivor, or How the Market Works
Typical Roadmap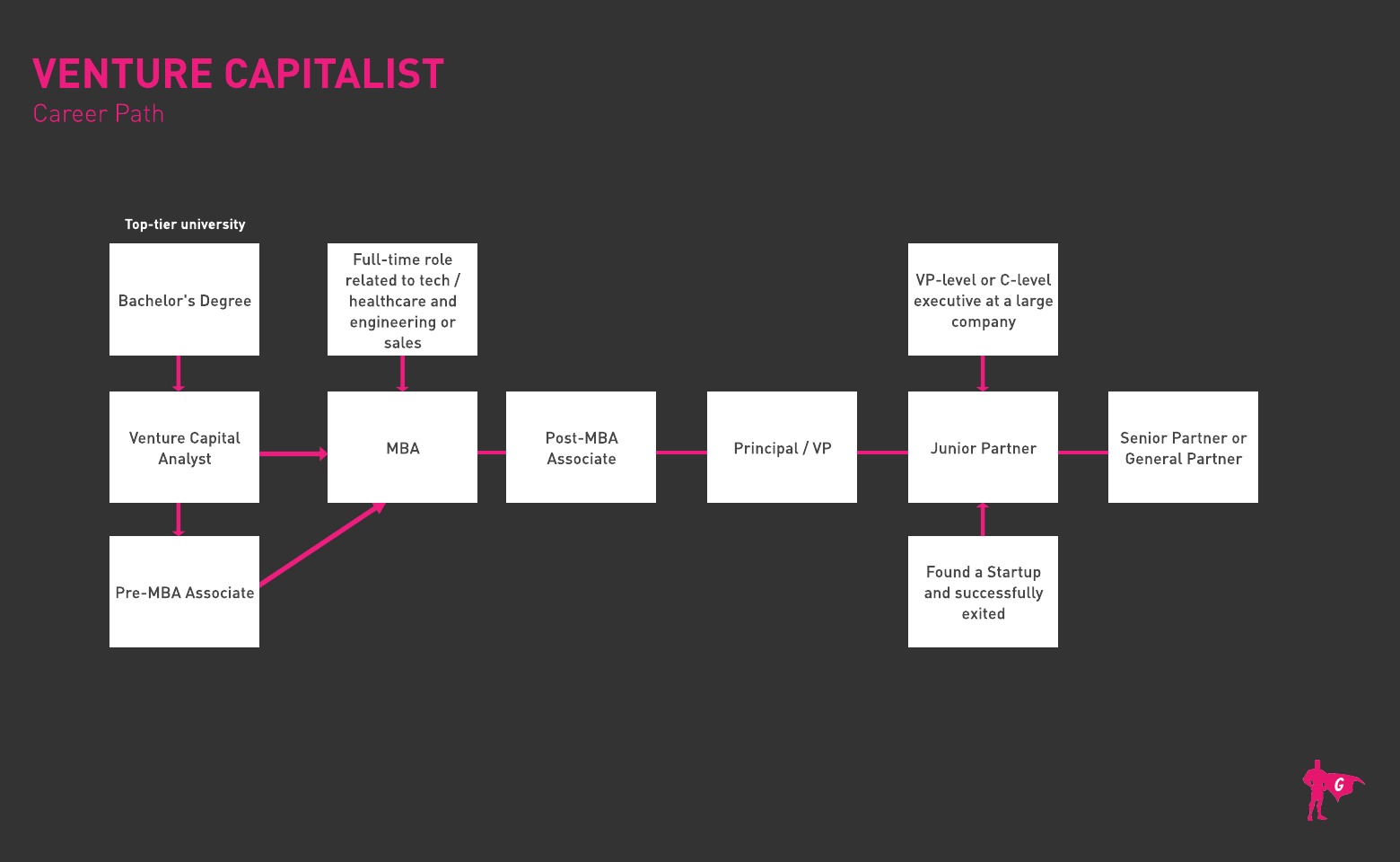 How to land your 1st job
Working at a Venture Capital firm means you have already spent time in finance. Finding a position is often the result of a recruiter finding you. If you think you would be an excellent candidate, you can take Guy Kawasaki's Venture Capital Aptitude Test. 
There are many paths to becoming a venture capitalist: 
Path 1:  Industry Experience 
Start a company or have an important role at an early-stage startup that did well 
Work for a big corporation in a relevant role and become an expert in that industry 
Build your social reputation 
Network and an opportunity will present itself 
Path 2: Finance 
Work in investment banking, corporate finance, strategy consulting
Get an MBA from a top tier business school 
Start as analyst and work your way up 
Analyst 
one to two years' prior work experience, either with a startup, an investment bank (very often focusing on technology sectors), or a strategy consulting firm. Analysts can be promoted to the associate level after a few years, but many of them choose to do an MBA or go the entrepreneurship route, founding their own businesses.
Associate
Associates reach the next level in the hierarchy, and are on the "partner track", which means that they are expected to stay until they make it to partner. Associates are usually ex-bankers, consultants, investment professionals (i.e. private equity, other VC funds) or operational leaders with three to five years' experience, sometimes with an MBA or a PhD. Associates usually get promoted to principal after a few years of successfully executing deals. Some of them also leave to create their own businesses.
Partner
Preferably someone with an entrepreneurial background--even if those ventures failed. Successes are great (even if small) especially if the entrepreneur has built and sold a company in a domain that is the focus of a VC firm. The entrepreneurial route typically leads to becoming an EIR (Entrepreneur-in-Residence) that often takes on various roles from triage of deals, to board seats to becoming a GP in a firm.
The next best path is via an "Associate", "Principal" or "VP" role in a venture firm, but you better have deep financial and analytical capability backed by a strong work ethic.
As for the Venture Partner route: the ideal person for that role would typically have been in an operations role for many years.
Note: These roles are never advertised. Partner level hires almost always are someone the partners in a VC firm already know (i.e. CEO of a former portfolio company).
If you're approached by a VC firm to help with some due diligence or to provide insights on a prospective deal, it may just be a road-test for an actual VC role.
Assuming you've got the desired skill set already, here are four suggestions on how to start demonstrating you've got the capability, gut and vision to be a VC:
Secure an internship role with a VC firm (and those roles are not easy to come by) then, once in the door, make yourself irreplaceable.
Create a track record by investing your own money in some angel deals.
Sit on startup advisory boards and mentor entrepreneurs in a target space.
Teach a class and blog regularly.
Career Ladder
Analyst 
Network, take part in industry and VC events, keep an eye on latest industry trends, and cold-call potential target companies to learn more about their business and obtain a meeting with the founders. They also might have some degree of involvement into the deal process (i.e. due diligence, market analysis, some valuation work) but their focus is largely on "origination". 
Associate
The role is more focused on due diligence, business plan analysis, executing transactions, analyzing interesting industry subsectors, and helping out portfolio companies. It is the more analytical and deal-making role within the VC fund. 
Principal
Principals are in charge of making portfolio companies run smoothly and will be on the board of a few portfolio companies. In addition, their role is to network and identify interesting opportunities for the fund to negotiate terms of acquisitions, and also to exit portfolio companies successfully. Principals tend to stay until they are promoted to partner level, which happens once they have proven their ability to generate good deal for the firms and generate returns.
Partner
Partners and principals have very similar roles in the firm. However, partners tend to be less involved in the daily deal-making and are more focused on high-level tasks such as identifying key sectors to invest in, giving the green light for investments and exits, sitting on the board of some portfolio companies, networking at a high level, representing the overall firm, as well as raising money for the firm (every five to seven years) and communicating performance to investors.
Recommended Resources
Websites
American Investment Council
Angel Capital Association
Angel Investor Network
Global Private Capital Association
International Business Innovation Association
National Venture Capital Association
Private Equity Growth Capital Council
Small Business Investor Alliance
State Small Business Credit Initiative (SSBCI)
Venture Forward
Books
Plan B
Private Equity 
Investment Banking
Stockbroker
Banker
Investment Underwriter
Entrepreneur
Words of Advice
Becoming a Venture Capitalist is an interesting path. You will need to find success elsewhere as firms are interested in recruiting individuals who have already demonstrated the knowledge and action needed to succeed. Expect to work hard for several years in the financial sector, or as an entrepreneur running successful business ventures on your own.
You may find yourself using a VC firm for your own business! This can allow you to capitalize on the relationships built during the process and provide you with entry to the firm. As with most financial sector jobs, networking is one of the most important skills you can have after results.
VC Firms will be interested if you have made connections within them, and if you have demonstrated the ability to turn profits in other fields. It is a field built of the tried and successful. 
Newsfeed Featured Jobs Online Courses and Tools