Spotlights
Similar Titles
Visual Effects Supervisor
Job Description
If you've seen a blockbuster Hollywood movie in the past 20 years, it was probably loaded with visual effects (VFX). That trend is accelerating, with the footage in 2019's Avengers: Endgame reportedly featuring a whooping 90% VFX and computer-generated imagery (or CGI, a subcategory of VFX). Unlike special effects — which are done practically and in-scene during filming — all VFX are done during the post-production process after filming has wrapped. 
This cinematic magic is made possible by VFX Supervisors who work closely with producers and directors to create or enhance scenes that might be impossible to pull off in real life. Much of their work involves overseeing CGI and other effects during the lifecycle of the film, including pre-production script reviews and planning which scenes will need effects added later. They also tidy up special effects footage so it appears seamless in the final cut. 
VFX Supervisors are pretty high up the food chain, but in terms of creative decision-making, it's their job to bring the producers' and directors' visions to life!
Rewarding Aspects of Career
Working on visual media, possibly for millions of people to see.

You are the "boss" leading several dozen members of a visual effects crew

Often able to travel and meet many different people

Working to make a unique vision come to life on screen.
The Inside Scoop
Job Responsibilities
A VFX Supervisor may work directly on set, or at a separate Visual Effects Studio. Each day can be very different from the one before. Their work can also shift dependent on if they are working on a separate film, a full TV Series, or other visual media. They could work on a short portion of a complex shoot for a few days or a single movie for up to two years.
Pre-Production
During pre-production, a VFX Supervisor will meet with the producers and directors of the project. They will review every shot of the film with this team to determine when and where an effect will need to be added after shooting. They will work with VFX artists to craft concept art, prototype computer models, and any other planning that needs to take place.
During Filming
During filming, the VFX Supervisor makes sure each shot is able to have effects added. Sometimes, shots may change which can make it more difficult for the VFX team to do their job. There may be a need to reshoot a scene with different elements such as a green screen to make it easier for the VFX artists to do their job.
Sometimes, VFX is able to start before a movie is finished filming. 
Post-Production
Because a VFX Supervisor is responsible for all visual effects, they spend much of post-production reviewing the work of the VFX artists. The Supervisor will make sure all the added effects meet the level of quality a director and producer is looking for. However, they also must make sure their artists are meeting time deadlines. There can be long days and hours for Visual Effects workers!
Typical Duties
Review scripts for films, TV shows, music videos, commercials, and other video media where effects will be needed

Assist with developing bids for the

VFX studio

wanting to work on the production's effects, when applicable 

Discuss ideas with the production's writers, producers, and directors

Go over budgets and timeframes with the unit production manager

Collaborate with applicable crew or directors as needed to ensure scenes are shot in a way that allows for adding VFX later

Suggest changes to filming, such as using a

green screen backdrop

, so VFX can be integrated smoothly

Ensure the creative vision is understood and captured by the VFX production management department 

Oversee the development of concept art and CGI and inspire artists with ideas 

Keep projects on track and stay responsive to change requests 

Conduct quality control checks and sign off on work that's ready to be shown to the producers and directors

Stay engaged with other departments including stunt coordination, special effects and prosthetics, wardrobe, hair and makeup, etc. to ask questions and make sure VFX embellishments are done correctly   

Add VFX over actors' real features for

motion capture

("mocap") performances or

de-aging

 
Additional Responsibilities
Stay on top of new developments in the industry

Watch what other VFX companies are doing to draw inspiration 

Help actors visualize how the final cut of a shot will appear after effects are adding, in case it helps them understand the scene better so they can adapt their performance

Ensure new artists are trained and up-to-speed on the work that needs to be done
Skills Needed on the Job
Soft Skills
Written and Oral Communication

Interpersonal Skills such as diplomacy and networking

Attention to Detail

Planning and Organizing

Adaptable/Flexible problem solving

Ability to inspire others 

Active listening

Collaborative 

Conceptualization skills

Confidence 

Creativity

Decisiveness

Detail-oriented

Flexibility

Leadership 

Patience

Persistence 

Planning and organization

Problem-solving skills

Strong communication skills

Teamwork

Visual and written storytelling
Technical Skills
Film/Video Production skills, including editing

Able to use complex computer animation and editing software such as Adobe Creative Cloud or AfterEffects

Communication technology via computer, phone, or software like Slack.

Computer coding and

VFX pipeline

Programming languages such as Python and C++

Expertise with professional VFX programs such as

Adobe After Effects

,

Maya

,

Nuke

, and others

Familiarity with design, special effects, and post-production processes

General understanding of the roles, responsibilities, and challenges of all critical departments and crew members, including production design, wardrobe, art, makeup, sound, special and visual effects, set decor, stunt coordinators, cast directors, etc. 

Knowledge of video camera equipment and filmmaking software, including professional

editing tools

 

Project management

skills

Technical knowledge of framing and staging shots
Different Types of Organizations
Television/Film Studio

Video Game Studio

Visual Effects Studio

Advertising and PR firms

Motion picture studios

Performing arts industries

TV broadcasting

Video game companies

VFX companies
Expectations and Sacrifices
As with many jobs in the entertainment industry, becoming a VFX Supervisor can be a long and challenging road. You may find it difficult to find an entry-level position at a VFX studio and will need to work at creating an effects reel or portfolio independently. You may also start work on film sets as a production assistant or runner. 
A runner may only be responsible for message delivery and fetching coffee. If you lack a network and connections, it will take time to build it. Enthusiasm and a positive attitude are key to moving up in the field.
VFX houses also provide long hours. You may start at 9 am and work past midnight during times when deadlines are approaching. If you are working as a VFX artist, it can take many years of this lifestyle before you are able to move into a Supervisor role.
A VFX Supervisor has very little further to go in the VFX field, as they are often the top worker in a VFX studio. This is often the role they want to end their career in, but some may move on to be VFX Producers or Film Directors.
If you continue to do good work, your main advancement will be bigger and better-known projects.
Current Trends
As effects continue to improve in realism, there is a greater need for these artists and supervisors. Especially with the recent trend of action and superhero movies, VFX has become essential for creating realistic-looking computer art.
However, there has been pushback by some filmmakers to return to practical effects. Some VFX Supervisors see this as competition, but others see it as an opportunity. Practical effects often need touch-up work done after filming is completed by VFX houses.
As Virtual Reality offerings increase, there is more opportunity for VFX artists to work in this field as well. This includes Augmented Reality (AR), which involves a visual overlay in real-time over what an individual sees in real life. While perfect for entertainment, it also is being used in the field of education.
Streaming platforms have rocked the entertainment industry, with high-quality scripts, boosted production values, and fat checks luring big-name producers, directors, and stars. This shift has been a boon for the VFX industry, which is needed to produce film-quality effects for shows on Netflix, HBO Max, Disney+, Apple TV, Amazon, and more. 
Where once their work was reserved mostly for sci-fi films, now VFX gurus are lending their wizardry to almost every type of show being produced today. Many effects look so natural, viewers don't realize they are seeing them — even in sitcoms and dramas. Of course, VFX really stands out the most in action and superhero flicks, which have seen a massive surge in recent years. 
While some old-school filmmakers lament this trend and prefer practical special effects, even these stalwarts of cinema are willing to venture into VFX territory when it suits their purposes (with a good example being when acclaimed director Martin Scorsese criticized Marvel films after using extensive de-aging VFX throughout his crime drama The Irishman). 
The video game market continues to be a cash cow for VFX companies, too. Meanwhile, Augmented Reality is a new frontier for VFX explorers, for it involves visual overlay in real-time over what an individual sees in real life.
What kind of things did people in this career enjoy doing when they were younger…
VFX Supervisors were probably huge movie and TV buffs growing up. They may have enjoyed making amateur videos for YouTube and adding effects with free software tools. Like other future film and TV workers, they were likely innovative, driven, and comfortable with a little chaos in their daily activities. In school, they might have been involved in computer and audiovisual clubs, artistic extracurricular activities, or creative hobbies like drawing or graphic design.
Education and Training Needed
There are several paths a person can take to become a VFX Supervisor. 
Bachelor's Degree – Visual Effects/Motion Graphics, film and television production, computer animation

This will often be from an Art School or college specializing in Art

This is highly recommended and can be the easier path long term.

Other Majors can work as well, but you will need to demonstrate your skills.
Most VFX Supervisors need at least a bachelor's in visual effects/motion graphics, film and television production, or computer animation (often from art or arts-focused school)

Common VFX program courses may include:

3D design

Chroma keying techniques

Clean plate and wire removal

Cloth FX

Day-night conversion

Digital design

Digital makeup

Maya and NUKE integration

Particle effects

Photography

Projection for visual effects

Pyrotechnics

Set extension

In addition to a degree, a strong

portfolio

or effects reel may be needed to demonstrate capabilities

Studying animation and anatomy is also useful 

Students should master professional VFX programs such as

Adobe After Effects

,

Maya

, or

Nuke

, as well as graphics software like Gimp or Blender

Many students plus up their skills through ad hoc online courses, self-study and practice, or working on independent video projects

Being a supervisor of a VFX crew requires managing and coordinating lots of people and many activities. Courses in communications, leadership, team building, conflict resolution, and project management can be helpful

Most VFX Supervisors have years of experience working on sets in other roles. Many get their start through internships
Things to look for in an University
Consider the cost of tuition, discounts, and local scholarship opportunities (in addition to federal aid)

Think about your schedule and flexibility when deciding whether to enroll in an on-campus, online, or hybrid program

Check out the program's faculty awards and accomplishments to see what films, shows, or other VFX projects they've worked on

Look closely at the school's facilities and the equipment and software that students train on

Review job placement stats for graduates and details about the program's alumni network 
Things to do in High School and College
Take art classes, including illustration.

Computer coding and programming.

If your high school offers 3D computer animation and/or media productions, these are very important.

Some Colleges offer Bachelor's Degrees in Visual Effects/Motion Graphics

A mix of film, art, and computer classes can help you gain the skills needed.

As early as possible, curate a portfolio of work as well as a "reel" of any video you produce with visual effects.

Stock up on courses in art, illustration, graphic design, computer coding and programming, and communications

Don't neglect to develop your soft skills! Participate in activities where you can learn about teamwork, leadership, project management, organization, time management, and conflict resolution

Sign up for audiovisual clubs, theater productions, or any opportunities where you can get hands-on experience with video production 

Take

How Visual Effects Work in Film: A Guide to the 4 Types of VFX

from MasterClass

Learn from self-study and practice at home. Find friends and community members who need VFX added to their projects

Consider freelancing to gain more experience while getting paid! 

In college, if you major in VFX then round out your education with classes on film, art, animation, photography, and computer science

Enroll in confidence and resilience courses, so you'll be able to direct teams under stressful circumstances 

Study books, articles, and video tutorials (see our list of

Resources > Websites

)

Get to know the ins and outs of the major department involved in filming TV shows, ads, documentaries, etc. 

Watch a variety of TV shows and behind-the-scenes segments, when available 

Take notes on the VFX you see then research how they were produced

Get familiar with some of the

top VFX companies

. Read their histories for ideas and inspiration 

Ask a working VFX Supervisor if they have time to do an

informational interview

with you

Become familiar with as many VFX techniques and programs as you can

Launch an online

portfolio

to showcase your skills and work

Apply for

film internships

until you land one!

Attend film festivals and film school open events

Join professional organizations to learn about trends and grow your network 
Typical Roadmap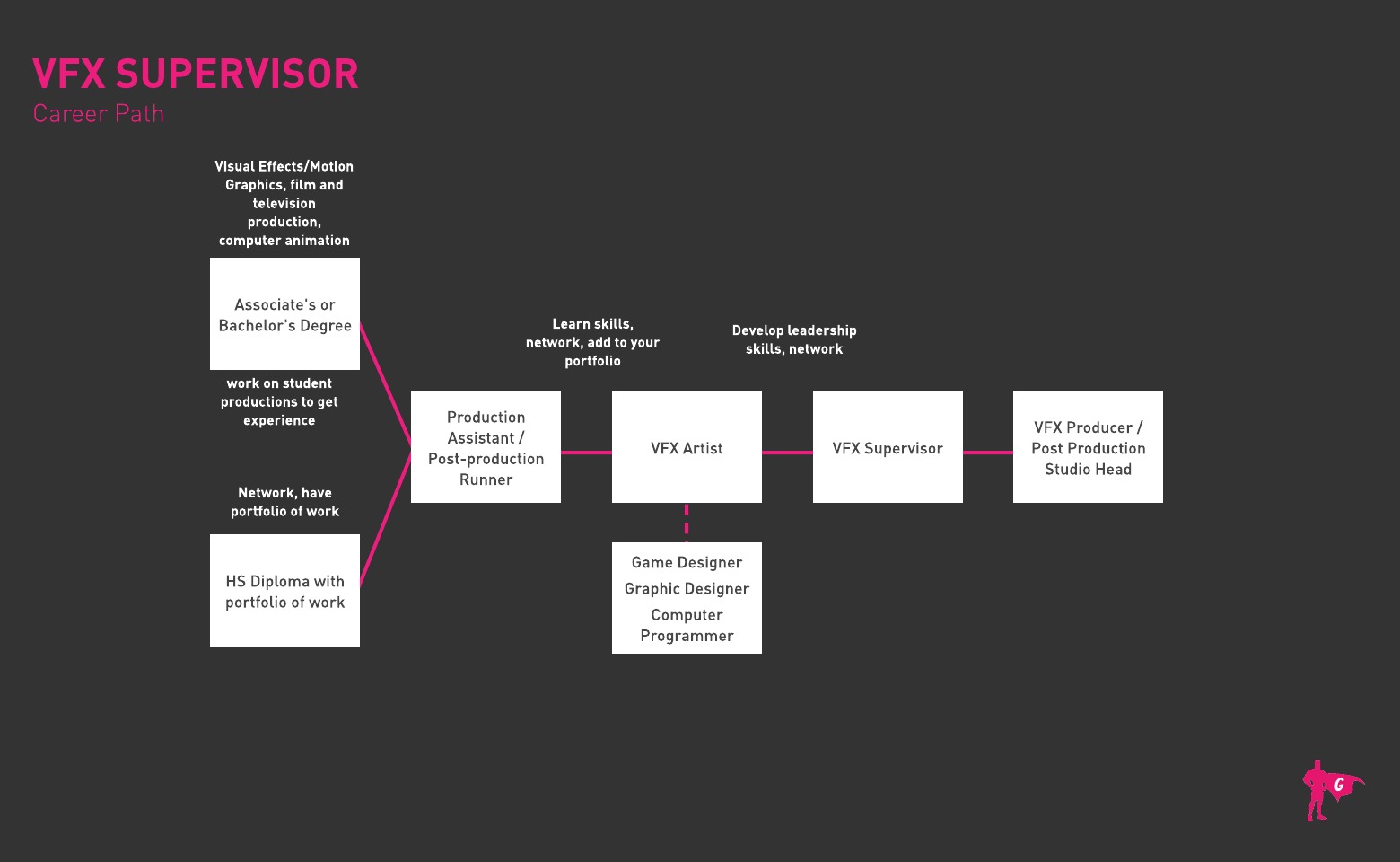 How to land your 1st job
Networking is the best way to get hired:

Log internships as often as possible if you are in school.

Create an online presence with a portfolio, and use social media to build connections with professionals in the industry.

Stay positive and confident in your worth – try avoiding doing work "for the exposure."

Use sites like UpWork for Fiverr to offer freelance work you can use for your portfolio.

With a degree, network and solid portfolio, you may be able to land a job within a VFX house as an artist.

Be ready to work as a Production Assistant or Runner to get your foot in the door.

A VFX Supervisor is often at the top of the VFX department or production house. You will likely start at an entry-level position as a Production Assistant (PA) or Runner. This position may not include any VFX work at all!

You will need to take the initiative to continue maintaining a portfolio of projects in your spare time. This can be character design, short effects reels, or any other work that shows your skills. Even fan art of a favorite property can demonstrate your skills. 

Networking and building relationships in the industry will help just as much. You will need to show you are easy to work with and willing to take direction when needed. It will take a combination of skills and personality to move up in the industry.

Finishing internships and networking are great ways to improve your odds of finding work

If you're still in school, apply for jobs on set (such as a production assistant or runner) just to get your foot in the door and start making connections

If you have enough academic credentials and a solid portfolio, go ahead and apply for VFX artist jobs

Establish your reputation online with a stunning portfolio and plenty of social media sharing

Let your network know you are looking for jobs or internships! Per

CNBC

, "Research shows that 70% of all jobs are not published publicly on jobs sites and as much as 80% of jobs are filled through personal and professional connections"

Enter film festivals

and get published in industry journals or on popular websites 

Be ready to relocate, depending on your first job goals

Hop on

Quora

or online VFX forums to ask for job advice from working VFX artists

Check out

film job sites

and job portals such as

Indeed

,

Simply Hired

, and

Glassdoor

Look at the career pages of the

VFX companies

you'd like to work for

Ask your professors, supervisors, and peers if they'll serve as personal references 

Talk with your film school or college's career center for help with resumes, mock interviews, and job searches 

Review

VFX artist resume templates

to get ideas for formatting and phrasing

Study

VFX artist interview questions

to prepare for those crucial interviews 

Always dress appropriately for

job interview success

! 
How to Climb the Ladder
Don't rush things. To move up from VFX artist to Supervisor takes time

The most certain way to move up is to ensure your talent and creativity are seen via constant networking with fellow industry professionals

Have your portfolio and reels up-to-date and actively search for opportunities

Build trust by delivering awesome VFX work on time, on budget

Capture the imagination of producers and directors. Make them want more work from you

Continue to hone your craft while learning about everyone else's roles

Knock out additional education and training to enhance your technical and creative skills

Treat people with respect and stay calm under pressure

Build a reputation as a collaborative artist and leader who brings people together around a cohesive vision

Work on as many projects as you can to expand your portfolio of work

Watch and learn from more senior VFX experts

Keep growing your professional network and tackling larger, more ambitious projects 

Make yourself available for film festivals, local events, conferences, and workshops

Join professional organizations and win recognition that'll look great on your resume
Plan B
Being a VFX Supervisor means long hours and tons of pressure to get things "right" (which is a very subjective term in this business). It can be a highly rewarding and dynamic profession, but for those who want something a bit less hectic, consider the following related occupations!  
Video Game Designer

Visual Effects Artist – Stay at this level

Other position in Film/Video Production (If you learn the skills)

Sound Design

Costume Design

Practical Effects

Computer Analytics – if your knowledge base is more computer-based.

Book Illustrator

Graphic Design for Companies

Freelance Work

Art Director

Choreographer

Costume Designer

Film and Video Editors
Words of Advice
A career in film can be challenging. VFX Artists work long hours and don't always get the credit they deserve. It is highly likely you will start at an entry-level position, even with a degree. You may also find yourself working in a non-VFX position as you look for one.
The best tools are your own creativity and networking. If you are able to create a good portfolio, you will be ready when the right opportunity comes along. A portfolio of all your best work is a good thing to have, but be ready to pick 1-2 pieces from it that demonstrate your skills the best when applying for a job.
Keep a strong network with others in the industry. A good internship in a college program will help with this. While it is certainly possible to find a position without college, the experience will help you develop connections and assure future employers you have learned the skills necessary to do the job.
To move up from VFX Artist to Supervisor will take time. In addition to skills and networking, you will need to demonstrate an ability to lead others and to help meet a cohesive vision.
Newsfeed Featured Jobs Online Courses and Tools