Spotlights
Similar Titles
Game Designer, Computer Game Designer, Game/Simulation Designer
Job Description
"The Dreamers" Video game designers imagine everything from scratch, including the characters, gameplay, mechanics, and the plot. They might come from various different backgrounds: technical, audio, or art. 
Rewarding Aspects of Career
Getting to make games!
Being part of a dynamic, passionate community of game makers.
Fun!
The Inside Scoop
Day in the Life
 Pre-production: Dreams up and outlines game concept. Compiles everything into the game design document (the "game blueprint") which includes concept, gameplay, feature list, setting/story, target audience, requirements/schedule, and staff/budget estimates.
Production: Works with programmers and artists to ensure their design is being carried out. Checksbuilds. Creates flowcharts.
Skills Needed on the Job
Storytelling capabilities 
Time Management
Creative Thinking 
Design
Problem-solving
Tech savvy: Helpful to know scripting language (Lua, Python, 3D Modeling software).
Different Types of Designers
Lead Designer: Main visionary of the game. Compiles the team's ideas into the game design document. Manages schedules and tasks. Usually technically and artistically adept.
 Content Designer: Develops the game's plot and characters.
Game Mechanic Designer: Works on specific piece of gameplay. Work depends on the genre of game.
Level Designer: Creates the environment of the game, objects and inhabiting characters within the environment.
Writer: Creates text and dialogue.
Differences between Studio vs. Independent
Studio
 Works for a larger company, usually with a larger team of designers.
Pros: Usually more financial stability, potential to work on larger projects.
Cons: Will most likely work on things the company wants you to work on. Long hours to meet deadlines.
Independent
Works with a team to create your own game. High risk, high reward.
Pros: Works with a team on your terms, on your time. Gets to create your own game.
Cons: Less resources, more risk, and must wear many hats (marketing, distribution, quality assurance…etc.).
Current Industry Trends
Independent side is growing due to lower barriers to entry because of affordable software and easy distribution; in turn, there is more competition.
Console is changing. Mobile games increasing. Especially with the iPad.
What kinds of things did people in this career enjoy doing when they were younger….
Played games: board games, card games, videogames…etc.
Loved drawing and thinking up ideas, stories, different worlds, 
Loved animation and making comics.
Made games: board games, card games, videogames…etc.
Education Needed
On average, Video Game Designers hold college degrees, such as a bachelor's in game design, simulation and visualization, game art, game development, graphic design, multimedia design, or computer science. Some top designers earn a master's 
While a formal educational background is often preferred, designers occasionally break-in by demonstrating proficiency and work experience in coding and other related skills 
Some schools feature bootcamps and ad hoc game design courses (like those offered by Vertex School) that students can take, such as game art and animation, programming languages, visual effects, 2D animation, 3D modeling, and concept art
Project management and teamwork skills are also essential 
There are different types of games, such as console games, mobile games, computer games, and massively multiplayer online games, each of which may require different skills
Most designers gain additional knowledge and skills through Video Game Designer internship On-the-Job training
Top Educational Institutions
Things to do in High School and College
Practice your skills early with easy, no-coding programs like GameMaker 
Consider designing a few games without the use of a computer 
Play a variety of videogames and take notes on which aspects you find most (and least) engaging
Talk about gaming with friends and other players in the community, both online and in-person

Remember to have conversations outside of online forums, because in-person dynamics can generate different thoughts and ideas!

Work on an online portfolio showcasing your best work, and keep it updated as you get better

Sites such as Coroflot, Carbonmade, and Behance are good for building free portfolios

Sign up for programming language courses or study them on your own. Common languages for game development include C++, C#, JavaScript, Java, Lua, and Python
Even if you have or are working on a college degree, you can sign up for edX or Coursera courses if you need extra focus on topics such as object-oriented programming and algorithms, or with using video game engines like Unity and Unreal
Read lots of books and blogs, watch YouTube tutorials, and join school organizations related to the field
Start publishing your games on sites like Itch.io, IndieGameStand, Desura, Kongregate, and Roast My Game! You'll get plenty of feedback and be able to refine and update your game 
Typical Roadmap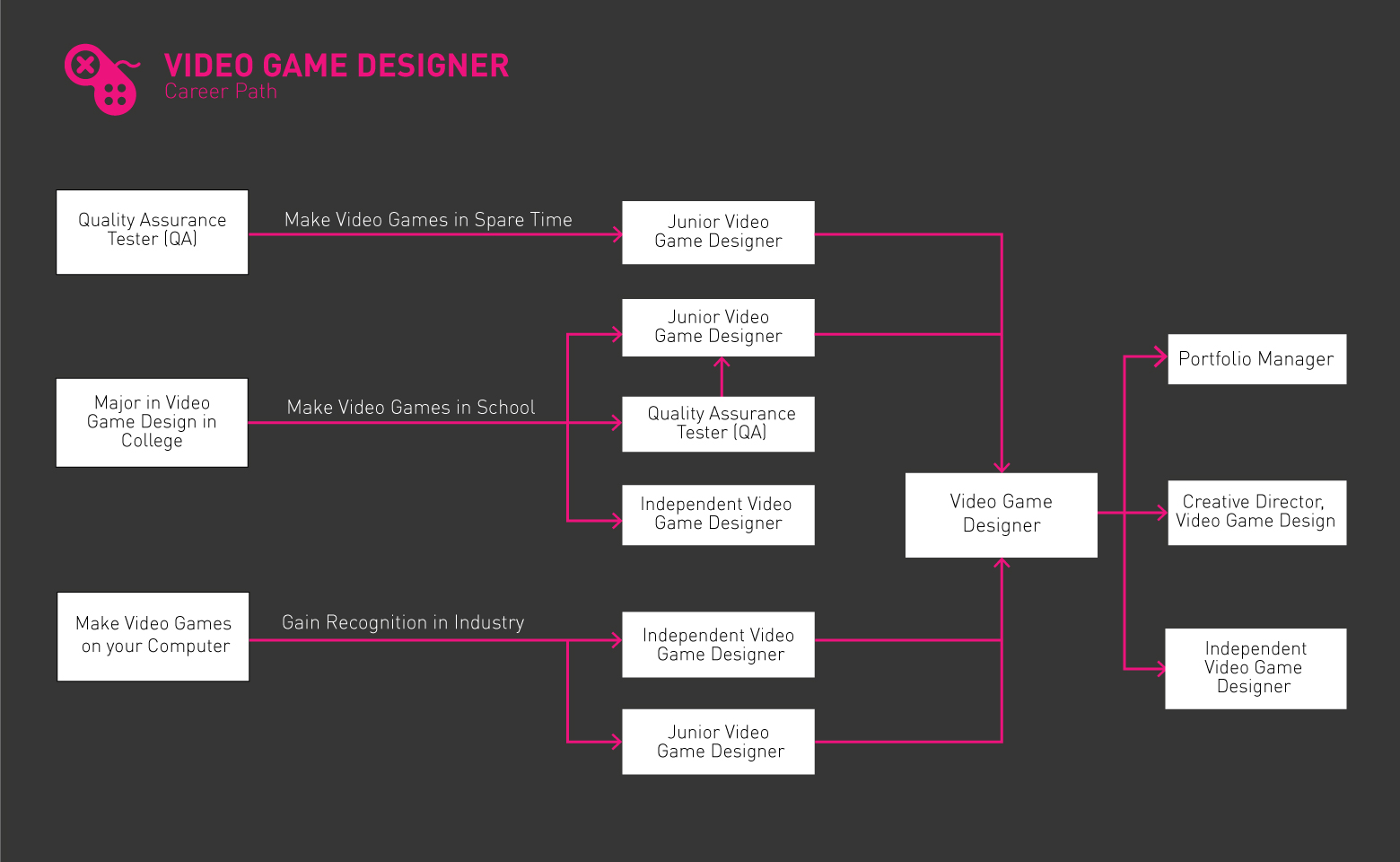 How to Land your 1st job
Major in video game design and develop your portfolio: When you apply, you can come in as a junior video game designer if you have made games on your own.
Put your games out there: Test it on websites like gamejams.com or tigsource.com. You can get feedback from the users. See if you are any good and people like your game.  
Let your network know you are looking for work and share your online portfolio! Be sure to include any games you may have created and launched on your own
Be persistent as you search for opportunities on Glassdoor, Indeed, ZipRecruiter, LinkedIn, and other job portals. Don't forget to search for Video Game Designer internships
Visit the websites of popular video game companies to see if they have opportunities listed
Interview a working Video Game Designer and ask for tips on breaking into the career field
Ask your professors, supervisors, and professional peers to serve as references for you
Check out your school's career center to get help polishing your resume and interview skills
If attending a game-related college program, ask the program department about recruiter connections. They might be a pipeline to employers looking to recruit talented grads
Qualities of those who climb the ladder and enjoy it
 ​​​​Relentless: Those who have enough grit to not give up. Willing to keep working to fix bugs.
Perseverance
Humility
Passion for design
Passion for good stories
Great communication skills and ability to work with a team of people
What to look for in a mentor
Shares a similar philosophy to you.
Somebody that is doing what you want to be doing and is excited about what they are doing.
Recommended Tools/Resources
Community
Websites
148apps
8 Bit Horse
AI GameDev
Amit's Game Programming Information
Black Golem
Brainy Gamer
Chris Hecker
Codecademy 
Coursera
Edge | Games Radar+
edX
GameDev.net
Game Developer
Game Developers Conference
GameJobs
GamePolitics
GameSpot
Game Tutorials
Ian Bogost
IGDA
Indie Games
No Twinkie Database
Pixel Prospector
Pocket Gamer
Sirlin.net
Social Games Observer
TechCrunch
The Koalition
TIGForums
What Games Are
Y Combinator

Books
Plan B
Key transferable skills: Storytelling capabilities, design skills, (maybe) knowledge of programming languages.
Alternate Careers:  Game maker for board games, TV shows, and theme parks; computer programmer; UX designer.
Newsfeed Featured Jobs Online Courses and Tools