Spotlights
Similar Titles
Visual Specialist, Window Display Artist, Merchandise Displayer, Display Specialist, In-Store Marketing Associate, Display Decorator, Display or Sales Associate
Job Description
Visual merchandisers conceptualize and create visually appealing displays inside and outside of a store to draw in business, showcase items, introduce new items, create a positive store image and increase revenue.
The Inside Scoop
Main Objective
The main objective of visual merchandising is to increase sales and buyer attention, capitalizing on the human tendency to 'window-shop'. Displays are frequently changed to promote new product launches and reflect festive or seasonal themes, such as Christmas, spring or summer.
Job Responsibilities
Creates sketches of visual displays based on the requirements set by the client's store management department.
Conceptualizes a design or piece of clothing from what it looks like on paper to how it will translate in a store with multiple other pieces.
Once preliminary designs have been approved, he/she finalizes the design and creates detailed floor plans.
Sources the necessary props, materials, designs for signage, and accessories required to bring the designs to life
Must have working knowledge of hand rendering to computer rendering skills.
Responsible for supervising the staff tasked with turning your creative designs into a reality.
Ensures the uniformity of displays across multiple store locations.
Throughout all these processes, he/she will frequently be liaising with other retail professionals, such as buyers, marketing executives and retail merchandisers, to make sure each and every store has the right visual impact.
Employment Types
Retail Stores (clothing, furniture, kitchen, stationary, etc.)
Museums
Design Agency
Hotels
Set Design (Film/TV sets)
Freelance
Expectations/Sacrifices Necessary
Ability to change everything due to the clients wants: learning the balance of what you as an artist prefers visually and what the client prefers.
Long hours for research, tedious building, and knowing that even after all the hours of building and research, your project will be gone in a few weeks to make way for the new designs of the following seasons.
Early mornings and late nights to meet fast deadlines.
Seasons when you land a job that pays well and seasons when you are struggling financially but still needing to produce more work to sharpen your skill.
Physically demanding: you will be on your feet working with your hands to create and change the visual displays.
What kinds of things did people in this career enjoy doing when they were young...
Built things with Legos or toys.
Built sets for a stage show/musical.
Woodshop classes
Played dress up.
Puzzles
Games and environments that involved teamwork.
Education Needed
Visual Merchandisers need at least a high school diploma (or GED) but a bachelor's degree is suggested

Suitable degree majors include Visual Merchandising, Art, Marketing, or Graphic Design

For those wanting to enter without a degree, having some relevant retail or sales work experience is vital. Target, for instance, looks for at least 1 to 2 years of experience
Standalone courses can also help you get an edge over the competition

Technical skills such as Photoshop or other design software is also helpful to stand out from the crowd
Depending on the type of merchandise, a fashion design certificate could also be valuable
Training
Fashion designers often gain their initial experience in the fashion industry through internships or by working as an assistant designer. Internships provide aspiring fashion designers an opportunity to experience the design process, building their knowledge of textiles, colors, and how the industry works.
Things to look for in a program
Recommend looking into Visual Communication programs at art-based schools or schools of fashion.
Look at a breakdown of the class/course schedule. Make sure you getting the basics of color theory and design, but also basic graphic design courses, visual display classes, and basic sketching courses.
Things to do in High School and College
Take high school classes related to art, color theory, graphic design and layout, and marketing
Sign up for standalone community college classes or online courses, if you aren't interested in tackling a four-year degree right away
Get some part-time sales or retail work experience under your belt; it'll help your resume or job application stand out
Keep a list of the applicable software programs you're familiar with, so you can discuss your skills during interviews
Watch YouTube tutorials to gain insider tips about this career, such as Taylor's 7 Key Elements of Visual Merchandising
Education Stats
12.7% with HS Diploma
13.9% with Associate's
43.1% with Bachelor's
7% with Master's
1.1% with Professional
Typical Roadmap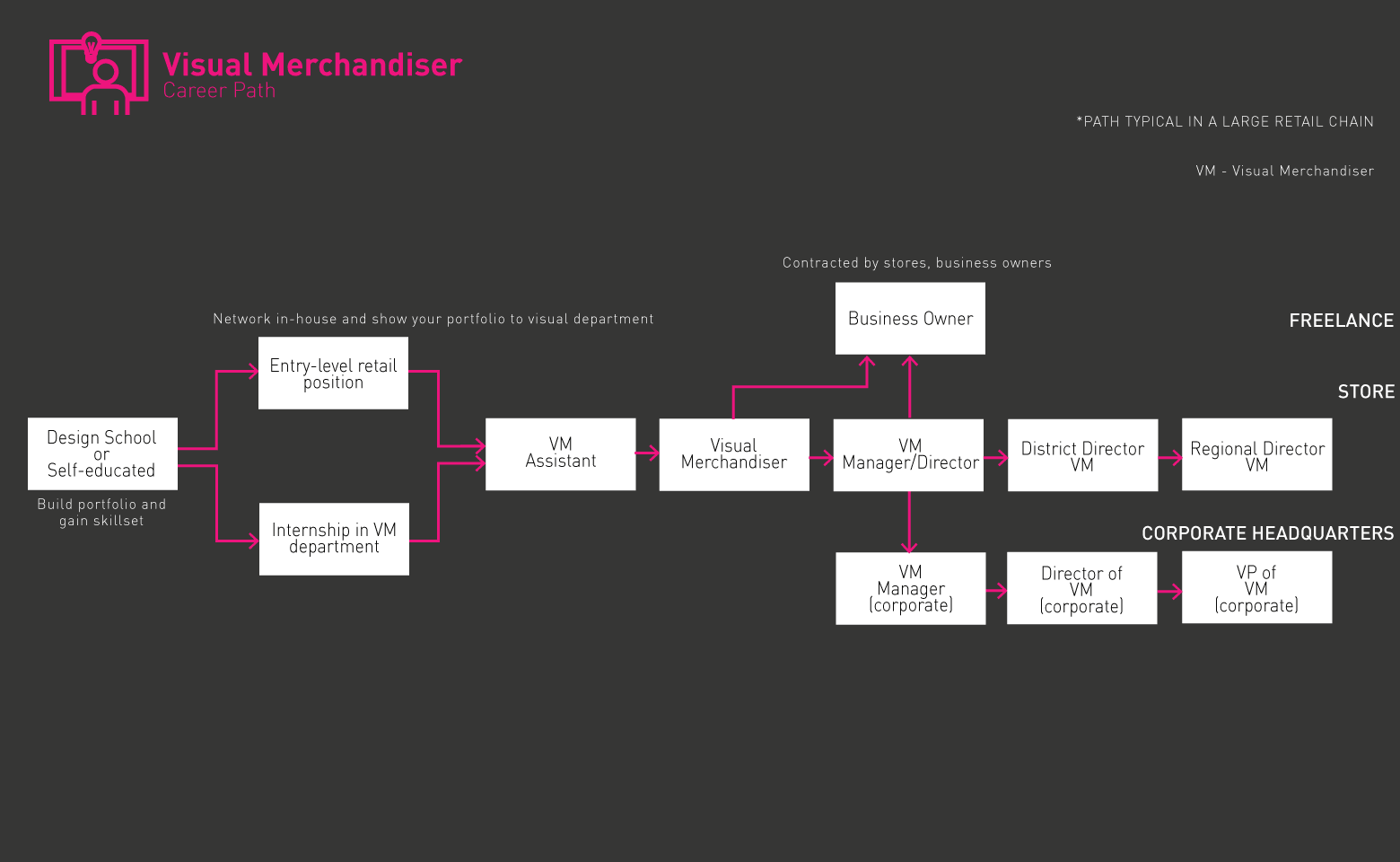 How to Land your 1st job
The best way to get a Visual Merchandising job is to show off your qualifications
If you don't have a bachelor's, you'll at least need sufficient work experience along with either a few relevant courses or the ability to demonstrate your self-taught skills  
Read job postings carefully to see exactly what skills and experiences are required versus desired
Spend your time applying only to jobs that you can meet the minimum requirements for
Let your network know when you're job hunting; sign up for alerts from job portals such as ZipRecruiter, SimplyHired, Indeed, and Glassdoor

Don't forget about Craigslist; many small and local companies post jobs there

Be upfront about your background. Don't exaggerate your abilities, but don't sell yourself short, either
Accentuate the positive and speak with enthusiasm about the career field
Remember, the first thing you'll be visually marketing is yourself, so for interviews, make sure to dress the part and display yourself as a consummate professional
Prior to interviews, brush up on sample questions to prepare in advance
"Start at the bottom and work up. That may mean at a retail store, an internship at a creative design company, or even at an art studio or becoming an assistant to someone in fashion. Begin working at the space you want to grow and be developed in. Even if it doesn't begin in the position that you want, be vocal early about wanting to move up or learn more about the desired field you want to get into. The main goal is to work somewhere where you can be hands on and inspired as you continue to learn, grow and look for more competitive jobs." Jennifer Welsch, Visual Specialist, Madewell
Description of Different Titles
VM Manager/Director 
In charge of the team of visual merchandisers in the tore.
VM District Director
In charge of a visual design of few stores in the geographic area.
VM Regional Director
In charge of a visual design of few stores in the whole region.

VM Corporate Visual Team
Works in the corporate headquarters and sets the visual direction of the whole company.
Works with buyers and fashion to identify "look and feel" for the visual collateral.
Produces set guides which tell the stores which color/style they need to follow.
Devises planograms, a form of merchandise diagram, to send to stores throughout the chain.
May be responsible for selecting the fixtures, carpet and furniture for stores.
More project management and communicating with other departments to coordinate efforts (Marketing, Merchandising, and Operations).
How to stay competitive and stay in the game
Remain original and constantly evolve your art and continue to fuel your sources of inspiration.
A higher understanding of the brand, and vast understanding of how certain visual changes can react positively or negatively to the consumer.
Developing a clientele lists that likes your portfolio and design work, and see results in sales from your work.
Longevity in developing these relationships and continually evolving your work to respond to the current and most popular consumer trends keeps one's work alive and growing.
A knowledge in statistics, marketing, and business is incredibly helpful at the corporate upper levels.
Plan B
Key transferable skills: graphic design, styling.
Alternate careers: Set Designer, Art Director (design agency), Graphic Designer, Product designer, Brand development, Retail fashion buyer.
Recommended Tools/Resources
Words of Advice
"Never stop creating and always stay inspired…while you are in school, working as an unpaid intern, when you land your first job designing window displays at a retail store… continue to sketch, to observe, to create, to design, learn from others, to collaborate. Creativity and inspiration are like muscles and joints, one can't function without the support of the other. Nurture them and you will produce great work." Jennifer Welsch, Visual Specialist, Madewell
Newsfeed Featured Jobs Online Courses and Tools