Spotlights
Similar Titles
Welding Process Engineer, Welding Technology Engineer, Welding Metallurgical Engineer, Welding Automation Engineer, Materials Joining Engineer, Welding Applications Engineer, Welding and Fabrication Engineer, Welding Specialist, Welding Inspector (focus on quality assurance and inspection aspects), Welding Coordinator
Job Description
A Welding Engineer is a specialized engineering professional who focuses on the design, development, and implementation of welding processes and techniques. They play a critical role in ensuring the quality, efficiency, and safety of welding operations across various industries, including manufacturing, construction, aerospace, automotive, and more. Welding Engineers are responsible for selecting appropriate welding methods, materials, and equipment to meet specific project requirements and standards.
Job Responsibilities
Process Selection: Assessing project requirements and determining the most suitable welding processes and techniques for specific applications, considering factors like material types, joint designs, and project specifications.
Welding Procedure Development: Creating and qualifying welding procedures to ensure they meet industry standards, regulatory requirements, and project quality criteria.
Materials Selection: Identifying appropriate welding materials and filler metals based on their compatibility with the base materials and desired mechanical properties.
Quality Assurance: Implementing and overseeing quality control measures and inspection procedures to ensure the integrity and reliability of welded components.
Welding Automation: Integrating and optimizing welding automation and robotic systems to improve efficiency, consistency, and safety in welding operations.
Equipment and Tooling Management: Evaluating, selecting, and maintaining welding equipment, tools, and consumables to achieve optimal performance and cost-effectiveness.
Troubleshooting: Investigating and resolving welding-related issues, such as weld defects, joint failures, or distortion in welded structures.
Safety Compliance: Ensuring compliance with safety regulations and guidelines during welding operations to protect personnel and prevent accidents.
Collaboration: Working closely with design engineers, production teams, and other stakeholders to integrate welding processes into the overall project plan.
Continuous Improvement: Identifying opportunities for process improvement and innovation in welding techniques and technologies.
Skills Needed on the Job
Welding Knowledge: In-depth understanding of various welding processes (e.g., arc welding, gas welding, resistance welding) and their applications in different industries.
Metallurgical Expertise: Familiarity with the properties of different metals and alloys, as well as their behavior during welding and post-weld heat treatments.
Quality Control: Proficiency in establishing quality control procedures, conducting inspections, and ensuring compliance with industry standards.
Problem-Solving: Strong analytical and problem-solving skills to identify and address welding-related issues effectively.
Project Management: Ability to plan and manage welding-related projects, including coordinating resources and meeting deadlines.
Welding Automation and Robotics: Knowledge of automated welding systems and robotics used to enhance welding processes.
Materials Selection: Understanding the selection of welding materials and filler metals based on the requirements of the application.
Typical Roadmap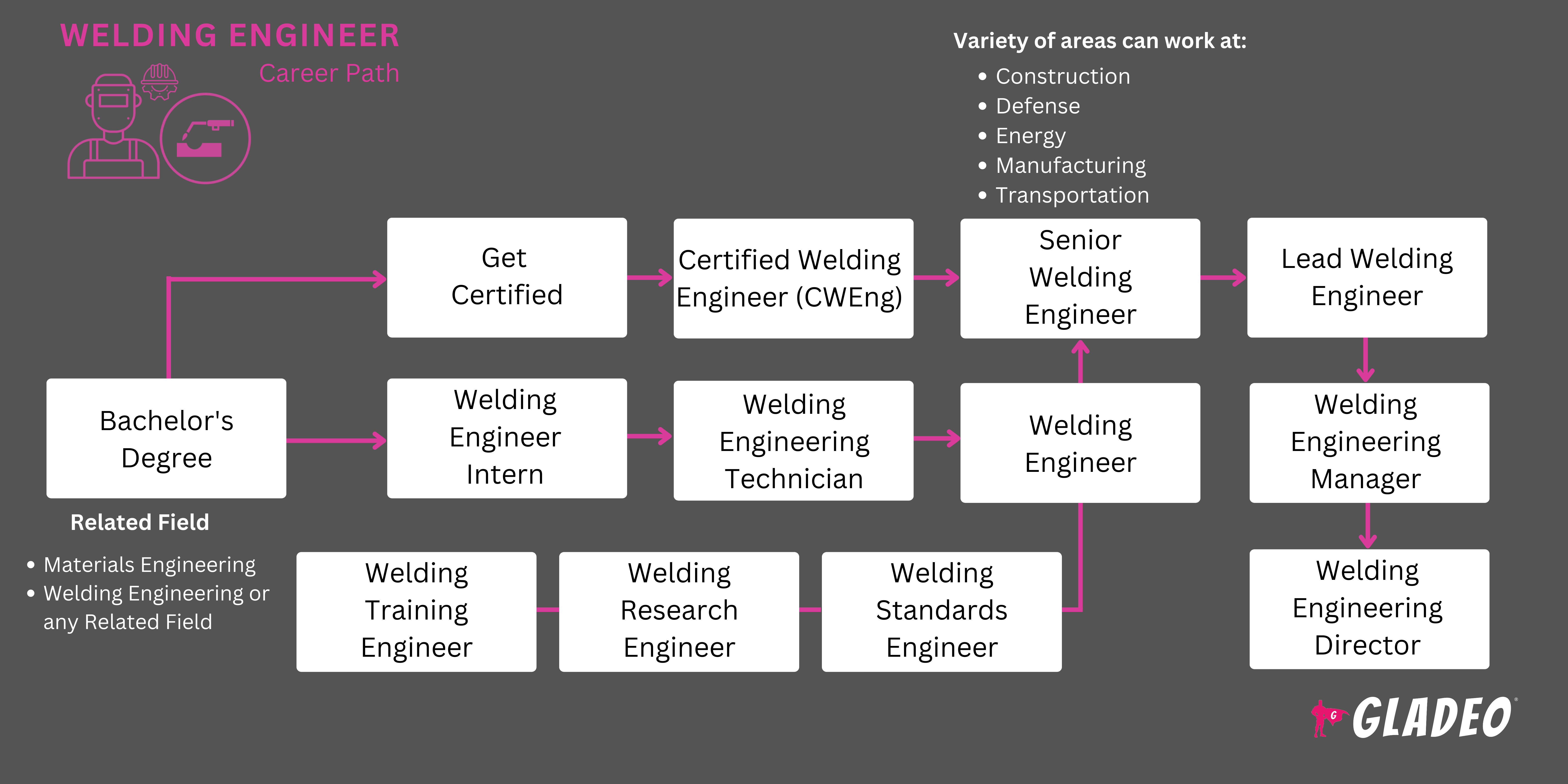 Newsfeed Featured Jobs Online Courses and Tools