Spotlights
Job Description
Writers develop original written content for magazines, online publications, advertisements, press releases and blogs.
Rewarding Aspects of Career
Meet and talk to interesting people on a regular basis.
Flexibility: If you decide to be a freelance writer, you set your schedule and you can work from home.
Learn about so many things on a regular basis.
The Inside Scoop
Skills Needed on the Job
Attention to detail
Initiative
Persistence/Endurance
Integrity
Writing
Time management
Resourcefulness
Different Types of Writers
Staff Writer
Staff writers collect and analyze facts about newsworthy events by interview, investigation, or observation. Some of their tasks include:
Review and evaluate notes taken about event aspects in order to isolate pertinent facts and details.
Determine a story's emphasis, length, and format, and organize material accordingly.
Arrange interviews with people who can provide information about a story.
Research and analyze background information related to stories in order to be able to provide complete and accurate information.
Check reference materials, such as books, news files, or public records, to obtain relevant facts.

Staff writers usually work for the following organizations:
Magazine
Website
Newspaper

Copywriter
Copywriters are generally hired to produce written promotional content. They write text for:
Direct mail pieces
E-mail newsletters
Marketing media campaigns
Billboards
Speeches
Catalogs
Sales letters and bulletins
Advertisements
Packaging copy: For example) the text on your shampoo bottle.
Website copy

Copywriters usually work for the following organizations:
Marketing agency
Advertising agency
In-house company (especially consumer products)
Copywriters may work with creative directors, art directors, account staff, marketing managers, and other members of a creative team. They may also work on a freelance basis directly for a client. Copywriters are also often responsible for rewriting, proofreading, and editing their work.

Freelance Writers
Freelance writers are self-employed and make their living by selling their written content to book and magazine publishers; news organizations; advertising agencies; and movie, theater, and television producers. Many freelance writers are hired to complete specific short-term or recurring assignments, such as writing a newspaper column, contributing to a series of articles in a magazine, or producing an organization's newsletter.

They write for:
Blogs and websites
Traditional Magazines: Very competitive.  Examples) Fashion (Vogue), Business (Forbes)…etc.
Company magazines: Pay is good, not as competitive. Examples) AAA magazine, Credit card company magazine
Non-profits: journals (pay is good, not as worried about clips and tier of the publications)
University alumni magazines: Pay is good. They are not as worried about clips and prestige.
Ghostwriting: Write for a high-profile person's blog (you interview them and they tell you what they want to write and you write for them). Pay is good.
Marketing/Advertising Agency: Copywriters can also be freelance writers.

Other (covered in separate career profiles)
Technical Writer: User manuals (might not be as exciting but very in demand and pays well)
Screenwriters (TV, film): Create scripts for movies and television. They may produce original stories, characters, and dialogue or turn a book into a movie or television script. Some may produce content for radio broadcasts and other types of performance.
Playwrights: Write scripts for theatrical productions. They produce lines for actors to say, stage direction for actors to follow, and ideas for theatrical set design.
Songwriters: Compose music and lyrics for songs. They may write and perform their own songs or sell their work to a music publisher. They sometimes work with a client to produce advertising themes, jingles, and slogans and may be involved in marketing the product or service.
Novelist/Biographer: Novelists write books of fiction, creating characters and plots that may be imaginary or may be based on real events. Biographers write a thorough account of a person's life. They gather information from interviews and research about the person to accurately portray important events in that person's life.
Publicist/Public Relations: Write press releases and liaise with the press.  
Journalist: Writes for newspaper, news shows.
Expectations/Sacrifices Necessary
Staff Writer
Very competitive: it is even difficult to get an un-paid internship at a prestigious magazine.
"I don't think you only need to get an internship at "Vogue" or a huge NY magazine. Sometimes it's better to work a smaller establishment and get more responsibilities, write more so you can get more clips. Really figure out your focus. If you want to work in the big magazine world for your whole career, then it's nice to intern and work your way up. But if you want to be a writer and write for various publications, there's a lot of other ways to enter, survive and thrive." Amy Westervelt, Freelance Writer
You will start off at a magazine as an intern or editorial assistant or social media coordinator, meaning you will not, off the bat, write the feature articles. Know your place. Learn the etiquette of the magazine you are working for but strike a good balance between being humble/"no entitlement complex" and being proactive.

Freelance
Gradual rise: You don't start off the bat pitching to Esquire magazine unless you work for that magazine (Esquire) as an editorial assistant. There are different tiers of publications.
You start off working for very little for first year or 2, til you have clips.
Must be willing to work nights and weekends to produce something acceptable to an editor or client and meet the deadline.
Although many freelance writers enjoy running their own business and the advantages of working flexible hours, most routinely face the pressures of juggling multiple projects or continually looking for new work.
Current Industry Trends
To stay competitive, companies are now looking for a content specialist. Not just writing, sometimes creating charts and infographics. What is the story and what's the best way to tell it which is not always through words. Maybe video?
What kinds of things did people in this career enjoy doing when they were young...
Was extremely curious
Liked hearing people's stories – genuinely interested in people and their story and interests.
Writing!
2016 Employment
131,200
2026 Projected Employment
141,200
Education Needed
There are many types of Writers, each with slightly different skills to master. Types of Writers include biographers, news columnists, journalists, magazine and blog writers, website content creators, copywriters, authors (aka novelists), playwrights, poets, lyricists, screenwriters, speechwriters, comic book writers, joke writers, resume writers, and grant writers
Full-time Writer positions may require a bachelor's degree in English, writing, journalism, or other communications. Some Writers complete a Master of Fine Arts program 
Many Writers, such as book authors, have no formal college education; however, authors are not generally salaried employees. Instead, they negotiate deals with publishers, often using agents to help facilitate the terms of the contracts
Freelance Writers and part-time magazine and newspaper contributors also may have no educational requirements
The primary requirement for most Writing jobs is to have learned how to write the type of things that your potential employer is after. For example, an author must know how to structure a compelling, book-length story; a copywriter must be able to relate a product's attributes in a concise, engaging manner
Regardless of educational experiences, most Writers learn by doing. All Writers must also be adept at self-editing
Some employers may desire their Writers to be familiar with software for laying out stories, graphics, or multimedia elements. Knowledge of SEO/SEM may also be required
Short courses and certifications can help augment your credentials, such as the American Grant Writers' Association's Certified Grant Writer cert
Things to do in High School and College
Take plenty of courses in English, writing, and communications, as well as speaking, debate, psychology, and of course typing! 
Volunteer to work on school or local publications, until you have enough experience to start applying for paid positions
Get published! Submit articles or short stories to websites, magazines, papers, agents, or small publishing houses, as applicable 
Read a wide range of written material and pay attention to the differences in style and structure, based on the intended audience

For example, compare how an article in The New Yorker differs from one in Forbes
Consider how advertising copy varies based on the target demographic
Notice the differences in language usage between critically-acclaimed literary fiction versus mass-market bestsellers
If you're planning to write for social media, then consume lots of viral social media posts and notice how they pair wording with visual content 

Get in the habit of using dictionaries and thesauruses
Become familiar with editing programs like Grammarly, but don't rely on them as a crutch
Develop strong organizational habits, as you'll need to keep track of changes and revisions to multiple manuscripts
Advertise your freelance writing services in the local area or online on platforms such as Upwork
Consider taking a MasterClass related to writing, such as Neil Gaiman Teaches the Art of Storytelling
Be persistent in applying for Writing internships  
Study how-to books and articles (see our list of Resources > Websites)
Join professional organizations to grow your network and stay motivated!
Education Stats
2.9% with HS Diploma
3% with Associate's
29.8% with Bachelor's
26.2% with Master's
8.4% with Professional
(% of employees aged 25 to 44 in the occupation whose highest level of educational attainment is)
Typical Roadmap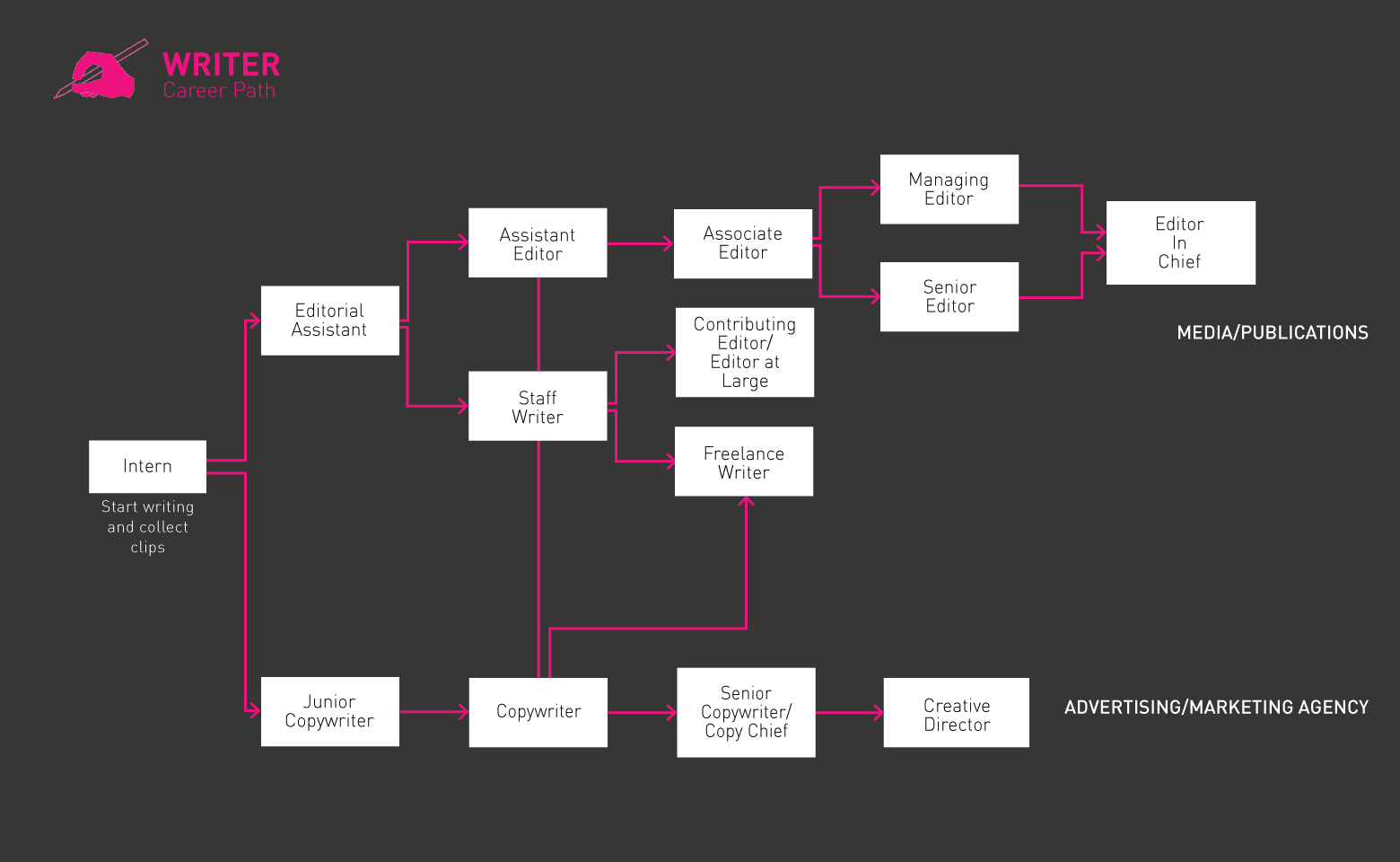 How to land your 1st job
Must have clips, which are copies of your published articles. Most writers save copies of every story they've ever published from high school and onward. Here's how to get clips:

Write for (free, low-pay) sites: If you are new writer, you should write a story first. But if you can write a very convincing pitch, then a pitch might be enough. For example) Rumpus, Awl are websites that cover news and culture which are open to new writers. Exo Jane is constantly looking for free, low pay contributors.

Intern at a publication: e-mail the associate editor of the magazine that you want to intern at and inquire about the internship. The e-mail needs to be well written and specific. Don't make it too long.
Apply for the editorial assistant position: this position fact checks and potentially writes the short blurbs or shorter stories.
Apply for the social media coordinator position (if you are not having luck with the editorial assistant position): There's a general assumption that if you are young, you are good with social media.
For some smaller print magazines, they might hire a web writer, web editor (less experienced). Show your clips and e-mail the associate editor.
Rule of thumb when contacting an editor for an internship or job: You have to be aggressive but also respectful. Essentially, this is what you have to do when you need to interview somebody for a story.

if you want to write fiction books, you'll need to submit an edited, polished draft of your work to an agent who can represent you in getting a deal with a publisher. Some small or niche publishers may accept direct submissions but probably can't pay much

Note that many authors self-publish using

Amazon Kindle Direct Publishing

, but it can be difficult to earn a living that way unless you have a lot of time to market your work relentlessly. In most cases, it is better to take the time to acquire an agent and go the traditional publishing route

"Spend time reading a lot of whatever publications you like. Come up with an idea that they haven't covered and just write it in the way you think it would appear in the magazine." Amy Westervelt, Freelance Writer
Tips on being a freelance writer
Money and time management: Usually you get paid upon acceptance, however, others might pay when they publish the story, which means you might not get paid for year. So make sure to manage your finances and have many jobs lined up.
Be a versatile writer and write for different types of organizations (companies, marketing agencies, alumni magazines, airline magazines…etc).
Network and go to conferences.
Join the National Writer's Union. They also post jobs listings for staff and freelance gigs.
Check out GORKANA: They put out a weekly newsletter that covers media shifts, new hires (editors) and their contact information as well as job postings.
Check out Media Bistro: With a subscription, you will have access to a database of all the publications. The information is great because they tell you how to pitch to each publication: what they are looking for, how much they pay, and their contact information. You can also put up your profile with your clips and people will contact you for gigs.
Set Google news alerts for ideas that you are interested in.
Read a lot and keep up with the trends.
What it really takes to make it
Be proactive, a problem solver and resourceful.
Work on your craft and work hard! So many people think writing is something you either have or you don't have. It's not. Those who work hard at their craft are the ones who are good writers.  
Focus on quality: To make an article good, you have to do good research, write and rewrite, and get feedback. Be open to constructive criticism and don't think your first draft is perfect.  
Connectors: Network a lot. If you know a lot of people, you will not only get leads to new gigs but also new ideas for stories. Connect with PR people  and get on their distribution list.  
Being punctual: You would be surprised how many people don't turn in assignments on deadline.
Go the extra mile: Provide images, more contacts, more than what it expected. People will then want to work with you again.
Know your place: Don't act entitled. Understand the culture and etiquette of where you are working.
Recommended Tools/Resources
Websites
750 Words
AgentQuery
American Grant Writers' Association, Inc.
American Society of Journalists and Authors
Association of Writers & Writing Programs
Evernote
Grammar Girl
Helping Writers Become Authors
LGBTQ+ Writers Committee
MPA - The Association of Magazine Media 
NaNoWriMo
National Association of Black Journalists
National Association of Science Writers
National Newspaper Association 
Publishers Weekly
Query Shark
Science Fiction and Fantasy Writers of America 
Society of American Business Editors and Writers 
Society of Professional Journalists
The Creative Penn
Underlined
Writer's Digest 
Writer Beware (by SFWA)
Writers Guild of America East
Books
Words of Advice
"Be nice to everybody you come into contact with because a) that's just a decent thing to do as a human being b) since there is so much turnover in the media, somebody who was your intern one day could/will be your editor later who you are pitching to." Amy Westervelt, Freelance Writer (Regular contributor to Forbes, Wall Street Journal, Slate)
 
"Strike a good balance of being confident and smart but not arrogant and entitled." 
Newsfeed Featured Jobs Online Courses and Tools